We all know Vicks can alleviate chest congestion, but did you know that there are a ton of other uses for Vicks Vapor Rub? Here are 15 of my favorites!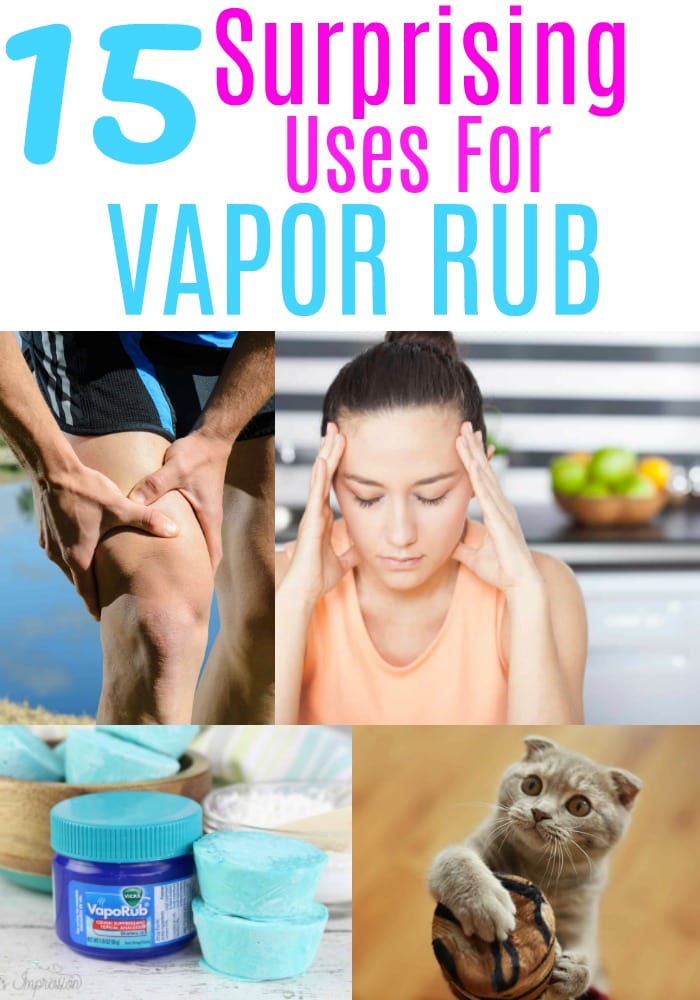 15 Surprising Uses For Vicks Vapor Rub
Neosporin Replacement-If you've got a minor cut but don't have any Neosporin, Vicks Vapor Rub can be an acceptable replacement.  The Vapor Rub can excelerate healing and can also protect the wound from germs and bacteria.
Stops a Squeaky Door- There is nothing that is more annoying than a squeaky door!  Sure, WD-40 is your best option when tacking this problem, but that is something that I never seem to have around when I need it.  Is a sqeaking door really worth a trip all the way to the store to buy some? Luckily, I always have some Vicks Vapor Rub laying around the house.
Cover Up Unpleasant Smells- Another one of the great benefits of Vicks being in your house is that you can use it to cover up yucky smells.  This is perfect for changing a diaper, cleaning a drain or dealing with trash.  Just apply some Vicks under your nose and your good to go!  Be careful not to get the Vaporub inside your nose though!  It could irritate it.
Helps With Acne- I wish I knew about this in High School!  Another great option is to use Vicks for Acne.  Vicks will dry out the pimple and help keep your face clear!
Deters Animal Scratching- Do you have a cat that loves to scratch your favorite furniture?  Just rub a small amount of Vicks in the area that they love to scratch and this will deter them.
Helps with Eczema- This frustrating and debilitating skin condition is the cause of suffering for many people.  Luckily, it's another one of the uses for Vicks Vapor Rub!  Just rub a small amount on the affected area and it will do wonders to reduce the itchiness and inflammation.
Insect Repellent- Vicks is a great alternative and safe insect repellent.  If you are a little queasy about spraying your children down with all the chemicals of traditional repellents, just dab a small amount of Vicks on their ankles, wrists elbows and on either side of their neck.  There are some great recipes for homemade insect repellent that use Vicks.
Aromatherapy- I LOVE aromatherapy.  I have a diffuser in our living room that I use all the time.  Sure, I have lots of great oils that give me some calming and happy scents, but did you know that you can just put a little bit of Vicks in as well and get that soothing smell in your house?  It also works great in humidifiers!
Bruises- Another one of the great uses for Vicks is to help heal bruises.  Just mix a pinch of salt with the Vaporub and rub it into the bruise.  It also helps to then cover it with a warm towel.  Vicks is truly a miracle product.
Soothes Minor Burns- If you have a minor burn, Vicks Vapor Rub can do wonders to sooth the pain.  It can also protect it and promote healing!
Helps with Muscle Aches- A lot of people like to use Icy Hot and other products like that.  But those can be a little overwhelming, especially with children.  Vicks is a more more soothing and natural product.  Full of Menthol and Eucalyptus Oil, it calms sore muscles and helps increase circulation. 
Helps with Headaches- Another surprising Vicks vapor rub use is that it can help with headaches.  You can rub it under your nose and take some deep breaths.  Or you can rub it on your temples.  It can do wonders!
Soothe Earaches- Just like headaches, Vicks Vaporub can help out with earaches as well.  I like to put a small amount in a cotton ball and insert it into my ear.  The soothing fumes help to reduce the inflammation and pain in my ears
You Can Make Vicks Shower Bombs- Shower bombs are all the rage these days but they can get pretty pricey.  When you have a nasty cold, there is nothing better than taking a shower with a Vicks Bath Bomb.  Vicks used to sell these but they are now discontinued.  But don't worry!  You can make your own with this easy process.  
Reduces Stretch Marks- Gotta love this one!  While we cherish the kids we were able to make with our bodies, we certainly don't cherish the stretch marks that are left behind.  Vicks contains eucalyptus oil, cedar leaf oil, petrolatum, camphor and turpentine oil.  These oils can do wonders for the skin and help to keep them hydrated and healthy.  Vicks has actually come out to say that they don't believe that their product can cure stretch marks.  That is probably true.  But I'd suggest using them during pregnancy to keep your skin healthy and hydrated!