This is a sponsored conversation written by me on behalf of McCormick & Company. The opinions and text are mine.
The big game is just around the corner and we are gearing up for a fun time. We love to entertain and tailgate for football games whenever we can. I love that my son is now at the age where he enjoys watching the games along with us. He has a fiery personality when it comes to rooting for his team. (I wonder where he gets that from?) This year we want to have family and friends over for a fun family-friendly party and pretzel dogs are perfect for everyone!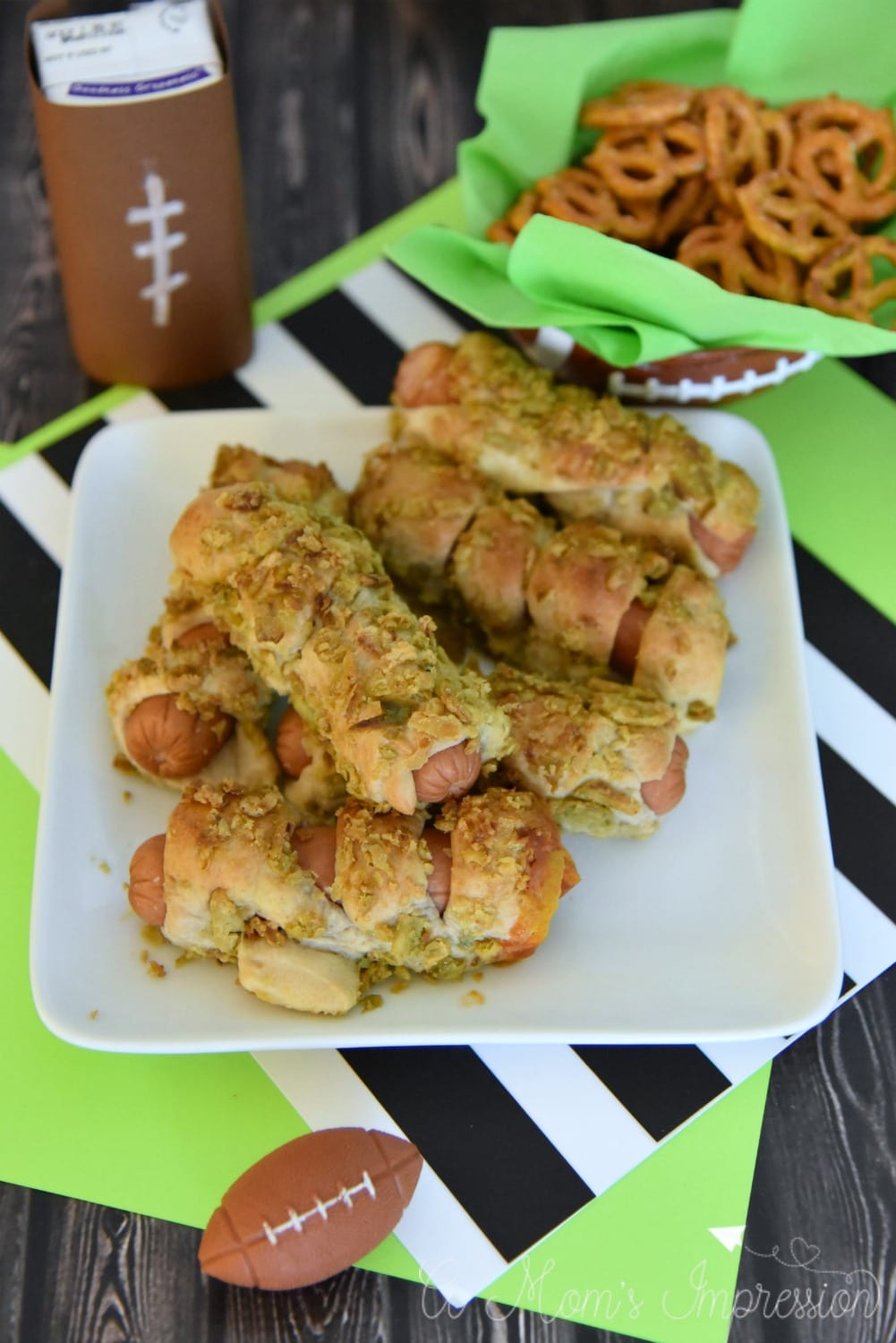 Honestly, anytime I can wrap bread around a hot dog, I jump at the chance. What is better than bread and hot dogs?  I love this easy pretzel dog recipe because you can change it up and make a hundred different variations, like Jalapeño Pretzel Dogs!  The secret is what you roll the bread in! While I was on my last Kroger grocery trip, I found French's® Crispy Fried Jalapeños and knew they would be great for homemade pretzel dogs!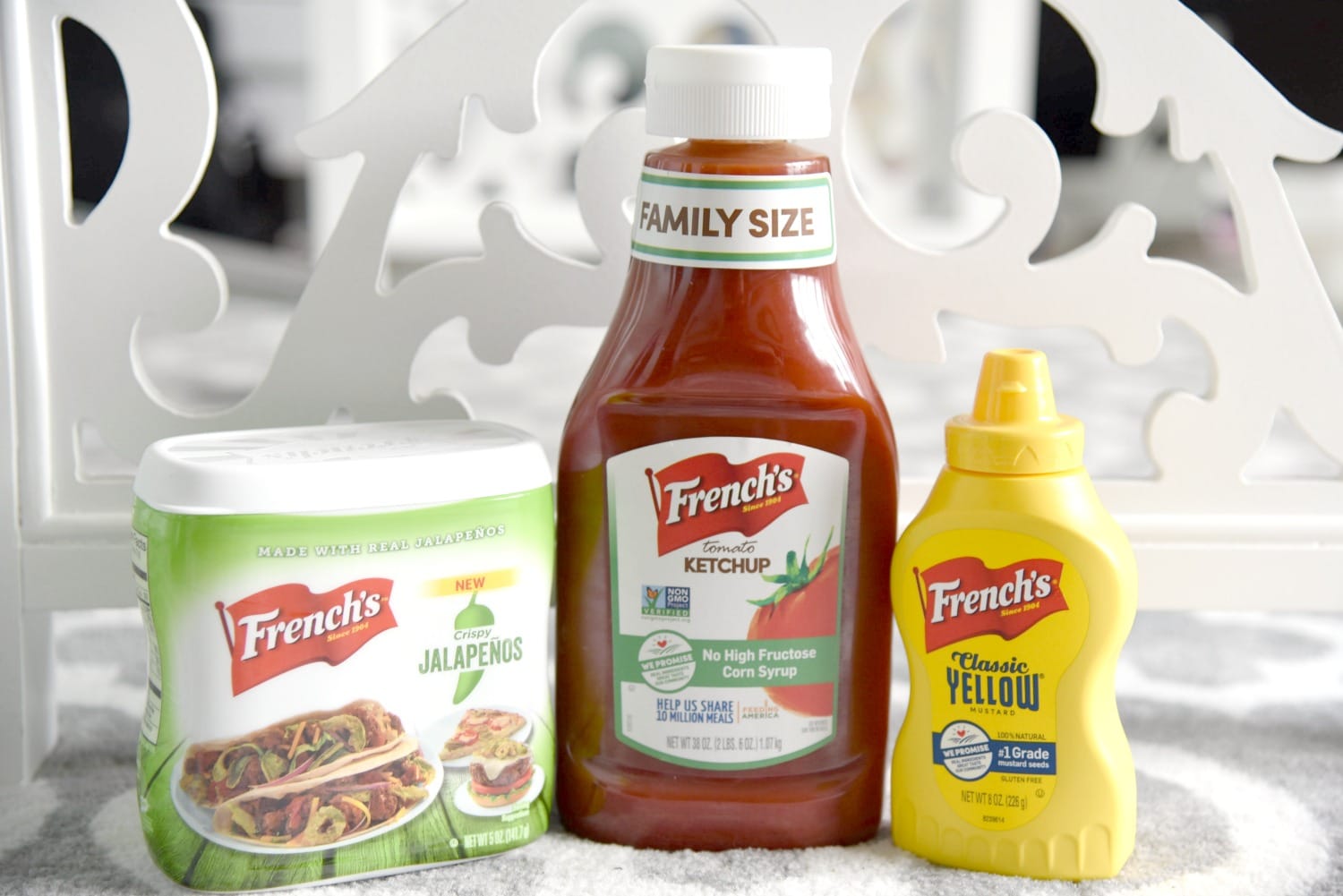 Our family has used French's products for years. French's Ketchup is constantly in our home because it contains no high-fructose corn syrup, no gluten, no artificial colors, flavor or preservatives, and it is non-GMO! When I was stocking up on French's Ketchup I also picked up French's Crispy Fried Jalapeños.  These tasty morsels are spicy, crunchy and made with real jalapeños. They add the perfect spicy kick to all your favorite meals and instantly turn a bland dish into something with a kick! They are perfect for turning an ordinary meal into a grown-up meal and are the key to making this Jalapeño Pretzel Dogs recipe.

How to make Pretzel Dogs
Pretzel dogs are made by wrapping some kind of bread dough around a hotdog and baking it.  I usually get help from the grocery store when it comes to the bread but you can use your own homemade dough if you feel inclined. I usually sprinkle some nice coarse sea salt on top to mimic a pretzel.
This recipe came courtesy of French's website and is easy to make. I admit I was a little skeptical of the dunking into the baking soda water part, but it allowed the Crispy Fried Jalapeños to really adhere well to the bread and it made a nice looking pretzel crust.
Easy Pretzel Dog Recipe – Jalapeño Pretzel Dogs
Ingredients
1 can refrigerated pizza dough, (11 oz.)
12 hot dogs
3 Tbsp. baking soda
water
5 oz. French's Crispy Fried Jalapeños, crushed
French's Mustard
French's Ketchup
Directions
Directions
Preheat your oven to 400°F. Spray a large baking sheet with nonstick spray or use a silicone baking mat.
While your oven is preheating, bring a large pot of water to a boil. Once boiling add your hot dogs and cook for about 3 minutes. Allow hotdogs to cool.
Open your pizza dough and roll it out into a rectangle. Using a pizza cutter, cut into 12 – 1/2 inch strips lengthwise.
Crush your Crispy Fried Jalapeños and place in a pie dish or a large plate.
In a small bowl that is large enough to dip your hotdogs in, place one cup of the cooking liquid from the hot dogs.  Add your baking soda and stir until dissolved.
Starting at the top of your hot dog, wrap one strip of dough around it. If you want a more pretzel look, twist it while your wrapping. When hot dogs are wrapped, carefully dip each one into the water mixture being sure to cover all the dough.
Carefully roll each hot dog in the crushed Crispy Fried Jalapeños and place on baking sheet. Bake for 10 minutes or until the dough is completely browned on top. Serve with French's Ketchup and French's Classic Yellow Mustard!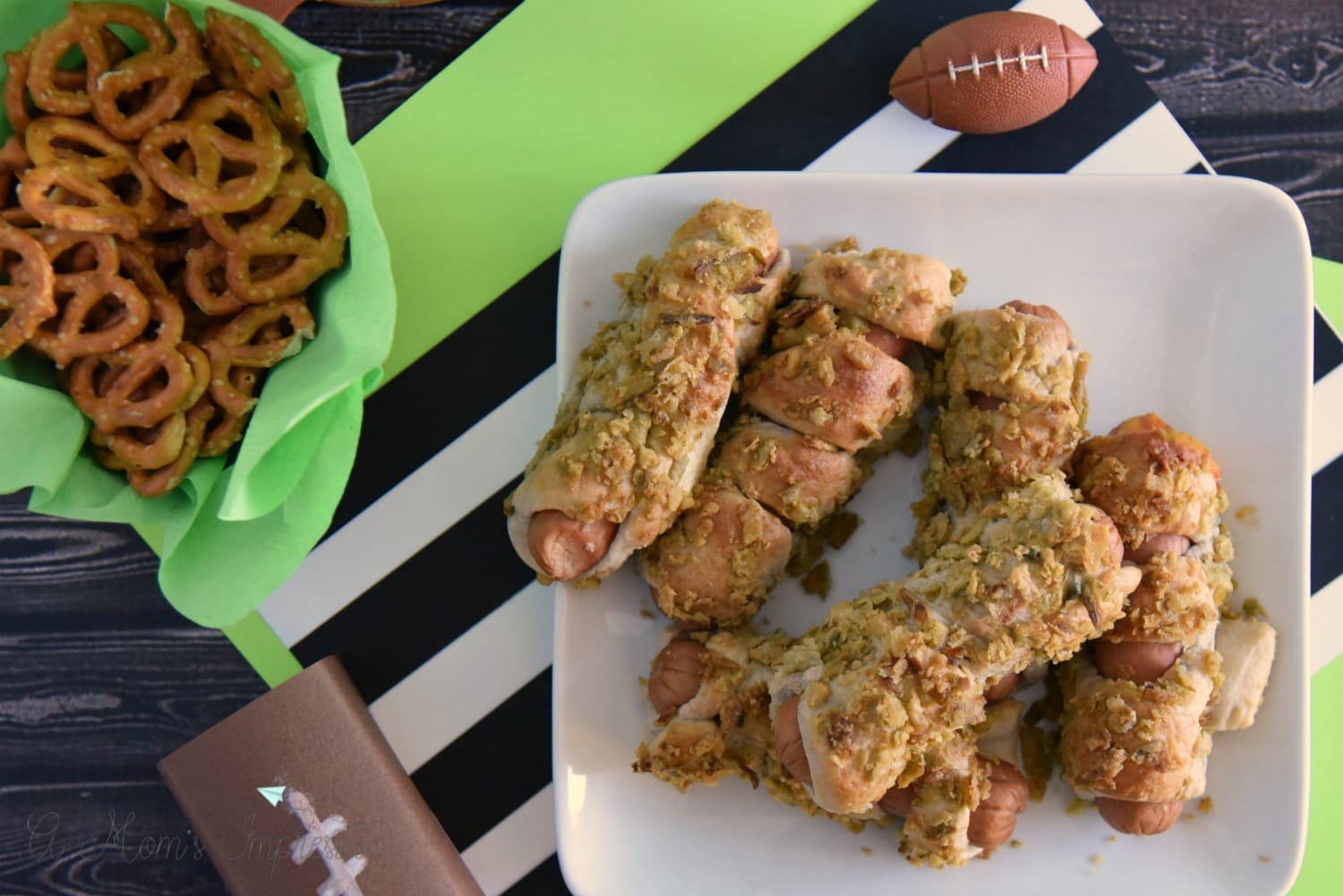 To make my dish a little more festive I served the Jalapeño Pretzel Dogs with a small dish of ketchup with a mustard football right on top. I love mixing my condiments and this is a fun little touch that your guests will enjoy!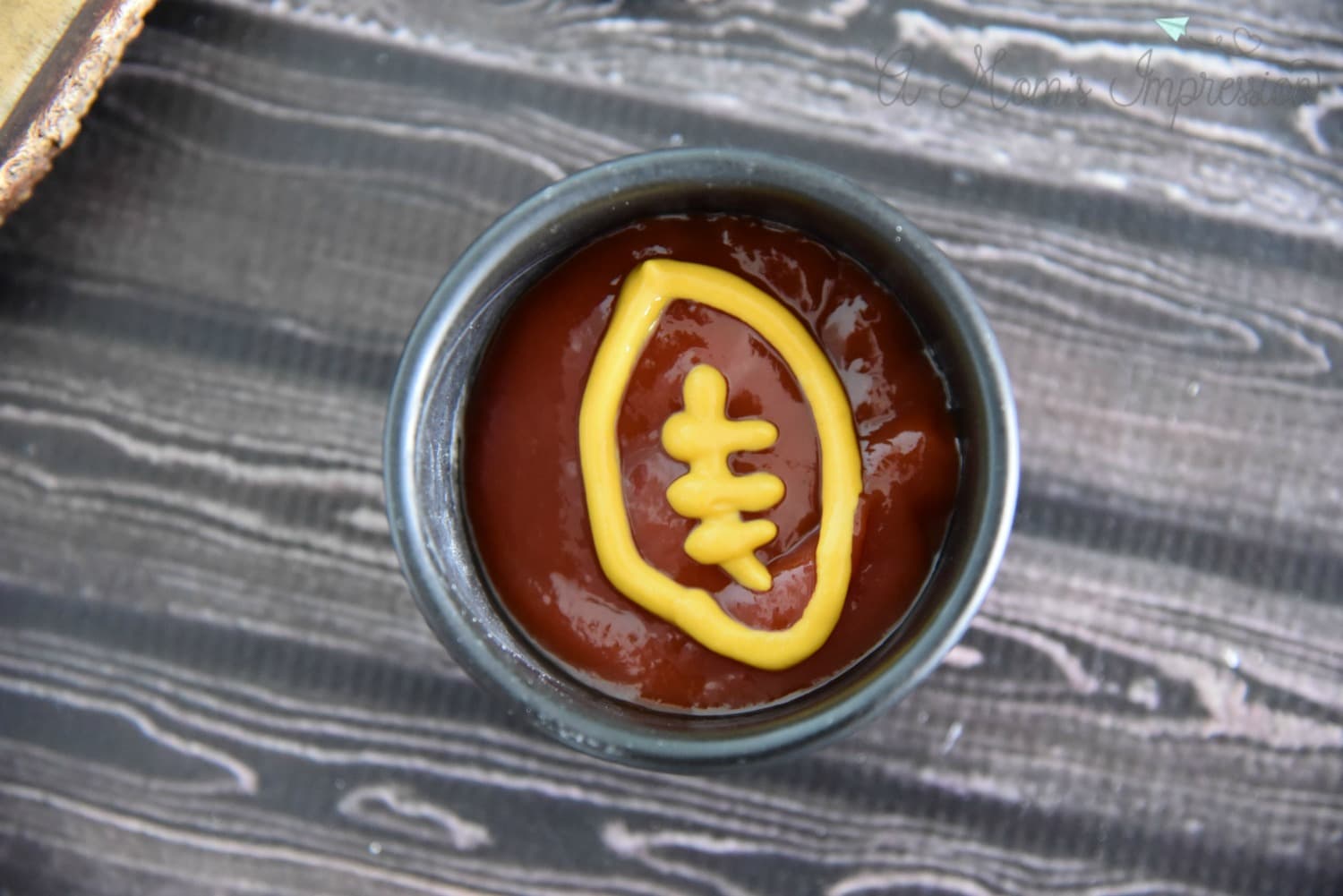 Kroger Savings
Save on all your tailgating needs at Kroger. Starting 1/21 there will be coupon inserts in your local newspaper for all the French's products that I used in this easy homemade pretzel dog recipe! Be sure to check it out!
Pin for Later