The fun and innovative Barista Bar from Creative Cafe is the perfect gift this holiday season.  Using no heat and coffee-free ingredients, Barista Bar lets your child channel their inner barista to make their favorite drinks.
This is a sponsored post. We were invited to write about the Creative Cafe Barista Bar by  ShopHer Media Influencer Marketing Agency.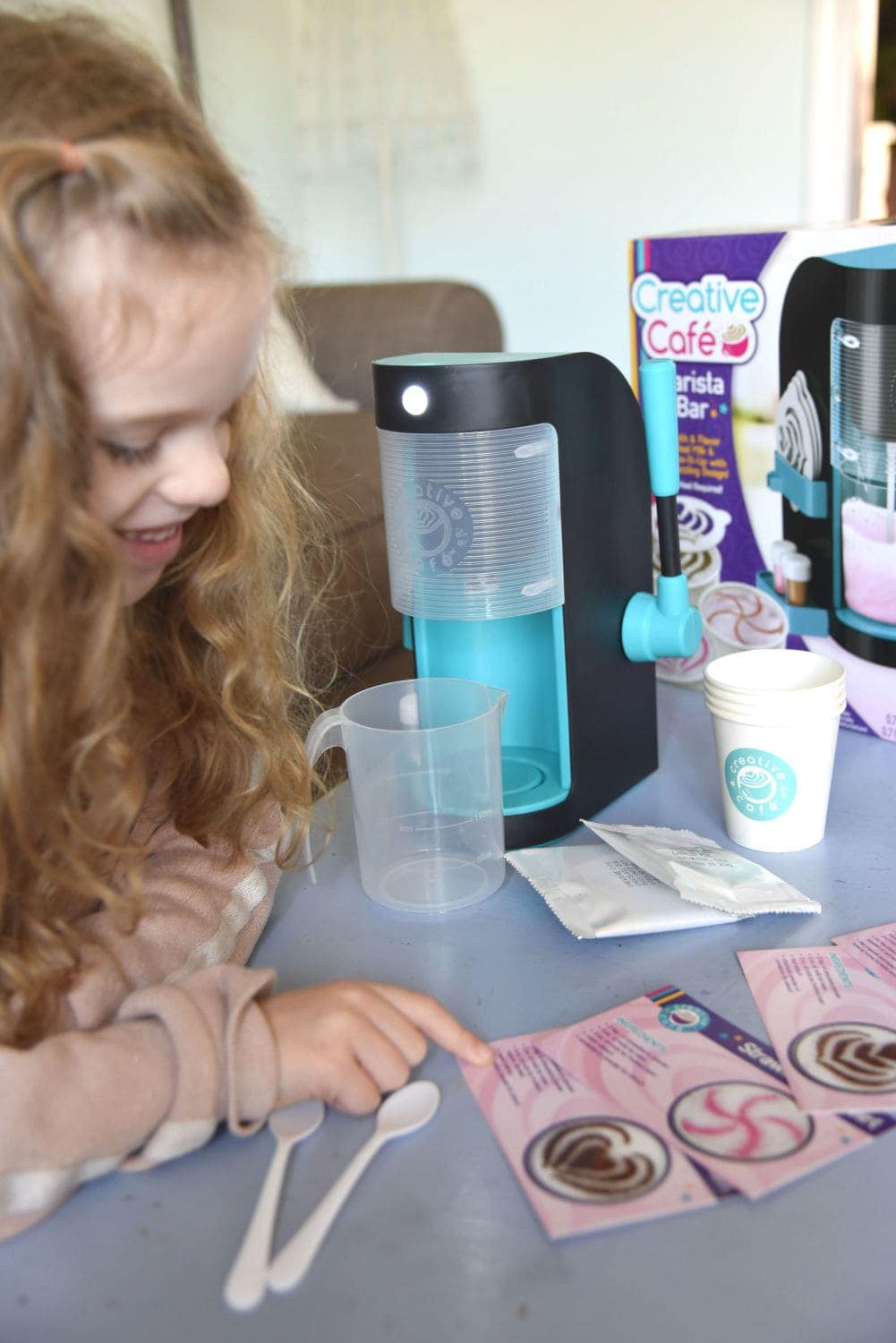 Baristas Are So Cool!
I've never worked at a coffee shop, but there is a part of me that has always wanted to.  When I go to my favorite local coffee place, I love to watch the baristas behind the counter.  I love the smell of freshly roasted coffee, the sounds of steam being released and the dance of the baristas all working together, it makes for a magical place and a symphony for the senses. And all of this adds up to a wonderfully tasty beverage that gets my morning off to the right start.
I think daughter will have the same infatuation with baristas that I have.  While her brother loves to build things, she is always focused on making things in the kitchen.  Her daddy loves to bake lots of different desserts and she never fails to be right by his side.  They love to experiment and try different things in their recipes.  They call their secret ingredients "surprises".  Some "surprises" work out better than others but they never fail to have a blast mixing everything together.
I hope, when she grows up, she will try her hand at being a barista if even just for a little bit.  She would make her mama proud!

Creative Cafe Barista Bar
This is why I was so pumped to have the opportunity to introduce her to the Creative Cafe Barista Bar from Rose Art. Creative Cafe is an active product that lets your child pretend that they are a real barista making custom latte drinks.  All of this fun is made kid-friendly by coffee-free ingredients made with no heat at all.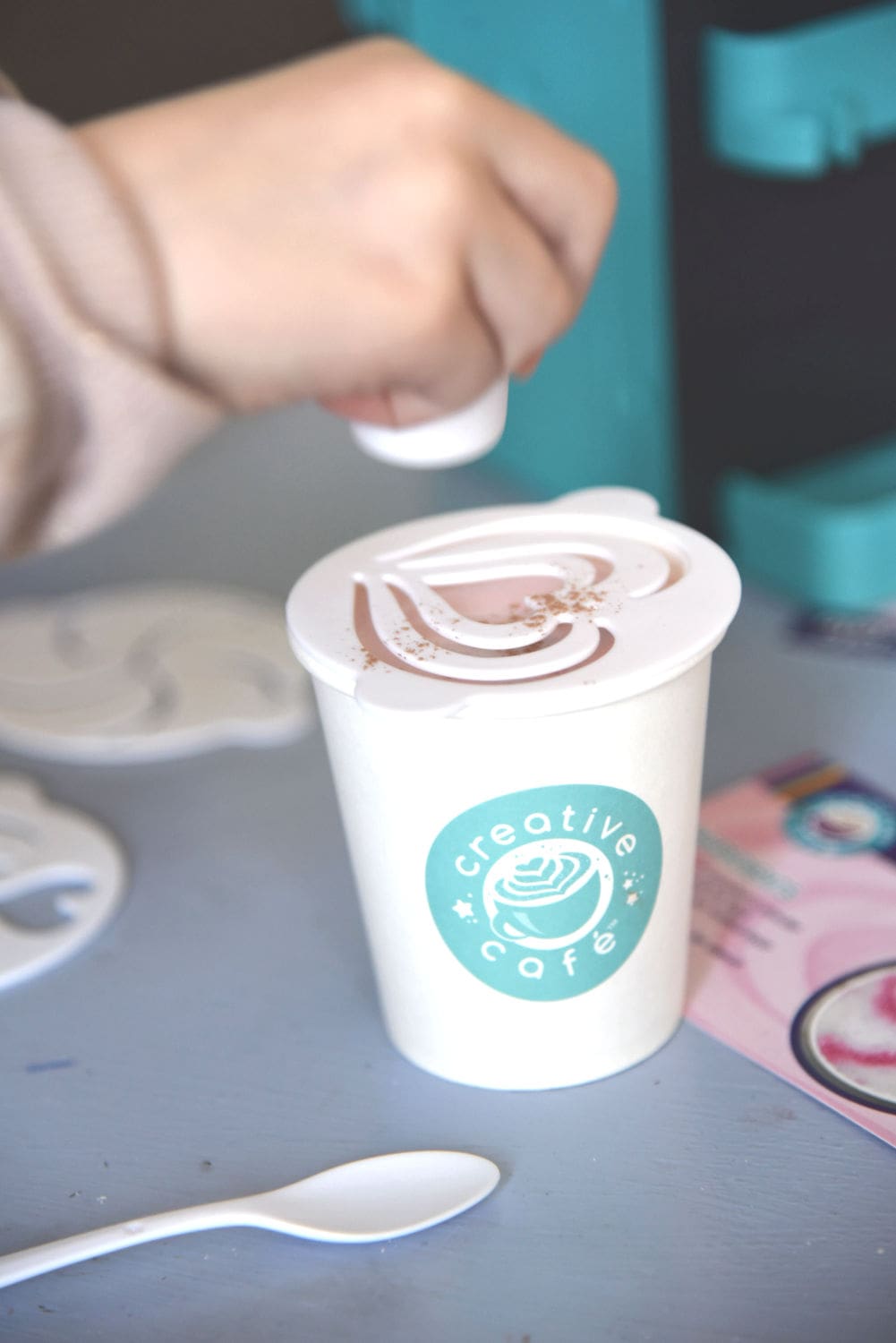 The Barista Bar gives you all the tools that you will need to get started:
Frothing Unit
Frothing Pitcher
3 Stencils
2 Shaker Bottles
2 Spoons
4 Paper Cups
1 Strawberry Flavor Mix
1 Chocolate Flavor Mix
4 Recipe and Tip Cards
How To Use Creative Cafe Barista Bar
Making your drink is a pretty easy three-step process.  Just add flavor, froth and design the garnish. The recipe cards are very helpful and will guide your child through the process.  There are also tips cards to give you a little extra nudge in the right direction.  You can use any sort of milk or milk alternative that you want.  The frothing unit does a great job making your milk nice and soft, just like at a real coffee shop.  One note about the frothing unit that I really liked was its safety feature.  The frothing unit does not spin around unless the frothing pitcher is inserted and has milk in it.  This helps to keep little hands away from quickly moving parts!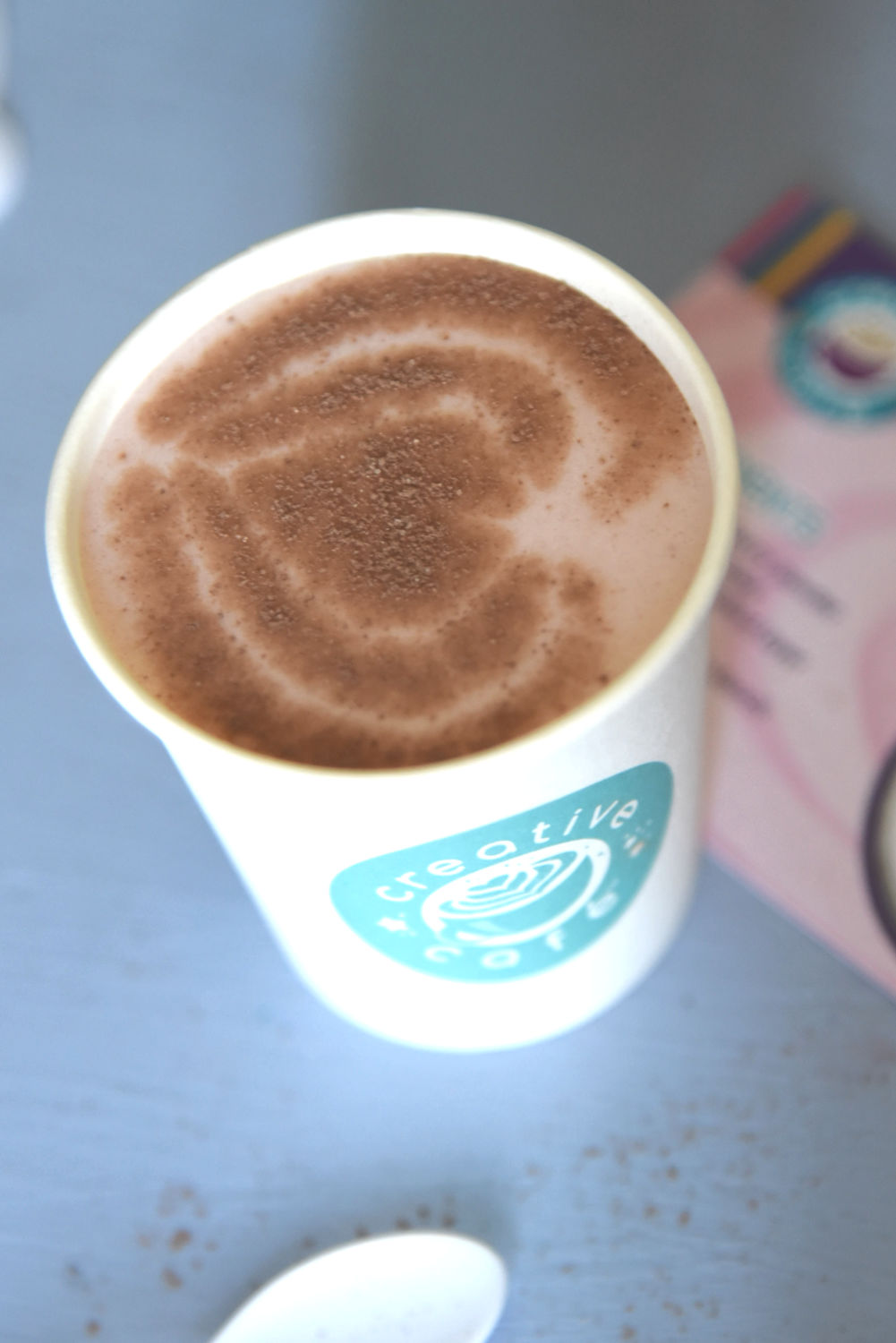 While the Creative Cafe Barista Bar certainly gives you plenty to start your own cafe in your living room, the real fun comes in when your child gets to be creative.  The Barista Bar encourages your child to try new things with new powders and syrups from your own kitchen!  Or, if you want to stick with the products provided, there are refills that you can buy.
Once you have finished making your drink, design a fun garnish with the provided stencils using their powder or your own from home.  The result is a yummy, tasty drink that looks just like it came from a fancy cafe but is kid friendly without any coffee or heat.
Where Can I Buy Creative Cafe Barista Bar
The Creative Cafe Barista Bar is easy to find online or in store.  You can purchase it on Amazon or in the toy sections of Target or Walmart.  Check out Creativecafemyway.com for more information.  This would be a perfect Christmas present for any child over the age of 6 that loves to create, explore and help out in the kitchen.  So many kids love to "pretend" to make drinks. Now, with Creative Cafe Barista Bar, they can actually make a real drink!
Let your child channel their inner barista this Christmas season with Creative Cafe Barista Bar.