My trip to LA didn't stop with the Frankenweenie premiere, we also attended a press day for the upcoming animated film Wreck-It-Ralph!  I know… I am one lucky mommy!
The Disney Wreck-it Ralph press day began at the Walt Disney Animation Building.  We began the day with breakfast and a screening of the movie.  While it wasn't completely finished yet, it was pretty neat to see how the scenes looked unfinished.  Director Rich Moore told us that Disney movies are never finished, they are just released!
I wish that I could show you more of the inside of the building, but cameras were off limits in most of the building.  I can tell you that the building is basically separated into two different "pods".  The pods are created for whatever movie the animators are currently working on .  One side of the building is all Wreck-It Ralph and the other is decorated for the 2013 release of FROZEN.  I seriously can not wait for this movie to come out next year.  It looks amazing!!!
Our first stop for the press day was an interview with Director Rich Moore, and Producer Clark Spencer.  I will post more about the interview in a couple of weeks. I was so impressed with their passion for the movie.  I couldn't help but get sucked up into all the enthusiasm in that room.
Next we headed downstairs to the viewing theater to watch the animated short that will be appearing before Wreck-It Ralph, Paperman. I can not wait to share this with you next week.  It is a super sweet story with amazingly beautiful pictures.
We ate lunch out on the terrace of the building.  I have to admit that I was a little jealous of the LA weather.  It was seriously like sitting in bath water!  I wish I could have bottled it up and taken it back with me to Indiana!  Lunch was quick because we were all very excited for the next activity on our agenda; the Sugar Rush Race Car  Competition!
We were given an exorbitant amount of edible candies and cookies to construct a race car worthy of the Sugar Rush Land in the Wreck-It Ralph movie.  All of us went for it and created a mess… along with 25 amazing edible race cars. (I might be exaggerating on the amazing part, but they were all edible)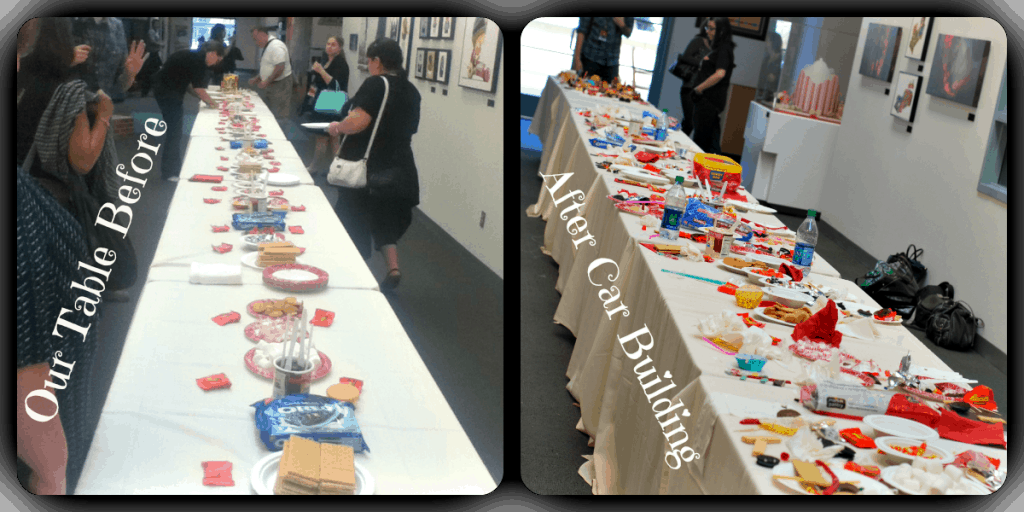 Are you curious what I came up with?  Well after about 30 minutes of car building this is it:
 I will not be quitting my day job soon to become a model race car artist! The cars were judged by Wreck-It Ralph Art Director Mike Gabriel.  Needless to say, I was not the winner!
After the Sugar Rush Race Car Competition, we were given a tour of the animation building.  Along the way we got to see pictures of the progression of the character Ralph.
I like the look that they ended up with!
The tour included a sneak peak into FROZEN, a story about sisterhood set in Norway!  My aunt and cousins live in Norway, and I have a sister,  so I am really excited to see how Disney tells this story.
On the Wreck-It Ralph side of the building we got to see how they researched both candy, and old time arcade games.  There was even an arcade in the building with a working Fix It Felix game!
Finally, we were split up into three different groups.  My group went in with Art Director Mike Gabriel and Visual Development Artist Lorelay Bove to learn more about how they created the lands of Wreck-It Ralph.  The land of Sugar Rush was inspired by the architecture of Antoni Gaudí.  It was amazing to hear about all the research that the team did to prepare for this movie.  They visited several sites in Spain as well as touring a bakery,a corn maze, and a car manufacturing plant  here in the United States. Sugar Rush is an amazing land created with candy.  Artist Lorelay Bove told us that if she wanted to eat what she created, she knew she did a good job!
Our second stop was with Animator Kira Lehtomaki and the Head of Animation on Wreck-It Ralph, Renato dos Anjos.  On this stop we learned out animators take the characters and animate them for a scene.  Kira showed us how she takes a character and animates him.  It truly is amazing what they can do with their computers!  Each animator is responsible for about 2-3 minutes of animation in the movie!  Renato dos Anjos showed us how to draw Ralph's hands and Vanellope von Schweetz.  Here is what I came up with:
Our last stop was the most amazing experience, and probably my favorite of the entire trip!  I got to a voice over in the recording studio!  That's right, I can't wait to share it with you next week!
After our time was finished at the Disney Animation Studios, we stopped in front of the old Animation building to take a photo.
Disney is currently filming Saving Mr. Banks, starring Tom Hanks and Emma Thompson,  at this location!  I was so excited as meeting Tom Hanks is one of my top things on My Bucket List.  I felt like I was close to him even though he wasn't actually there at the time (I am well aware that I sound a little crazy).
We ended the day with a little shopping and a screening of Monsters, Inc. 3D! Which is a whole new experience watching it in 3D.
It was a full, amazing day, and I would do it all over again and again!
A huge thank you goes out to Disney who will provide all accommodations and airfare for the event. While this event is sponsored by Disney, all opinions are 100% mine!