I admit it, I am a nerd.
I love video games.  While I don't often get the time to play them these days, I still fondly remember  growing up with my brother and sister playing the very first Nintendo.  We had Super Mario Brothers down to an art form.  That was the game that started it all. In my day, there were lots of arcades and they were the places to go to meet up with your friends. It was the "Hot Spot".
Good times!
When I first found out that I would be traveling to LA for the #DisneyMoviesEvent, I didn't know how much I would enjoy the Wreck-It Ralph press day.  I didn't know much about the movie (I am after all a new mom who doesn't get enough sleep let alone watch television these days), but I did know that I am a huge John C. Reilly fan and would probably like the movie.  What I didn't know was how much I would love this movie!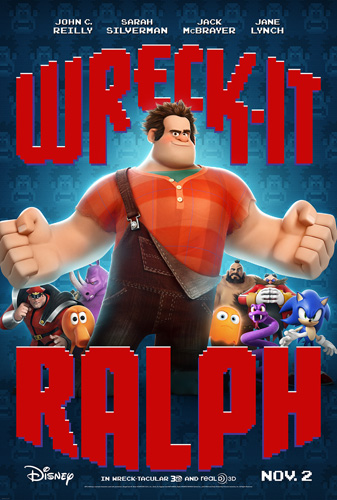 Its finally here… Wreck-It Ralph hits theaters today!  And without further delay, here is my review of the movie!
Synopsis
From Walt Disney Animation Studios and Emmy®-winning director Rich Moore comes "Wreck-It Ralph," a hilarious, arcade-game-hopping adventure. For decades, Ralph (voice of John C. Reilly) has been overshadowed by Fix-It Felix, Jr. (voice of Jack McBrayer), the good-guy star of their game who always gets to save the day. Tired of playing the role of a bad guy, Ralph takes matters into his own massive hands and sets off on a journey across the arcade through multiple generations of video games to prove he's got what it takes to be a hero.

On his quest, Ralph meets tough-as-nails Sergeant Calhoun (voice of Jane Lynch) from the first-person action game Hero's Duty, and feisty misfit Vanellope von Schweetz (voice of Sarah Silverman) from the candy-coated cart-racing game Sugar Rush, who may just be his first real friend. But everything changes when a deadly enemy is unleashed, threatening the entire arcade and Vanellope herself. Ralph finally gets his chance to save the day—but can he do it in time?
My Thoughts
I am not sure if I have ever fallen in love with a bad guy before.  Ralph is such a great "bad guy" that it is impossible not to feel for him.  He is shunned from everyone else in his community, and not even invited to his own game's anniversary party.  It has to be hard to compete with Fix-It Felix, Jr the quintessential "good guy".  What I love about Ralph is he decides to do something to earn the respect of the other members in his game.  He goes on a quest for a medal.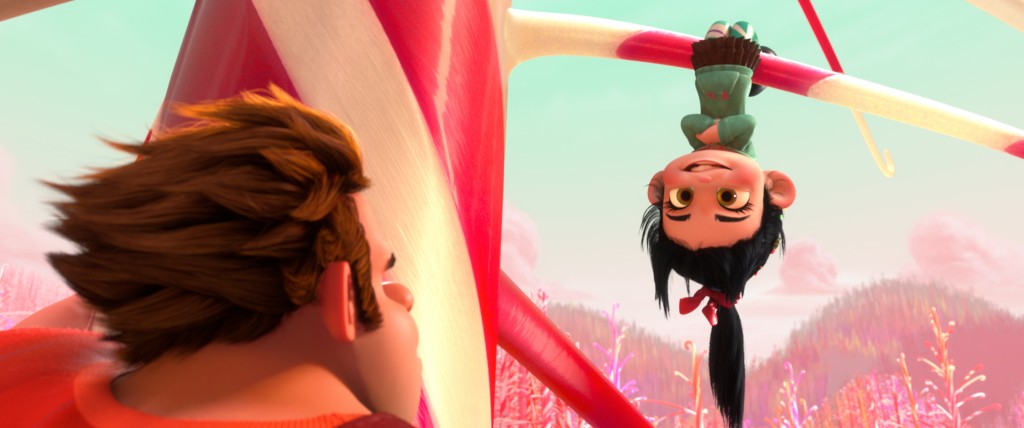 The world (or I should say worlds) that have been created in Wreck-It Ralph is ingenious.  There is a central station where video game characters go to meet up and visit each other.  This is how Ralph enters other games to try to earn his medal.  He finds himself in Sugar Rush, a land made of candy, trying to get his medal back.  In Sugar Rush he meets Vanellope von Schweetz and strikes up a very unlikely friendship.  While they seem different from the outside, Vanellope and Ralph are very much alike.  They both feel like misfits in their own world.  They work together to help Vanellope prove that she is more than a glitch and in doing so prove that misfits are what makes the world a better place.   I don't want to tell you anymore, because you need to run to the movies this weekend and see the film for yourself!
This movie is perfect for both parents and children.  It is clever enough to hold adults attention, as well as action packed enough to hold your child's attention throughout the entire movie.  It is nice to be cheering for the bad guy for once! For all of us gamers out there, be sure to keep your eyes open for all the fun video references throughout the movie.  There are several appearances from old friends!
Be sure to check out the Wreck It Ralph website and follow Wreck It Ralph on Twitter and  "Like" the Wreck It Ralph Fan Page. There will be a lot of updates this weekend as Wreck-It Ralph smashes into theaters.
A huge thank you goes out to Disney who will provide all accommodations and airfare for the event. While this event is sponsored by Disney, all opinions are 100% mine!