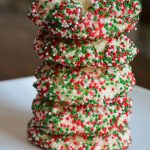 Print
Easy Christmas Cake Mix Cookies
I'm all about semi-homemade cooking and this easy recipe cuts corners with a boxed cake mix which is great when you are baking with kids.  You can switch these up for any holiday by just switching out the sprinkles!
Whisk together cream cheese and butter until light and fluffy. Add egg, vanilla, and cake mix and stir until it is well combined. Cover bowl and refrigerate for 20 minutes.

While the dough is in the refrigerator, preheat oven to 350 degrees.

Pour half of your sprinkles onto a flat plate. After your dough has chilled use a cookie scoop to make 1 inch balls of dough. This mixture is pretty sticky so I have found the best method is to scoop your ball directly onto the plate of sprinkles and then roll it around carefully to coat it with the sprinkles. Place on a lined cookie sheet. Warning, this part is messy.

Bake cookies for 12-14 minutes. Cool and enjoy!