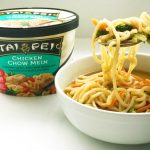 Print
Instant Chicken Chow Mein Noodles Soup
Our delicious Chicken Chow Mein Noodles is transformed into a hearty soup in an instant.
HEAT Chicken broth in a medium size pot to boil.


Add 1 package of frozen Tai Pei Chicken Chow Mein and shredded carrot to pot of boiling stock and bring to boil again.


Top with cilantro leaves if desired.