Print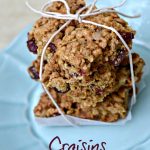 Craisins Breakfast Bars
A healthy alternative to store bought granola bars, these breakfast bars are perfect at breakfast or as a mid-day snack!
Preheat overn to 325 degrees. Line a 8-inch square baking pan with foil and spray it with cooking spray.

Whisk together oil, orange juice, orange zest and egg in a small bowl.

Combine remaining ingredients in a large bowl and mix together well. Pour in oil mixture and stir until all ingredients are moistened. Pour mixture evenly into a the prepared pan, pressing firmly.

Bake for 30 to 35 minutes or until a deep golden brown. Cool in pan for 15 minutes. Remove from pan, cut into bars. Serve warm or cool completely.