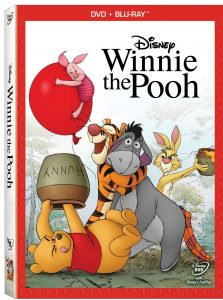 There really isn't a contest when it comes to my favorite Disney character.  Winnie the Pooh has made my heart melt since I was a very little kid.  I remember my dad tucking me in at night and reading the books by A.A. Milne.  I remember watching television shows about Winnie and Tigger and Piglet.  While the past few movies haven't really reminded me of my childhood friend, the new Winne the Pooh that is now out on DVD definitely did!
Winnie the Pooh return to its roots with the characters interacting with the pages in the book.  This "old school" Winne the Pooh is as loveable as I remember him being.  Winnie the Pooh and his friends search for a new tale for Eeyore who lost his somewhere.  The friends create a contest to find the best new tale for their friend and of course have many adventures along the way.
I watched this film with my five year old niece who also loved the movie.  While it is more of a calm, easy going movie than say Cars 2, younger kids may find that it doesn't keep their attention.  Older kids and adults will love the Winnie the Pooh that they remember from their childhood.
Official Press Release
Burbank, Calif. (September 9, 2011) – Walt Disney Studios proudly invites families and audiences of all ages to return to the HundredAcre Wood with some of the world's most beloved characters, as "Winnie the Pooh," the delightful all-new animated feature film comes home to
Blu-ray Combo Pack for the very first time, as well as DVD and Movie Download on October 25, 2011.  Reuniting audiences with Pooh, Tigger, Rabbit, Piglet, Owl, Kanga, Roo and last, but certainly not least, Eeyore (who has lost his tail), "Winnie the Pooh" is a honey of an in-home release containing hours of immersive bonus features, including exclusive animated shorts
"The Ballad of Nessie" and "Mini-Adventures of Winnie the Pooh: The Balloon;" a sing-along viewing option; an informative behind-the-scenes featurette for the whole family and deleted scenes with director commentary – all available on Blu-ray Combo Pack.

Inspired by the beloved stories from A.A. Milne's books and crafted in Disney's classic style, "Winnie the Pooh," is the most critically-acclaimed animated film of 2011*.  It is narrated by the voice of John Cleese and features the vocal talents of legendary voice actor Jim Cummings(over 350 voices including Gnomeo & Juliet) and a host of other distinctive actors including Craig Ferguson(TV's 'The Late Late Show with Craig Ferguson'), Tom Kenny (TV's 'SpongeBob SquarePants'), Bud Luckey (Toy Story 3) and musical performances by Zooey Deschanel (indie folk band "She & Him").
I get a little choked up every time I watch the movie.  It brings me back to being a little girl, cuddling my teddy bears.  I love reliving my childhood and being able to share something of me with my son!
Don't delay and go out and buy a copy for your family.  This classic film will soon be a favorite with everyone in your household!

This product review was made possible by Disney and  Click Communications.  I was not compensated for this review other than a product sample provided by the company or PR firm. All opinions are 100% mine.