Watching my kids learn how to swim isn't exactly peaceful for this anxious mom.  I have shared about my swim lesson anxiety in the past, but I am happy to tell you that it is so much better than it has been.  The reason I say this is because of the amazing staff at the Goldfish Swim School in Fishers, Indiana.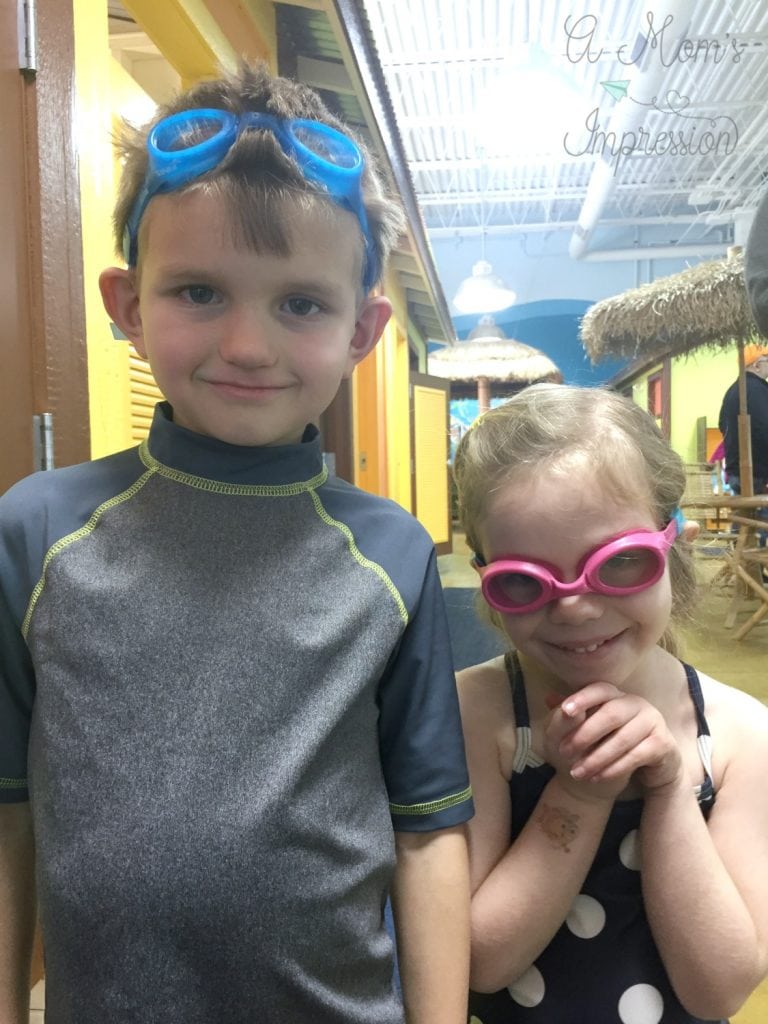 My kids have been taking indoor swim lessons at Goldfish Swim School for the past two months. It doesn't take long to figure out why this place is different. Every single time they have their lessons my husband and I sit down in the waiting area and observe how amazing the instructors, lifeguards and office staff are.  Each and every time we talk about how everyone in the building has a smile on their face and how they all seem to enjoy what they are doing.
We are talking about every… single… time!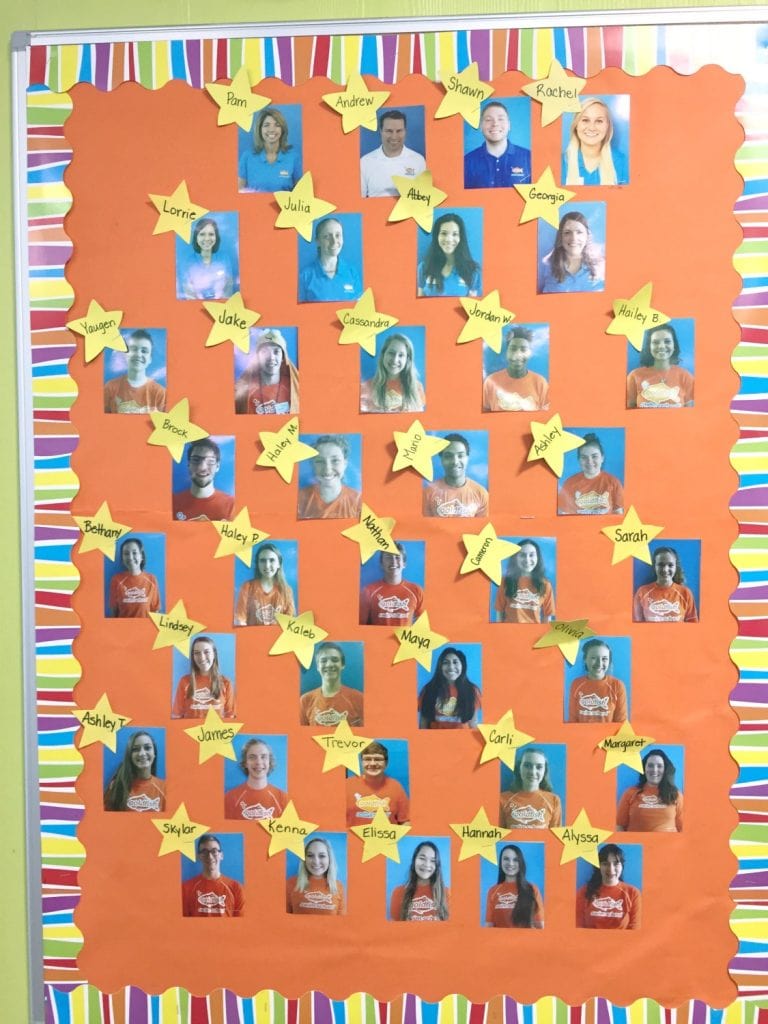 We can't help but to talk about it because it is a rarity. It is so refreshing to bring my kids to a place like Goldfish Swim School that genuinely seems to love teaching my kids to swim.  The entire staff at Goldfish seems excited to see our kids learn to swim.
Our kids have two amazing instructors that have made them excited to try new things.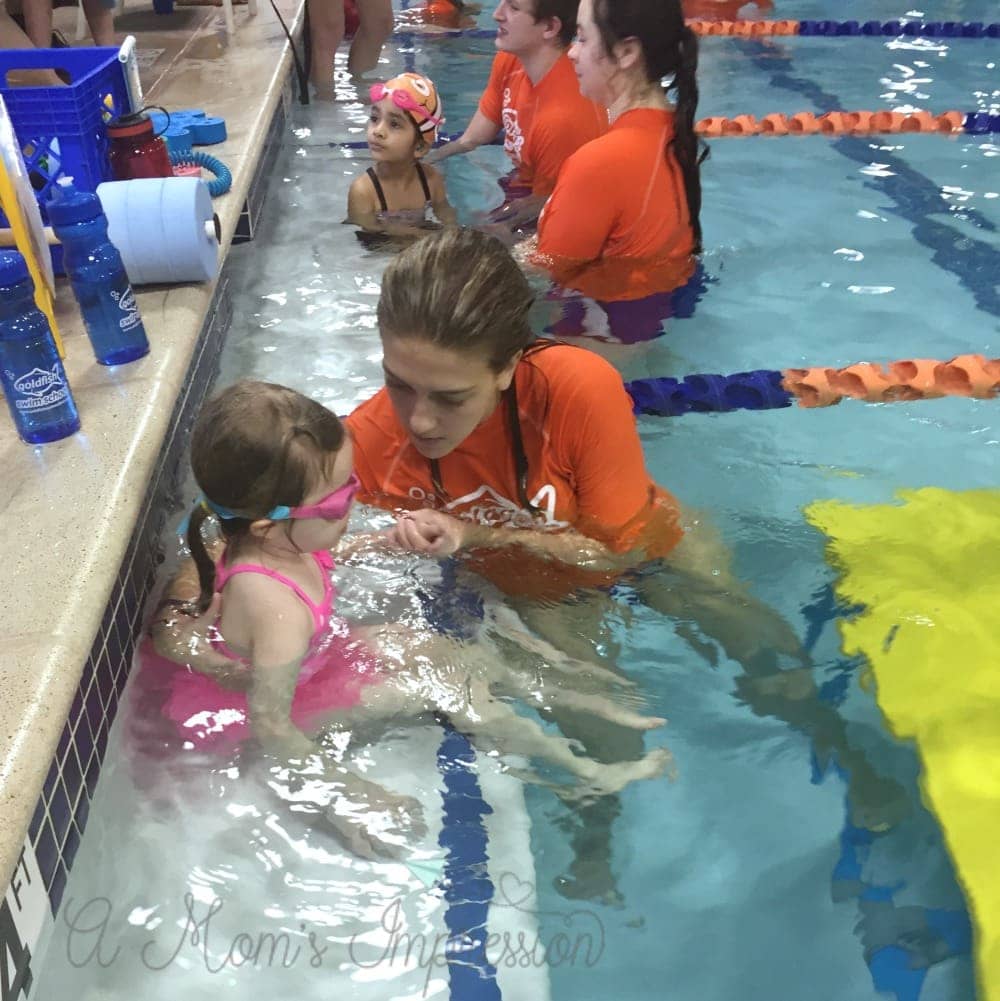 Goldfish Swim School Instructors
Miss Lindsey has been working with Caroline on building her confidence in the water.  Caroline is our reluctant swimmer and I have been worried about what swimming is going to be like this summer at the neighborhood pool if she doesn't start showing an interest.  She tells me that she is scared to go under the water. In two short months Miss Lindsey has not only gotten her more comfortable in the water, she has gotten her to swim to that platform with her head looking down at the bottom of the pool.  To me this was astonishing.
Miss Lindsey is very sweet with Caroline and build her confidence while still helping her step outside of her comfort zone. She encourages Caroline to try things that seem a bit scary at first and then praises her when she attempts them.  She celebrates the baby steps and make my daughter feel special along the way.
Guess what? Caroline has built up enough confidence that when we went on our Disney Cruise a few weeks ago, she went down the water slide all by herself!  I was very proud of her.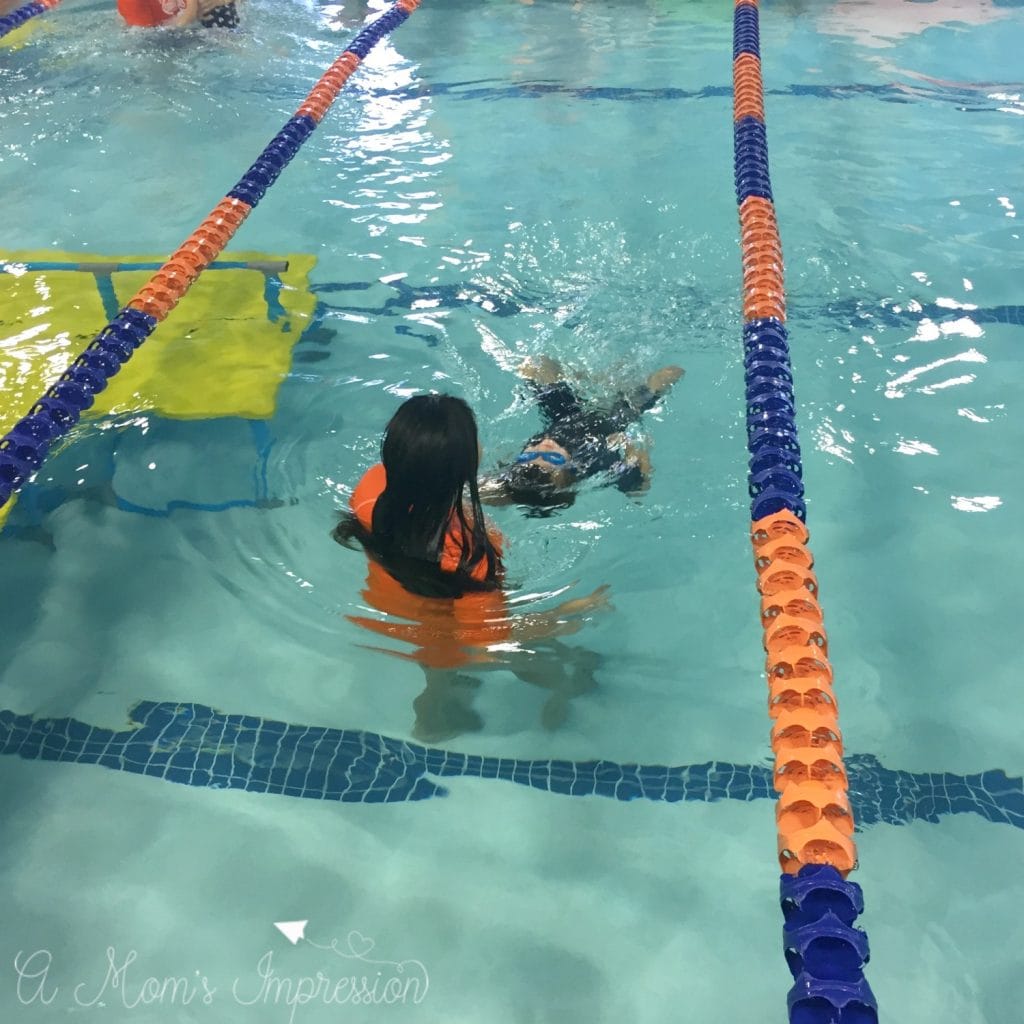 Miss Maya is Jonah's instructor in the Glider class.  She has amazing patience with the four boys who are normally in the class.  My husband and I are amazed at how Miss Maya is always smiling. Her smile is contagious and its easy to see why Jonah enjoys his class every Sunday.
We weren't as concerned about Jonah as we were about Caroline with his swimming as he has always been our little fish at the pool.  I wasn't expecting the amazing progress that he has made in his short time at Goldfish Swim School.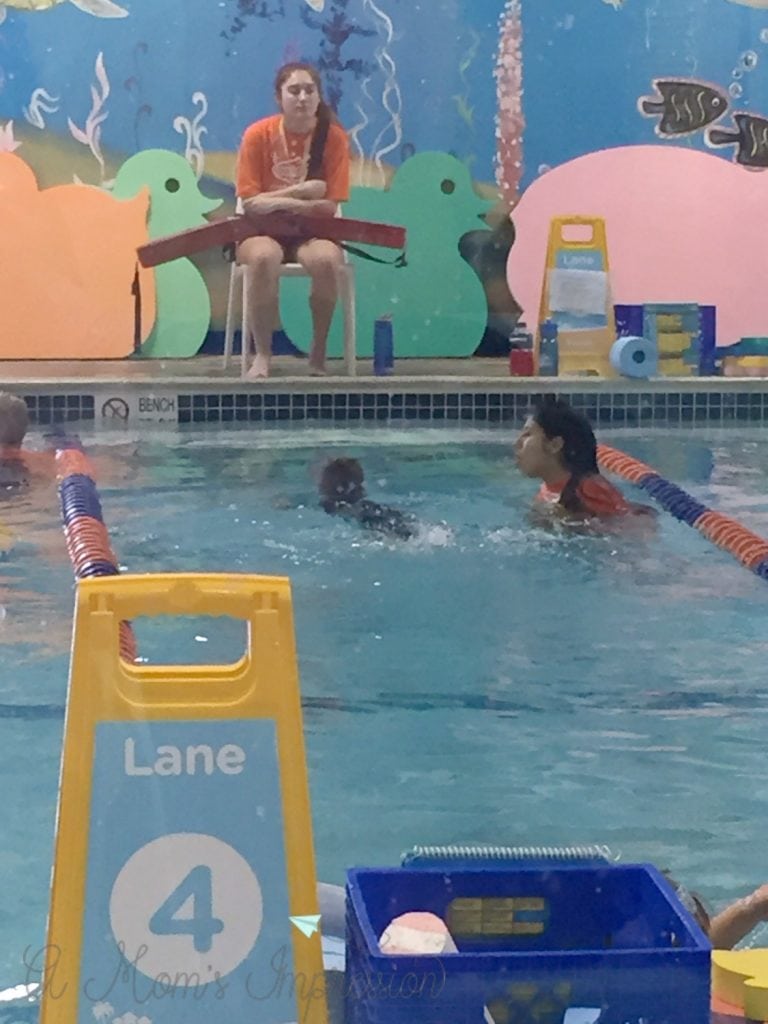 Miss May has been teaching Jonah the back stroke and how to float on his back comfortably.  He is swimming the length of the pool in a manner that I wish I could.  It is exciting to see how he is improving and learning more strokes every single week.
I feel my mom anxiety ease a little bit more every time we go to a Goldfish Swim School swim lesson.
I invite you to meet the amazing staff at the Fishers Goldfish Swim School.  You will see why we are so happy within the first few minutes of walking in the front door.  Manager Andrew is often at the front desk asking if everything is going well with a welcoming smile on his face.  This place is starting to feel like a family.
For more information about Goldfish Swim School in Fishers, Indiana be sure to visit their website.  Come on over and check it out, you will be amazed at how different and special swim lessons can be!
We partnered with Goldfish Swim School for Indoor Swim Lessons for Kids to facilitate this post. All opinions are 100% mine.