Everyone knows that the holidays mean family, fun and lots of food.  So, as the holiday season heats up, so will your oven. Cooking lots of food for everyone can get complicated.  To make cooking simpler and easier, check out the new Whirlpool® smart home appliances.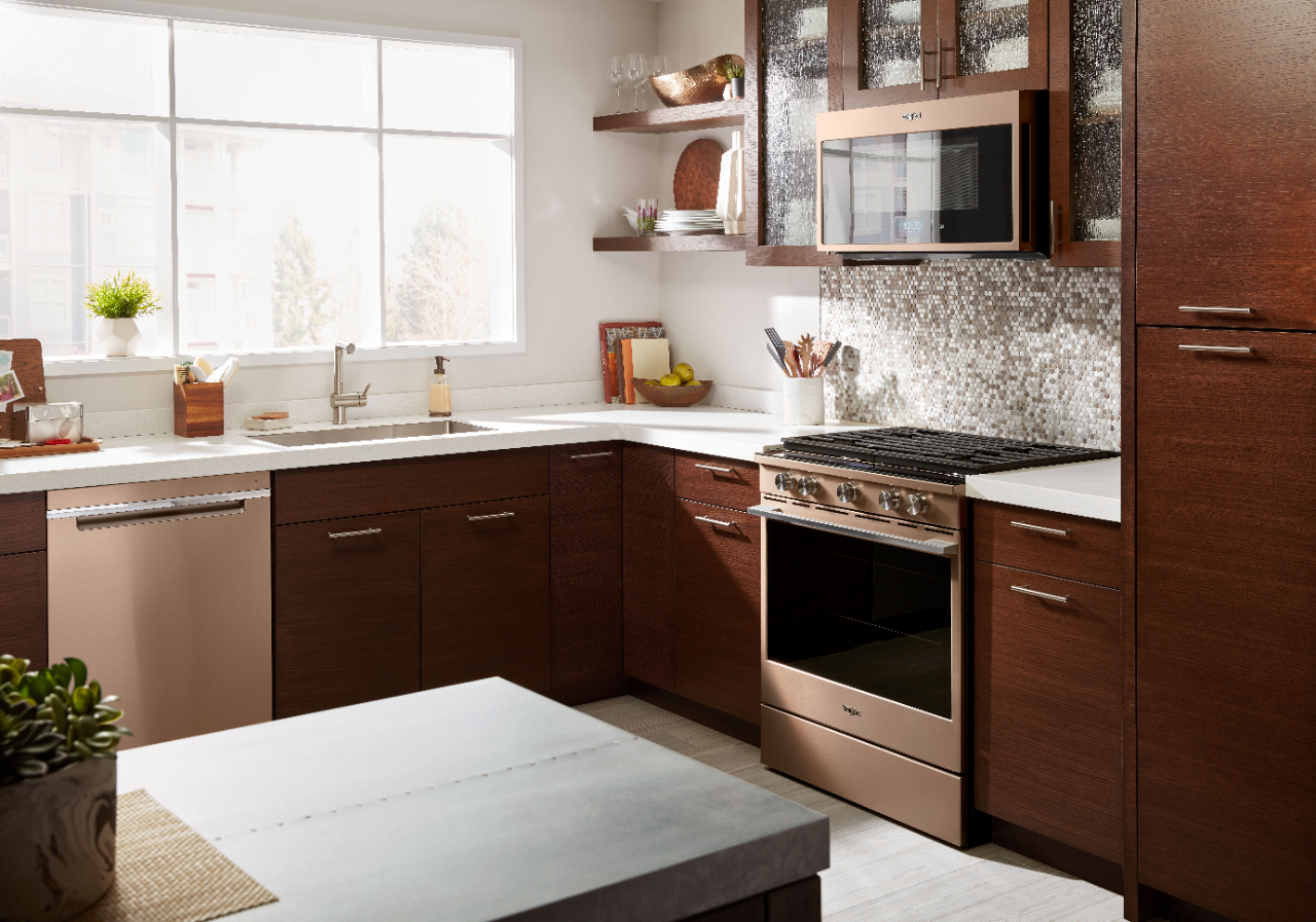 Whirlpool Smart Home Appliances
During the holidays, your kitchen is ground-zero for all of the excitement.  If you ask me, all this excitement can sometimes get just a little too crazy.  This isn't just around the holidays either.  Even on a normal Wednesday night, I'm trying to help my daughter with her homework, get my son's soccer shoes on and fix dinner all at the same time.  I need all the help I can get!
Luckily, Whirlpool has just come out with a new line of smart home appliances.  Their new Sunset Bronze Gas Convection Range is just what the doctor ordered to make my life a lot easier in the kitchen whether it is the holidays or not.
What is a Smart Home Appliance?
Whirlpool's new Smart Home Appliances are kitchen devices that you can control through your smartphone or tablet.  This can make kitchen duty so much easier is many different ways. For instance, with the Sunset Bronze Gas Convection Range, you can preheat your oven from any room in the house, check your oven timer on your phone or even reduce the oven temperature to keep food warm.
All I need is WiFi and the App installed on my device.  Just set the appliance to Remote Enable and you are ready to roll!  To find out more information and privacy information, simply head to whirlpool.com/connect.
The Gas Convection Range also has a really cool looking touchscreen display that gives me instant access to the settings that I use most often.  It also adapts and suggests customized presets it has learned from my routines.
Great Whirlpool Savings At Best Buy
Make sure you head to Best Buy to get your Whirlpool Home Appliance before the holidays so you are ready for your friends and family to invade your kitchen.  Also, between 9/27/18 and 10/30, you can save up to $400 on select kitchen packages.  There are a lot of other great offers from Whirlpool going on at Best Buy as well.  We love going to Best Buy, they are always so helpful and have the best selection of anything we need.
Let's face it, there are always a lot of things going on the kitchen.  It is the heartbeat of our house.  There are always things that need to be turned on, turned off, turned up or turned down.  With the Whirlpools new Smart Home Appliance, you now have everything you need to get through the holidays, or even any normal day, with a little more sanity.