Its that time… grilling season.  I love this time of year when you can invite your friends and family over for cookouts.  What I love even more is finding fantastic recipes to try out.  I saw this one courtesy of Kraft and thought it would be an excellent appetizer. You can even use the grill to make this fantastic dip!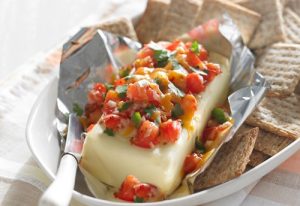 Warm PHILLY Mexican Dip
This flavorful crowd-pleaser can be prepped on the grill or in the oven, making it perfect year-round.
Prep Time: 10 min. | Total Time: 20 min. | Makes: 12 servings, 2 Tbsp. each
1 plum tomato, chopped
1 clove garlic, minced
2 tsp. KRAFT Tuscan House Italian Dressing and Marinade
1 pkg. (8 oz.) PHILADELPHIA Cream Cheese
1/4 cup KRAFT Mexican Style Shredded Four Cheese with a Touch of PHILADELPHIA
1 Tbsp. fresh cilantro, chopped
TRISCUIT Crackers
Make It
Heat grill to medium heat.
Combine tomatoes, garlic and dressing.
Place cream cheese on sheet of heavy-duty foil; top with tomato mixture and shredded cheese. Place on grill grate.
Grill 8 to 10 min. or until shredded cheese is melted and cream cheese is softened, but still holds its shape. Sprinkle with cilantro. Serve with crackers.
Use Your Oven:
Prepare this recipe year-round by assembling recipe on foil-covered baking sheet and baking in 375ºF oven 12 to 14 min. or until shredded cheese is melted and cream cheese is softened but still holds its shape. Serve as directed.
Substitute:
No heavy-duty foil on hand? Just use a double-layer of regular foil instead.
Nutrition Information Per Serving: 80 calories, 7g total fat, 4.5g saturated fat, 30mg cholesterol, 95mg sodium, 1g carbohydrate, 0g dietary fiber, less than 1g sugars, 2g protein, 6%DV vitamin A, 0%DV vitamin C, 4%DV calcium, 0%DV iron.