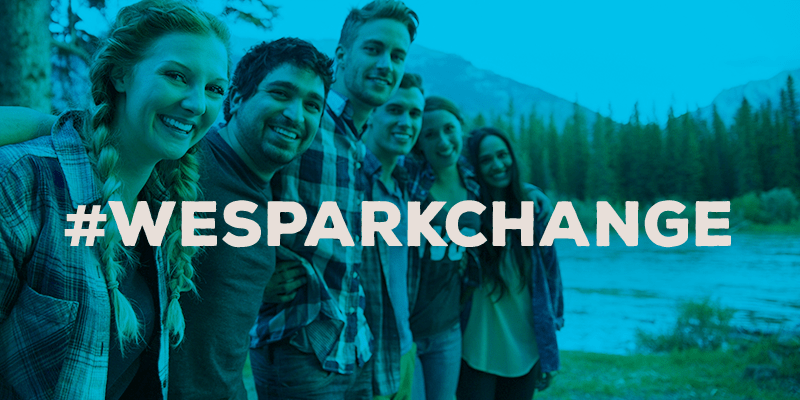 I don't think about it everyday, but it is becoming more and more apparent to me.  As a teacher, I work with kids everyday and this fact is staring my right in the face and I am unable to deny it any more.  I like to think that as a citizen of a country as great as the United States of America, I can say that none of my fellow citizens are going hungry.  Families not having enough to eat is a problem for other countries, not ours, right?  But I have more and more kids come into my room at school everyday undernourished because they are not getting enough to eat.  Sometimes they tell me they are hungry, sometimes I just know by the way they look and the way they are acting.  It breaks my heart.
We need to do something about this. We need to spark a change.  We need to fight back.  The fact that one in six people in America may struggle with hunger at some point during every year is not acceptable.  In addition we are now facing what food banks call the "Spring Hunger Gap", when food supply is often at its lowest level.  There is usually a decline in food donations during the first quarter of the year and this leaves food inventory at a very low point at the start of each spring.
This is why I want to tell you about Walmart's Fight Hunger.  Spark Change.  campaign.  There are 140 million customers who shop at Walmart stores each week.  This is an unbelievable amount of people and, if they all work together, they can make a huge change.  Through this effort, Walmart hopes to donate up to $3 Million to Feeding America and its local member food banks based based on public participation in the #WeSparkChange social media challenge.
Walmart is also teaming with it's suppliers (Campbell's, ConAgra Foods, General Mills, Kellogg Company, Kraft, and Unilever) to donate enough to help Feeding America secure 75 million meals for its member food banks.
So how can we participate in this campaign is it runs from April 6 to May 3, 2015?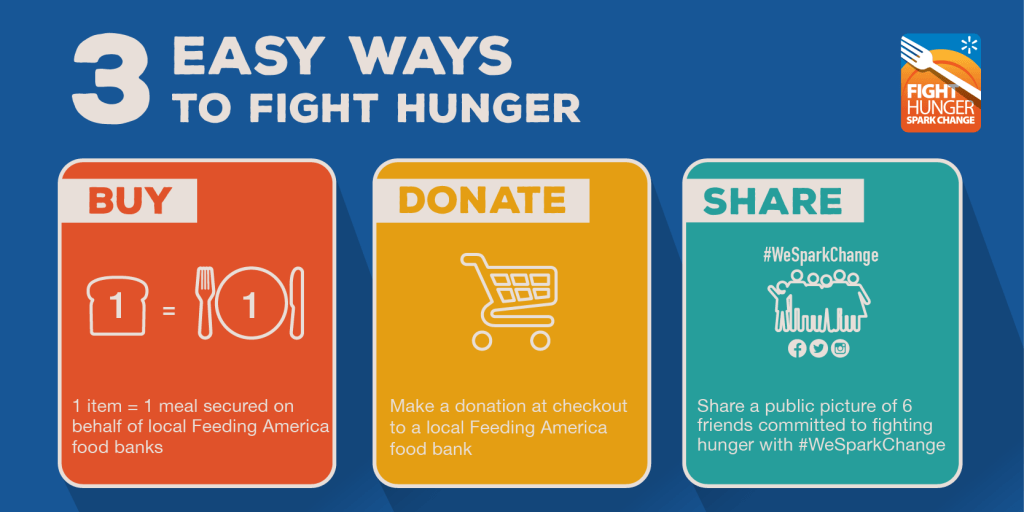 There are three easy ways:
1.  PRODUCTS—When a Walmart customer purchases one of 240 participating products in Walmart stores nationwide, a donations with be generated by the product supplier.  For every participating item purchased, a meal will be secured for the local Feeding America food bank.
2.  DONATIONS—Walmart customers can donate on behalf of a local Feeding America food bank at the cash register during checkout.
3.  PHOTO SHARING—Anyone can take a picture of six friends who share their commitment to fight hunger and post the picture on Facebook, Instagram or Twitter as a public post with the hashtag #WeSparkChange.   The six peiple in the photo represent the one in six people who face hunger in the U.S. every year.    For every public post connected to the hashtag #WeSparkChange, Walmart will donate $10.00, with a maximum donation up to $1.5 Million, to Feeding America and its member food banks.  This donation will be on top of an already $1.5 Million donation that Walmart will be initially offering.  This is up to $3 Million donated during this campaign!  We, as the public, can help get to this goal.  We can post multiple pictures, tag friends and challenge them to do the same.
If we all pitch in, we can do this together and help make sure that no families go hungry this spring.  We live in a great country where no one should be without food.
Fight Hunger.  Spark Change.

Join Me for the #WeSparkChange Twitter Party
On Friday, April 24, at 1 p.m. ET. I will be joining The Motherhood for the #WeSparkChange Twitter Party. The details are available on The Motherhood's Vite page.  I hope you can join us and spread the word about this worthwhile cause!
I wrote this sponsored post as part of a campaign with The Motherhood.  All opinions are 100% mine!