Get ready for a new adventure with old friends! The next chapter in the Toy Story franchise, Toy Story 4 releases into theaters tomorrow June 21st!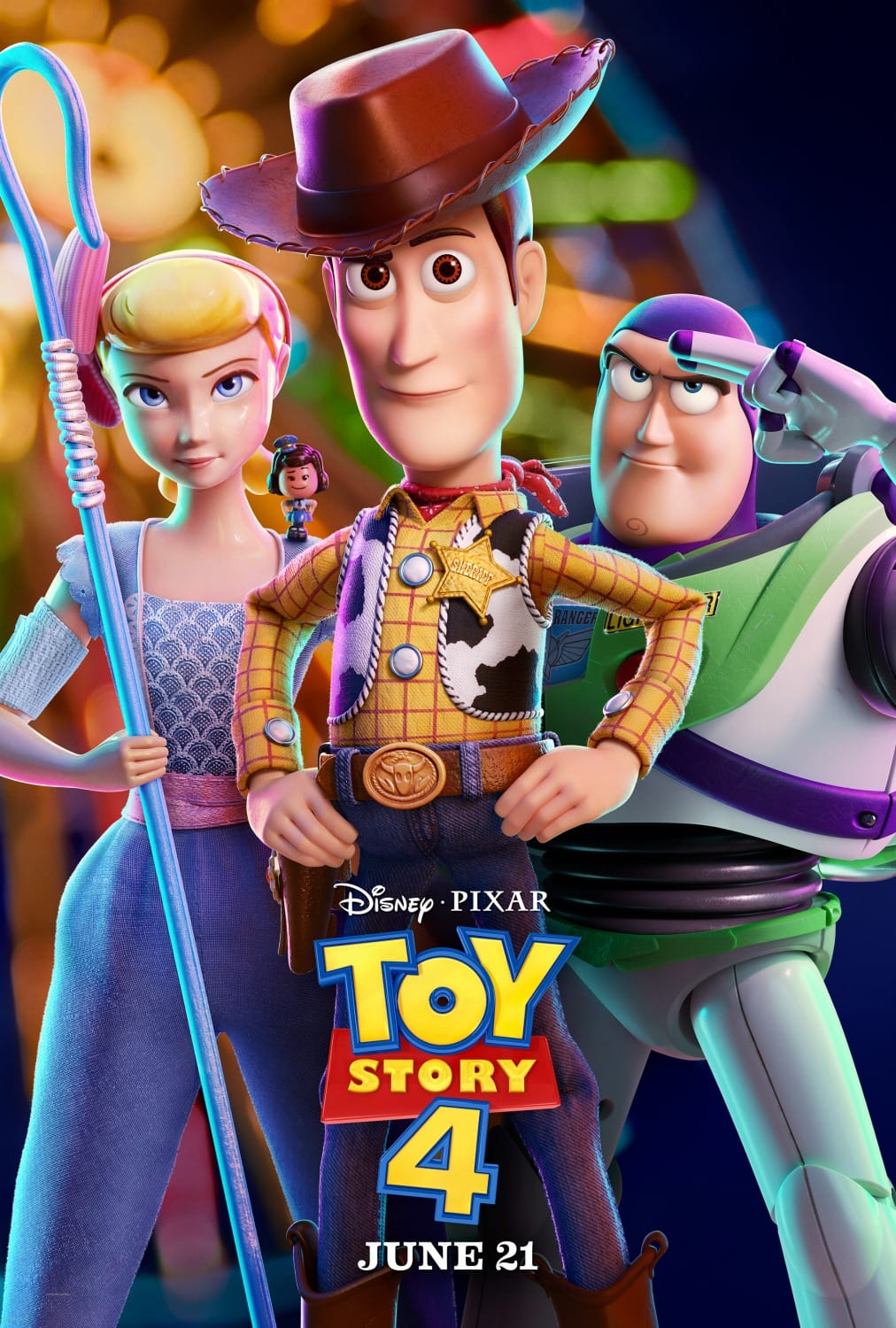 The first Toy Story movie came out the year I graduated high school. It was a a year of personal growth for me and I felt like I was leaving my childhood behind. I remember watching the movie and falling in love with it. I mean, what kid didn't imagine their toys coming to life when they weren't there. It was brilliant, original, and put Pixar on the map.
While Toy Story 2 wasn't my favorite, it was my son's favorite when he saw it. I think we watched the DVD 100 times. My son's favorite toy was his Buzz Light Year toy and he played with him for YEARS! He was so obsessed with Buzz that he was Buzz that year for Halloween.
Toy Story 3 came out when I was transitioning to life as a busy mom. I was entering my thirties and the story line of the film really made me emotional. I LOVED TOY STORY 3. I thought it was the perfect movie and the perfect way to end the franchise. I tell people all the time that it is in my top five films of all time. I didn't see a reason for them to add another film, so as you can imagine I was very skeptical when I heard that they were making a 4th film.
I crossed my fingers that Pixar wouldn't ruin my love of these characters, and sat down to watch a screening of the film.
Toy Story 4 Synopsis
Woody (voice of Tom Hanks) has always been confident about his place in the world, and that his priority is taking care of his kid, whether that's Andy or Bonnie. So, when Bonnie's beloved new craft-project-turned-toy, Forky (voice of Tony Hale), declares himself as "trash" and not a toy, Woody takes it upon himself to show Forky why he should embrace being a toy. But when Bonnie takes the whole gang on her family's road trip excursion, Woody ends up on an unexpected detour that includes a reunion with his long-lost friend Bo Peep (voice of Annie Potts). After years of being on her own, Bo's adventurous spirit and life on the road belie her delicate porcelain exterior. As Woody and Bo realize they're worlds apart when it comes to life as a toy, they soon come to find that's the least of their worries.
Meeting New Friends
Pixar knows what it is doing when they create characters for their Toy Story films. Their villains usually have a heartwarming backstory (except for maybe Al) and their heroes capture our hearts. Toy Story 4 continues with this tradition. We meet up with some new friends, a doll that isn't as bad as we think, and some pretty cool "lost toys" with some familiar faces.
When we meet the characters we find that Bonnie is as cute as she was when we left her and the toys are enjoying being played with again. Woody is forgotten a little as Bonnie creates relationships with some of the other toys but he remains his positive self.
A new obstacle approaches for Bonnie as the time comes for her to register for kindergarten. As always, Woody is there for his kid and tries to help Bonnie cope with the anxiety of leaving her parents and making friends. At school Bonnie wasn't allowed to bring a toy, so she creates a new one, Forky.
Woody knows how important Forky is to Bonnie and he tries to protect him, which proves to be hilarious!
My Thoughts
As I said earlier, I was really worried that I would be disappointment in this film because of how much I loved the last one.Well, I should never doubt Pixar, they know what they are doing and Toy Story 4 was just as magical as Toy Story 3.
I think the reason I loved it so much was because like the films that preceded it, I was able to connect with the story in a way that related to my now forty-something year old life. There comes a time when you have to move forward to the next phase and that is kinda what this movie was all about.
(I will be adding more to my review of why specifically I loved the ending in about a week so that I don't spoil anything for you all)
My kids also LOVED this movie. They laughed the entire time! Pixar does such a great job at creating humor that both kids and adults think is funny. We all just loved Forky and thought he brought a lot to the table in this film.
Is this Film Kid-Friendly?
I feel like this was a movie that was safe for kids to watch without worry of violence or language. It is rated G which is a great thing in my book. It feels like forever since we had an animated film that was rated G instead of PG from Disney. There are some freaky looking dolls in the film that might scare some really young kids, or adults even for that matter, but I think the film does a nice job of telling everyone that they are supposed to be creepy and therefore makes the situation a little humorous. I have pretty sensitive kids and neither of them were that bothered by them in the end.
Overall, this is a must-see movie this summer!
Toy Story 4 is the ending I never knew I needed until I watched it.
I cried I laughed, I felt… it was magical!
Toy Story 4 is now in Theaters!
Keep up with latest by using the hashtag #ToyStory4 on social media and by following their social channels!
Facebook  |  Twitter  |  Instagram   |  YouTube
Thank you to Disney Studios for inviting my family to a screening of the film.
For more summer movie fun check out the Cinemark Summer Movie Clubhouse!