We have just a few more days until Doctor Strange is released in theaters across the country.  I am feeling the excitement from my friends and family who have been asking me about the movie.  I promise, there will be no spoilers from me, but what I did tell them is that Tilda Swinton's character "The Ancient One" is my favorite.
Tilda gives an amazing performance that allowed me to appreciate the movie in a whole new way.  A few weeks ago, I had the privilege of sitting down with Tilda along with 24 other bloggers to talk about her gender-breaking role in the newest Marvel movie.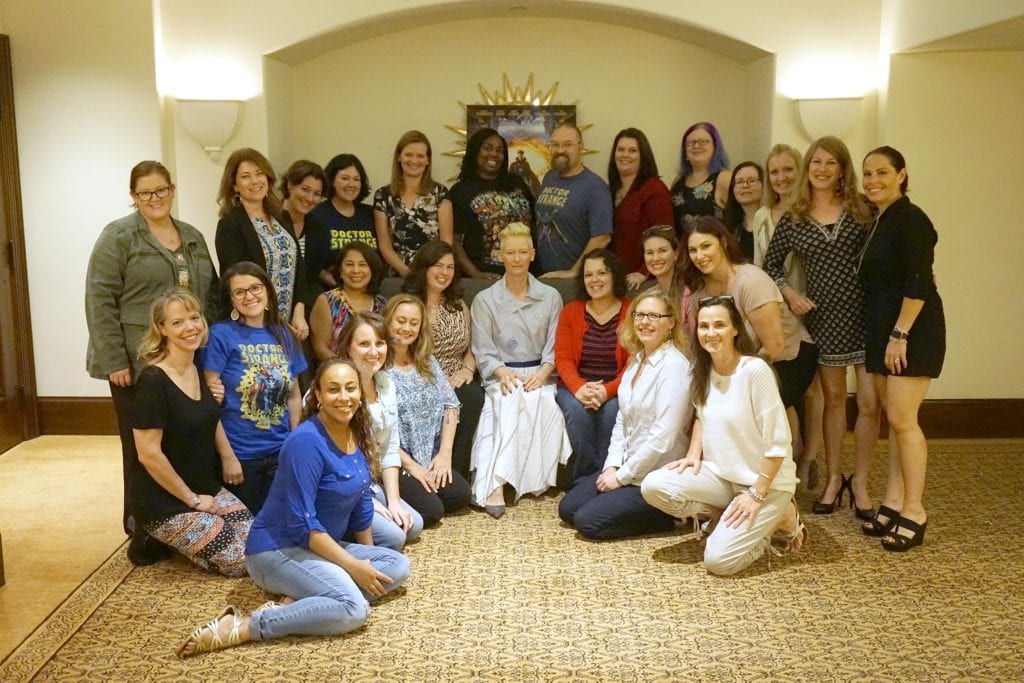 If you aren't familiar with Doctor Strange, The Ancient One is Doctor Strange's mentor.  She is the one who teaches Doctor Strange about the mystic realm and guides him as he practices the mystic arts.  Tilda Swinton was perfect in this role and was ecstatic to be asked to be apart of the Marvel Universe. When asked about how she felt joining this vast Marvel Universe she had this to say:
I don't know about anybody else in Marvel movies, but for me, it was like being asked to join the circus.  We all joined the circus and we were all given these incredible costumes and everybody in the Marvel universe that I've met so far is so psyched to be a part of it, even though there are some people who have been there for years, technicians or people who have lit all these films for years, or Alex Byrne who does the costumes, she'd done like seven Marvel films – nobody's jaded, everybody's psyched, it's a playground!
Screen writer and Director Scott Derrickson thought that Tilda would be perfect in the role, in fact he actually wrote the role for her. Tilda didn't even have to audition for the part. Tilda told us a little bit about how the role kinda fell into her lap…
Well, I was in a very fortunate position of not auditioning at all.  I was in LA anyway, I was working with the Coen Brothers and I was told that Scott Derrickson wanted to meet me and I didn't know why.  I'd met him in the past and I didn't know why he wanted to meet me. We had tea and he told me he was going to do this film, and he told me that he had written this part for me, he basically kind of emotionally blackmailed me and said, "If you don't do it, I'll have to rewrite it." So I was flattered and honored and intrigued. Then of course I read it and I felt really good about it, but I was very lucky.  He presented it to me like that.  The film that he spoke about there at that tea table, I remember, was incredible. He said, 'This is going to be a film, a big, tent pole Marvel film about creation, and not about destruction.'  I mean, that's what's so moving, I think, about the film is this power that Doctor Strange is taught to wield is a power for good.  It's really new.  I know that all Marvel superheroes eventually work for good, but there's a lot of city-flattening that goes on.  But we actually put a city together again.  And when he described that to me, I remember thinking, 'Oh wow I can't wait to see this film, let alone be in it.'  I was in at that point.
The role of The Ancient One is traditionally one of an Asian male in the comics.  We asked Tilda about playing that role as a woman…
They (Director Scott Derrickson and Producer Kevin Feige) felt that there were couple of kind of gnarly, racial stereotypes around the two big Asian characters in the film, one was Benedict Wong's character; he was a sort of servant.  And the other was the Ancient One, who was a kind of old, wise Fu Manchu character.  Scott wanted to make it a woman, which I think was a really, really cool move, you know, to put a woman in the Marvel universe who's not twenty-one and in a bikini.
Director Scott Derrikson expanded on this during his interview that I will share with you tomorrow.
Playing a superhero has its struggles.  Tilda talked about the biggest struggle playing The Ancient One.
The only real struggle was casting spells – learning all these amazing things with fingers, and then remembering what to say at the same time.  And then they would say, 'So you have to put your hands there, not there because the light is going to go (makes a sound) so that kind of masks.
The Ancient One has a modern look, but still keeps in the character of a wise old soul.  So we asked Tilda about her hair or lack thereof…
Well it was my suggestion and we had several months of playing with options, all sorts of weird wig ideas, all sorts of long lobes we went 'round the houses with it but eventually, it felt like less was more and I loved it.  I thought it looked really, really ancient, but also kind of modern and rad,it was a nice feeling, as well.
The Ancient One says some pretty profound things in the movie. We asked Tilda if there was anything that her character said that she was proud of and this is what she had to say…
There's a moment earlier when I'm teaching Doctor Strange and looking straight into the camera – basically teaching the globe's population of fifteen-year-olds about mindfulness.  That was like, WOW!  This is such a great chance, you know, to say, 'Yes I'm a rad superhero myself, but I'm telling you, be authentic, you can control your mind; you have a choice of your reaction to obstacles in your life, and serve something greater than yourself!'
Tilda also talked about an amazing scene between herself and Doctor Strange that I will share after the movie is released.  Be sure to come back and read about it after you have seen the movie.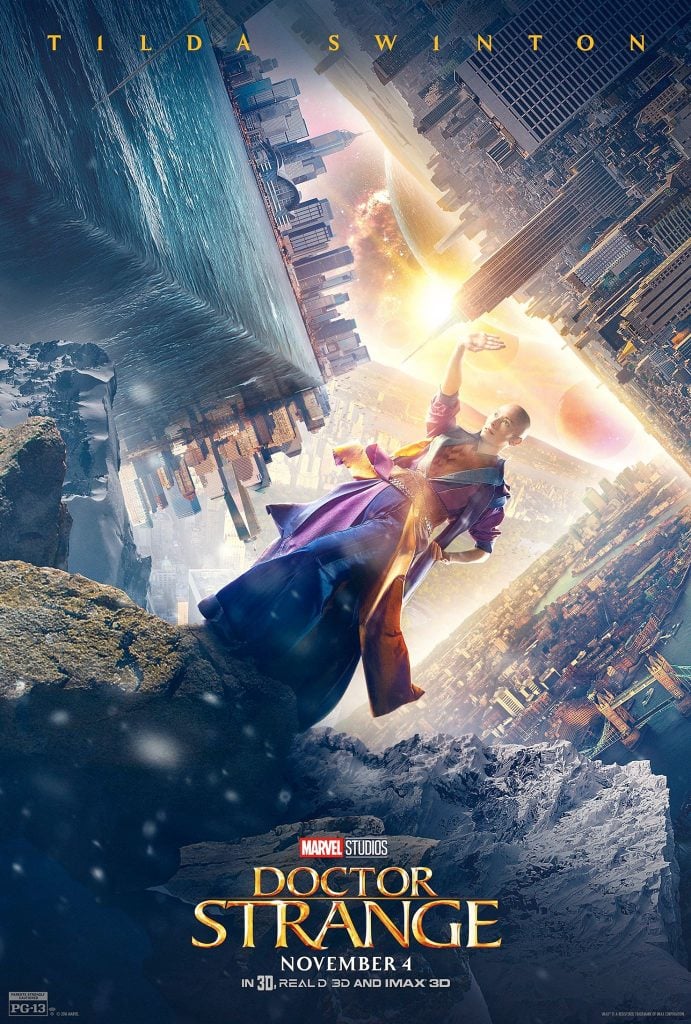 Tilda knocks her role out of the park and I think its because she really understands her character.  We asked her to describe her character, the Ancient One, in one word and this is what she had to say…
It's a noun and not an adjective – it's perspective.  Yeah.
You can see Tilda Swinton in her role as the Ancient One in theaters this Friday, November 4th when Doctor Strange releases nationwide!  For now, enjoy the trailer.
For up to date news and sneak peeks be sure to visit the official DOCTOR STRANGE website.
Stay tuned this week and next for more exclusive interviews from the cast and crew of Doctor Strange.  If you missed them be sure to check out my interviews with Benedict Cumberbatch and Rachel McAdams and stay tuned for more exclusive Doctor Strange coverage all this week!
A huge thank you to Marvel/Disney for flying me out to the Doctor Strange press event and putting me up in a hotel.  All opinions are 100% mine.