Kinetic Sand is the perfect ingredient to make your own DIY Beach themed sensory bin. This beach sensory bin keeps kids playing for hours and cleans up easily without any mess.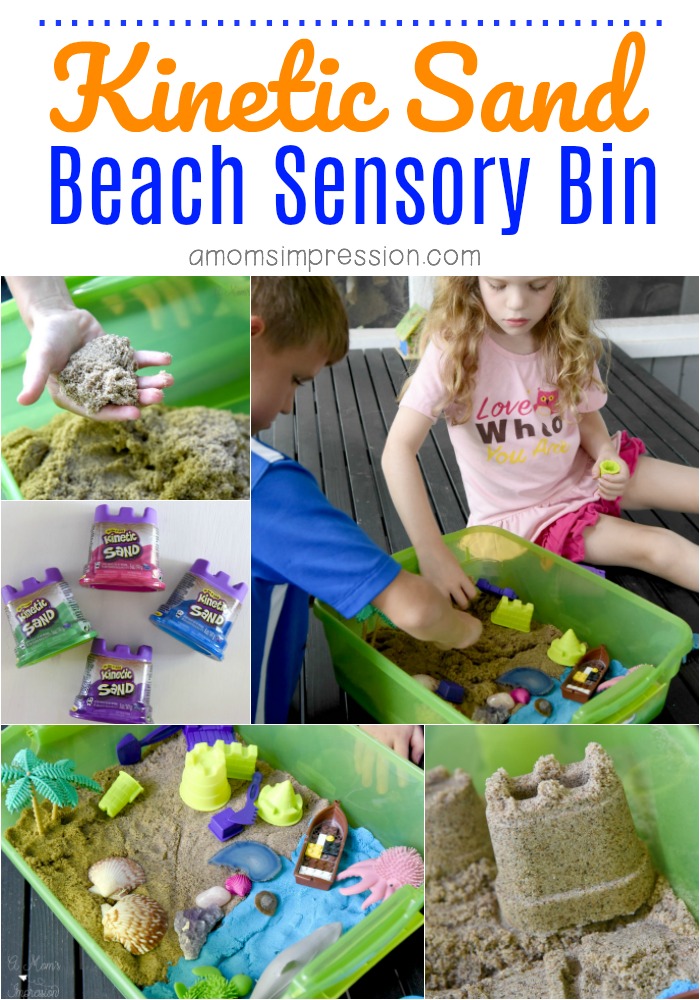 This post is sponsored by Spin Master. All opinions are 100% mine.
One of the things I love best about my children is their creativity.  My son is always designing and building something, and I often eavesdrop on my daughter while she is playing with her dolls.  I love getting an insight into how their beautiful, little minds work!
I believe one of my primary duties as a parent is to nurture them to be imaginative and creative.  I want them to interact with the world and always be looking at the possibilities in front of them, to "think outside the box", especially during after school playtime.  It turns out, one of the best ways to encourage them to "think outside the box" is for them to play "inside the box" using sensory bins and Kinetic Sand.

What is a Sensory Bin?
Sensory bins are fantastic tools for enabling your children to grow in many important ways: creativity, problem-solving, imagination, practical life skill, language development, understanding sense and much more! The goal is for kids to use their senses as they play with the objects inside the bin. Often the ones that we make use touch, sight and sometimes smell. I have also seen some amazing sensory bins that can be made with items that kids can taste!
They are incredibly simple and easy to make and can be just about anything that you (or your child!) want them to be. You can use whatever you want to give your child an interactive, tactile experience.  I could be birdseed, rice, water, anything. The one thing that we love to use is Kinetic Sand.
What is Kinetic Sand?
Made by Spin Master, there is only one Kinetic Sand! It looks just like regular sand but can be molded and shaped into anything.  It is like wet sand without the mess! Kinetic Sand is made up of 98% real sand and 2% magic! This natural sand is gluten, casein, and wheat free. So all children, regardless of allergies, can play with it.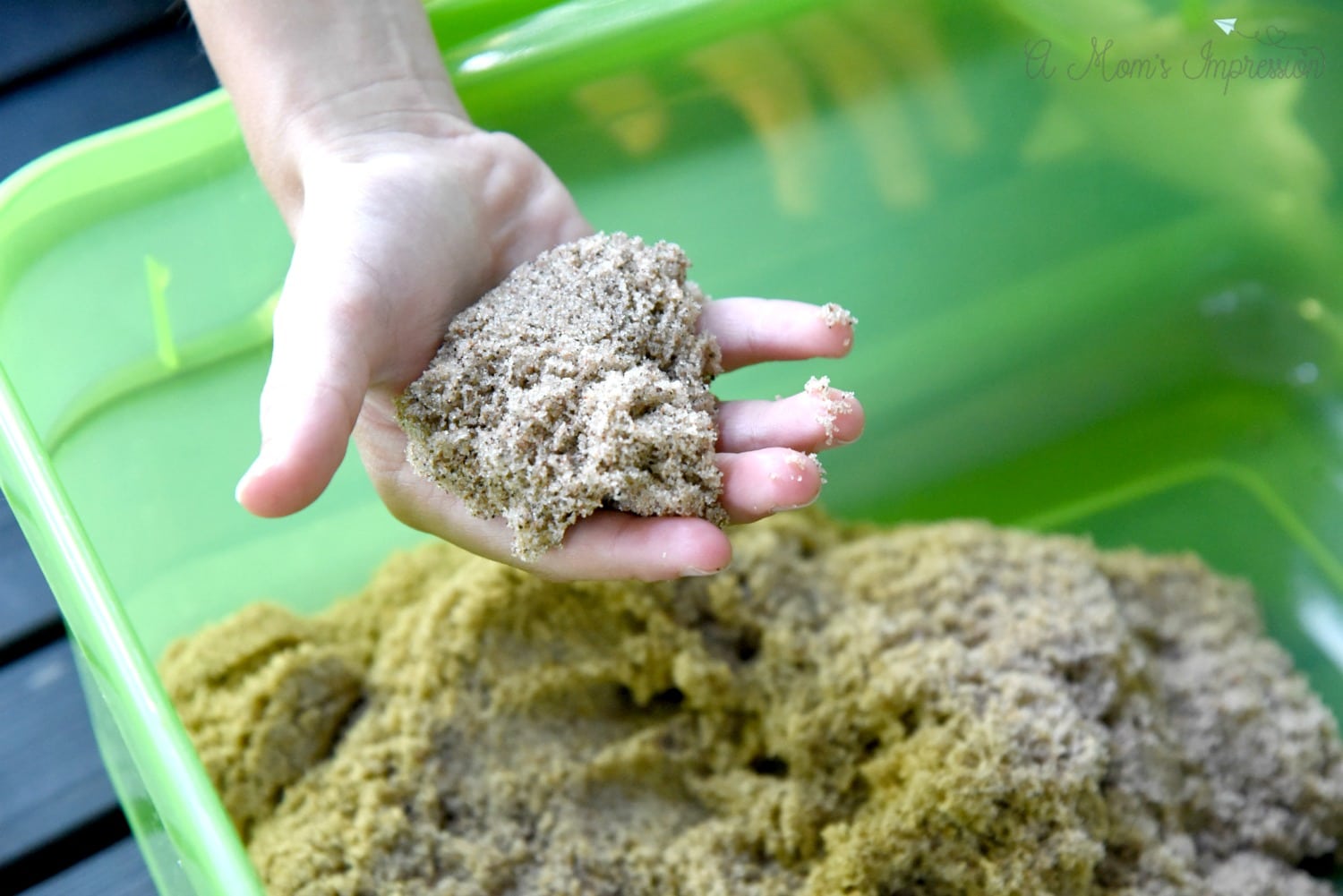 Remember being on the beach and making sand castles when you were a kid?  Well, Kinetic Sand acts just like that except it never dries out and doesn't stick to anything except itself. This makes it extremely easy to use and play with and it is not messy!  It will fall through your fingers like regular sand and leaves them completely dry, but when pressed together, it will hold its shape. It is incredibly easy to clean up and store.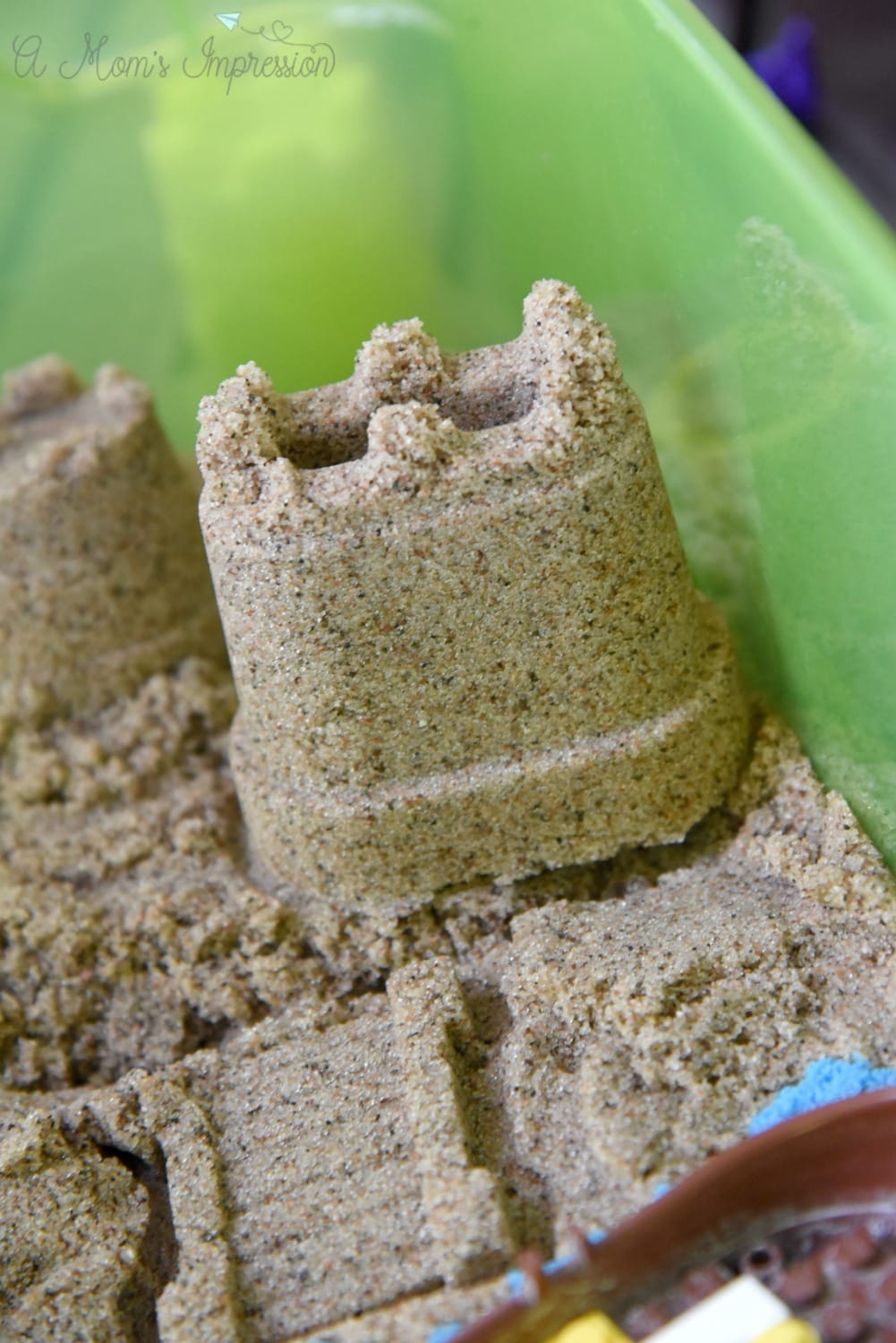 Imagine building sandcastles inside on a cold winter day, Kinetic Sand allows kids to do just that!
Kinetic Sand also comes in a rainbow of colors, from brilliant neons to shimmering metallic.  It can be shaped into anything your child can dream up and can be used over and over again. Used in a sensory bin, it is an amazing tool to stimulate your child's creative skills. They won't be able to put it down!

How to Make A Beach Sensory Bin
We love going to the beach. While we haven't gotten a chance to do that this year, we were able to brainstorm and create this fun beach sensory bin so it could feel like we were there on the sand.  Making this beach sensory bin is pretty simple, thanks to Kinetic Sand.
Supplies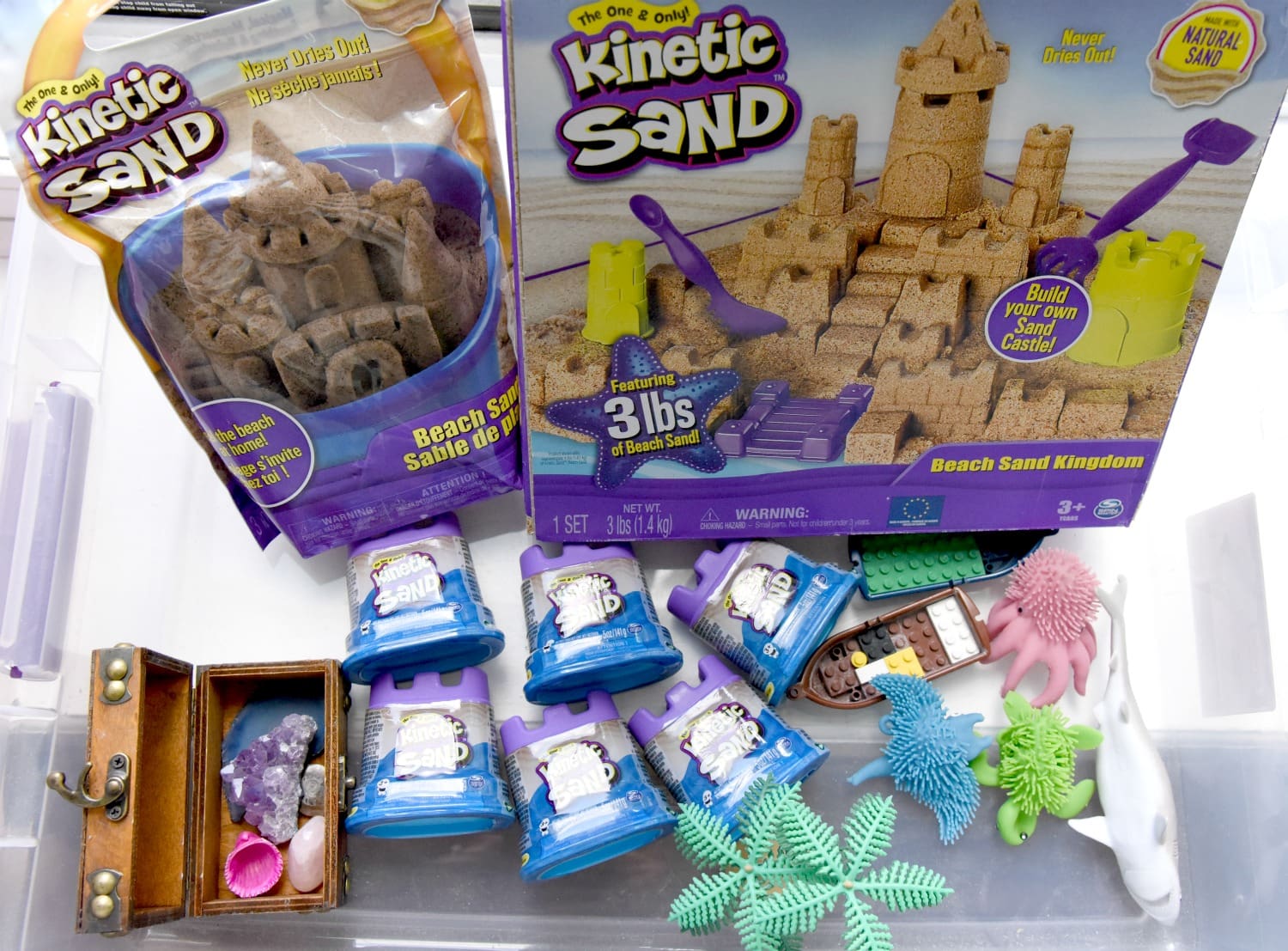 You will need a medium sized bin to hold your creation. I suggest you choose one with a lid for easy cleanup.
We used 6 pounds of Kinetic Sand Beach Sand and 6 little containers of the blue colored Kinetic Sand to create our bin.  The kids and I scoured their playroom to find objects that they could use in the bin. We found a fun palm tree, my daughter's rock collection, some shells, and some building brick boats. We visited our local dollar store to find some fun sea creatures to finish it off. We love the Beach Sand Kingdom Playset and the tools it comes with to play in our sand.
Directions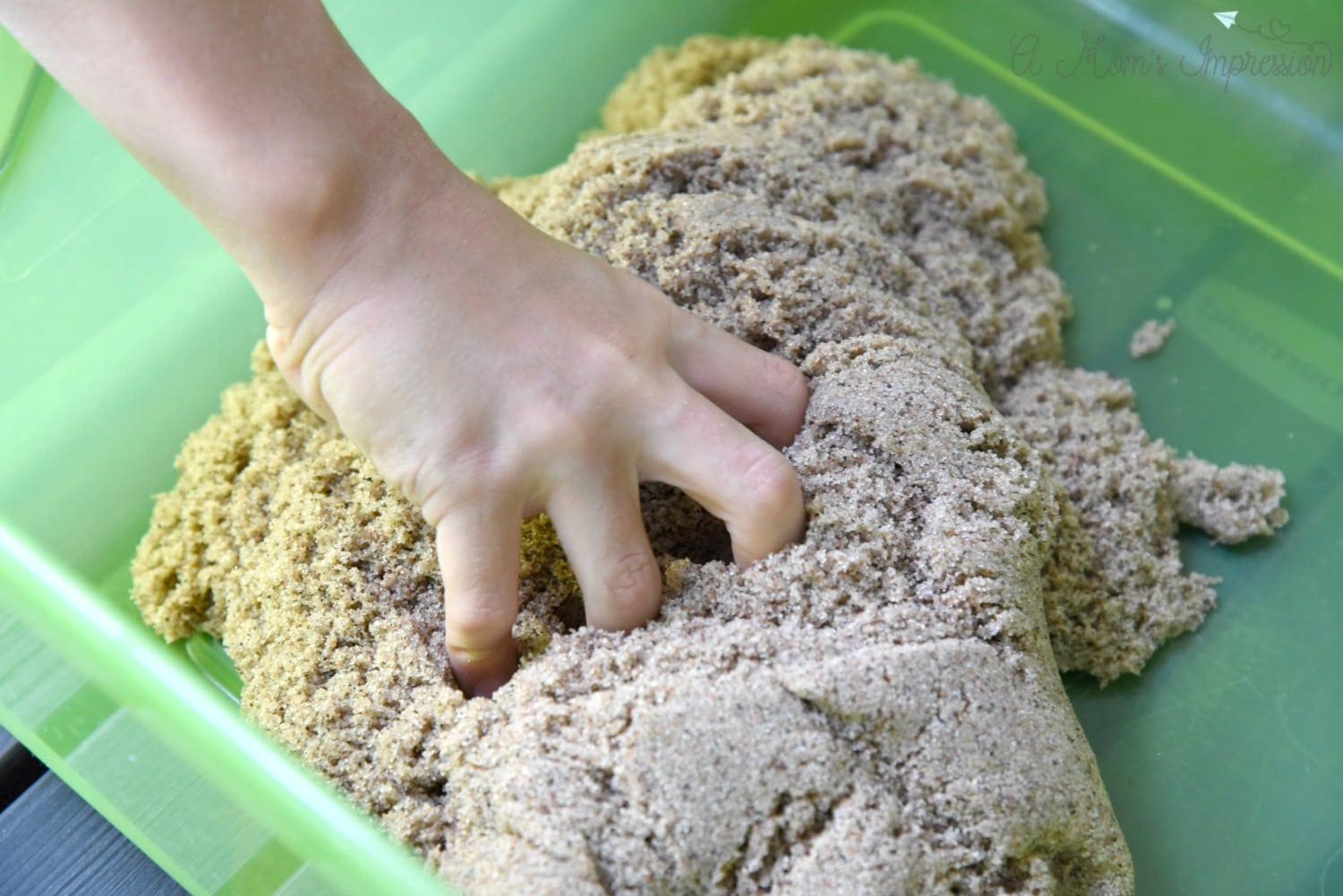 On one side of the bin, place your beach sand and spread flat.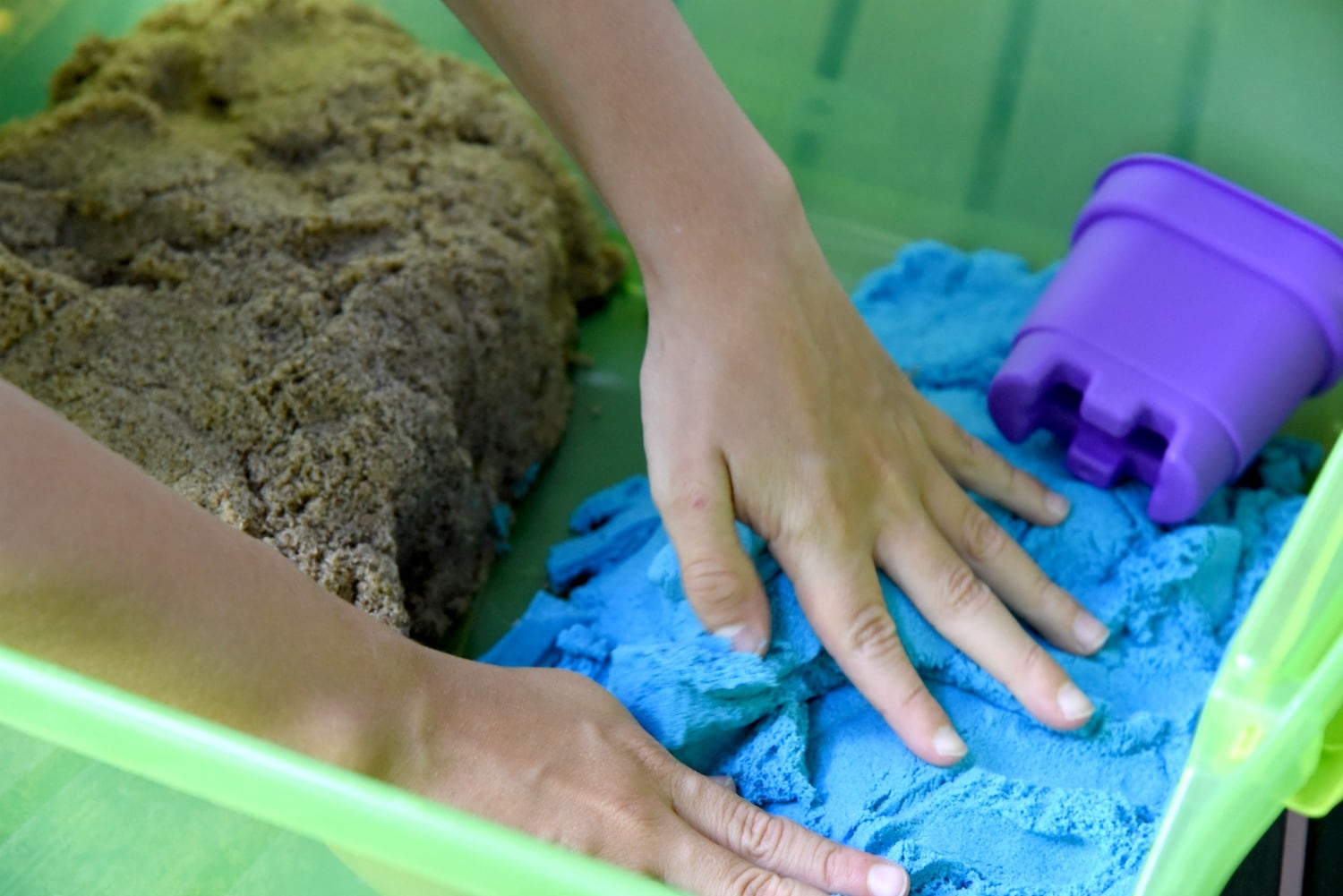 Be sure to keep the purple containers as they make amazing molds for sand castles!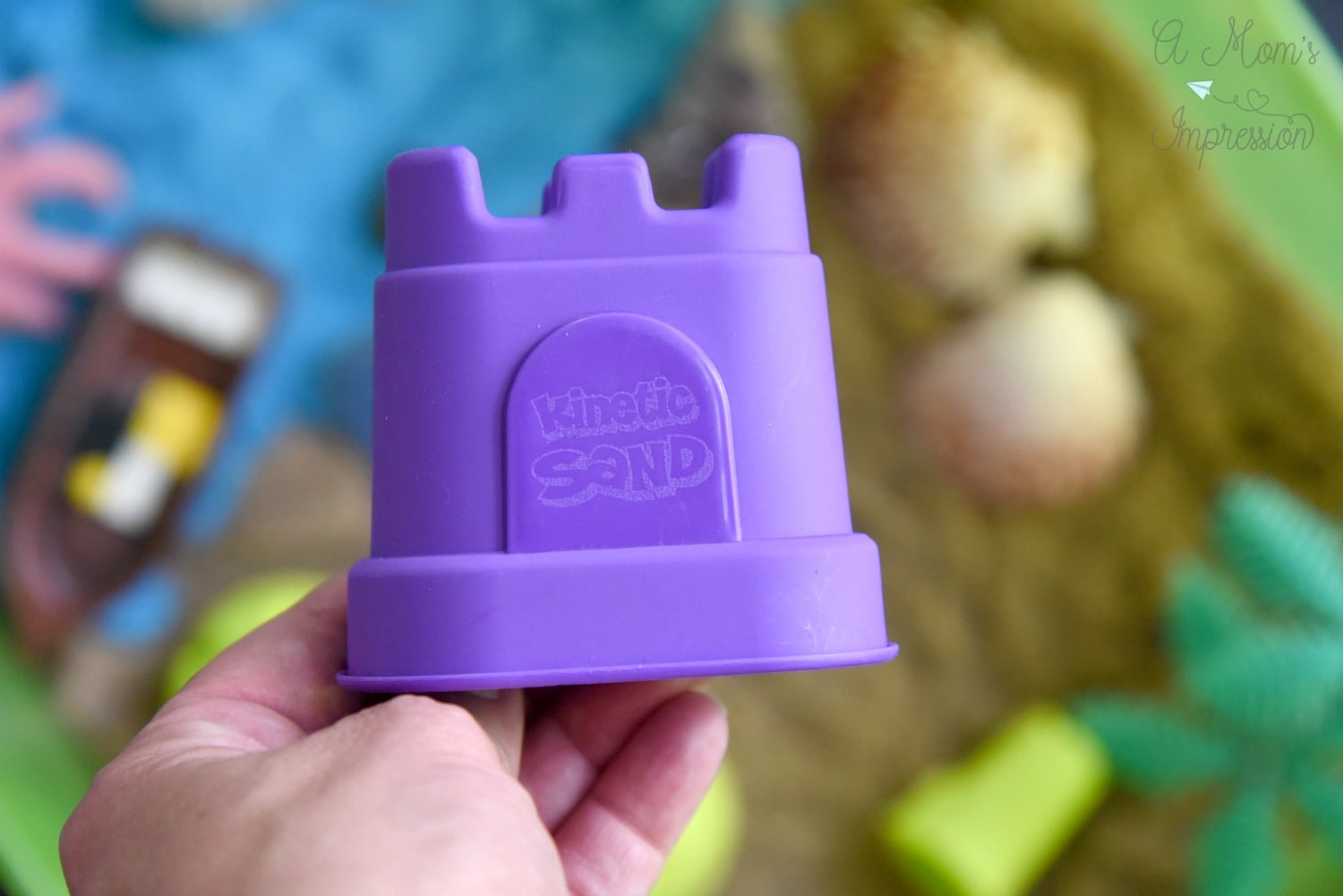 Place your blue colored Kinetic Sand on the opposite side and also press down flat. While you could use blue colored water for a new texture, I love using this blue Kinetic Sand. It looks like water and doesn't splash around everywhere.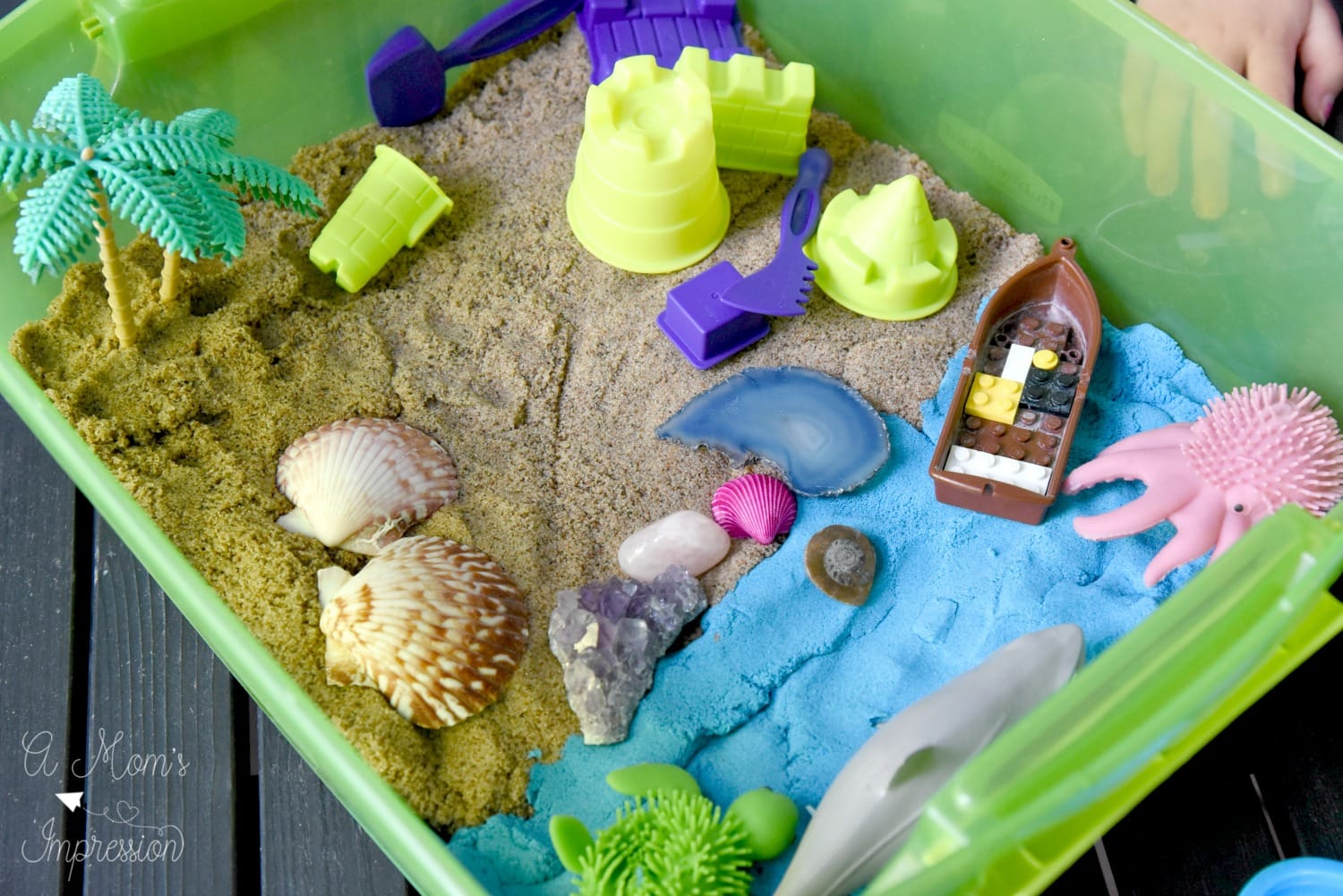 Next, add all of your accessories to create a beach!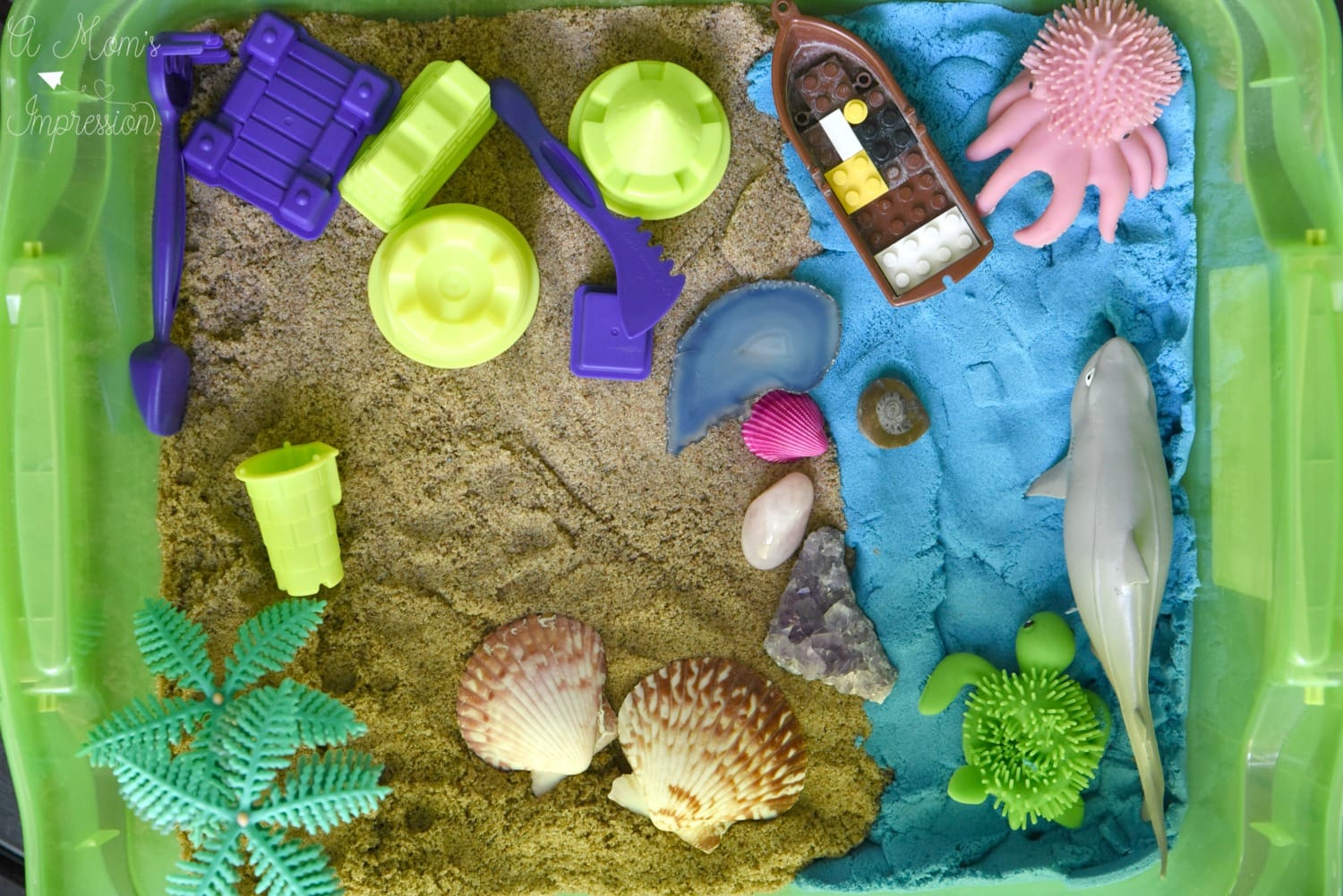 Sit back and watch your kids enjoy their new sensory bin for hours!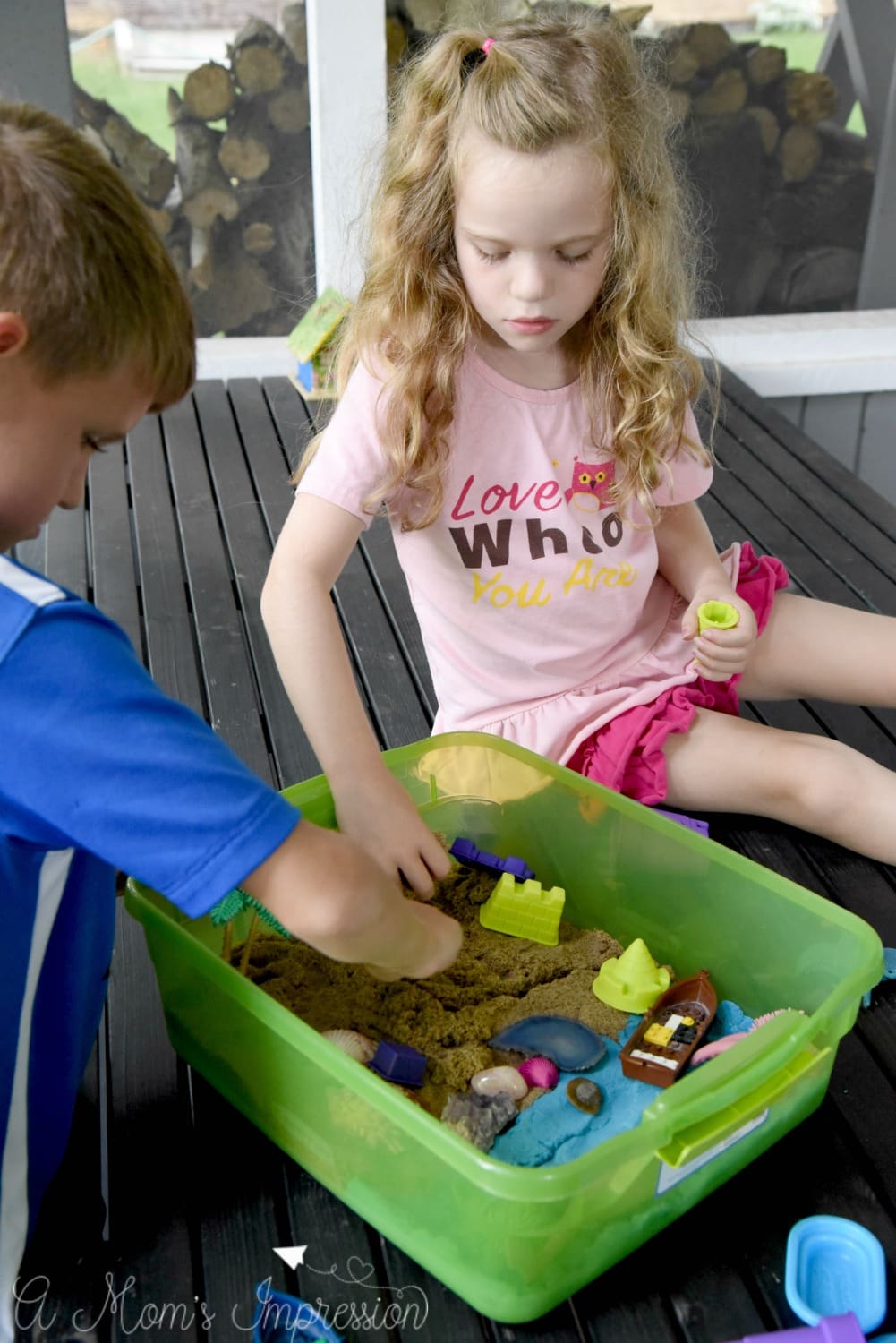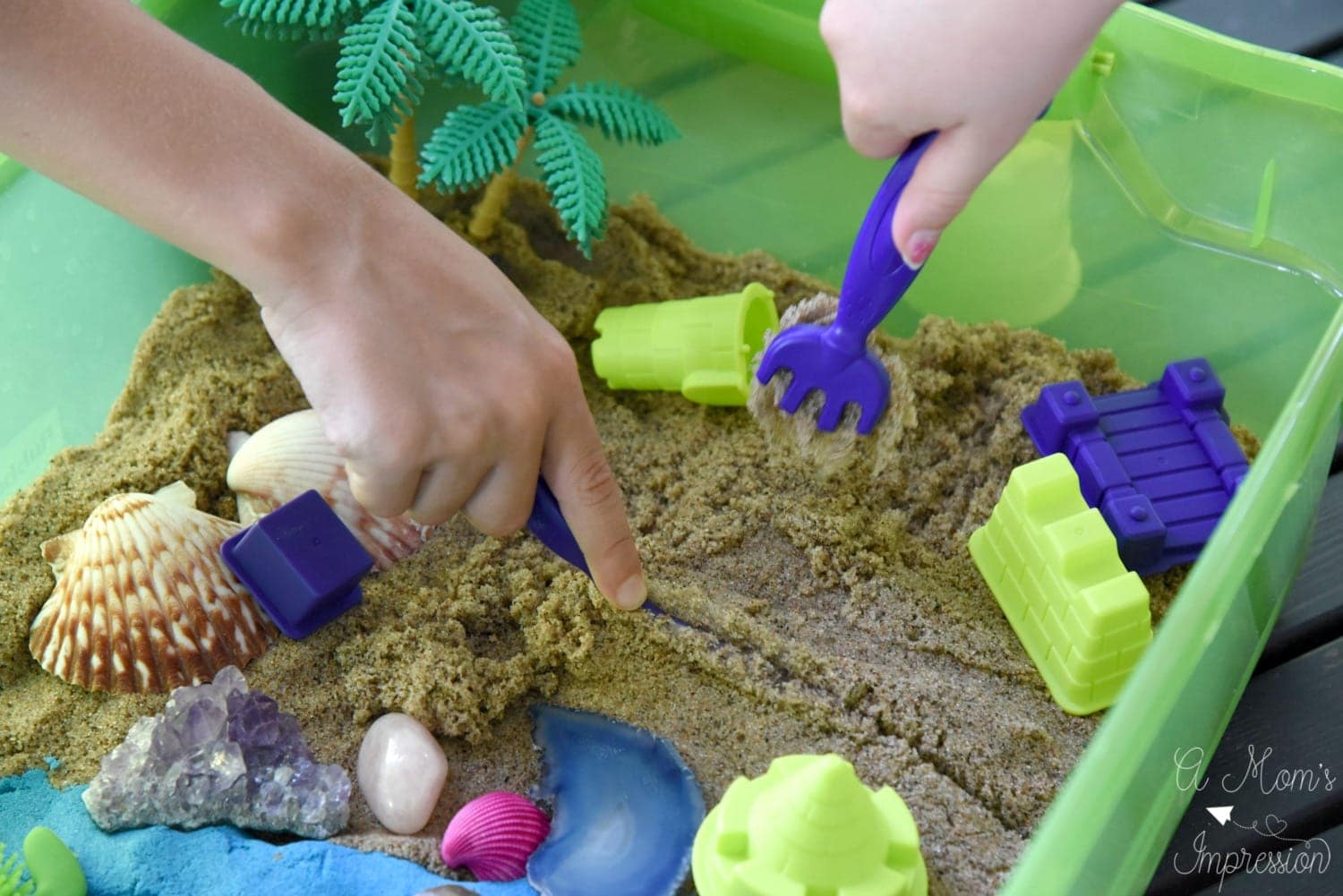 Sensory bins are perfect for after-homework playtime. Our kids have tons of fun with them and it keeps their minds stimulated.  With Kinetic Sand, to the world is literally at their fingertips. I can't wait to see how they will shape it.
Look for Kinetic Sand at stores nationwide or get your own HERE!