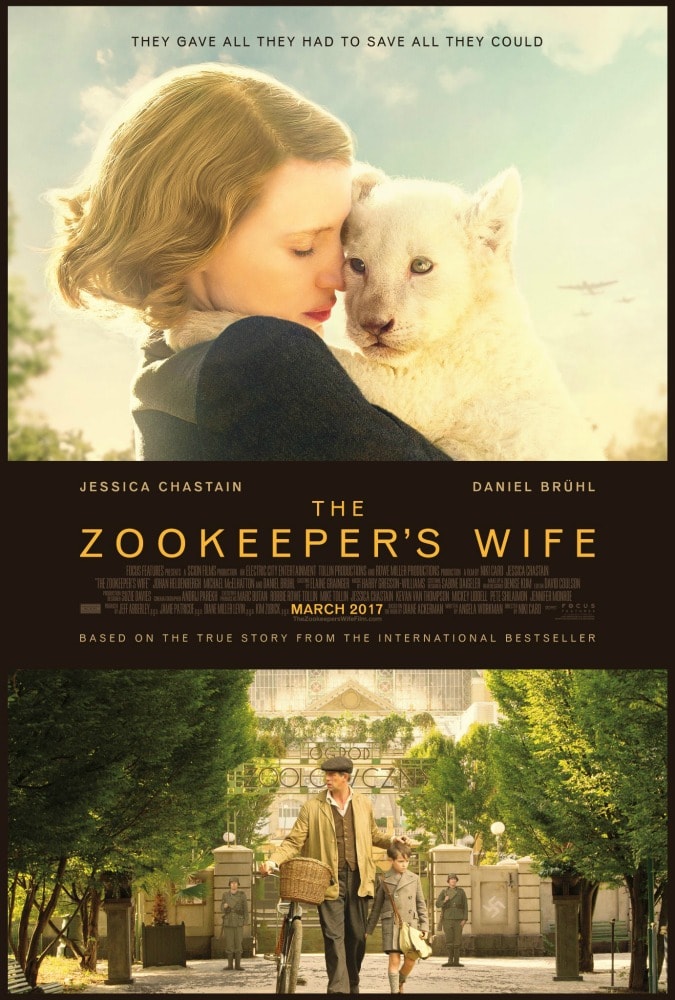 I have seen dozens of movies about the Holocaust. I have read several books about the Holocaust. I have listened to many speeches and lectures about the Holocaust, but never have I heard a story about this time period that was told quite like The Zookeepers Wife film.
There are many things about this film that set it apart from some of the rest of the films. First, it was written and directed by a woman. It is told from the perspective of a woman, a housewife, who stood up for what she believed no matter what the cost was.  Hollywood seems to have lacked in this department over the past few decades so seeing a film that has been so heavily influenced by women is inspiring and most welcome.
Secondly, it gives us a side of the story that we haven't seen before.  A look into a Polish zookeeper and her family and how the war affected their zoo, their pride and joy.  Its a story of how they took their zoo of animals and turned it into a zoo for humans. While they were just a couple and not Jewish themselves, they understood that they had to do something about the devastation and annihilation of a group of people no matter how high the cost, they weren't going to stand around while people were suffering.
The Zookeepers Wife Film Story
Here is a short synopsis of The Zookeepers Wife film:
The real-life story of one working wife and mother who became a hero to hundreds during World War II. In 1939 Poland, Antonina Żabińska (portrayed by two-time Academy Award nominee Jessica Chastain) and her husband, Dr. Jan Żabiński (Johan Heldenbergh of "The Broken Circle Breakdown"), have the Warsaw Zoo flourishing under his stewardship and her care. When their country is invaded by the Germans, Jan and Antonina are stunned – and forced to report to the Reich's newly appointed chief zoologist, Lutz Heck (Daniel Brühl of "Captain America: Civil War"). To fight back on their own terms, Antonina and Jan covertly begin working with the Resistance – and put into action plans to save lives out of what has become the Warsaw Ghetto, with Antonina putting herself and even her children at great risk.

Director: Niki Caro ("North Country," "Whale Rider," "McFarland, USA")

Writer: Angela Workman ("War Bride"), based on the nonfiction book by Diane Ackerman

Cast: Jessica Chastain, Johan Heldenbergh, Michael McElhatton, and Daniel Brühl

Running Time: 126 minutes
My Thoughts
After the screening ended, I found myself paralyzed in my seat.  It was the type of movie that you think about for days after you watch it.  I kept asking myself if I would be brave enough to do the things that the Żabińska family did.  After the devastation of loosing their beloved zoo, they didn't give up.  They fought to provide not only for their family, but for hundreds of Jewish families as well. Its these types of stories that so often don't get told, and it is a shame that we don't know about more of them.  I applaud Niki Caro for bringing this story to life.
I was extremely impressed with the acting in the movie. Daniel Brühl, who plays Lutz Heck the Reich's appointed chief zoologist, gives an amazing performance in the movie as a man who seeks things that are unattainable to him. It is very interesting to see his role adapt and change over the course of the film. Jessica Chastain is brilliant as Antonina Żabińska. She evolves Antonina over the course of the film from somewhat of a submissive person to a strong woman with nerves of steel.  Her performance is emotional in every right way, it would be easy to overact in this role yet Chastain plays it perfectly.  I would not be surprised if she is nominated for some awards for this role.
I don't want to say too much more about the film because you should buy tickets to see it this weekend!
Is the Zookeepers Wife Film OK for Kids?
This film is rated PG-13 and I would strongly suggest that parents watch the film before seeing it with their kids.  There is some violence and the subject matter would be hard for kids to understand.  This is also a story about animals during the war and many of them don't make it.  Kids who are sensitive to this will probably not want to watch it.  I would not bring my son to watch the movie unless he was in high school.
Watching the story unfold on the screen I couldn't help but draw some parallels to what is happening in the world today.  Director Niki Caro and Jessica Chastain talked a little about that in my exclusive interview that I will post on Thursday.  Be sure to come back to read the amazing interview with these two women.

THE ZOOKEEPER'S WIFE Opens in theaters everywhere this Friday March 31.

For more info, follow the film on social:
Official Site |Facebook | Twitter | Instagram
A huge thank you to Focus Features who flew me out to New York to attend the screening and interviews.