When Focus Features asked if I would screen The Zookeeper's Wife film and interview Jessica Chastain and Niki Caro in New York, I didn't hesitate in sending over my acceptance. I have admired Jessica Chastain in many of her movies and I just knew that she would be perfect to play the role of Antonina Żabińska, a polish zookeeper during the Nazi invasion during World War II in 1939.  I was also eager to hear from director Niki Caro about what it was that captured her attention and decide to write and direct this film.
The film opens tomorrow, but today I am bringing you the exclusive interviews from my round table discussion with Jessica and Niki.  They open up about the connections of this film to life today and what motivated them to bring Antonina's life to the big screen.
If you missed our review about The Zookeeper's Wife Film be sure to catch it here!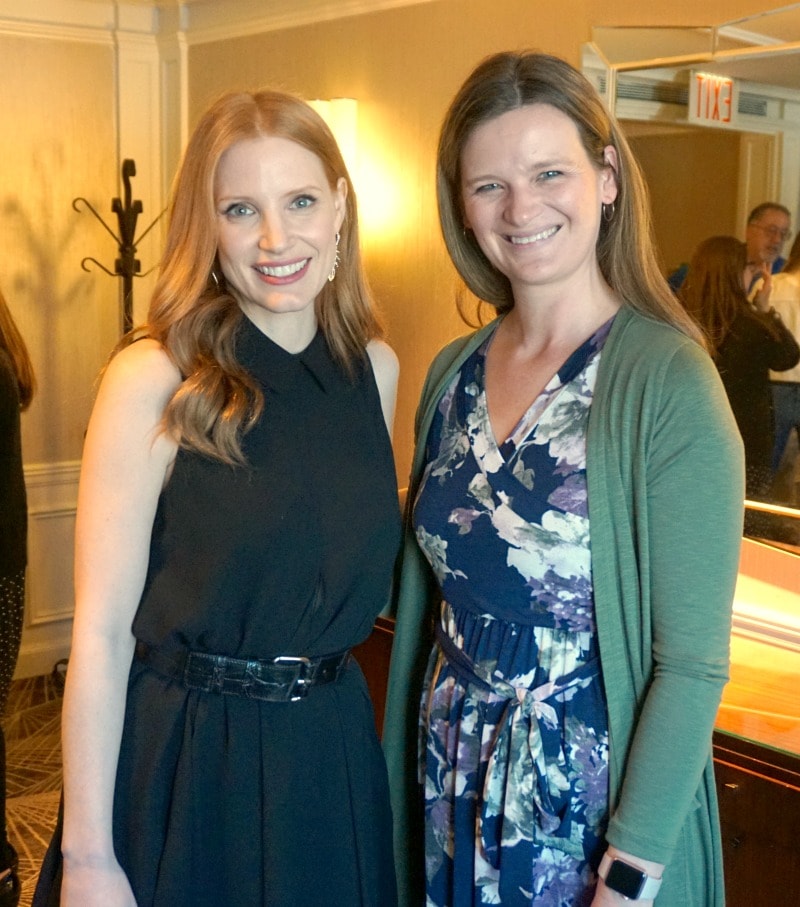 What drew you to, and how did you get involved in the project?
JESSICA CHASTAIN: I was sent the script. And I was really inspired by the story. I went online. I was like, "Is this true?", the thing I normally start with first. Like, "This is true – and why isn't anyone talking about Antonina." And then I met Niki in Milan. We had a fun coffee.

NIKI CARO: I know, it sounds so – it was really glamorous.

JESSICACHASTAIN: Yeah.

NIKI CARO: Like, Milan frequently isn't, but that was a beautiful day.

JESSICA CHASTAIN: Yeah. I was excited to meet Niki, because I so love her film work.  I can't imagine anyone else directing this movie. She's so honest. And she's so authentic. And the movie's about, Antonina says when you look into an animal's eyes, you see exactly what's in their heart. And I think we have a lot that we can learn from animals. And Niki is like that. She is so authentic, and truthful, and honest, and I noticed that immediately when we met. For me, it was a quick yes. I didn't have to do any soul searching. I was really inspired by her. And also, I want to celebrate women in the past who have made great sacrifices to help others.  I don't think we acknowledge women in history as often as we should. And so I'm excited to be part of this story that gets to share it with a larger audience.
At what length did you go to do research for this role?
JESSICA CHASTAIN: I started with the book, because the film is based on the bestselling, incredible novel, which is then based on Antonina's journals. I went to Warsaw and met with Theresa (Antonina's daughter). She took me to the Warsaw Zoo, and I got to ask her secrets that weren't in the book. Things like – if Antonina was an animal, what kind of animal would she be? She said, "Oh, definitely a cat. She'd be a little puma." Which is why Jan calls her "Punia" – that was a nickname which means little cat. So all those little things. And then I went to Auschwitz. Of course, Antonina wouldn't have known what was happening there, but I just wanted to feel the energy of the space.
I met with a lot of people who spend their lives dedicated to animals. That was so helpful when approaching this film, because the thing that I learned most from everyone was not to impose your energy onto an animal; not to treat an animal as though it's your possession, or it's an object. It's a spiritual being, I guess that's what this film is, whether human or animal, they are not ours to possess. I knew, if I were to ever get hurt on this movie, it's because I'm doing something wrong. It's not the animals' fault – it's my fault. It means, they weren't ready for me to be in their space; they didn't invite me in. And so I spent some time, when we got to Prague, being with the animals before we were even on camera. I wanted them to be happy when they saw me. I wanted them to feel safe, and to know that I wasn't going to try to force them to do anything.
There was some very touch subject matter in the movie including a scene with a character called Ursula where she was assaulted by two officers.  We asked about filming that particular scene.
NIKI CARO: The character of Ursula is emblematic of all children who are hurt by war. And so as the director of this movie, I had to think very hard about what I could bring to this genre. I recognized that it was femininity; that I could take my inspiration from Antonina, and be very soft, and very strong with this material. And so Ursula was a very, very important character, because her experience had made her an animal.  It's an incredible performance by a young Israeli actress called Shira Haas. The scenes between her and Antonina are wonderful, because we see Antonina dealing with Ursula as she would with an animal – which is to say, very instinctively; not coming too close, but reassuring her that she's there. It's Antonina's connection to animals, her humanity with animals that she brought to her human refugees. I think that sort of unspoken trust and compassion between those two characters, and those two actresses, is a very, very special part of the movie for me.
You mentioned working with the animals. Did you have a favorite animal to work with? And were you worried about that elephant scene?
JESSICA CHASTAIN: Ah. Well, speaking of the elephant scene – the elephant might have been my favorite animal to work with. The first time I met – her name was Lily. And the first time I met Lily, we were in this field. It was before we started shooting. And there was this little tiny string that was kind of like the fence between us, but it was a string. And she knew not to cross it. And she was, finding leaves and looking for food. So I was like, "Oh, okay." So I was on my side. I was like, "I'm gonna find some for you." So I went, and I was gathering leaves, and then I'd hand it to her. And – and then at one point, you know, she would put her trunk on my hand. And then she kind of wrapped her trunk all around my hand, squeezed, and then just went (makes a motion that tugged Jessica's arm toward her) like that. And I had this feeling of like, "I'm going under the fence,"  and I just went, "Nope," and I pulled back, and she let go. And I realized, you know, that was a very humbling moment, because you realize this is a very big animal, and she could do with me whatever she wanted. But also that she just wanted to play. Like, she just wanted me – she's – "I can't come in here." And she was really funny.

The scene that we did with the elephant, it feels in the film that it's very anxious, and like the elephant is really concerned. But it's the magic of movies. She loved apples – that was her treat. And so right before 'Action' I would say, "Lily, Lily," and I would give her some apples. And then I would have more apples, and I'd hide them around me. So I'd hide them under the puppet; we had a puppet, which was the baby (elephant). And I hid them under my foot, or whatever. So when you see her with the trunk going all over me, she was looking for the apples. So for her, it was a game. When she's like reaching for me, and we're touching each other, it was a great experience, but magic of moviemaking, the audience knowing what the situation of the story is, would feel like the animal's under distress, but it wasn't. And that probably was the most fun I've had, because I had to be so trusting. She was behind me, but I knew, like I knew she wasn't going to hurt me.
Holocaust films in general are so difficult to tackle, such a – such a heavy responsibility you are taking. If you could please talk about, and how you paid such attention to detail. I saw that you used a lot of Polish actors and crew.
NIKI CARO: I took that responsibility as seriously as it's possible for me to take, which is to say very. Authenticity and specificity has always been really, really important in my work. But this represented a much bigger challenge – to honor all of those souls that died, whilst celebrating 300 that didn't, and the amazing work of the Zabinskis.  I know that what I was trying to do at the time was to move the genre on a little bit; to make a Holocaust movie that expressed healing in some measure. I thought we were making a historical drama. And it's only now that I realize we're making a contemporary film – sadly. But in terms of the filmmaking, we were really tireless, and diligent in our research – which meant going very deeply into the reality of the Warsaw Ghetto. It was really tough, but we were – all of us – cinematographer, production designer, costume, makeup, hair – everybody – very, very invested in getting it right.
THE ZOOKEEPER'S WIFE Opens in theaters everywhere TOMORROW, March 31.

For more info, follow the film on social:
Official Site |Facebook | Twitter | Instagram
A huge thank you to Focus Features who flew me out to New York to attend the screening and interviews.