Every once in a while I am introduced to a story that is so riveting that I can't stop thinking about it. The book The Zookeepers Wife is one of those stories and it just happens that it is based on a true story. The best selling novel has been adapted for the big screen and I am about to see it.  I am sitting here in my hotel room getting ready for The Zookeepers Wife film press event tomorrow morning.  I am thrilled to be screening the film and interviewing the director Niki Caro and the star of the film, Jessica Chastain.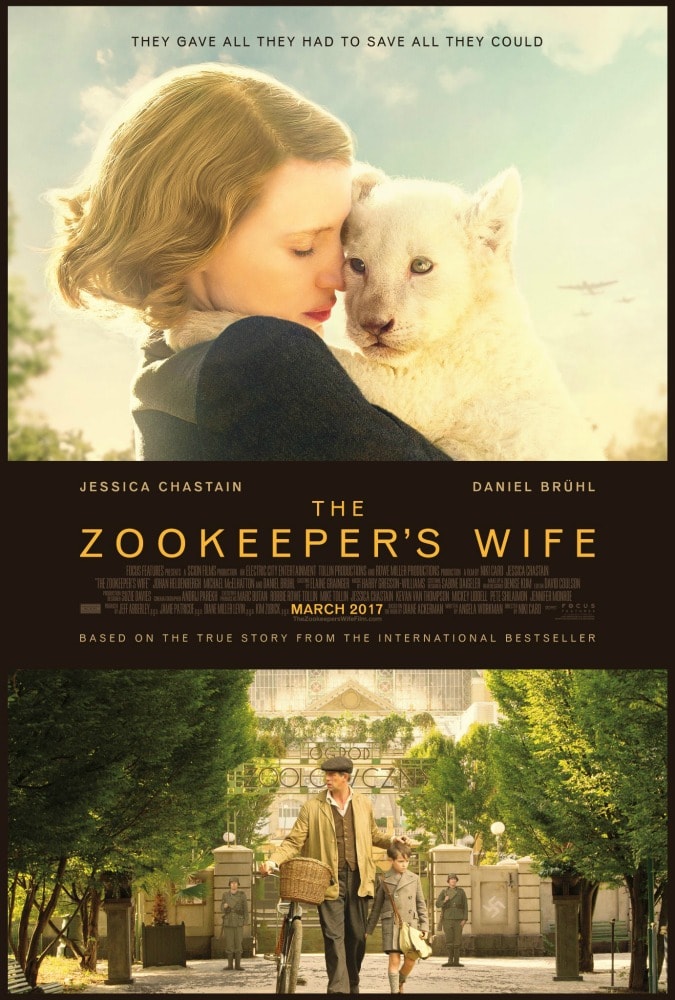 The Zookeepers Wife Film
Here is a short synopsis of the film:
The real-life story of one working wife and mother who became a hero to hundreds during World War II. In 1939 Poland, Antonina Żabińska (portrayed by two-time Academy Award nominee Jessica Chastain) and her husband, Dr. Jan Żabiński (Johan Heldenbergh of "The Broken Circle Breakdown"), have the Warsaw Zoo flourishing under his stewardship and her care. When their country is invaded by the Germans, Jan and Antonina are stunned – and forced to report to the Reich's newly appointed chief zoologist, Lutz Heck (Daniel Brühl of "Captain America: Civil War"). To fight back on their own terms, Antonina and Jan covertly begin working with the Resistance – and put into action plans to save lives out of what has become the Warsaw Ghetto, with Antonina putting herself and even her children at great risk.

Director: Niki Caro ("North Country," "Whale Rider," "McFarland, USA")

Writer: Angela Workman ("War Bride"), based on the nonfiction book by Diane Ackerman

Cast: Jessica Chastain, Johan Heldenbergh, Michael McElhatton, and Daniel Brühl
Watch the exclusive trailer:

Press Event
Doesn't that look amazing?
Be sure to come back in a few weeks for more coverage of The Zookeepers Wife film.
For more info, please follow the film using the hashtag #TheZookeepersWife on their social media channels: Official Site, Facebook,  Twitter, Instagram
Thank you to Focus Features for flying me out to New York for The Zookeepers Wife film press event.