This post is sponsored by Delta Faucet. A huge thank you to Delta for flying me out to join the Warrior Dash.
This past weekend I did something completely out of character for me.  It felt amazing!  I flew to Minnesota and took part in the Warrior Dash in Le Sueur!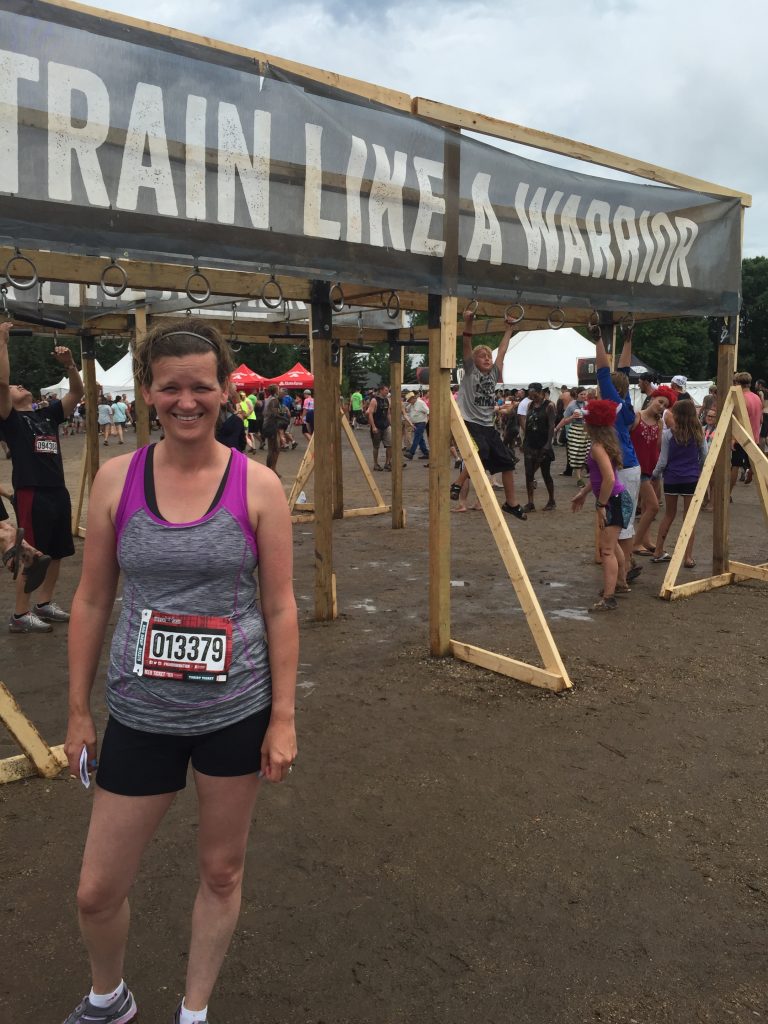 Here is a little bit more about what the Warrior Dash is:
The Warrior Dash is a 5K run with 12 obstacles standing in the way between you and the finish line.  The obstacles include climbing walls, trenches and mud pits.  They wind around wooded lakes and muddy off-road paths.  When you finish the race you are treated to a post-race party where there is music, dancing and your celebratory beer.  Each warrior who finishes earns a medal and a Warrior Dash t-shirt.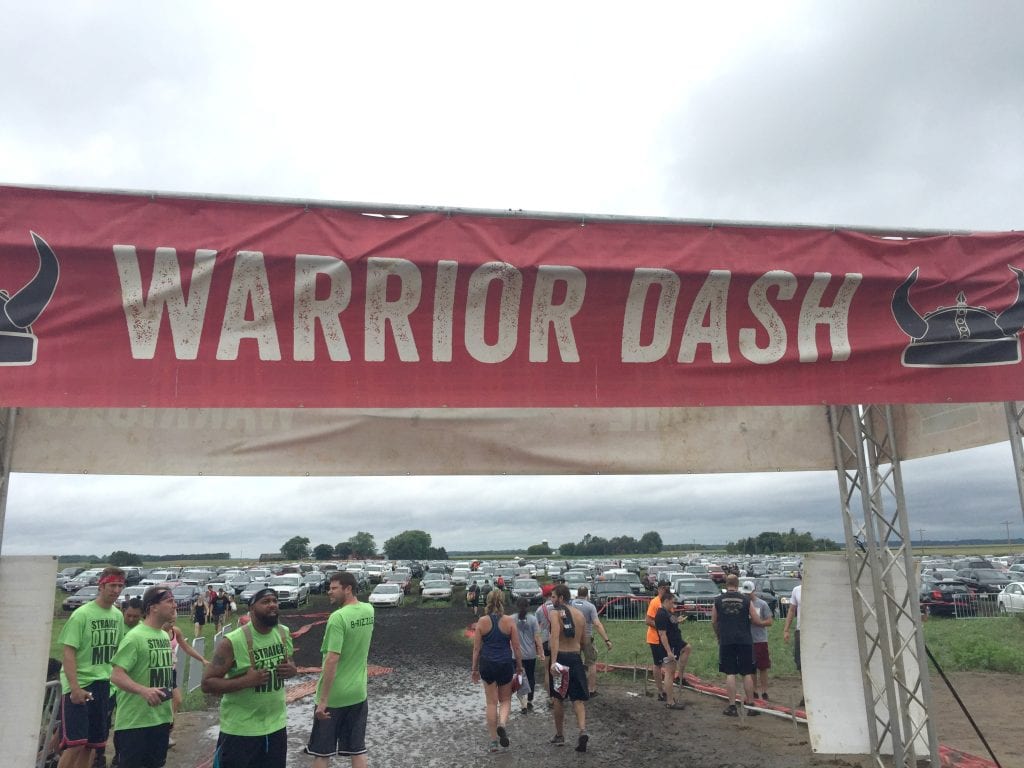 The Warrior Dash is a 5K run like no other. I admit that I was a little nervous about participating as I have never done anything like it before, but I didn't need to worry.  There were all types of competitors, from those who took on all the obstacles to those who may have skipped a couple.  There were people running at full speed, and there were people who walked the entire way.  I was not the first to cross the finish line, but I wasn't the last either.  I was pretty impressed with myself and especially my mom, who took on the challenge with me.
Minnesota experienced a huge thunderstorm that dumped a lot of rain onto the course, delaying the start a few hours.  The rain made the course even muddier and more brutal than it already was.  Some obstacles were more slippery than they would have been, but the event coordinators ensured that there were medical staff present for them.  I appreciated knowing that there was help if I needed it.
The hardest obstacle for me was the Trenches.  The Trenches are exactly what you think they are: big holes dug into the ground, 40 feet long, filled with mud and covered with a long tarp to cross.  You have to crawl down into them and stay on your hands and knees the entire way.  Now remember that we had just had a rainstorm?  That mud was so thick, it was very difficult to maneuver through.  I should have known I was in trouble when I saw that first shoe left behind in the mud!  I also lost my shoes a few times in the Trenches and ended up grabbing them with my hands and finishing the obstacle in my bare feet.  I was covered from the waist down in thick, disgusting mud the way that you're supposed to be in a Warrior Dash!
The Trenches were brutal challenges—as were the mud pits that followed—but my mom and I made the best of it and finished the race.  I didn't get as muddy as most people, but I had my fair share of mud, filth and sweat all over me when I was done.
Thank goodness Delta Faucet was there with a fabulous shower station to rinse off all the mud!  The Delta Faucet shower heads rained down enough water to clean thousands of participants very quickly! You wouldn't believe how much mud these shower heads were able to remove in just 3 to 4 minutes per Warrior Dasher.  Delta Faucet knows how to make an efficient and powerful faucet, and they were put to the test this past weekend.  I can't wait to get ours in a few weeks and share even more information about them with you soon!
For Dashers who wanted to add a bit more fun to the celebration shower, the shower station offered Shower Karaoke! I was fortunate to get to sing in the shower with fellow warriors Stephanie and Kecia! There was a separate line for the The Shower Karaoke station.  This line allowed dashers to shower a bit quicker by choosing a song to sing karaoke style for everyone while they were waiting for the showers.  We chose the "song of the day" which was Party in the U.S.A. by Miley Cyrus.
The Delta Faucet shower stations was a huge hit for us and with the crowd.  The line for the showers wrapped around the party area as warriors looked to get clean.  After showers, the crowds were off to celebrate with music, food and even a beer!
The Warrior Dash was an amazing experience that I am pretty proud of doing.  In fact, they are coming to Indiana in September, and I am debating about signing up all over again.  This time, I want to do all 12 obstacles and get even muddier because I know that Delta Faucet will be there at the finish line helping me clean off my #HappiMess!
See What Delta Can Do.