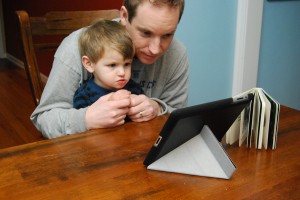 Do you ever worry about too much radiation exposure?  I mean, we are using cell phones, laptops, and numerous wireless devices that we have to be experiencing some kind of exposure.  I have worried about it as I have been typing on my laptop on my lap for over a year (I finally have it set up at my dining room table instead of the couch) I am sure that it has hurt my legs in some form or fashion.  Now that I am using my iPad2 for a lot of social networking and electronic needs, I worry about what kind of exposure I am getting from that as well.
The Pong iPad2 case is the world's only case that protects the user from radiation exposure while optimizing the device's 3G performance. What does that mean?  Well be sure to read this:
Using any case with your iPad 2 can reduce 3G transmission power by up to 75%! Pong™ is the only solution proven in Federal Communications Commission (FCC) certified laboratories to protect iPad 2 users from electromagnetic radiation while preserving TRP (Total Radiated Power) of the iPads, and thus the transmission strength.

All 3G iPads have a built-in proximity sensor that significantly reduces transmission power when the iPad 2 is moved to within 10mm of the body. This reduction of power serves to lower the radiation levels experienced by the user (SAR or specific absorption rate), low enough to meet FCC limits. However, the proximity sensor is triggered not just by the body, but by any solid. As a result, all commercial cases for the iPad 2 also cause the proximity sensor to trigger, which can reduce your transmission power by up to 75%.

Now Pong's unique design and technology provides the only solution which allows the iPad 2 to be used as designed. Pong's unique design ensures that the antenna is exposed at all times keeping transmission power optimized. And Pong's patented antenna technology spreads and redistributes the electromagnetic radiation, lowering the SAR by up to 82% below the FCC limits.
Now you can be assured that you are preventing as much radiation as possible without giving up any of your iPad's performance, and you can do it in a stylish manner!  I love the look of this case.  It can be used in several different positions to optimize what your needs are at the time.  I prepared a short Video to demonstrate this:

Can you see why I have fallen in love with this case?  Pong makes it so simple to enjoy all of the benefits of my iPad2 without sacrificing style.  I love knowing that I am using the best case on the market that protects me from radiation exposure.
Be sure to check out all of the cases that Pong offers.  Visit their website at www.pongresearch.com to learn more about this case or any of their other cases for your mobile devices!

This product review was made possible by Pong Research.  I was not compensated for this review other than a product sample. All opinions are 100% mine.