I absolutely fell in love with this movie!  I had just given birth when it came out on the big screen or else I would have seen it in the theater.  I am glad that I was able to watch it at home.  I started crying right from the beginning.  It was just that good.  If you are unfamiliar with the movie, here is a little more about the film and the DVD/Blu-Ray release: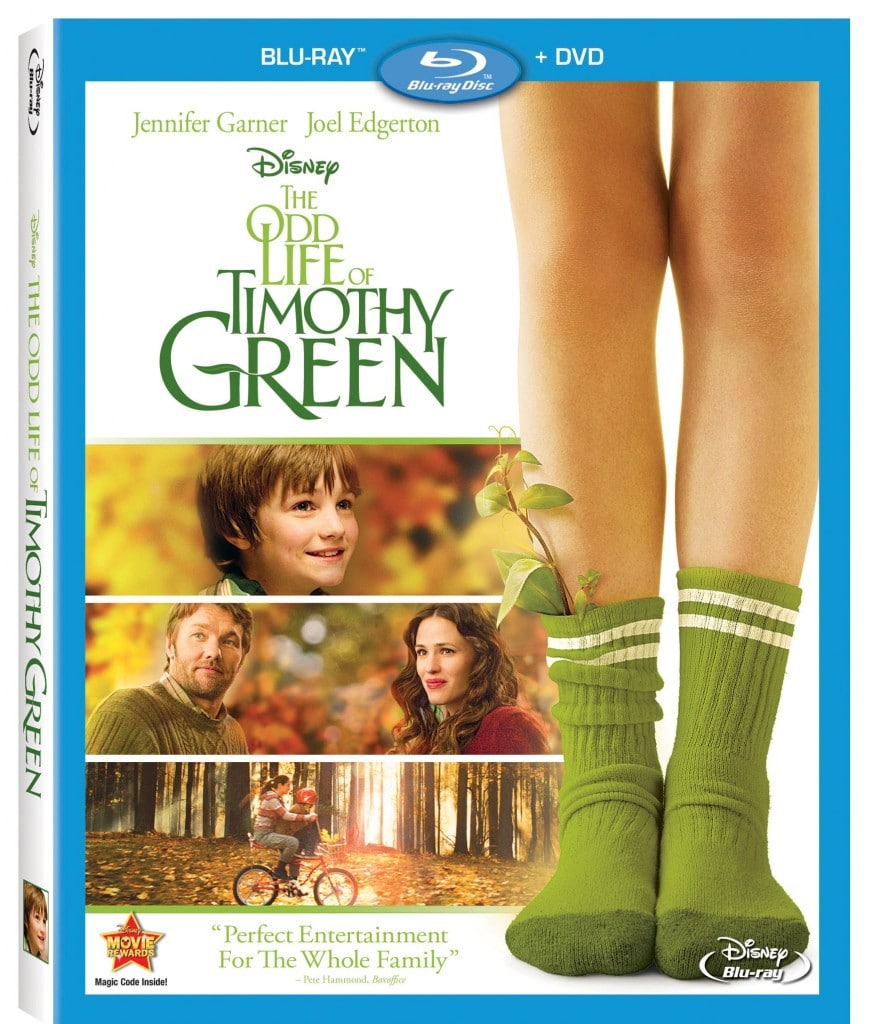 Disney's "The Odd Life of Timothy Green," one of the year's most uplifting and enchanting family films, springs up on Blu-ray™ Combo Pack, DVD, High Definition Digital and On-Demand platforms on December 4, 2012. It's the perfect, must-own family-film for audiences of all ages to enjoy and snuggle up to this coming holiday season.

From Academy Award-nominated writer/director Peter Hedges (Dan in Real Life, What's Eating Gilbert Grape), and starring Golden Globe® winner Jennifer Garner, Joel Edgerton, Oscar® winner Dianne Wiest and CJ Adams as Timothy Green, comes this highly imaginative story about a happily married couple who can't wait to start a family but can only dream about what their child would be like. Then one stormy night young Timothy shows up on their doorstep. Soon they and the small town in which they live learn that sometimes the unexpected can bring some of life's greatest gifts. The story is written by Ahmet Zappa ("American Gangster," "Changeling").

"The Odd Life of Timothy Green" Blu-ray Combo Pack provides viewers with the chance to delve deeper into this captivating movie experience through never-before-seen bonus features, including the documentary "Family Roots: Bringing 'The Odd Life of Timothy Green' to the Screen," which looks at this unique family story and the creative team that brought it to life; "Glen Hansard: Behind 'This Gift" – the Academy Award® winning songwriter tells how he and Marketa Irglova crafted the moving end-credits song; "This Gift" Music Video by Glen Hansard; Five all-new deleted scenes; and a director audio-commentary.
I felt an immediate connection with the characters.  I have had a lot of experience with close friends and family surrounding infertility and adoption.  I think that is one of the reasons that I loved this film so much.  The film discusses the options of a couple who can not conceive on their own.  All of a sudden, a little boy enters their lives in a very magical, unexpected way.  They become his parents and learn more about what kind of parents they want to be than anything else.  I love the parenting lessons that the couple learns along their journey.  They are "real" parenting lessons that took me a long time to figure out.
The cast and crew are amazing in this film and the actors fit their characters seamlessly.  Take a look at this clip that shows how frightening it was for Jennifer Gardner to do one of her scenes.
This scene turned out to be one of my favorite scenes in the movie.  I had no idea that it was so uncomfortable for them to do it.  The Odd Life of Timothy Green makes a great stocking stuffer this holiday season.  I highly suggest that you purchase one for a member of your family.  Have a good laugh, cry, and a fantastic movie night this winter!
For a fun family Christmas tree craft be sure to check this out:
This product review was made possible by Disney and  Click Communications.  I was not compensated for this review other than a product sample provided by the company or PR firm. All opinions are 100% mine.