While at Pixar in April I attended a filmmaker roundtable with Inside Out Director Pete Docter & Producer Jonas Rivera where I got the inside scoop on Pixars upcoming animated movie Inside Out.  During the roundtable I learned about how Inside Out came to be created and a lot of inside information about the film that I think you will enjoy!
The whole concept of the film came to be because Director Pete Docter has a little girl.  One day she was doing was all preteen little girls do and he thought to himself, "I wonder what is going on inside her head?"  It was the spark that ignited the genius of this film.  While it was Docter's initial idea, it was the entire Inside Out crew pitching ideas back and forth for he premise of the movie to develop.
Jonas Rivera was actually one of the first interns at Pixar and had watched Pete's daughter grow up.  It is really special that they were able to make this movie together.  The name Inside Out actually came very late into the game.  They didn't know what they were going to call the movie so during production they called it "CAKE" because everybody loves cake!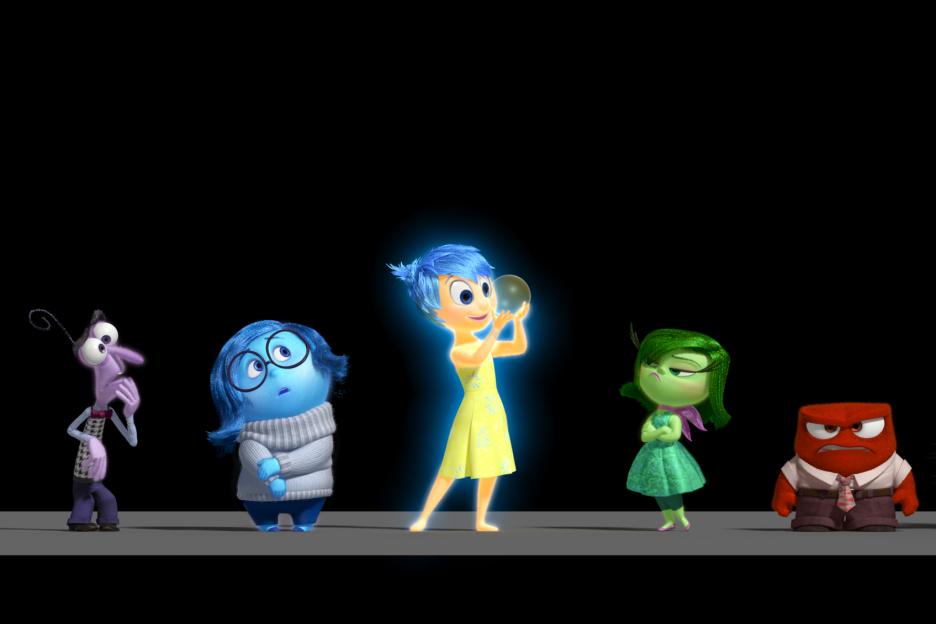 Rivera and Docter talked a lot about the development of the characters.  The emotions that ended up being in the film were not the ones that they started with, including the main character Joy.  After meeting with psychologists and Nero specialists they were able to narrow our emotions down to these 5 characters.  The shape and color of them is not a coincidence either.  They created them to look like their emotions.  Look closely and you might be able to tell the shape that the animators were going for.
Joy is shaped  like a star.  The fact that her hair is a different color than her body is purposeful.  She finds out in the movie that Joy is connected to Sadness and also they wanted her to stand out because she is the main character.
Sadness is shaped like a teardrop complete with blue waterfall hair.
Disgust is shaped and colored like broccoli.
Fear is a tall raw nerve.
Anger is shaped like a square brick.
There were some other little tidbits that I loved learning about like Joy is actually an echo of Riley herself and they are very much connected.  Also, San Fransisco is an actual city and isn't just anytown USA like Pixar would normally use in a film.  In the film you can also see some "Easter Eggs" from other Pixar films such as Ratatouille, The Pizza Planet Truck, UP as well as Cars!  Keep an eye out for them.
Pixar is working on about 6 films at any one particular time but this one is completely done and ready for its release on June 19th.
Check out the trailer:

Mark your calendars for June 19 when Inside Out hits theaters everywhere!
Check back all month with more behind the scenes sneak peeks from Inside Out!
A huge thank you to Disney for flying me out to SF and covering my hotel during the #InsideOutEvent!