Call me shallow, but one of the first things that I thought about after finding out that I was pregnant was the fact that I could now get a Mamaroo!  I have been drooling over this swing/bouncer for over a year now just wishing I had a baby so that I could buy one.  I mean just look at it!  It is modern, yet functional all at the same time.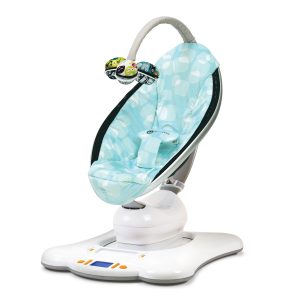 The only infant seat that moves "like you do," the 4moms MamaRoo is now available with an ultra-soft plush seat fabric that's even more comfortable for your baby. The plush seat is machine-washable and easily zips in and out of any MamaRoo, and the reversible toy balls are one-, two-, and three-eyed monsters in colors that match the plush patterns.
We have a very small house, and anytime I can combine two or more baby products into one, the happier my husband is with the lack of clutter.  This remarkable seat combines a bouncer and a swing along with the movements that parents make when holding their baby.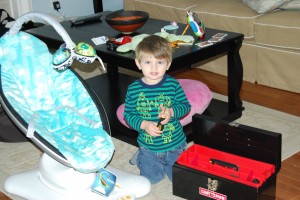 Here is my little man who helped mom put together the Mamaroo.  It was an extremely easy process to put the seat together.  I usually leave all of the set up for my husband, but this was so easy that TJ and I had absolutely no problem setting it up in about 5 minutes.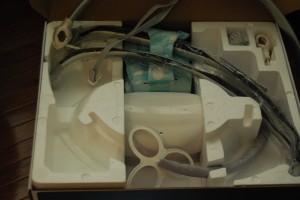 The seat comes packaged in a very small box.  I was surprised at how compact the box was, but everything was in there!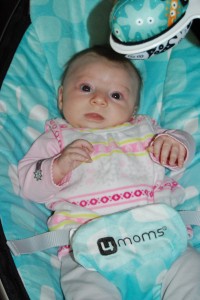 Here is our gorgeous tester!  This little lady has been enjoying the Mamaroo for the past month.  I figured that I needed to be selfless and let other babies test out and try this fabulous seat before my little girl comes in May.  My friend graciously allowed me to come over and drop it off for her little one to try out.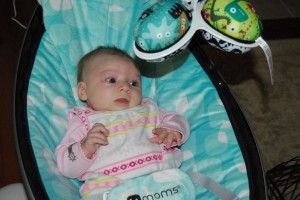 The mobile caught her attention right away.  On one side of the mobile is black and white (for the newborns) and the other side is a very colorful display of aliens.  They are soft so that if baby pulls them out they won't get hurt.
The Mamaroo moves in 5 different motions.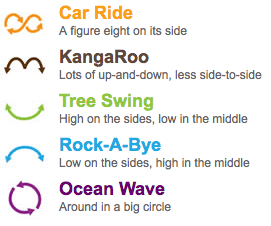 Our little tester seemed to like the bouncing motion of the KangaRoo the best so far.  While there are several different speed options both of us moms wished that it could have been a little bit faster on the highest speed.  The Mamaroo also has built in noise machine with different nature sounds.  However,  one of the most ingenious options is to hook your iPod up into the Mamaroo and play whatever songs you choose.  My husband likes this feature as he is constantly introducing our son to all types of music.  I am sure our little girl will benefit from dad's playlist as well.
I wanted to include this short video to highlight the brilliance of the Mamaroo:
Our Thoughts
Most of my favorite features are the practical ones.  I love that the seat is machine washable and can be easily zipped out for a quick wash.  I also love that is much smaller than a typical swing, taking up a lot less space in the house.  Finally, I love how the seat mimics parent movement allowing even the fussiest infants to relax and fall asleep.
It is an investment.  The Mamaroo plush retails for $239.99 at stores nationwide.  I think that it is worth it for the fact that it does replace both a swing and a bouncer and the plush fabric is a must for little babies.  I do wish that there was a faster speed, but this is a minor thing that probably won't make a huge difference for infants, but if your looking for the speed of a swing, it isn't there.
Be sure to visit 4moms and check out all of there ingenious products including the new Origami, a state of the art stroller that automatically folds for you!
Want to win one for yourself?
Win It
One (1) lucky reader will win a Mamaroo of their very own in their choice of fabric!
How to Enter:
Leave a comment and tell me what fabric you will choose for your Mamaroo if you are the lucky winner.  (You must complete this entry before completing any of the bonus entries)
Bonus Entries:
Follow me on Twitter and Tweet: Win a 4moms Mamaroo @AMomsImpression http://wyn.cc/2a8lw (You may enter daily, just leave a comment with each Tweet's link)
Blog about this giveaway (Please leave a link to your post)
Grab my Button and post it on your blog.
Subscribe to A Mom's Impression by Email (2 Entries, please leave 2 comments: Please remember to confirm your subscription)
Comment on any non-giveaway post on A Mom's Impression. (just tell me what post you commented on)
List this giveaway on any giveaway site, or share on Facebook.
Please leave a comment about each entry, include a valid email address or you may contact me directly with your contact information. This giveaway will end at midnight on April 2. Winner will be picked from Random.org. 
Open to US residents only.  Good Luck!
This product review and giveaway was made possible by 4Moms.  I was not compensated for this review other than a product sample and prize package shown. All opinions are 100% mine.