Last year when I attended The Last Jedi Press Event, I also got the chance to screen the first episode of ABC's newest sci-fi drama The Crossing and talk to the executive producers. The Crossing premieres on tonight (4/2/18) at 10 EST on ABC.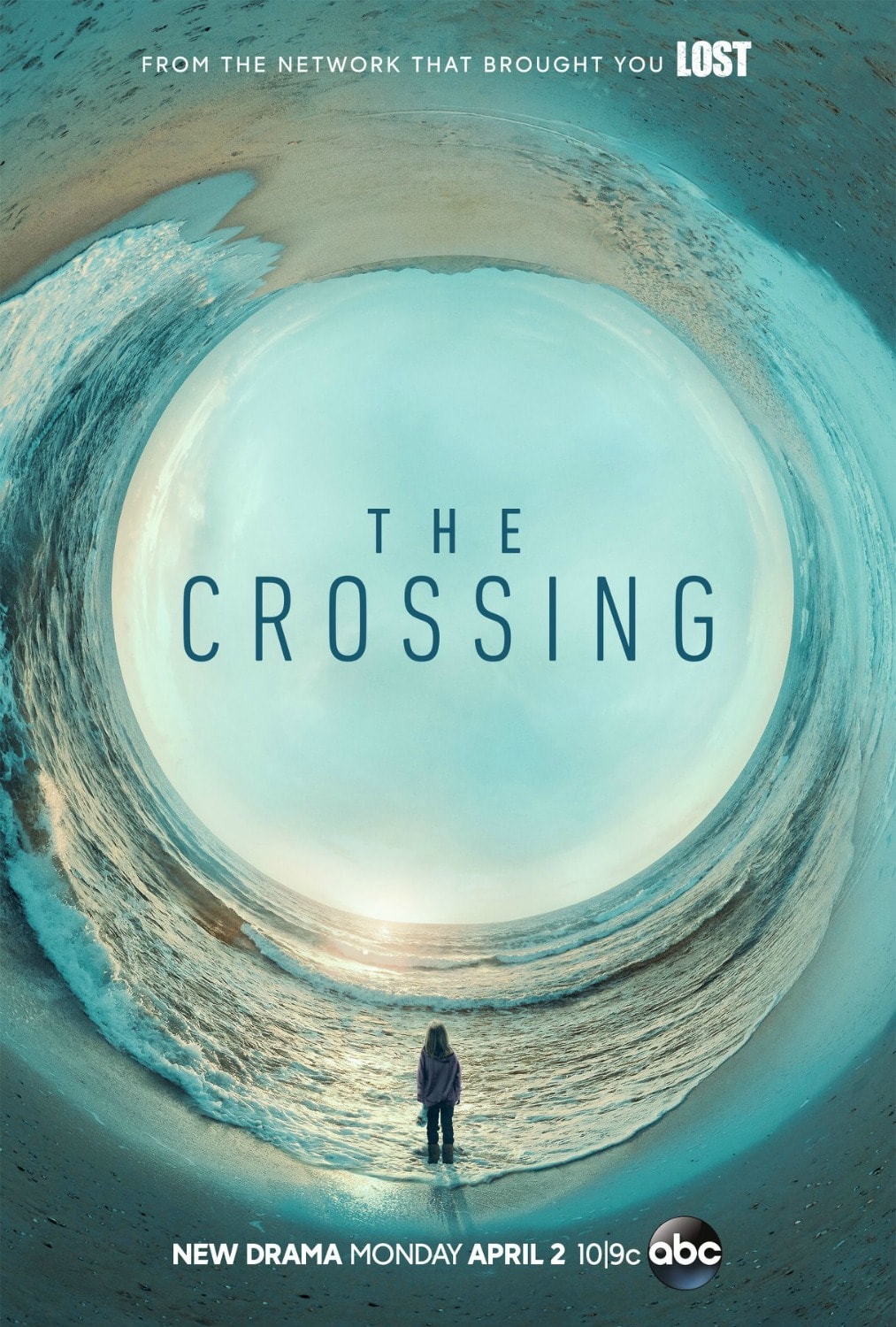 ABC's The Crossing
Imagine discovering 47 bodies washed up on the shore of your small town. That is how The Crossing begins.  There are survivors and it is up to Sheriff Jude Ellis (Steve Zahn) and Department of Homeland Security agent Emma Ren (Sandrine Holt) to try to figure out what happened to these refugees. The refugees have an unbelievable story, they claim that they're fleeing from a war that is happening 180 years in the future!
There is at least one refugee with heightened abilities like being able to jump higher than a building, and the ability to run super fast. This complicates matters as Jude and Emmas try to figure out who they can trust and what to believe.
Sitting Down with The Crossing's Executive Producers
After screening the first episode of The Crossing, we sat down to chat with the show's Executive Producers Dan Dworkin and Jay Beattie.  They talked about how they came up with the concept of the show and gave us a little insight into what the future could hold.
It All Started With A Photograph
Not just any photograph, but the Pulitzer winning photograph of a dad who had come from Syria to Greece and had crossed the Mediterranean in a raft holding a little boy.
Dan Dworkin: It's a father holding his little boy and just the look on the guys face, as a father, killed me.  And that was kind of the spark initially.  That's when I emailed Jay and said, refugees.  We don't normally write kind of straight ahead, ripped-from-the-headlines dramas.  We usually like to put a little spin on it.  So, we figured out a way to put a spin on the refugee story and that was this.

Jay Beattie:The discussion began with, how do we tap into what's happening in the world but not make it ripped from the headlines?  How do we get some distance from it?  Which is why we dipped into kind of this sci-fi genre because it gives you that distance from something that's happening, now, to talk about and explore in ways other sort of socially relevant issues that are coming out from. We decided to make these refugees from America to avoid comparisons to refugees coming from different countries and different religions and stuff like that and really focus on the people and the experience that they're going to have here as refugees versus any sort of sociopolitical baggage that might come along with it.
How Do Jay and Dan Relate to Show?
A good show is relatable and The Crossing is no different. Jay told us that because they are both dads, they were able to inform some of the storytelling by being a parent. There are a few different mom and daughter/ father and son storylines going on as well as the notion of being separate from a child and not knowing what happened to them.
What Kind of Research Went Into The Crossing?

Dan told us that they did all kinds of research, especially on the scientific end of things.
Dan Dworkin:We had a synthetic biologist as a consultant who read all our scripts and who we talked to.  His name is Andrew Hessel who's at this very moment probably curing cancer and I'm not kidding.  That's one of his pet projects.  We talked to futurists about what the world might look like in 180 years which was fascinating. We talked to a climatologist from NASA about what the weather might be like in 180 years.
All the research made the abilities that we see some of the refugee's posses more believable.
Jay Beattie:   That's just the way it's going.  You read about how we're trying to make ourselves better down to the cellular level.  And when CRISPR technology came out, the CRISPER/cas9 technology, it seemed like genetic editing was right around the corner.  When we first started talking about where's our future in the show, is it 1000 years out, is it 500 years out?  The more we talked to these experts, the more that number began to shrink because they seemed to think these things are right around the corner. And whether, socially we adopted this stuff quickly and it's able to go through is another question.  But the technology seems to be there.  So, it just seemed that was the natural thing.  

The future was about people who took the opportunity to make themselves better.  There were haves and have-nots.  Some could make themselves better.  Some couldn't and that became the bifurcation in society where, you know, it quickly became this dystopian future.  It was almost like Homo sapiens and Neanderthals where they were like well, we've evolved past you so now you got to go.

Dan Dworkin:   It's just interesting because you already see a big split in people who are warning of the dangers of genetic engineering versus people who are embracing it with open arms saying it's what we need to do.  And you can see that split becoming more profound.
Overall,  I really enjoyed the first episode and can't wait for you to see it tonight!
I'll leave you with a promise that Dan and Jay gave us…
There will be answers given through out the season… not just at the end.
The Crossing premieres Monday 4/2 at 10/9c on The ABC Television Network, streaming and on demand!
To learn more about The Crossing on ABC, be sure to visit their website and social channels.