One of the highlights of the D23 Expo was attending the upcoming slates for Disney Animation as well at the Live Action preview.  There are so many wonderful, unforgettable films coming up in the next couple of years.  I got a bit of a preview at the Expo and here are some of the highlights!
First off… he is what is coming up next…
Star Wars: The Force Awakes (December 18, 2015)
The Finest Hours (January 29, 2016)
Captain America: Civil War (May 6, 2016)
The Jungle Book (April 15, 2016)
Alice Through the Looking Glass (

May 27, 2016)

Pete's Dragon (August 12, 2016)
Doctor Strange (

October 26, 2016)

Rogue One, A Star Wars Story (December 16, 2016)
Beauty and the Beast (March 17, 2017)
Pirates of the Caribbean: Dead Men Tell No Tales (July 7, 2017)
Queen of Katwe
The Jungle Book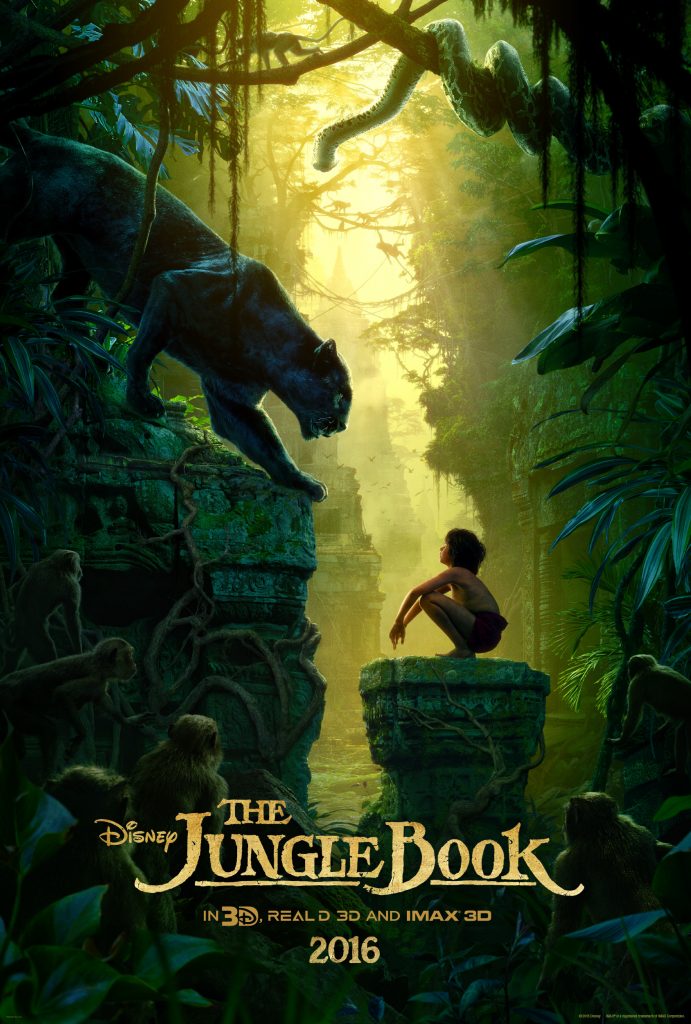 I remember loving The Jungle Book when I was a child.   The idea that a little boy was raised in the Jungle and adopted by animals sounded like a fun adventure.  In true Disney fashion, they have decided to take this beloved classic and turn it into a live action adventure.  Get ready next year for The Jungle Book like you have never seen it before!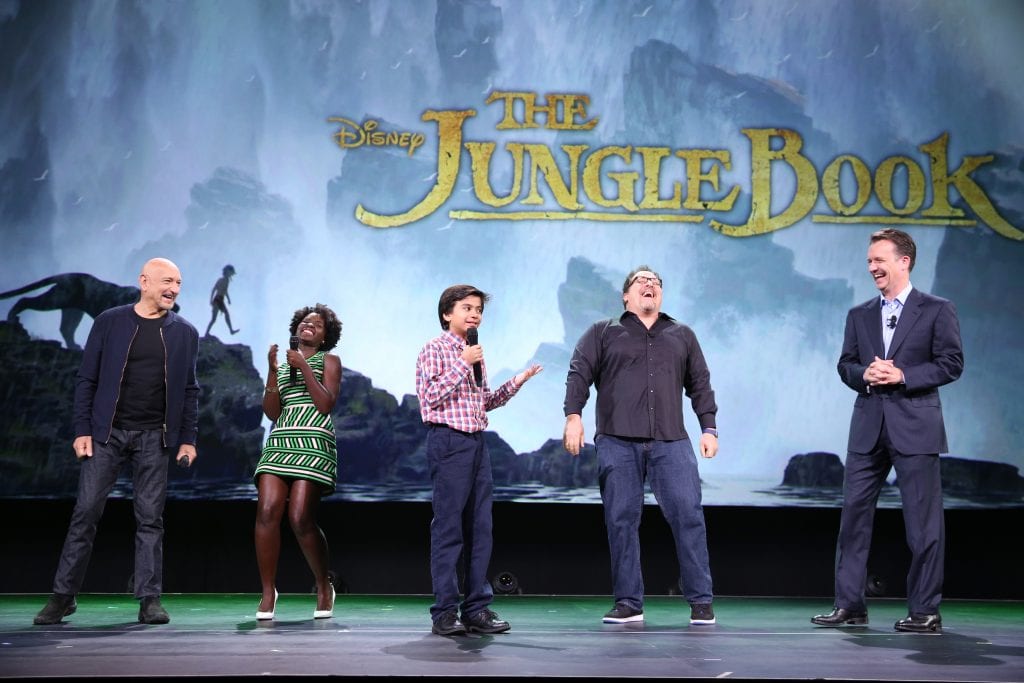 Based on Rudyard Kipling's timeless stories and inspired by Disney's 1967 animated classic, the film features state-of the-art technology that immerses audiences in the lush world like never before. "The Jungle Book" also features the voices of Bill Murray, Idris Elba, Scarlett Johansson, Giancarlo Esposito and Christopher Walken. Jon Favreau and Brigham Taylor produce and the screenplay is by Justin Marks. "The Jungle Book" hits theaters in stunning 3D and IMAX 3D on April 15, 2016.
The Finest Hours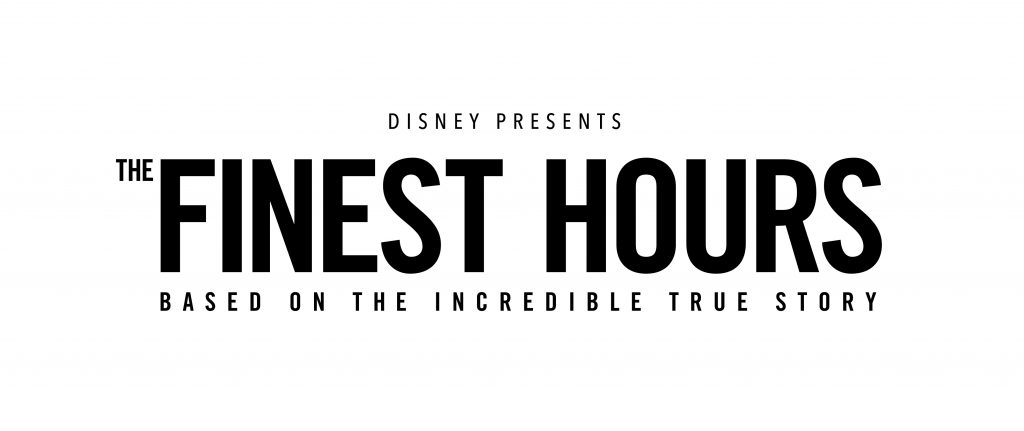 In January "The Finest Hours," a remarkable true story based on the story of the most daring rescue mission in the history of the Coast Guard, comes to theaters.
The star of the movie, Chris Pine (who plays Bernie Webber, the captain of the rescue boat), came on stage to show us the heroic action-thriller preview.   This film looks like its going to be a sit at the edge of seats kinda movie with a lot of emotions.  I was enthralled right from the beginning of the presentation.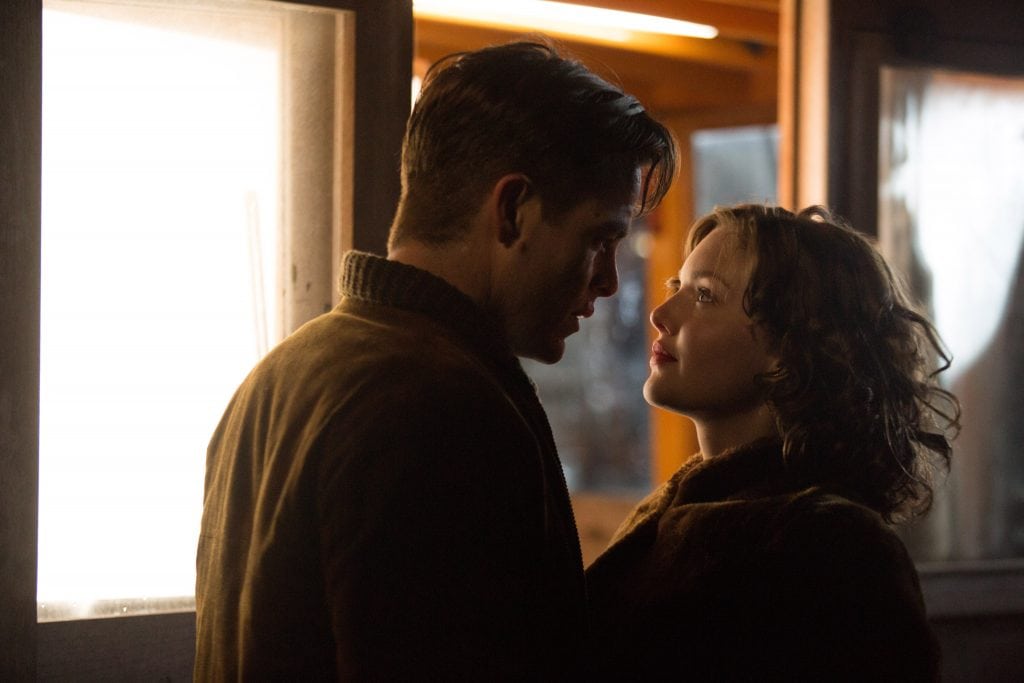 Here is that sneak peak trailer for you to enjoy!

Captain America: Civil War Captain America is back and better than ever.  Producer producer, Kevin Feige introduced the film and also introduced  the stars of the film, Chris Evans and Anthony Mackie!  Yes that is right, they came on stage and talked about their roles in the movie.
Marvel's "Captain America: Civil War" picks up where "Avengers: Age of Ultron" left off, as Steve Rogers leads the new team of Avengers in their continued efforts to safeguard humanity. After another international incident involving the Avengers results in collateral damage, political pressure mounts to install a system of accountability and a governing body to determine when to enlist the services of the team. The new status quo fractures the Avengers while they try to protect the world from a new and nefarious villain.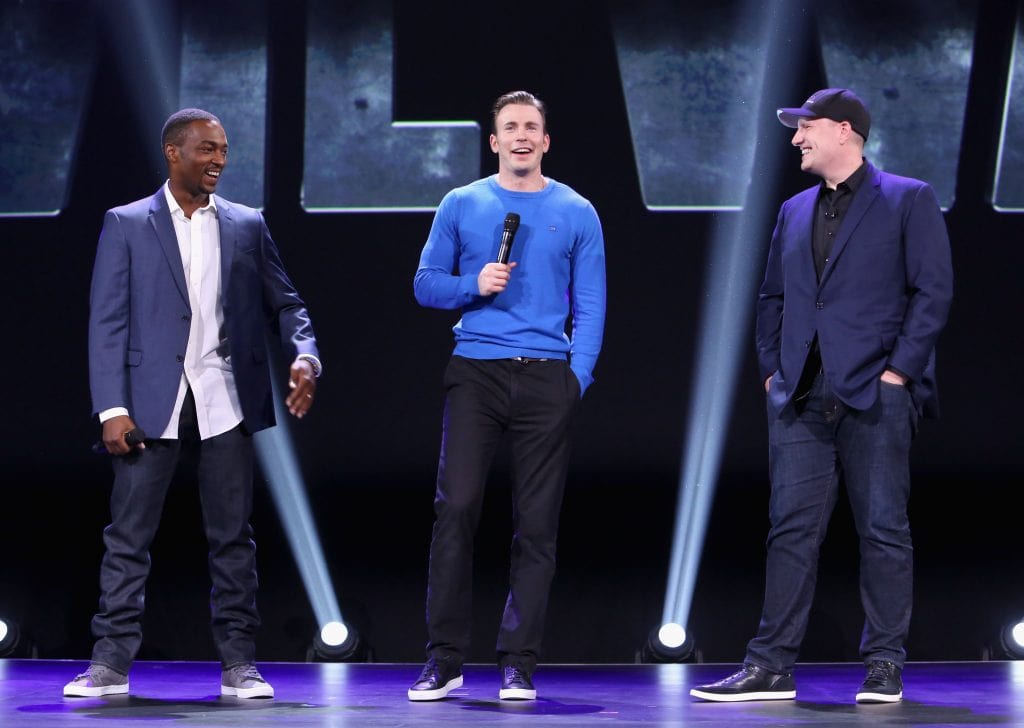 I mean seriously, isn't Christ just the most handsome thing ever?
Doctor Strange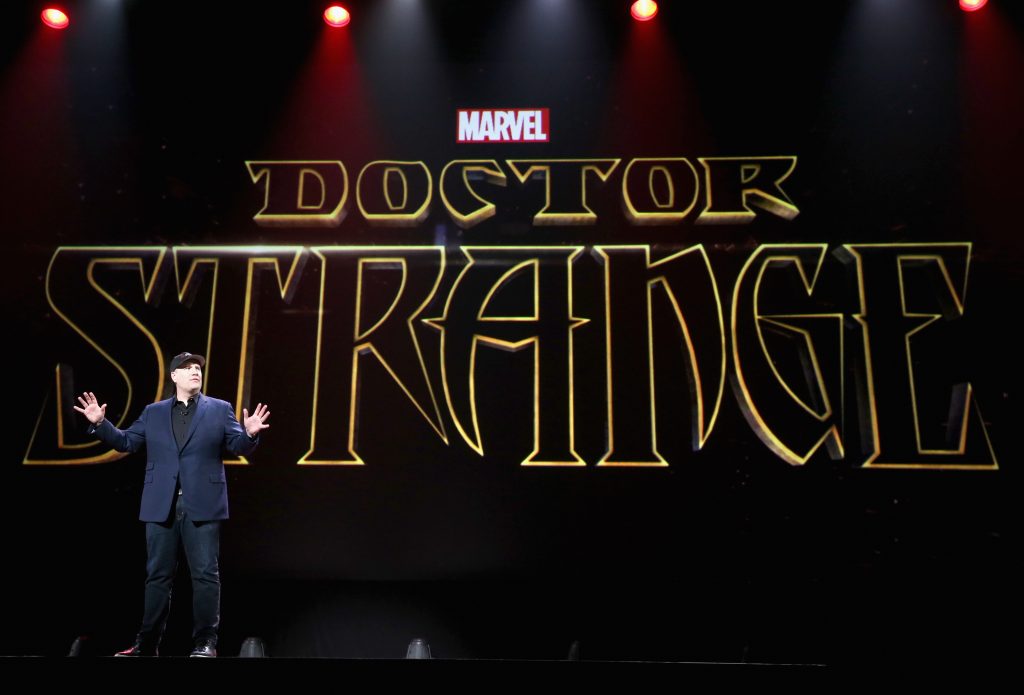 Producor Kevin Feige gave us a glimpse into the world of Marvel's "Doctor Strange." We were treated to a video greeting by Benedict Cumberbatch, who stars as the title character.  We were also  showed a pre-production piece that gave us a  taste of the look and feel of the upcoming  film.  Doctor Strange opens in the U.S. theaters on October 26, 2016.
Pete's Dragon I sang "Candle on the Water" for my sixth year solo competition.  While I didn't win, I do have a fond memory of that song and the movie that inspired it.  Disney is going to be remaking "Pete's Dragon,"!  Bryce Dallas Howard came on stage to talk about her role in the film and the magic of making a Disney movie.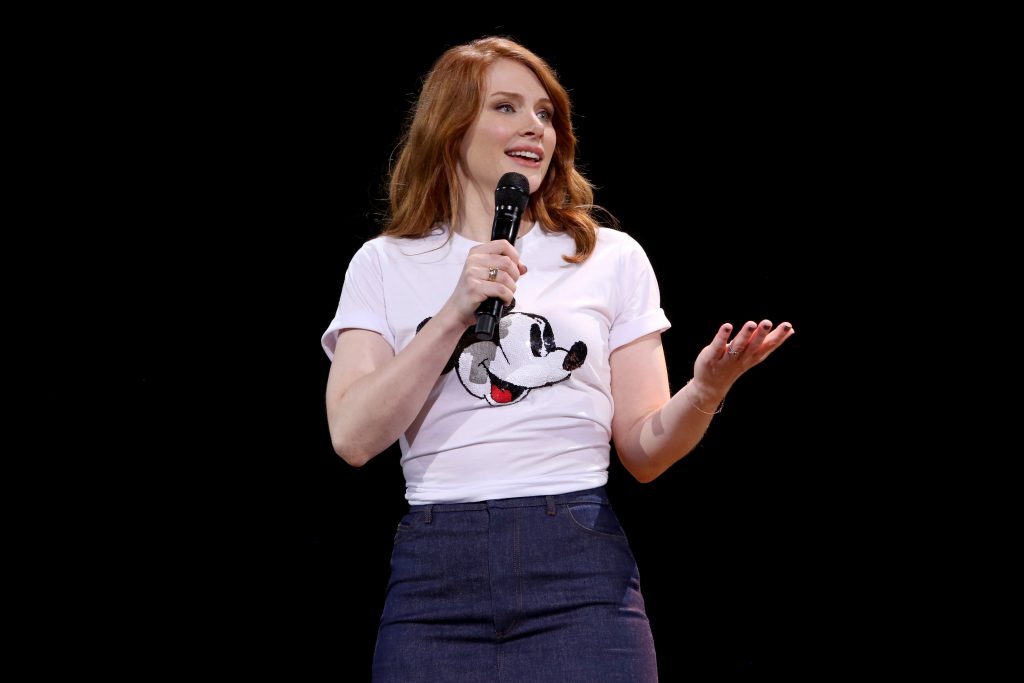 "Pete's Dragon" is the heartwarming adventure of an orphaned boy named Pete and his best friend Elliott, who just so happens to be a dragon, "Pete's Dragon" is directed by David Lowery, produced by Jim Whitaker, and executive-produced by Barrie Osborne, and also stars Oakes Fegley, Wes Bentley, Karl Urban, Oona Laurence and Robert Redford. "Pete's Dragon" opens in U.S. theaters on August 12, 2016.
Beauty and the Beast
I don't have a picture to share from this movie yet, but I can tell you that they did a little sizzle reel and it looks amazing.  I have to say for me this is my most anticipated live action Disney Movie for 2017 so far.  We did learn that it will be a musical.  In fact, Josh Gad and Luke Evans sang one of their songs for us via video from their set in London.
Alan Menken, who won two Academy Awards® (Best Original Score and Best Song) for the animated classic, provides the score, which will include new recordings of the original songs written by Menken and Tim Rice, as well as several new songs. "Beauty and the Beast" will be released in U.S. theaters on March 17, 2017.
Alice Through the Looking Glass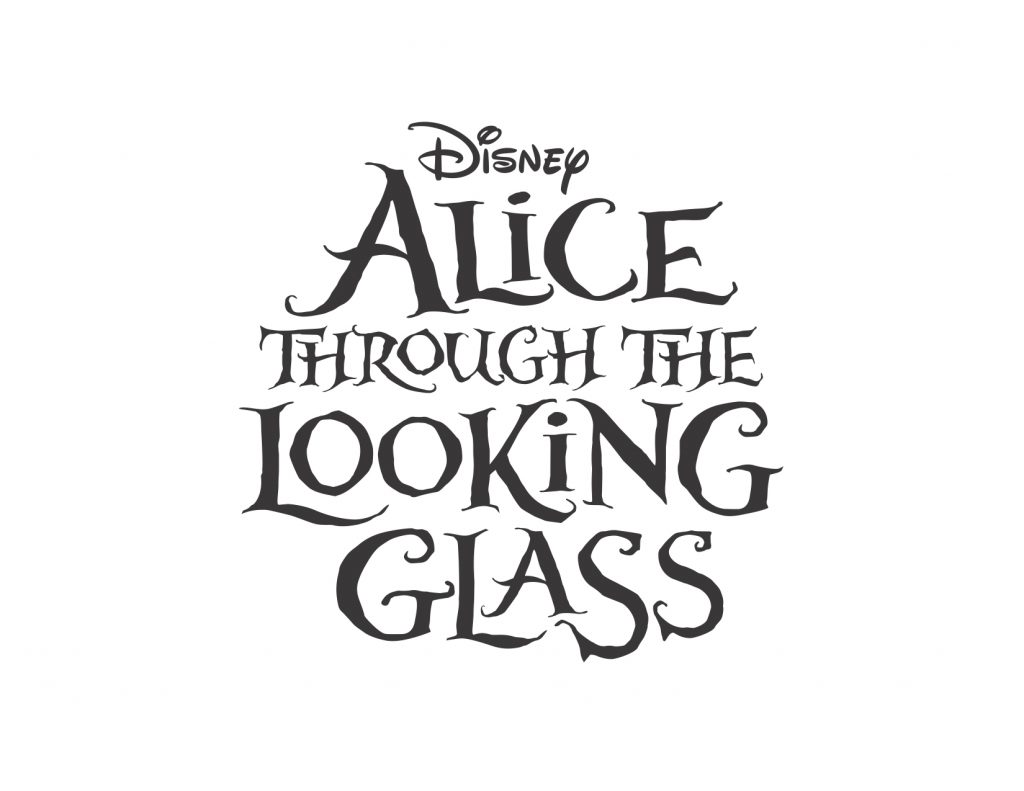 Alice is back, in a big way.  Next year Disney is releasing "Alice Through the Looking Glass," a new adventure staring our favorite characters.  In this story Alice returns to the whimsical world of Underland and travels back in time to save the Mad Hatter. The film, which once again features Johnny Depp, Anne Hathaway, Helena Bonham Carter and the voices of Alan Rickman, Stephen Fry, Michael Sheen and Timothy Spall, introduces several new characters as well: Zanik Hightopp (Rhys Ifans), the Mad Hatter's father, and Time himself (Sacha Baron Cohen), a peculiar creature who is part human, part clock.
Pirates of the Caribbean: Dead Men Tell No Tales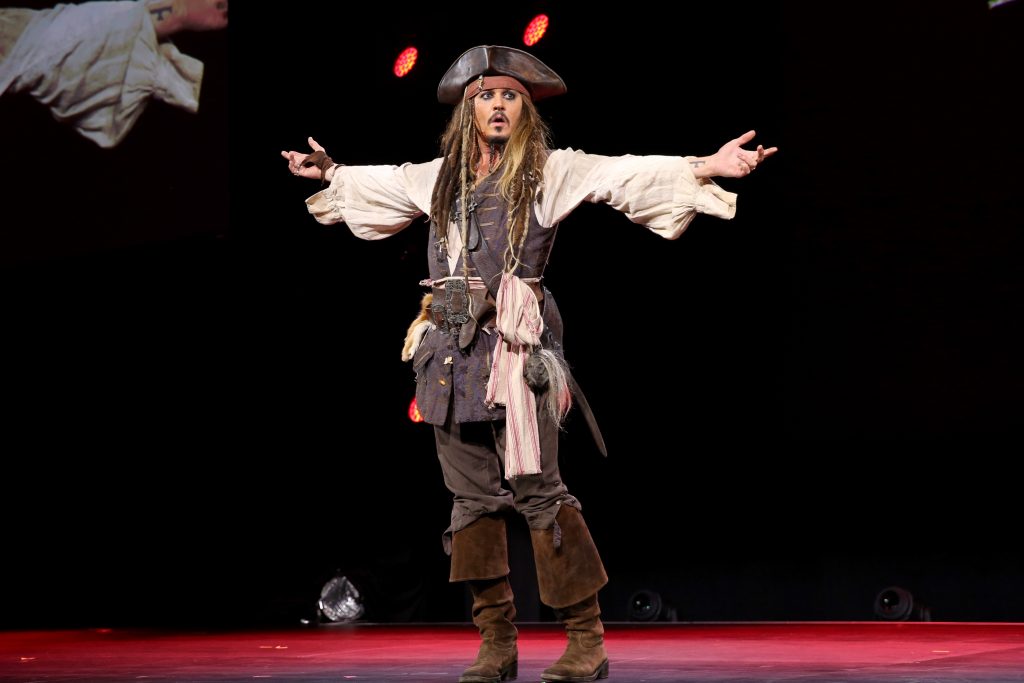 One of the biggest surprises of the conference was when Johnny Depp came out on stage in full costume as his character Captain Jack Sparrow.   He was hilarious as he threw grapes at the crowd and got us all excited about the upcoming film "Pirates of the Caribbean: Dead Men Tell No Tales"  which will release in U.S. theaters on July 7, 2017.  One little bit of insider information we got was that Orlando Bloom's character Will Turner,  is making a re-appearance.

Star Wars: The Force Awakes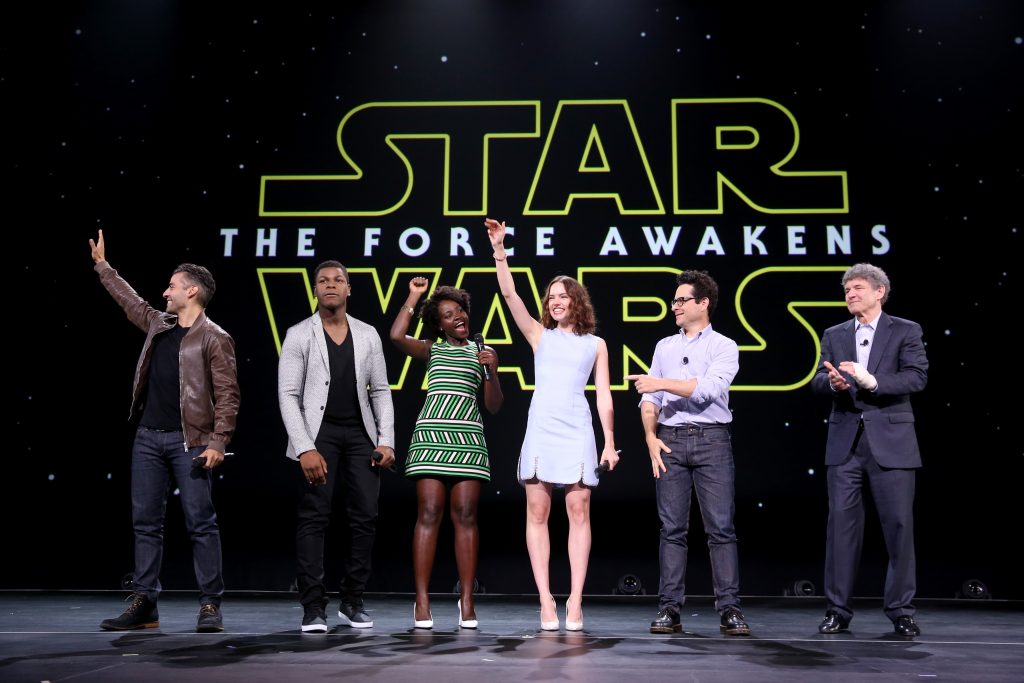 Unless you have been living under a rock, you know that the next installment in the Star Wars saga is coming out this December. "Star Wars: The Force Awakens," is flying into theaters  December 18, 2015.  While we weren't given any addition insight into the storyline we were treated to a visit from the cast including John Boyega, Daisy Ridley, Oscar Isaac and Lupita Nyong'o.. If that wasn't exciting enough, Harrison Ford came out to thunderous applause.  There is nothing better than a little Hans Solo!  
Touching on "Star Wars: Episode VIII," Horn reminded the audience that Rian Johnson will be directing the film slated for release on May 26, 2017. Then in a surprise announcement, Horn informed everyone that Colin Trevorrow ("Jurassic World") has signed on to direct "Star Wars: Episode IX," which is scheduled for release in 2019.

Finally we were in for one more surprise.  They announced big news for "Rogue One," the first of the standalone Star Wars stories to hit the big screen.  It has commenced principal photography. Gareth Edwards ("Godzilla," "Monsters") is directing "Rogue One," which tells the story of resistance fighters who have united to steal plans to the dreaded Death Star. This film is being directed by The film is produced by Kathleen Kennedy and is slated for a December 16, 2016
There was a lot to get excited about in the newt 2 years when it comes to Disney Live Action films.  I don't know which one I am most excited about.  Do you have a favorite?
Here is a recap video of all the films they introduced during the session:

A huge thank you to Disney for flying me out to the D23 Expo and providing my hotel accommodations. All opinions are 100% mine!