On June 23rd the world of Children's Literature gained a new hero, Rockford T. Honeypot. Josh Gottsegen's released his new adventure book, The Adventures of Rockford T. Honeypot, and we were lucky to receive an advanced copy.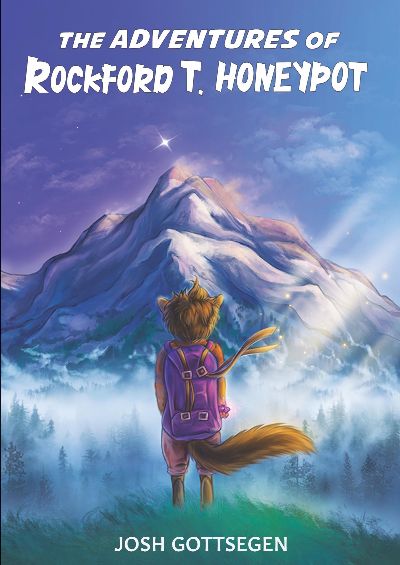 We are in the midst of our summer reading. The kids both have a reading challenge from their school that they are working hard to complete. Honestly, I don't think they need a challenge to read. My son is such a bookworm that he would be reading ALL THE TIME if we let him. This actually makes me really excited because I was the same way growing up.
A few weeks ago we received an advanced copy of Josh Gottsegen's new adventure book that appeals to children and adults alike.
Here is a little bit about the book.
Synopsis:
As a young chipmunk, shy, bookish Rockford T. Honeypot had dreams of thrilling adventures across the forest. However, timid of danger and germs, his only adventures were found in books and his imagination. When his family abandons him after a mistake that destroys their hazelnut business, Rockford sets off on a legendary journey beyond his wildest dreams. From exploring cuisines with a famous chef, training with ancient warrior monks, flying on giant hawks, finding true love, and much more, Rockford recounts his epic origin story of hardship, perseverance, and fortune.
Our Thoughts
My son, age 11,  has been enjoying the book for the past couple of weeks. He is about half way through and says he has been enjoying it. He was trying to tell me a story and started giggling and I couldn't make heads or tails what he was so tickled about.  To me this was a very good sign. He loves adventure books and Just finished the Percy Jackson series for the second time right before this book arrived. I am excited for another fantasy book he can enjoy.
I haven't been able to read much of the story yet, but I have read a bit and I am really impressed with the prose and how Gottsegen has crafted the story. The language is perfect for a middle grade reader who is ready for adventure books beyond The Magic Treehouse series or Nate the Great. I think this would be appropriate for kids in grades 4 and up.
I will be sure to return and update more of my thoughts on this book as I finish reading it, so please come back and be sure to leave some feedback if you have read it already. I would love to hear your thoughts!
The Adventures of Rockford T. Honeypot is now available on Amazon.
Fun Rockford T. Honeypot Recipes
To help celebrate the release of The Adventures of Rockford T. Honeypot, we are sharing some fun themed recipes that you can make at home! These would be fun for a themed book club for the kids or just for fun to celebrate summer reading. Click on the pictures below to print off your recipe!
About The Author
Los Angeles native Josh Gottsegen has a background in filmmaking and digital media and is the author of "Joosh's Juice Bar," an early elementary school children's book series that encourages healthy eating habits through vivid illustrations and Dr. Seussian-style rhymes. Earning his BA in Film Studies at the University of California Santa Barbara, Gottsegen has won numerous awards for his short films and video productions. Starting professionally at NBCUniversal Interactive, later Josh Gottsegen moved into editing as well as other creative projects for the Walt Disney Company, Fox Corporation, IMG, and the NFL.