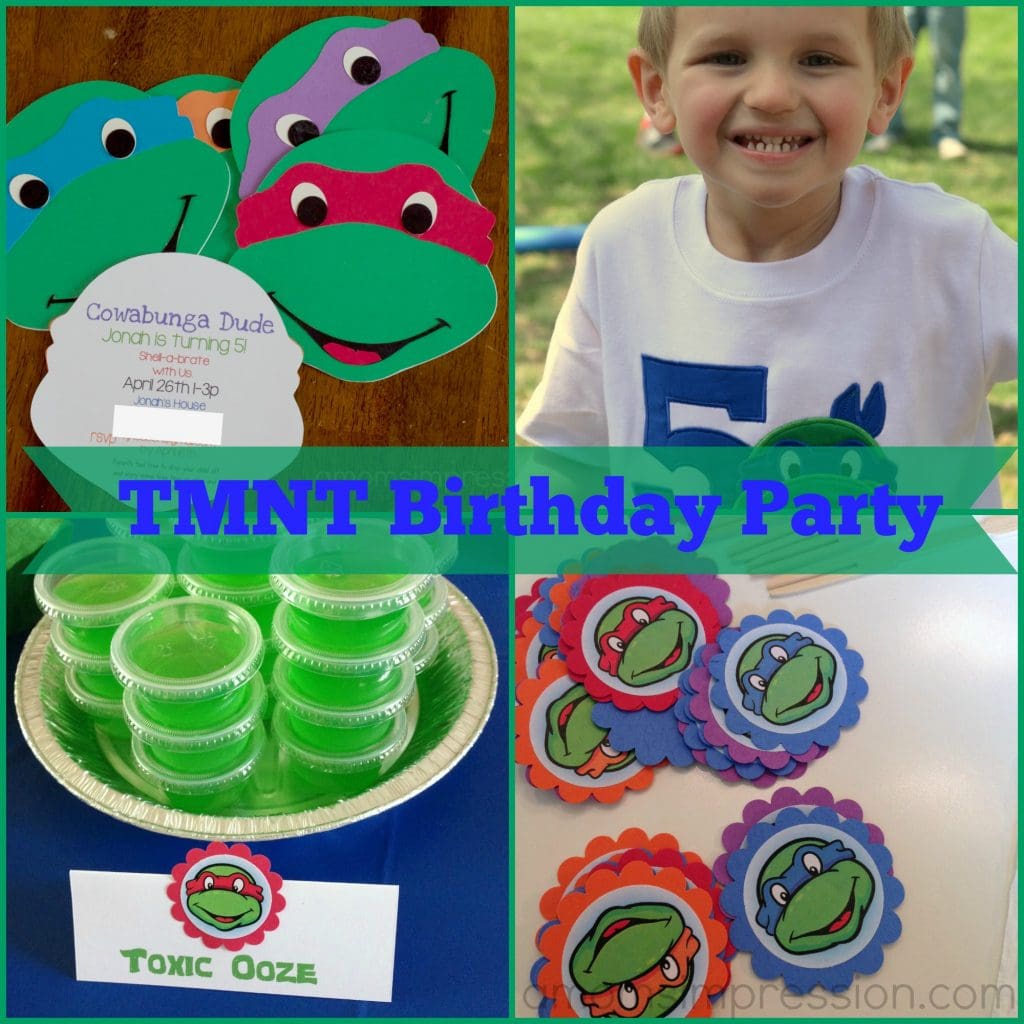 When my son told me he wanted a Teenage Mutant Ninja Turtles Birthday Party, I admit that I was a little disappointed. I am not a huge fan of commercial characters when it comes to my parties (except for The Mouse), but I know that my son loves them.  And after all, the party is about him. Quickly, my disappointment turned into excitement as I started planning his party.  Everything started coming together and looking adorable!  I didn't have to sacrifice style for this party, it was full of it and most importantly, my son LOVED it! I ended up with a lot of fun TMNT birthday ideas!
With any party, it starts with the TMNT birthday party invitations.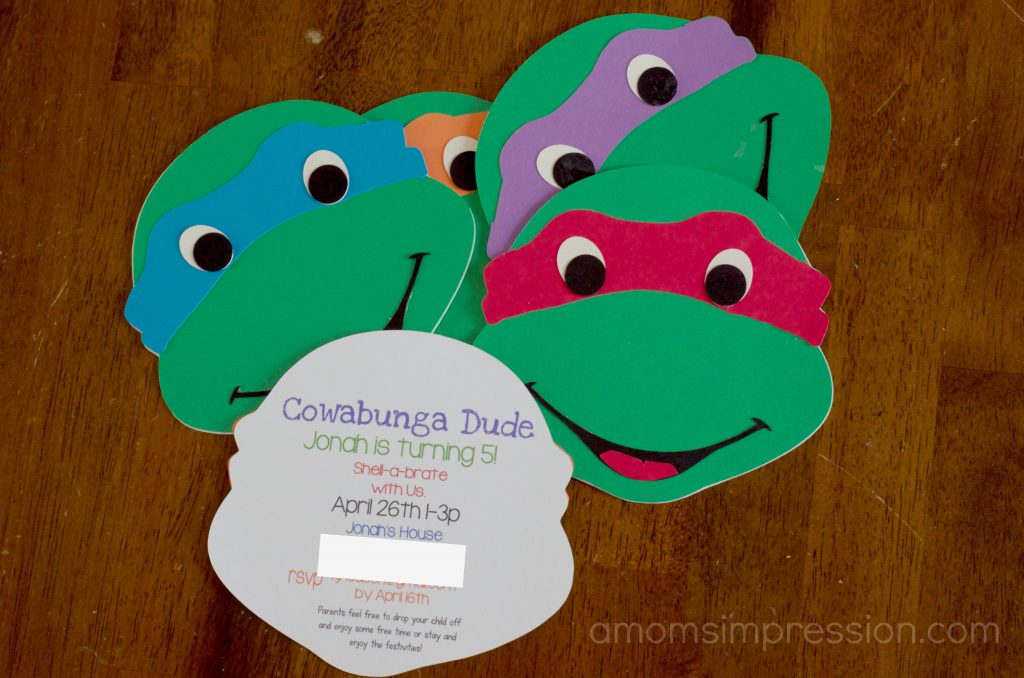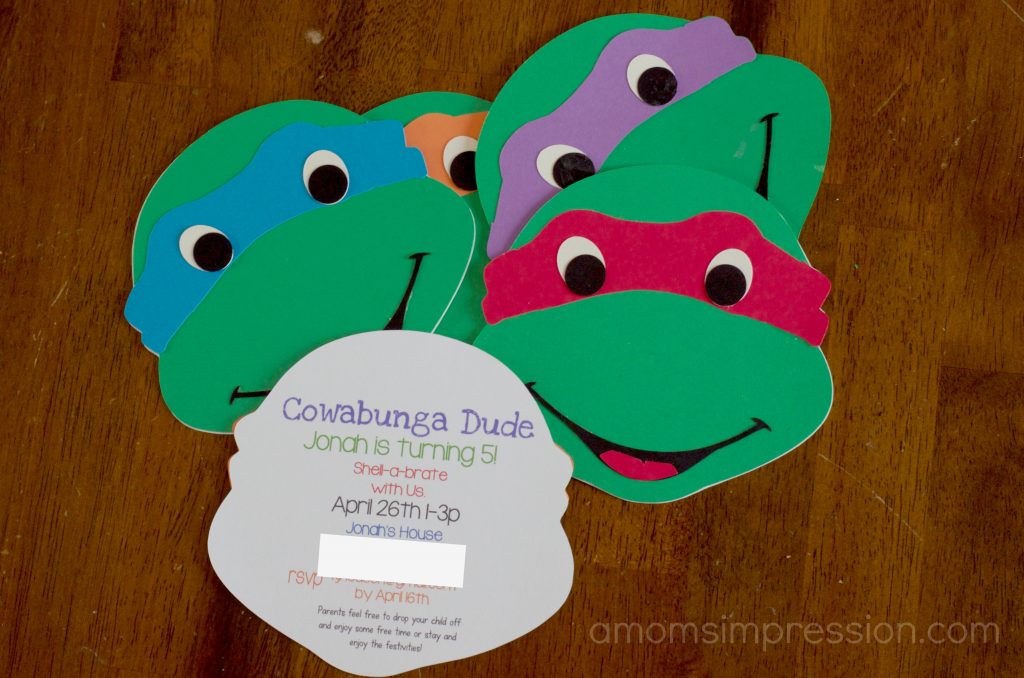 The TMNT birthday party invitations set the tone of the party, so they are very important. I couldn't find anything that I fell in love with online, so I decided to make them myself using my Silhouette Portrait
.  I was inspired by a birthday party invite that my girlfriend made for her daughter's 2nd birthday.  She hand cut a silhouette of  Elmo as her invitation.  I loved it so much that I tried to recreate it with a TMNT instead.  I'm not going to lie, these were very cumbersome, but I think they were all worth it!  I love them!
You will need these products to create them yourself:
Silhouette Portrait
Pacon Card Stock, 8 1/2 inches by 11 inches, Colorful Assortment, 250 Sheets (101199)
Elmer's All Purpose School Glue Sticks, Washable, 30 Pack, 0.24-ounce sticks
&
Every year for my kids' birthdays I get them a birthday shirt that corresponds with their theme.  I am saving all of them and plan on making a quilt out of them when they turn 18. (Shh… it's a secret!)  I find exactly what I need on Etsy!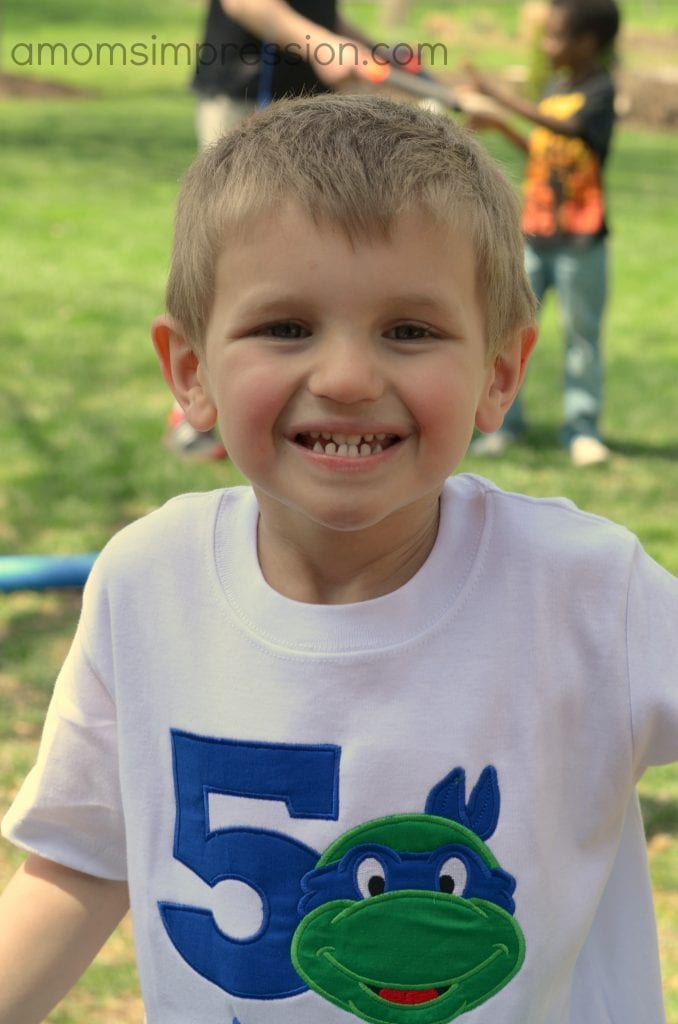 &
This ninja turtle birthday shirt was made from an Etsy Seller who is no longer in business but you can find one on Amazon that can be personalized.  It was a perfect fit and came in plenty of time for the big day.  Jonah loves it so much he has worn it several times since his birthday! I put his favorite TMNT turtle, Leonardo, on it.
Teenage Mutant Ninja Turtle Raph Personalized – Birthday Shirt Party Favor
&
TMNT Cupcake Toppers
I used some punches and a TMNT download that I found here to create these adorable cupcake toppers.  All I did was glue them to some toothpicks that I had in the pantry and they worked great!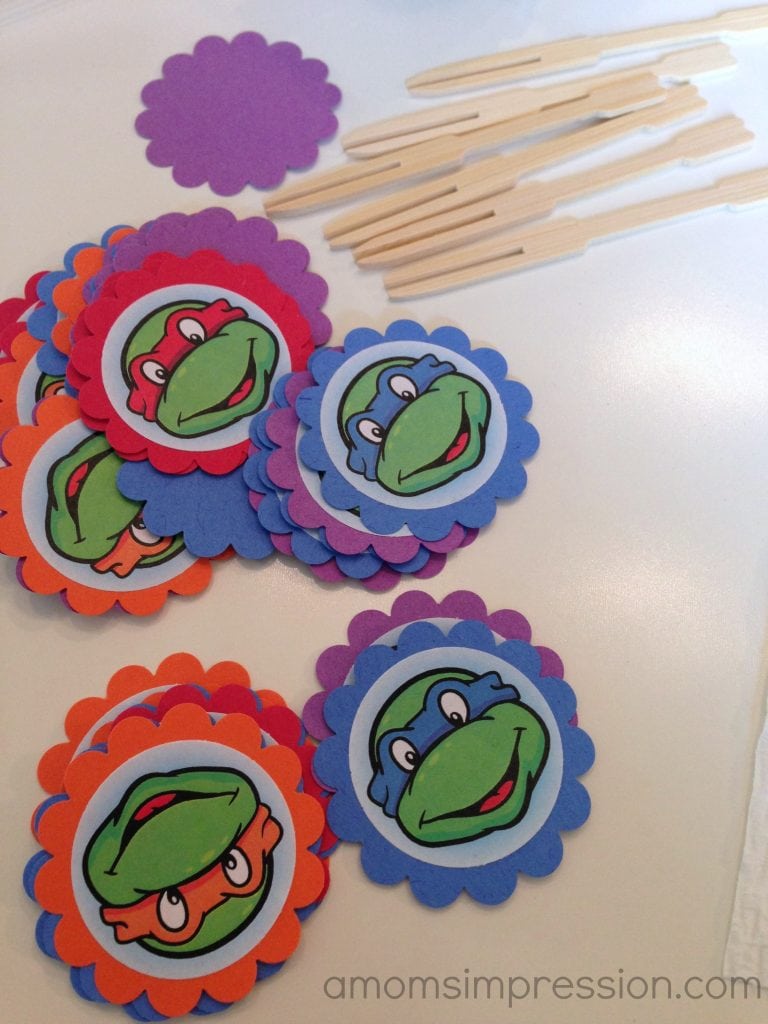 I made a few extras that came in handy when I made my food tents for my TMNT toxic ooze (more about the food in Part 2).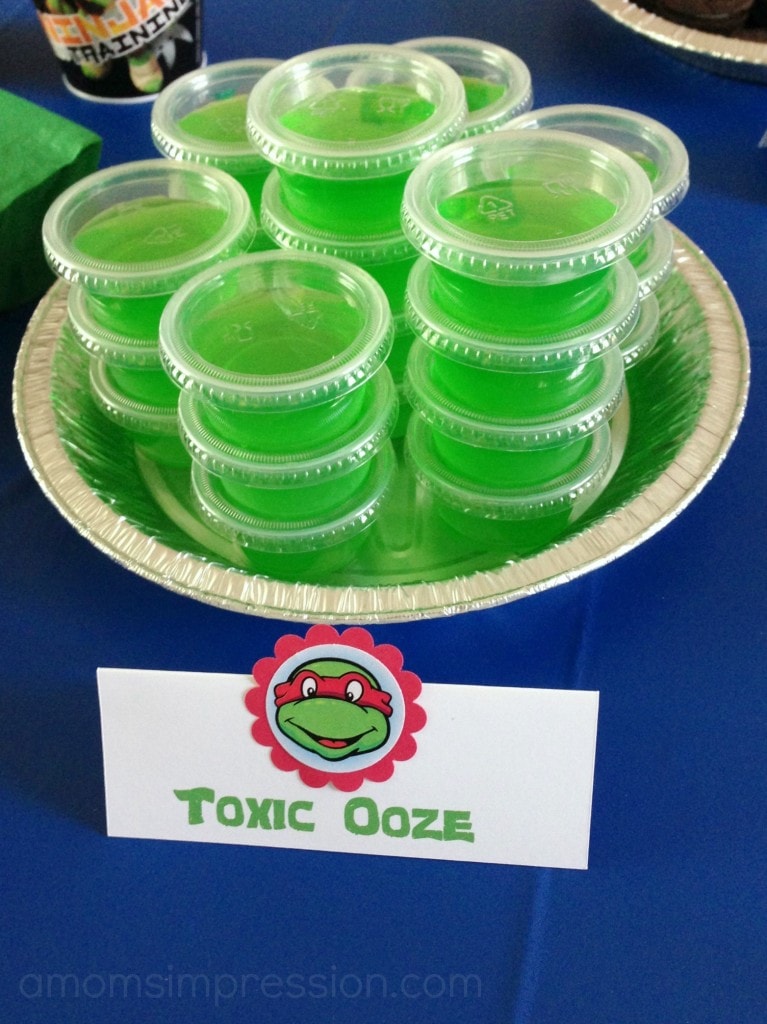 TMNT Birthday Ideas
Oriental Trading sent me a few items for the party to make decorations a little easier.  When they offered to help I went to their site and was amazed with everything they had to offer.  I have used them in the past in my classroom.  I had no idea that they carried all of these items.  In addition to TMNT party decoration ideas,  there was party supplies in every color I would need for any idea or theme I have.  I chose two different shades of green to compliment my TMNT theme.  The package of green balls in the left hand corner is actually chocolate!  I used them on my treat table (again more of that later).
I love the green pennant banner.  It added a little touch to our window that was right next to the food table.  I love the modern design and plan on using this again for another party since it wasn't themed.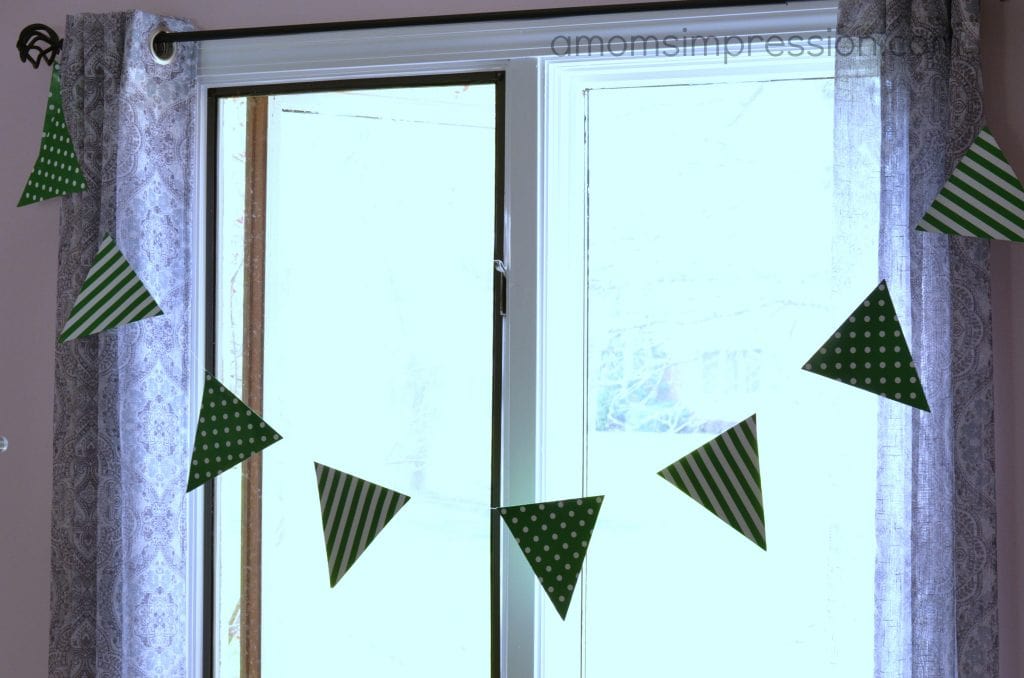 The large TMNT backdrop was set up in our living room for photo ops. The package actually contains 4 different pieces and they are large.  I separated them for many more TMNT party decoration ideas that I had.  The kids loved posing in front of the backdrop in their masks (more on that in Part 3).
Ninja Turtles TMNT Standard Party Supplies Kit – Serves
5.5ft Teenage Mutant Ninja Turtles Birthday Banner
Paper Teenage Mutant Ninja Turtles Masks, Assorted 8ct
TMNT Teenage Mutant Ninja Turtles Party Favor Goodie Gift Bag – 6
Ninja Turtles TMNT Standard Party Supplies Kit – Serves
Wilton 415-7745 50 Count Teenage Mutant Ninja Turtles Baking Cups
&
The decorations and invitations are just the beginning of this amazing Teenage Mutant Ninja Turtles Birthday Party.  There were so much TMNT birthday ideas to share that I have broken this party into three different posts.  Check back next week for Part 2, food.  Early next month I will post Part 3, activities.  You won't want to miss this if you have a TMNT fan at home!
For more party fun read my Part 2 ~ the food and Part 3 ~ The Activities!
Who is your favorite TMNT turtle?
A huge thank you to Oriental Trading for providing the items pictured above.
This article on TMNT birthday ideas was originally posted on Jun 19, 2014.