As a former educator and as a parent I am honored to  partner with Google and the Forward Influence Network on this post to help teach our kids to spread kindness. #ItsCoolToBeKind #BeInternetAwesome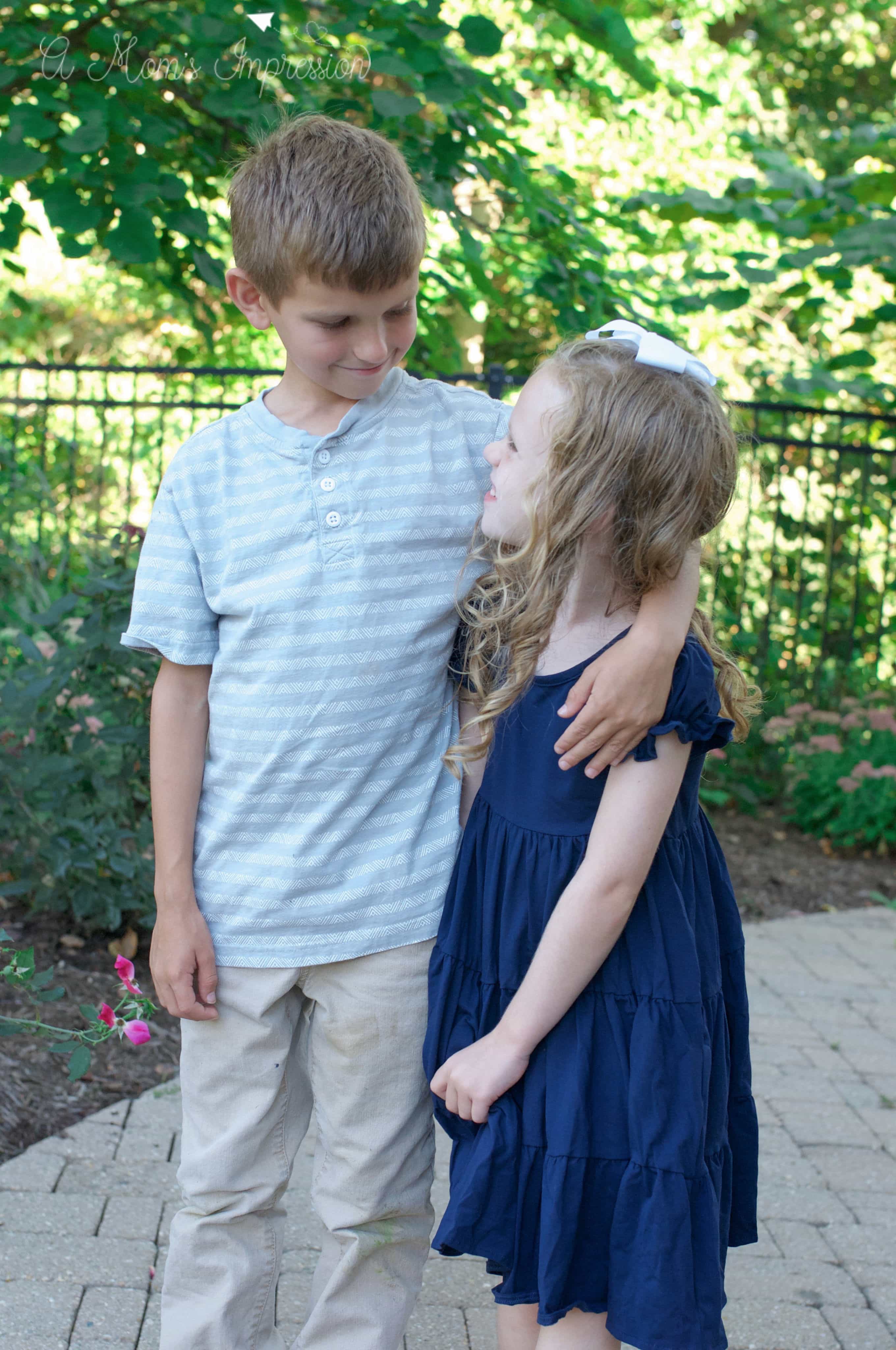 The age of technology has really opened so many more avenues of communication for ourselves and our kids. Gone are the days of pen pals and here are the days of chat rooms and social media. It is really amazing that our kids can collaborate with their peers in these virtual environments.
As with any new environment, learning how to navigate it can be challenging and it is important to prepare our kids for some of the challenges they may face in these social media spaces like how to communicate with each other in a kind and caring way. October is National Bullying Prevention Month and it is important to spread the message of being kind not only in our daily life, but in our digital life as well.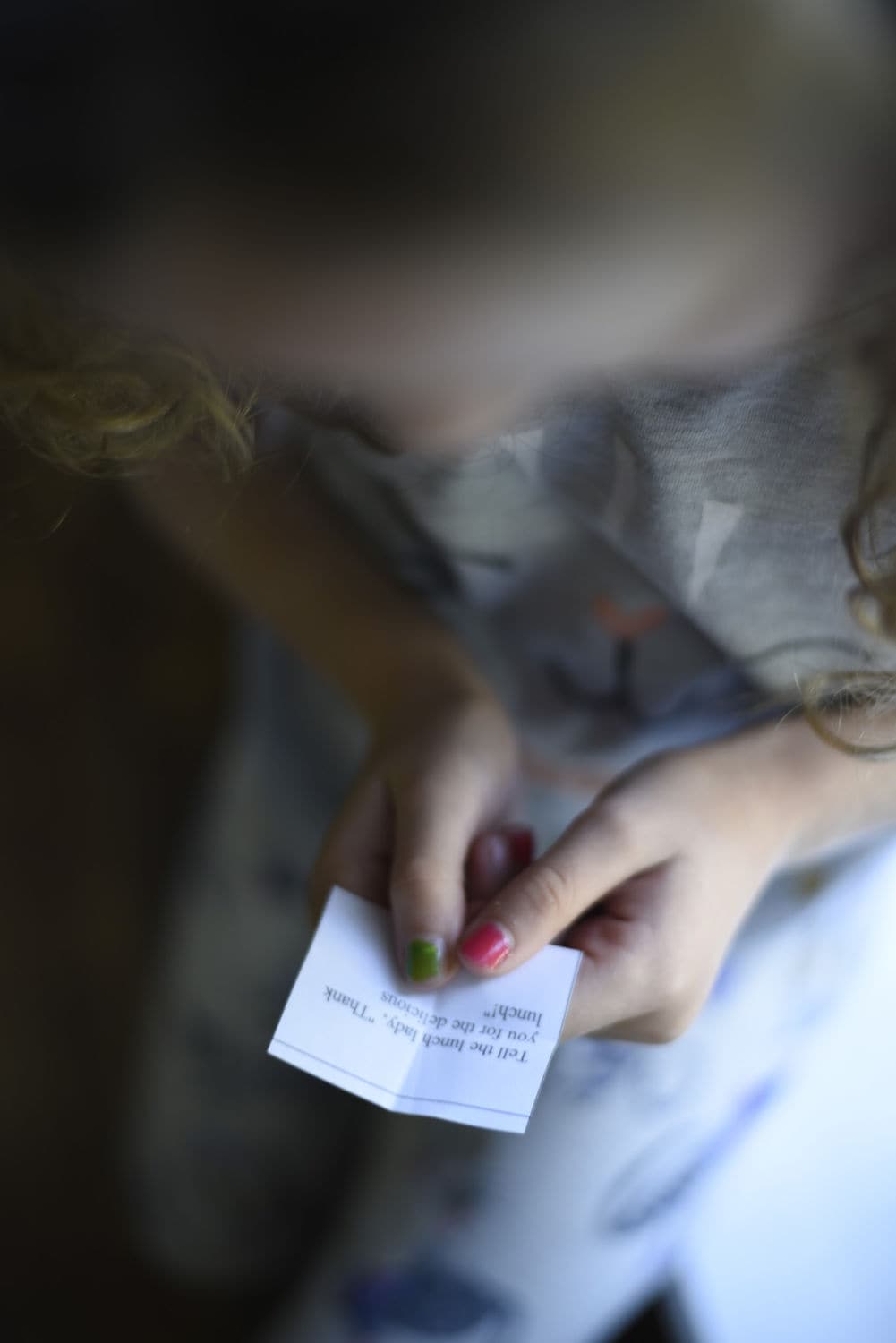 The truth is that cyberbullying is the #1 online safety concern in the classroom among teachers and is a huge concern with parents as well. We have learned that about 28% of students have personally experienced it and 71% of witnessed it. The problem is that only 20% – 30% are reporting acts of bullying to an adult. We know it is happening and the chances are our kids are going to be exposed to it in same manner.
So as parents what can we do about it?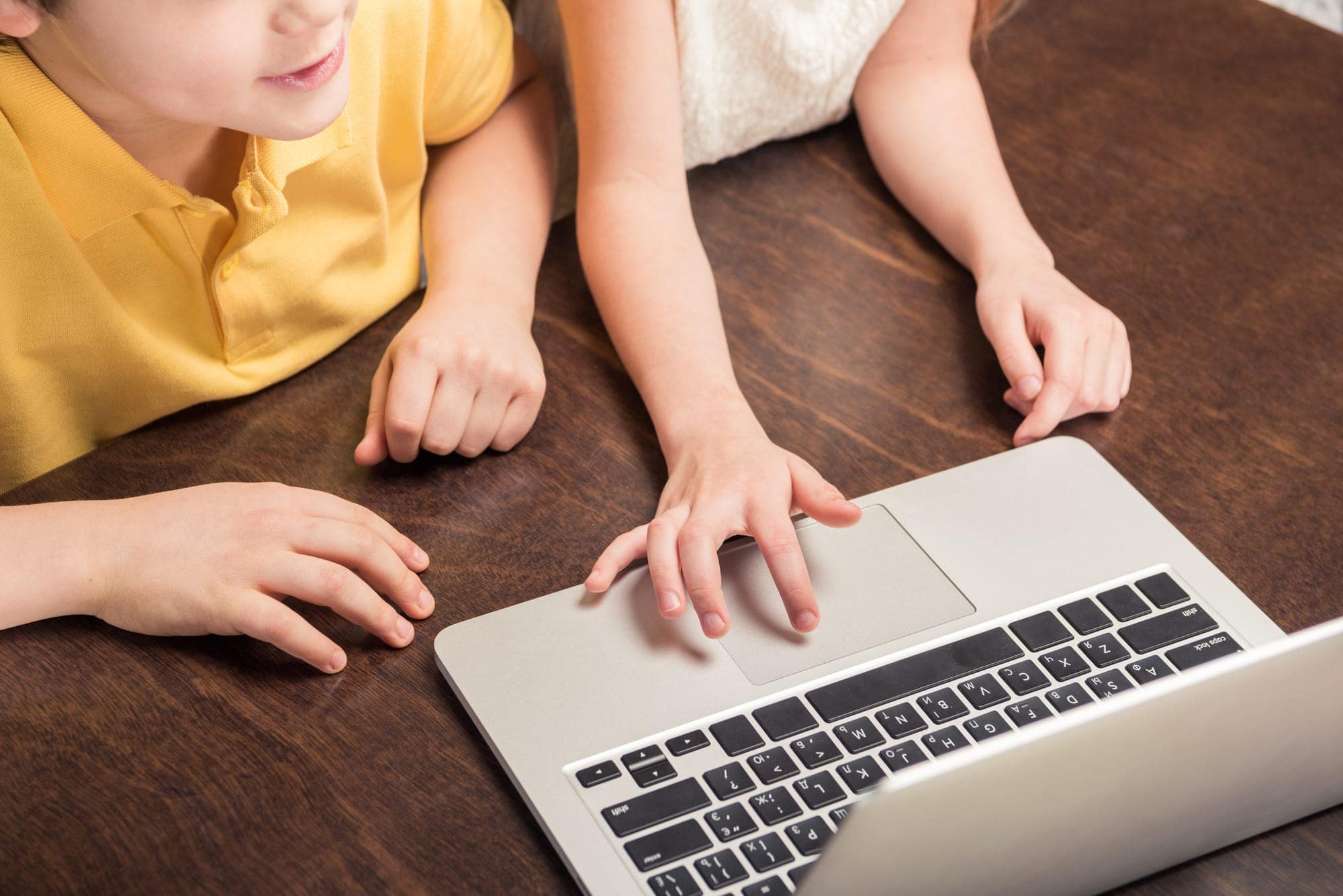 Be Internet Awesome
Google has acknowledged that parents and educators need help and tools to help kids understand how to report and deal with cyberbullying.  Be Internet Awesome is Google's free multifaceted program designed to teach kids the fundamentals of digital citizenship and safety so they can explore the online world with confidence. They have also spearheaded the "It's cool to be kind" movement, encouraging kids to be a positive digital citizen by treating others how you'd like to be treated online, just as in real life.
Google has a wonderful resource for younger kids called Interland, it is an online game where your kids will put their kindness skills to the test. Interland is a fun, interactive game that helps kids be safe on the Internet and teaches good online behavior. My daughter loves the first game where you deliver kind things to people to make them happy and you block bullies.
I know these messages are sinking in because she has been writing cute little notes to give to her friends recently. I love that the games show kids that they need to report bad behavior when they see it. Its sometimes difficult for kids to understand the difference between tattling and reporting so this is a nice way to reinforce this concept.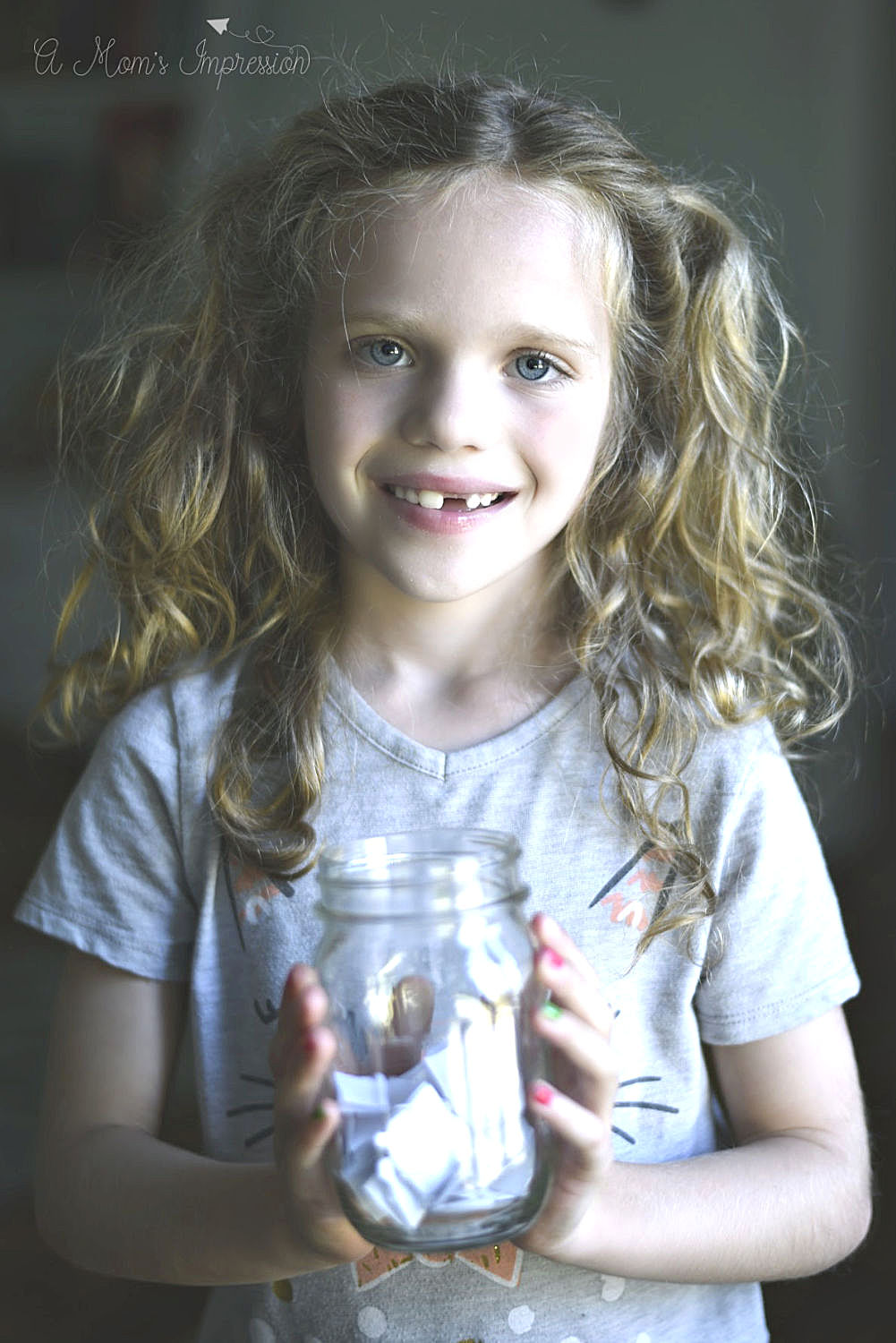 Teaching Kids to Be Kind
My kids are not yet old enough to be on social media sites but they do watch Youtube Kids, so they are still seeing comments made from other kids. We have used this as a learning tool on what kind of actions build people up and what kind of actions tear people down.
Kindness Jar Project
One of the most successful ways I taught my kids thankfulness at a young age was by using this Thankfulness jar. I thought it would be a fun idea to recreate the thankfulness jar and make a kindness jar for my kids. The thought was that we could brainstorm several ways we can spread kindness to our friends and family and write them on pieces of paper. Then every morning at breakfast time we could each pull a slip of paper out of the jar and do what it tells us to do during our day at school and work.
So far it has been very successful.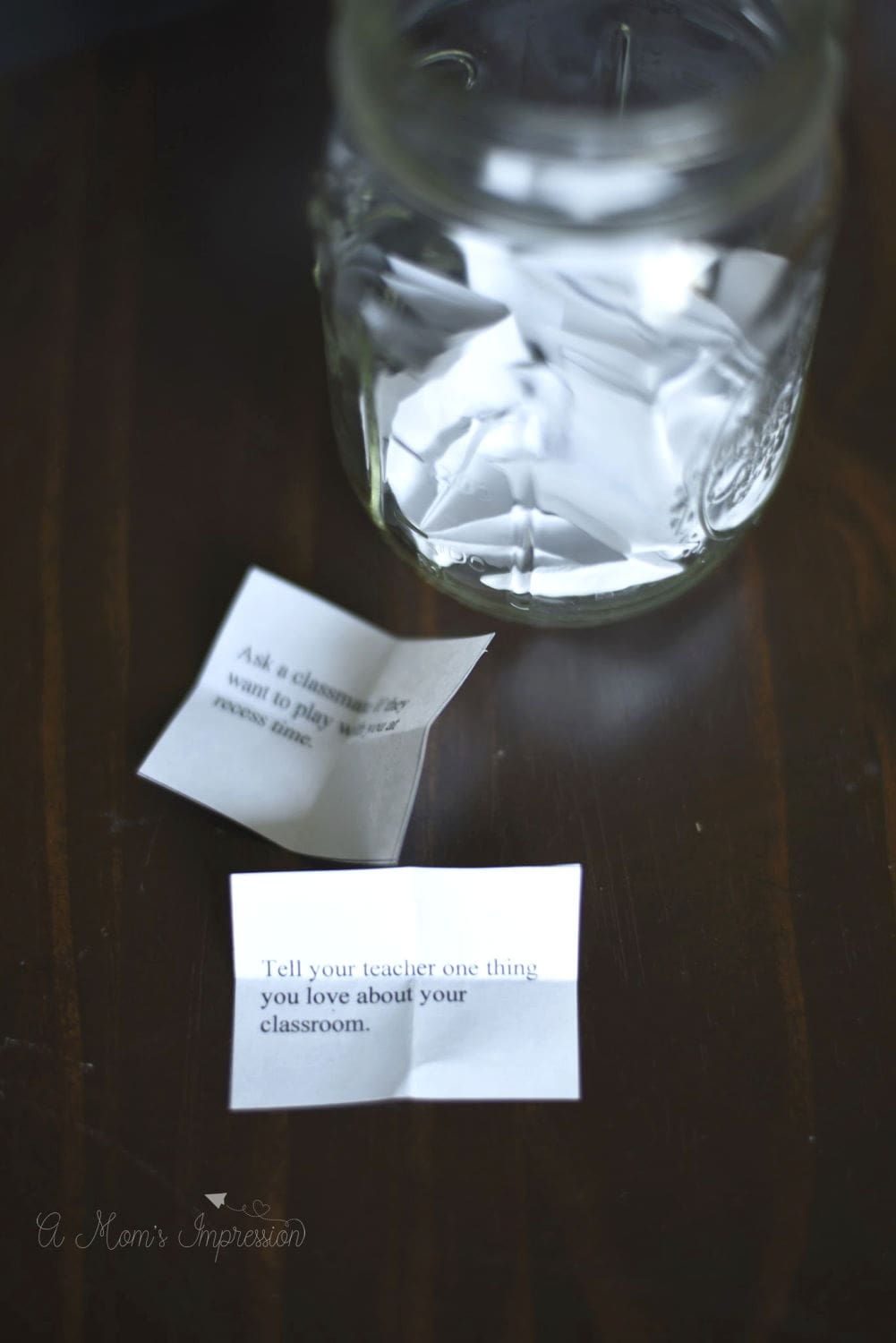 I think it is important for young kids not to get overwhelmed, sometimes if we ask them to do 10 kind things every day some kids can shut off because 10 seems like too much to handle. Focusing on one kind thing they can do is a great way for even the younger kids to get involved.
Here are a few of the kind actionable things we wrote on our slips of paper:
Open a door for someone today.
Give a friend a complement about what they are wearing today.
Tell your teacher one thing you love about your classroom.
Ask a classmate if they want to play with you at recess time.
Smile at someone in your classroom and ask them if they are having a good day.
Give someone a hug today.
Make a card for a family member or friend.
Say "Thank you" at least 5 times today.
Pick up a piece of litter off the playground or your classroom floor today.
Clean something up for your teacher today.
Clean something up at home for your parents today.
Grab the mail for your mom today.
Say "Good Morning" to 5 new people on the bus today.
Say something nice to a person in your classroom you normally don't talk to.
Do something nice for your sibling.
Thank your teacher for being a good teacher.
Do something nice for your parents today.
Draw a picture for someone.
Say "Thank you" to your bus driver for driving you to school.
Tell the lunch lady, "Thank you for the delicious lunch!"
I made an easy printable acts of kindness slips if you want to print cut and fold them for your own kindness jar. CLICK HERE.
A conversation with your kids about cyberbullying is critical. While older kids may grasp the concept a little easier than your younger ones might, it is still crucial to teach our young ones to manage their digital interactions as kindly as possible. These resources from Google are amazing tools for both educators and parents.
Join Us in Spreading Kindness
We are challenging you to spread kindness throughout the digital space. Do something kind for someone with your family (or by yourself) and then challenge three of your friends to do the same within 48 hours. Post about your kind act using the hashtag #BeInternetAwesome to encourage more and more people to join in.
For more great resources on teaching your kids to be kind online check out Google's Be Internet Awesome Family Guide at g.co/BeInternetAwesome.