I love back to school shopping.  Picking out school supplies and new clothing is one of my favorite things to do in August.  As I am going to the stores looking for things, I usually get so frustrated at the clothing selection for boys.  It seems like the girls get all the cute, adorable outfits, and all the boys get are character t-shirts and jeans.  When I find handsome, adorable boys clothing I get really excited and can't wait to tell all of my mommy friends about it.  This is exactly what I did the first time I learned about Tea Collection.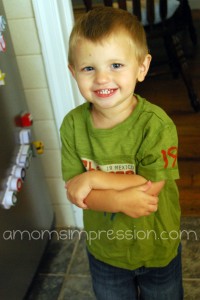 I was super excited when Tea Collection agreed to work with me on a review.  They sent us 3 pieces from their Fall 2011 collection to try out.  The first shirt was the Jaquares de Chiapas tee.  TJ loved this the moment he saw it because of the soccer ball.  I thought that for a screen print that it was grown up and not very "charactery".  This shirt has been a favorite since it arrived and will go with jeans or khakis.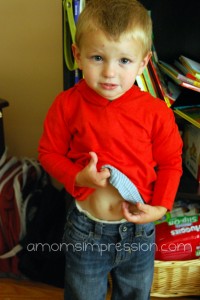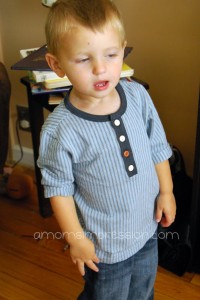 I have a hard time picking my personal favorite out of the las two pieces.  I love both the Happy Hoodie and the Hombres Henley.  The hoodie is a perfect addition to any little boy's fall wardrobe.  The color is perfect and it is light and airy for those days where a long sleeved shirt is necessary, but a jacket would be too warm.  The Henley is a great shirt for play time or to go out for dinner with the family.  I love the multi-colored buttons and the three quarter sleeve.  The color is perfect for TJ because it complements his eye color very well.
Here are some photos that we took.  TJ was not being very co-operative so I ended up promising him M&M's if he posed for the camera (and there you see his cheesy grin).  It worked perfectly, but wasn't one of my fondest parenting moves ever!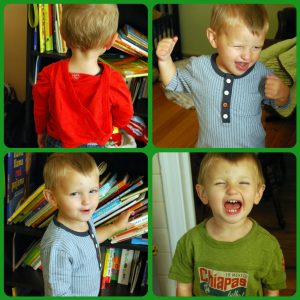 I love all three of the pieces we received from Tea Collection.  They are stylish and durable.  I have washed each of these shirts several times since we got them and they look just like new!  I love that my little man can have a little style as he heads to preschool this fall.
In addition to the little boys collection, Tea Collection also carries a girl line and a women's line of clothing.  Be sure to check them out at teacollection.com.
Win It
Giveaway has ended.
This product review was made possible by Tea Collection.  I was not compensated for this review other than a product sample provided by the company or PR firm. All opinions are 100% mine