Summer learning loss or Summer Brain Drain is a fact.  As a teacher, I could see this happening more and more each year when my new class entered the building in August. The start of a school year is spent not only teaching classroom expectations but also reteaching material learned in the prior grade. Summer learning loss is something that we as parents need to be aware of and help fight while our kids are home during summer break.

Summer Learning Loss Facts
According to the National Summer Learning Association, on average, students lose about 2.6 months worth of grade level equivalency in mathematical computation skills. during their summer break and they are likely to lose a month or more of spelling learning skills.
Students are likely to lose a month or more of spelling learning skills.
Low-income students have a tendency to lose a year or more of reading comprehension.
Teachers must spend at least a month at the beginning of the school year re-teaching or reviewing material students have already been taught.
Fight Summer Brain Drain
So, as parents how do we help fight the effects of summer brain drain?  I plan on working with my kids every day during the week for about a half hour or so doing some academic activities.  We will visit our local museums and take little excursions around the state to get some hands-on learning.
For the at-home academic activities, I am liking these new Summer Express workbooks from Scholastic. Scholastic sent me the Summer Express workbooks to check out, and is also providing a giveaway prize!

About Summer Express Workbooks
From the award-winning editors of Weekly Reader comes this collection of colorful, fun-filled activity pages designed to reinforce academic skills and knowledge through engaging activities. Targeted to specific grade levels, each book will help prevent summer learning loss with age-appropriate activities that meet today's higher education standards. With more than 100 curriculum-based activities targeting vocabulary, grammar, writing, reading, and math, these books will help give children a head start in the coming school year.

Curriculum-based pages help reinforce vocabulary, grammar, writing, reading, math skills, and more
Helps prevent summer learning loss and preparesstudents for the coming school year
100 activity pages arranged in a progressive, 10-week format
Suggestions for quick and easy activities to enhance learning and fun
Colorful stickers for completing each activity
Includes a weekly incentive chart and certificate
I have had the full set of Summer Express workbooks for a few weeks now and I have to say that I am impressed.  The activities are spot on and each week is nicely laid out. The academics in each book do seem grade appropriate and your kids aren't going to be sitting down for hours at a time.  Each day looks to take less than a half hour and they often tie in outdoor activities into the lessons to get your kiddos up and moving. They are a great way to keep your kids' brains thinking and fresh!
You can find the Summer Express workbooks on Amazon.
Weekly Reader: Summer Express (Between Grades PreK & K)
Weekly Reader: Summer Express (Between Grades K & 1)
Weekly Reader: Summer Express (Between Grades 1 & 2)
Weekly Reader: Summer Express (Between Grades 2 & 3)
Weekly Reader: Summer Express (Between Grades 3 & 4)
Weekly Reader: Summer Express (Between Grades 4 & 5)
Learn More

To learn more about the Summer Express workbooks visit the Scholastic Store Online. You can also follow Scholastic on their social channels.
#ScholasticSummerExpress
Win It

We have partnered with Scholastic to give one lucky reader a chance to win a full set of Summer Express workbooks and a little something, something to make summer even more fun!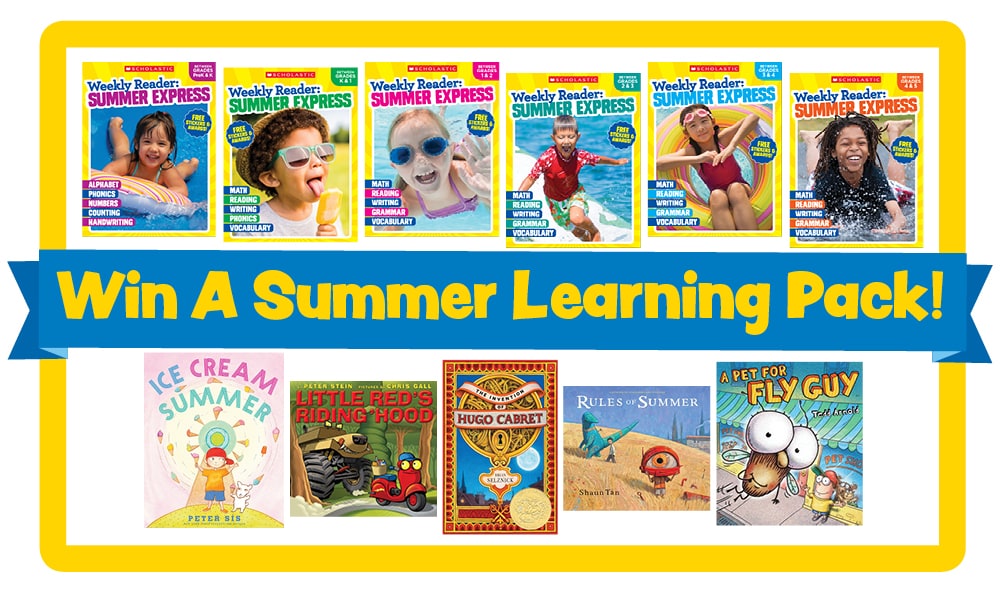 One (1) winner receives:
Complete set of 6 Summer Express workbooks;
Collection of 5 Scholastic books to engage ages 4 – 12;
Plus a $50 Visa gift card for even more summer fun!
The Scholastic books included in your prize pack are:
Ice Cream Summer by Peter Sís
Little Red's Riding Hood by Peter Stein and Chris Gall
The Invention of Hugo Cabret by Brian Selznick
Rules of Summer by Shaun Tan
A Pet for Fly Guy by Tedd Arnold
Giveaway open to US addresses only. Prizing and samples provided by Scholastic.
Enter below, good luck!
Scholastic Summer Express & $50 Visa Gift Card Giveaway

For more summer activities be sure to check out some of our favorites!