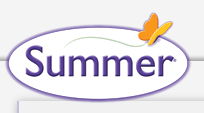 One of the very first things that I registered for with TJ was a monitor.  Kinda silly now that I look back on it because our house is so small that you can literally hear anything that happens inside of it from most any place, but it did come in handy when we went on trips or if we were hanging out doing something outside while TJ was sleeping.  My last trip to the baby store included a walk down the monitor aisle and I saw the latest technology in monitors that include video capability.  Summer Infant is one of the companies that has several different models to choose from.  Check out this beauty: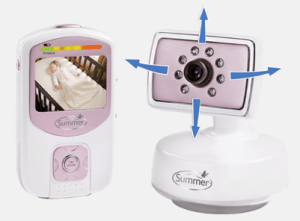 What a piece of mind being able to watch your baby sleep!  I might have to invest in one of these this go around.
In addition to great monitors, Summer Infant has a lot of great products for the little ones.  We recently were sent a Frog from the Slumber Buddies collection.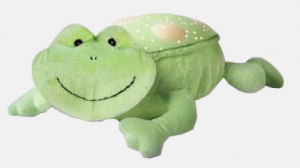 Isn't he the cutest?  While most of the products we will be featuring during our Virtual Baby Shower event are for the newborns in our lives, this one is perfect for toddlers as well.  As soon as it arrived, my son claimed it and has been sleeping with it in his room ever since.
Help create a tranquil environment for your little one at bedtime with the Summer Infant Slumber Buddies™.  These cute characters help calm children and provide a peaceful selection of lullabies and glowing sky full of stars which also act as a nightlight.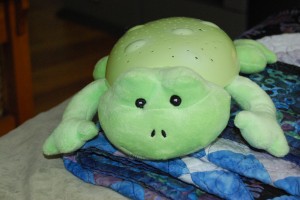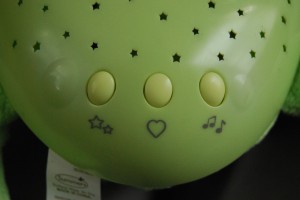 TJ loves putting on "my stars" at night before he goes to bed.  They come in three different colors blue, green, and red.  He prefers the blue because they are the brightest.  In addition to the stars, the frog will play music or make soothing sounds for him to fall asleep with.  I know that this will be a great feature for our newborn once she arrives.  The music and lights will shut itself off after 30 minutes so there is no need to worry about the batteries going dead if mom or dad forget to go in and turn it off.
You can purchase your own Summer Infant Slumber Buddies, Butterfly
or Frog at retail stores and Amazon for $22.89.
For more information on Summer Infant products, visit their website or follow them on facebook.
This product review was made possible by Summer Infant.  I was not compensated for this review other than a product sample. All opinions are 100% mine.