Have you been there?  You are out trying to shop for clothes for your kids and they are with you.  They start getting bored and then start fussing.  Fussing turns into tantrums and then you have to head for the doors without new clothes in hand.  I wish that I could say this has never happened to me, but I would be lying.  The thing is, I want adorable, stylish clothes for my kiddos but finding the time to seek them out and purchase them is rare.  But now I can get a personalized box of brand names chosen specifically for my daughter and son delivered right to my doorstep.  Introducing the first kids' style box that combines cool brands, meaningful savings and a mission to clothe children in need, Kidbox.
Kidbox is a clothing delivery service that has your child's needs in mind.  You need adorable, stylish clothes for your child that is both budget friendly and that fits her personality, Kidbox delivers that in a fun package that kids love to open.  Now instead of carting around kids from store to store, you can sit back relax and enjoy spending more time as a family.  It really is an affordable, time saving service that I will continue to enjoy.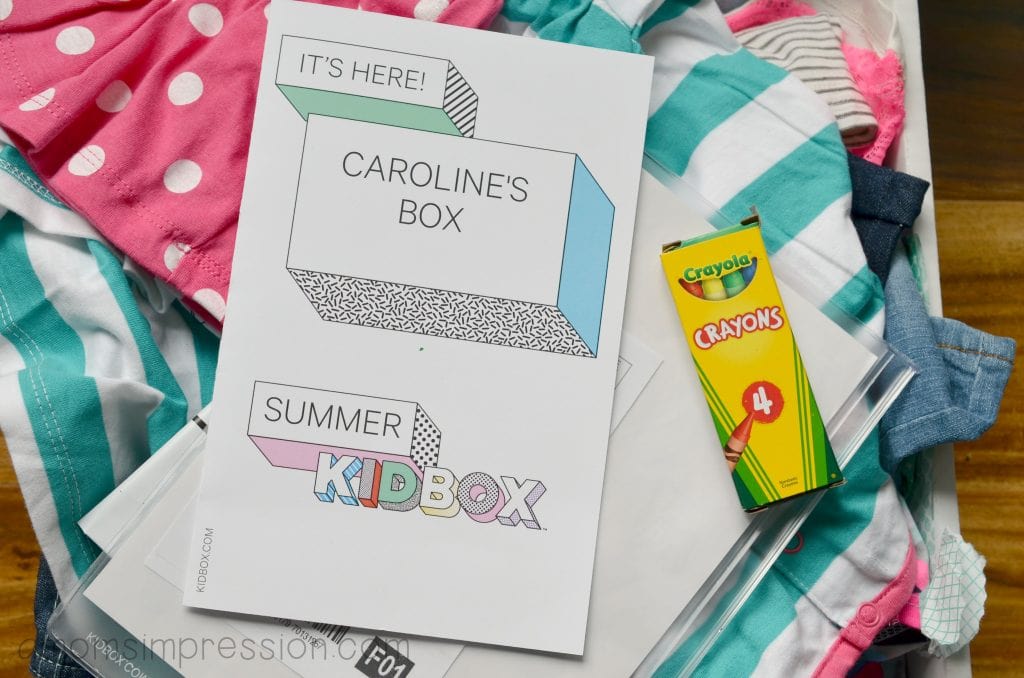 To get started you go to Kidbox.com and click the "Get Started" button.  The site will then ask you some questions about your child in order to match them with their perfect style. When you fill out the shipping information they tell you that you have 7 days from the time you recieve your box to decide what styles you are going to keep.  Kidbox actually doesn't charge your account until after you make your decision.  They will send you 6-7 outfits to choose from.  If you keep everything it costs only $98.  Shipping to and from Kidbox is absolutely free, they even give you a prepaid envelope to send back anything you don't want to keep. When you go back into your account you can tell your stylist why you didn't like the items that you are sending back so that when they pick out your next box they will have a better understanding of your child.
I was pretty impressed with our Kidbox.  It was filled to the brim and had clothes from Ralph Lauren, 7 for all Mankind, and The Limited.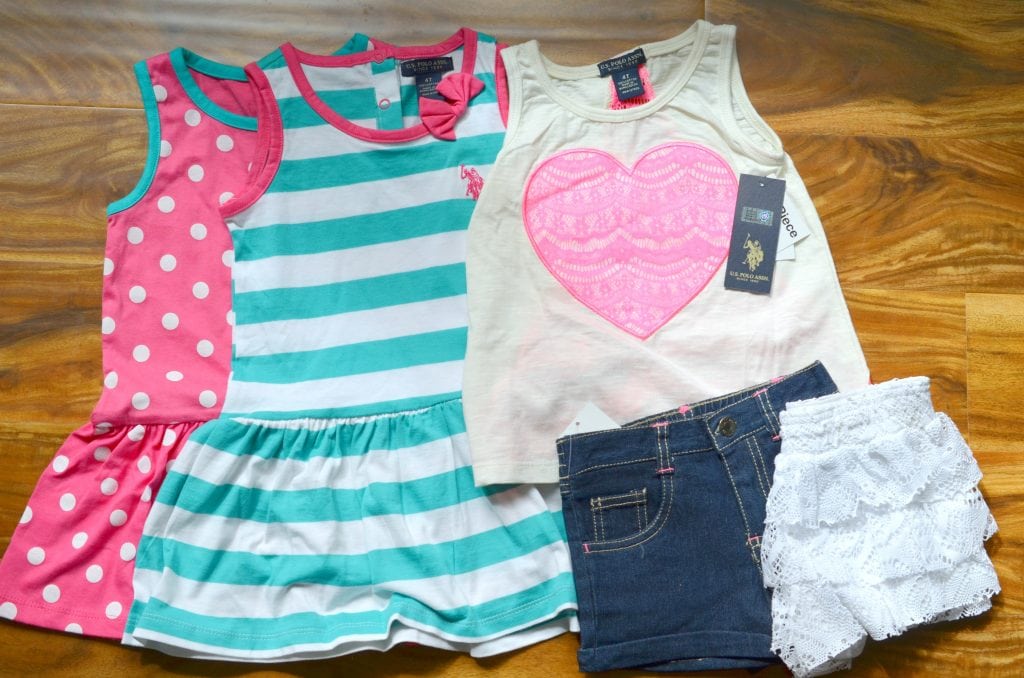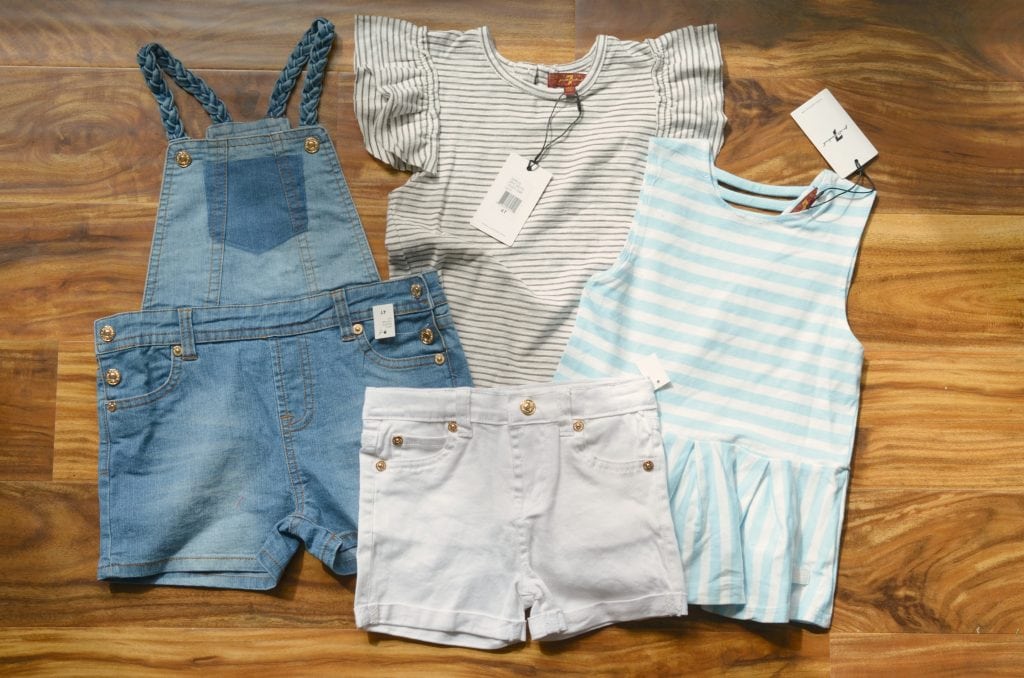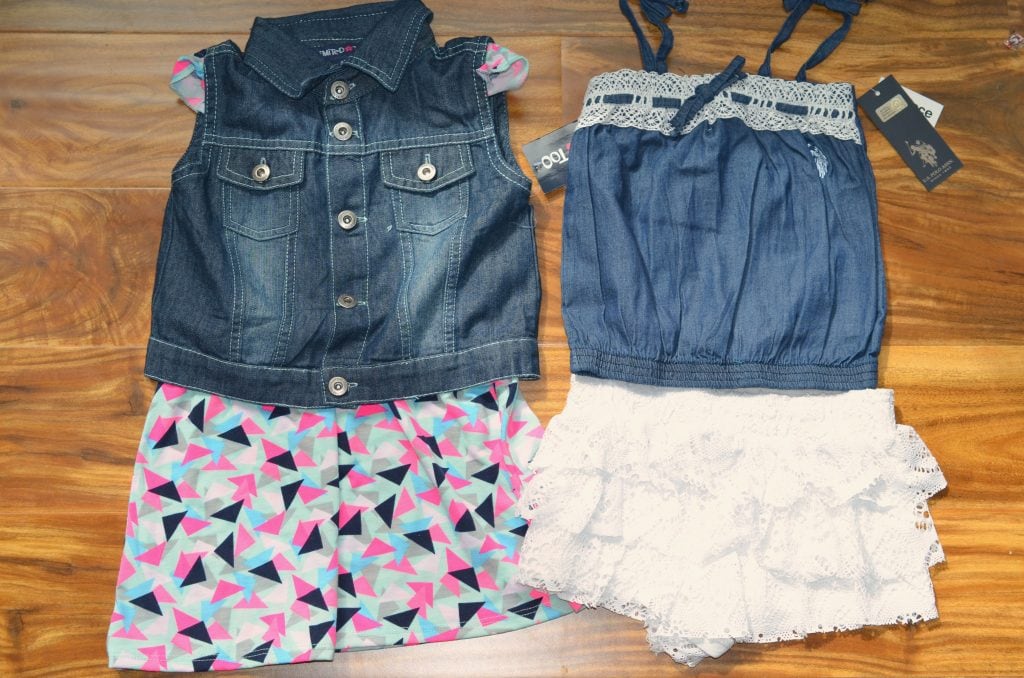 There were pieces that Caroline liked more than others, but overall she was pretty happy with her box.  We did choose the "Pretty in Pink" box and thought that there should have been more pink in the box besides just the 2 outfits, but I noted that in my comments for our next box.  I actually love that blue and white striped top with the white shorts.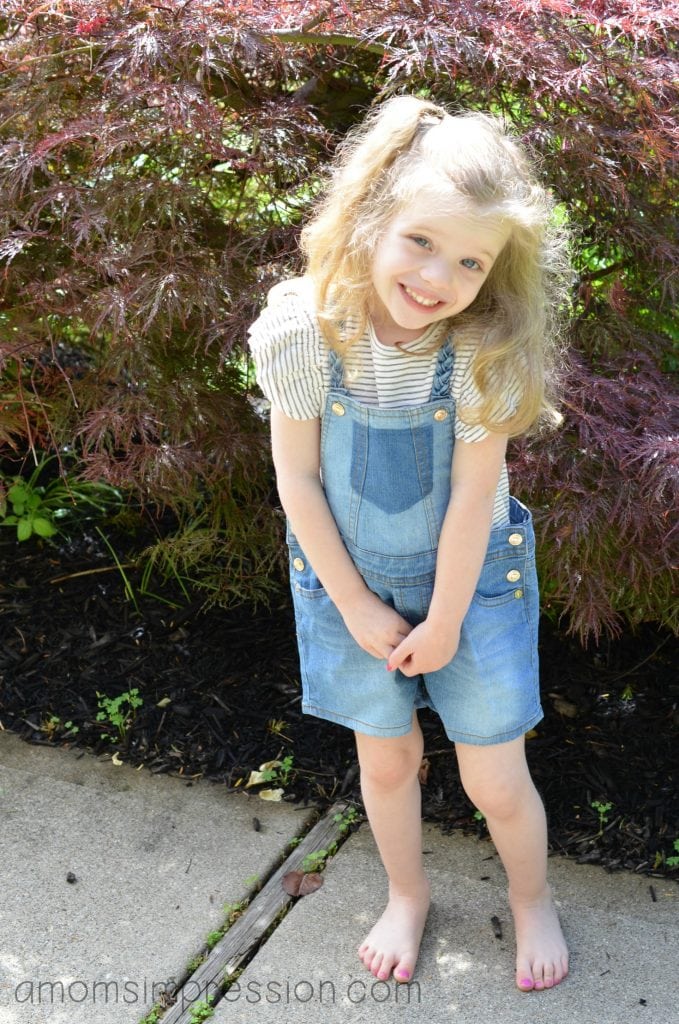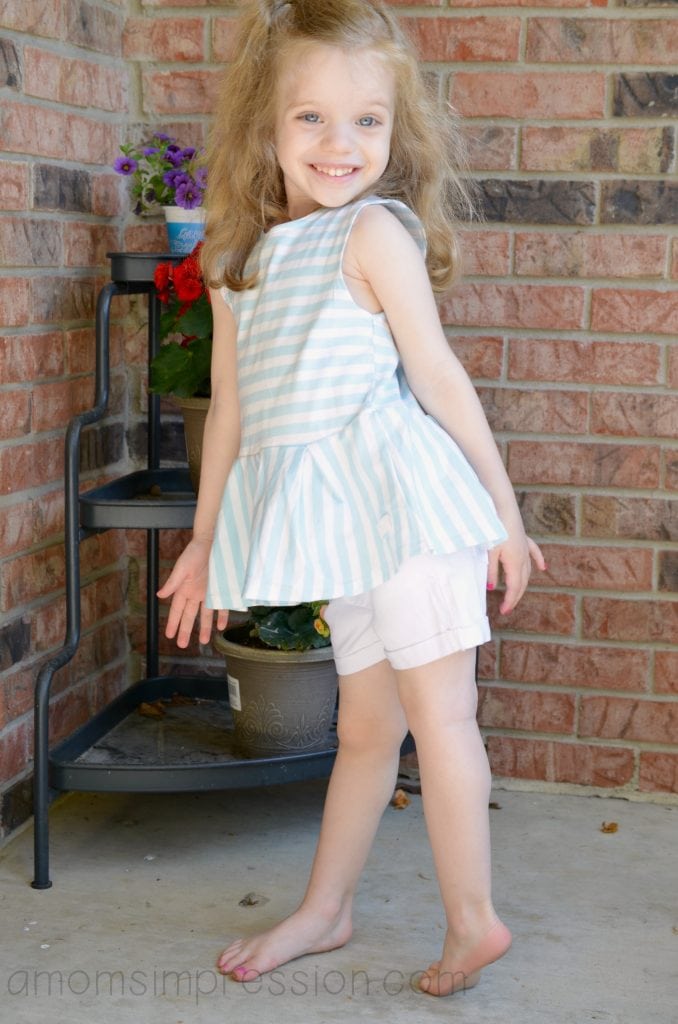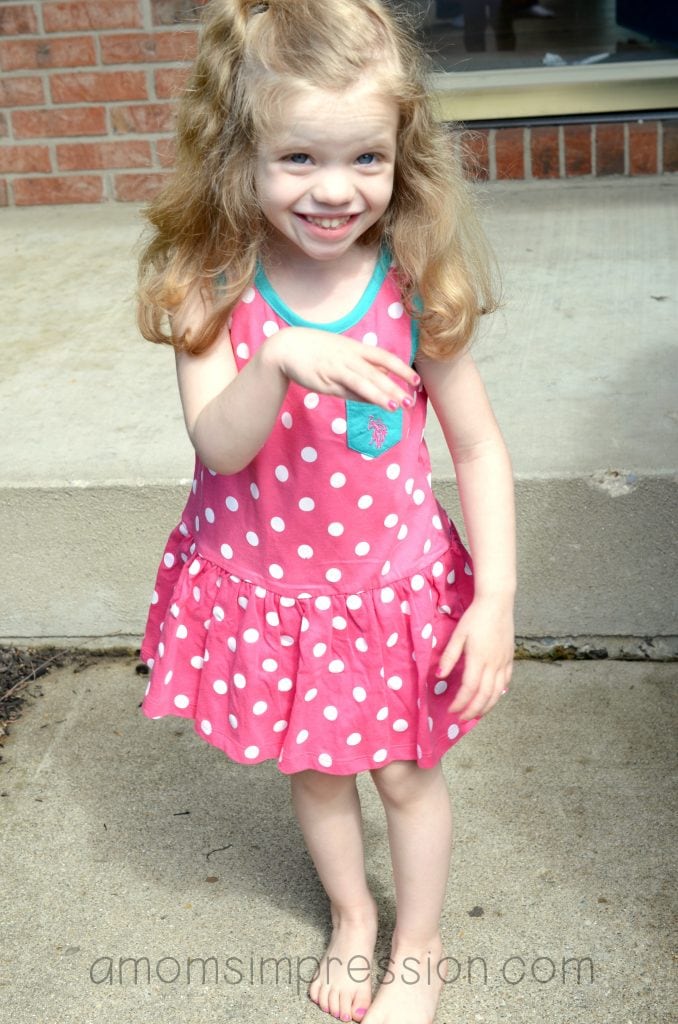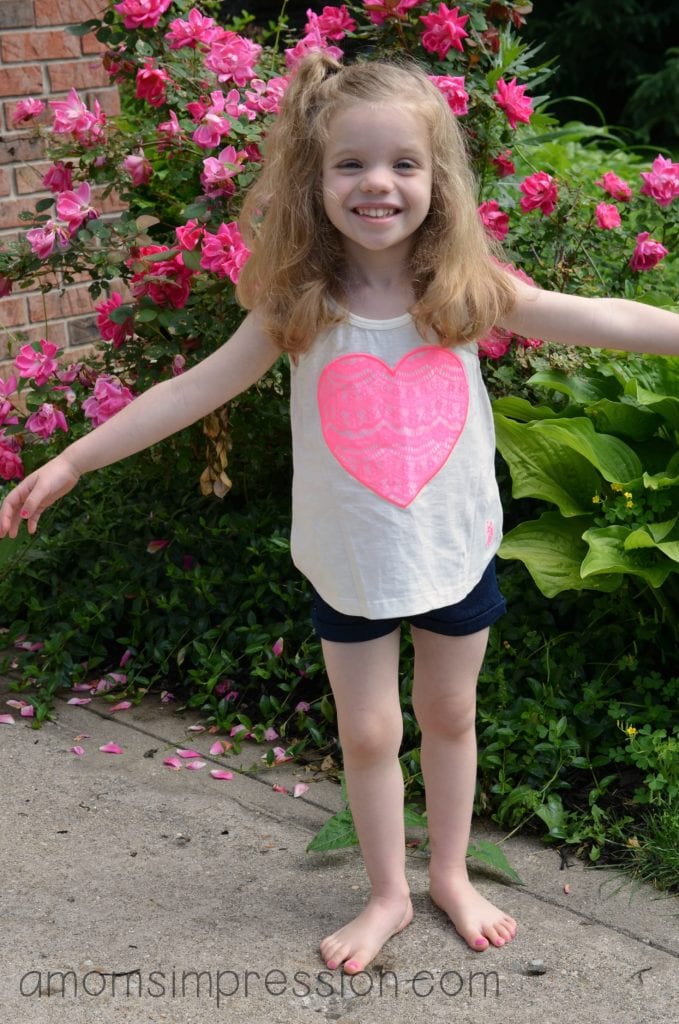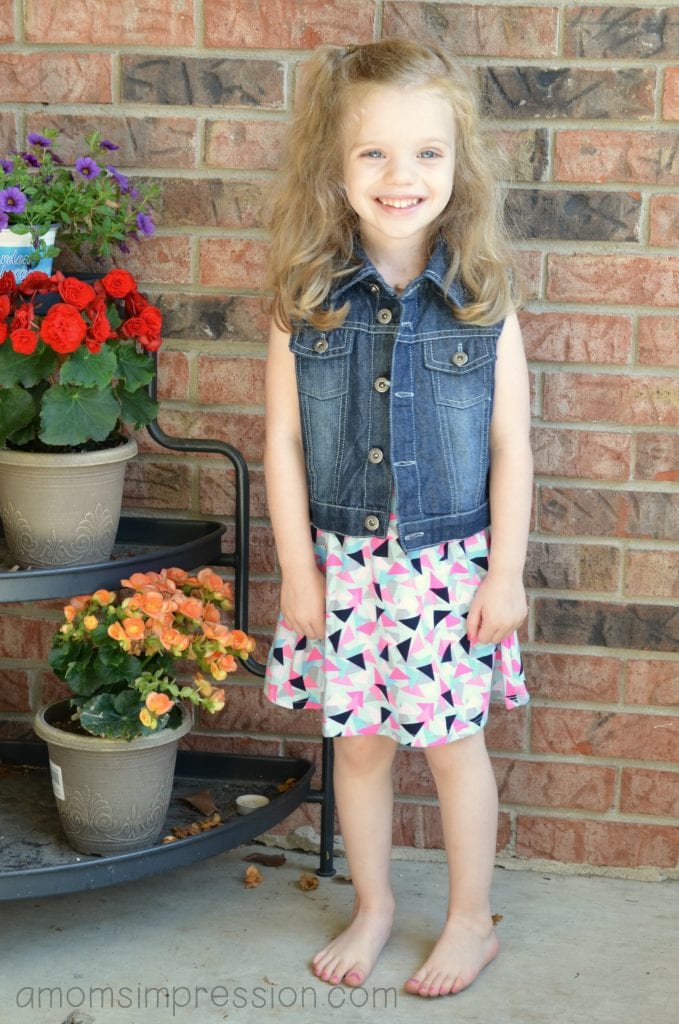 The box that it comes in is just as special as the clothes that are inside.  The people at Kidbox designed the box to be a fun activity for your child.  They even include crayons and some other fun activities inside the box.  This was a huge hit with Caroline.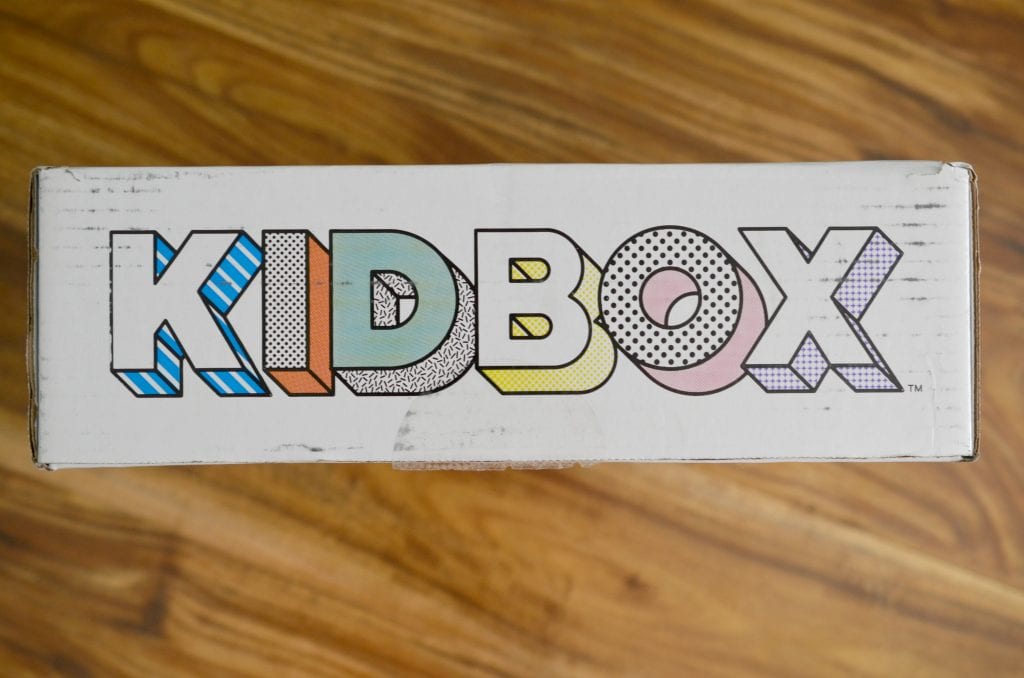 Signing up for a box doesn't sign you up for a subscription like other style box programs do.  You have no obligations to buy another box unless you want to.  Kidbox also donates a brand new outfit for every box they sell to a child in need of new clothes.  Kidbox Cares is a partnership between Kidbox and K.I.D.S./Fashion Delivers – the largest nonprofit in fashion – dedicated to collecting and distributing new clothing to children in needy families.  They want to empower children to give and to be socially responsible.  This is a great way for parents to share with their kids the awesome experience of getting and giving new clothes to others. Caroline and I even got a chance to choose who should receive her special outfit.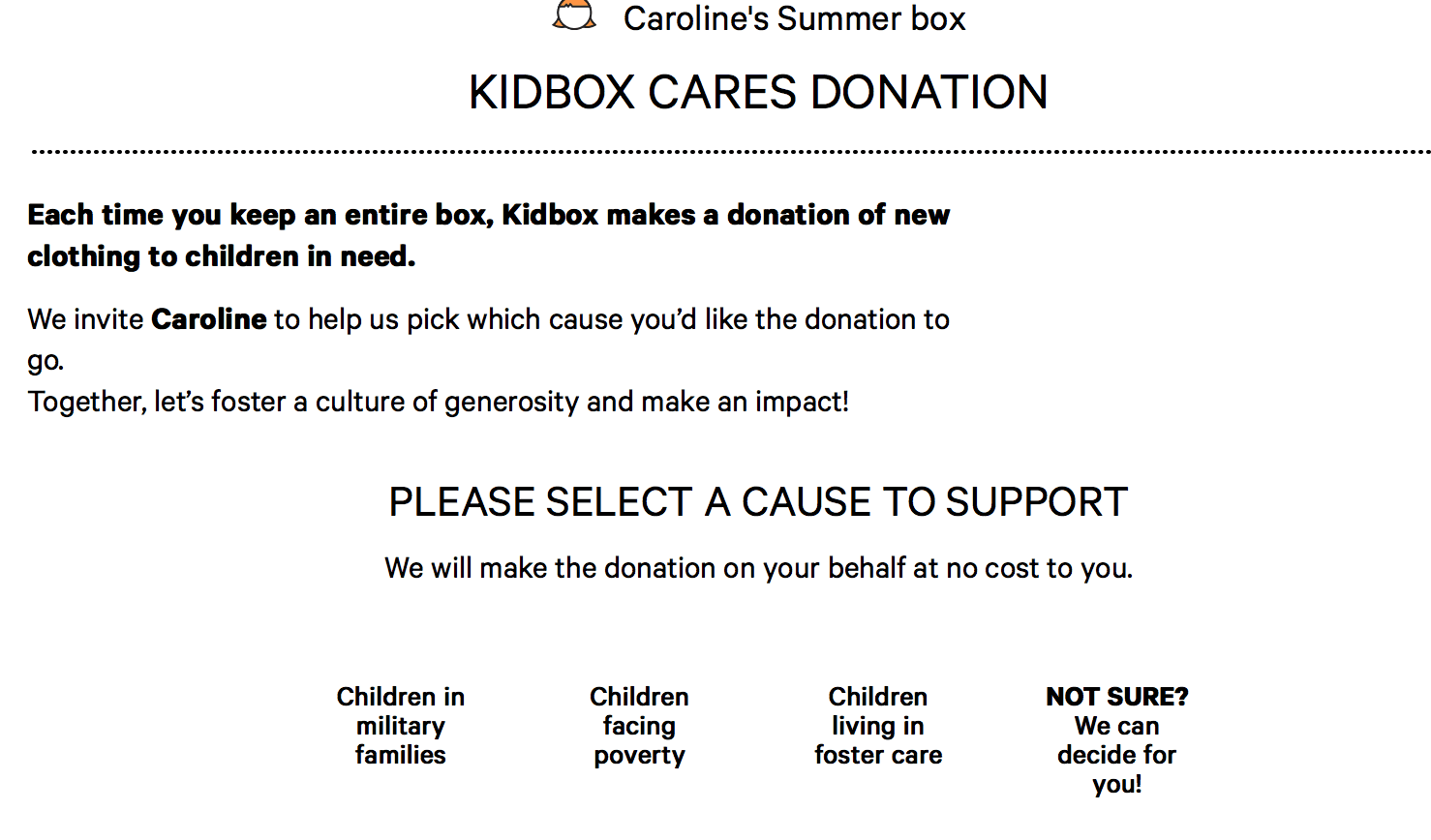 UnpackHappy Monthly Giveaway

To share the joy unpacking happiness together, Kidbox is giving away a year of clothes to one winner each month, plus each month.  They willl also award outfits to an additional 5 children in need!  This is an amazing way to give back and thank their customers for trying their service!
To Enter: Take a photo or video of your unique kid unpacking happiness—opening their Kidbox, a special gift they received, or sharing a special gift with a friend—and share it on Instagram or Facebook with the hashtag #UnpackHappy, #Kidbox and @Kidbox (Instagram) or @KidboxFamily (Facebook).
Each month Kidbox will select one (1) winner to receive an entire year of Kidbox free (5 seasonal boxes of $98 each), and donate an additional 5 outfits to children in need. We'll invite the winner to help us select which cause to send the donations to as part of our Kidbox Cares initiative. You can enter once per day each month for extra chances to win!
Get ready…. Unpack Happiness!
A huge thank you to Kidbox and The Motherhood for sponsoring this post.