I've partnered with Green Giant, Optimum Nutrition, vitafusion and L'il Critters as part of an Influencer Activation and all opinions expressed in my post are my own.
We are entering a brand new year and there is never a better time to refocus on how to be happier and healthier. Not only do I like to set individual goals, we also like to set goals as a family. Here are some of the things we have our sights set on for the coming year! Make sure you read below for a chance to win a free gym membership and also a delicious Strawberry Banana Protein Smoothie recipe!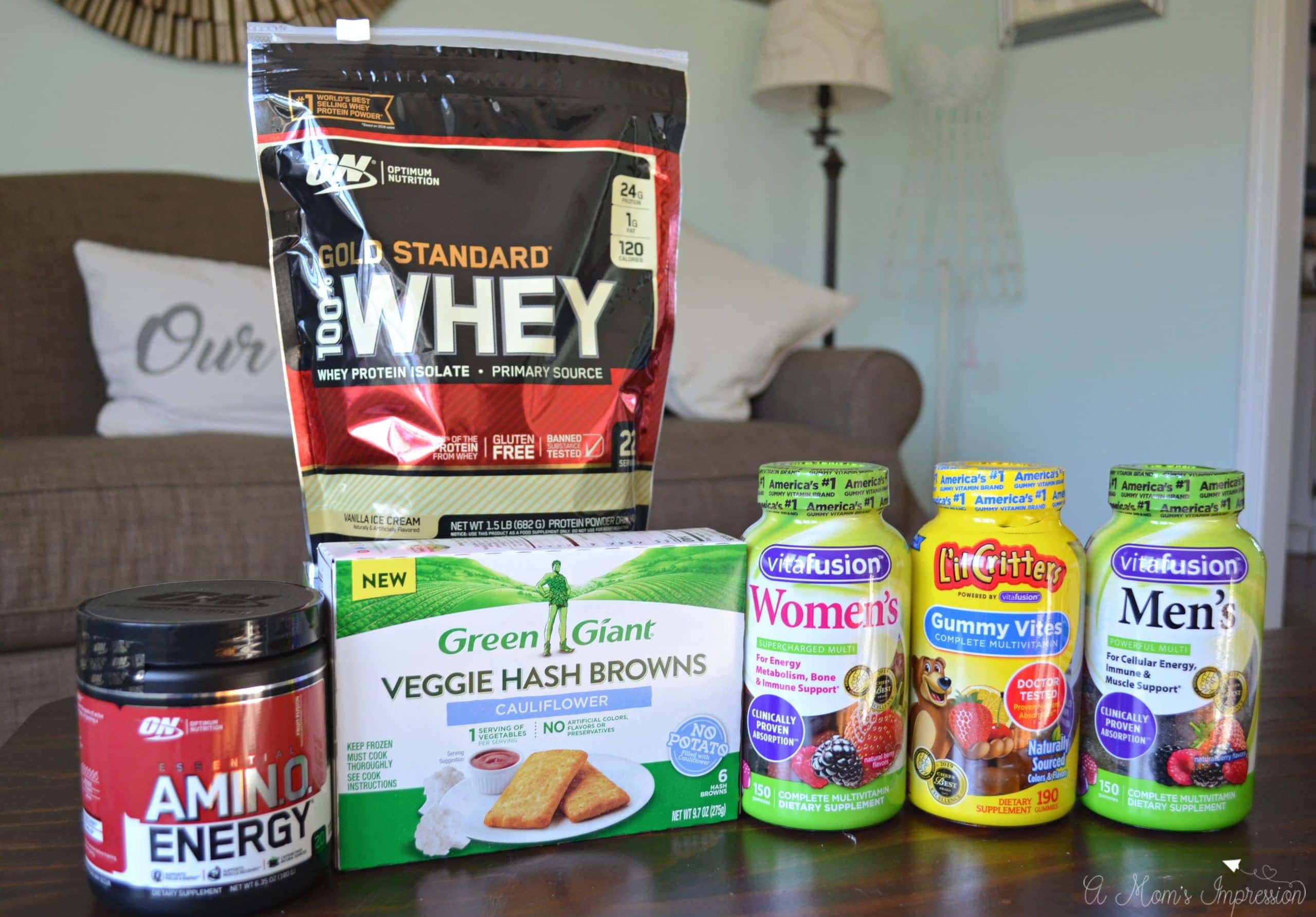 Uggghhhh…  The holidays are over. Did anyone eat as much candy, cookies and Christmas casseroles as I did? I also may have partaken in an adult beverage or two (or three) as I was celebrating with my loved ones. And, all the while, I'm thinking: "Once the new year hits, it will be time to refocus". Well, guess what? The new year is here.
My goals on being happy and healthy aren't so much about losing weight. They are more about being fit, having energy and putting the right things in my body to be the supermom that I know I am! When making these plans, it helps I have specific, small and obtainable objectives in mind. I actually need a plan, a very SPECIFIC, plan to make it happen.
This is why I love to find specific products at the store that will enable me and my family to meet our goals. But it goes both ways. I know if I buy a bag of potato chips to put in my pantry, there will be a good chance I'm going to eat said potato chips. So, I know that if I buy products that reinforce my HEALTHY goals, those will be easier to achieve too!
So, what lifestyle goals have we set for our family this year? There are three of them! Here they are:
Eat more vegetables.
Exercise more and get more out of our trips to the gym.
Take more vitamins.
I like these goals because they are super specific and they are VERY achievable. If we can succeed in doing these three things, we will certainly be a healthy, vibrant and happy family!
Eating More Vegetables with Green Giant Veggie Hash Browns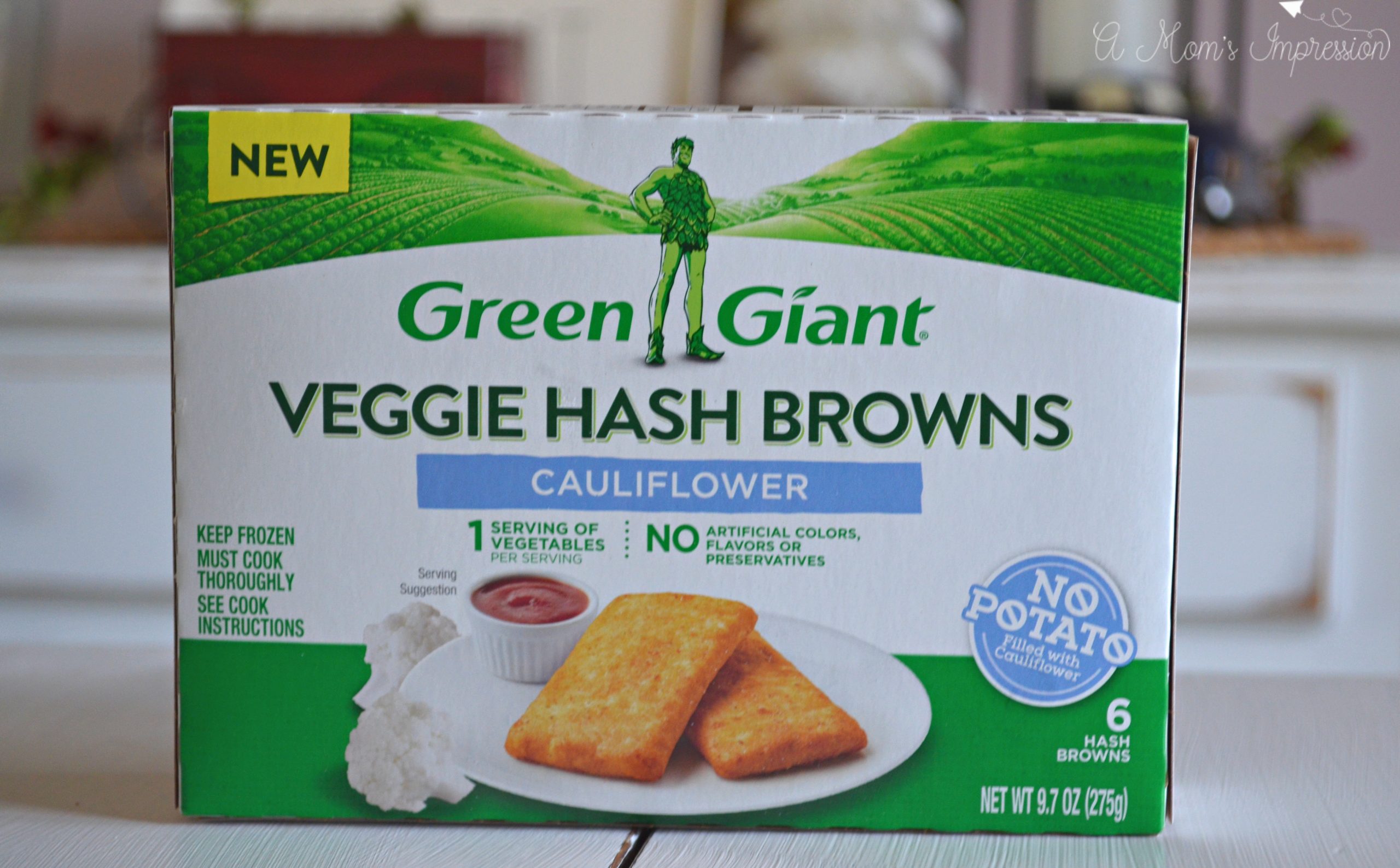 Vegetables are one of those things that I find myself eating the same ones over and over again.  It's just that life will happen (soccer practice, basketball practice, my husband's band practice, etc..) and I turn around to realize that we've eaten the same vegetables all week. It makes me feel awful as a mom!
I can get my kids to eat their vegetables. That isn't a problem. It is getting them to eat them QUICKLY that is the problem. They are the SLOWEST eaters when it's not pizza, a hamburger or a donut. Sometimes we just don't have time to sit there for 30 minutes while my son struggles through a serving of cauliflower on his plate. Luckily, I've found a shortcut!
Green Giant Veggie Hash Browns make our meals so much easier! Our kids have always loved that crunch and hearty flavor of hash browns for breakfast. And we don't just have "breakfast" for breakfast. Sometimes we have breakfast for dinner. So these Veggie Hash browns are great for any meal or even a snack! Each serving has one whole serving of vegetables! Plus, they have no artificial flavors, colors or preservatives. You can easily find them and other Green Giant products at Walmart. Last time I was there, I saw their Cauliflower Gnocchi, which I definitely want to try next!
Getting Our Proper Vitamins With vitafusion and L'il Critters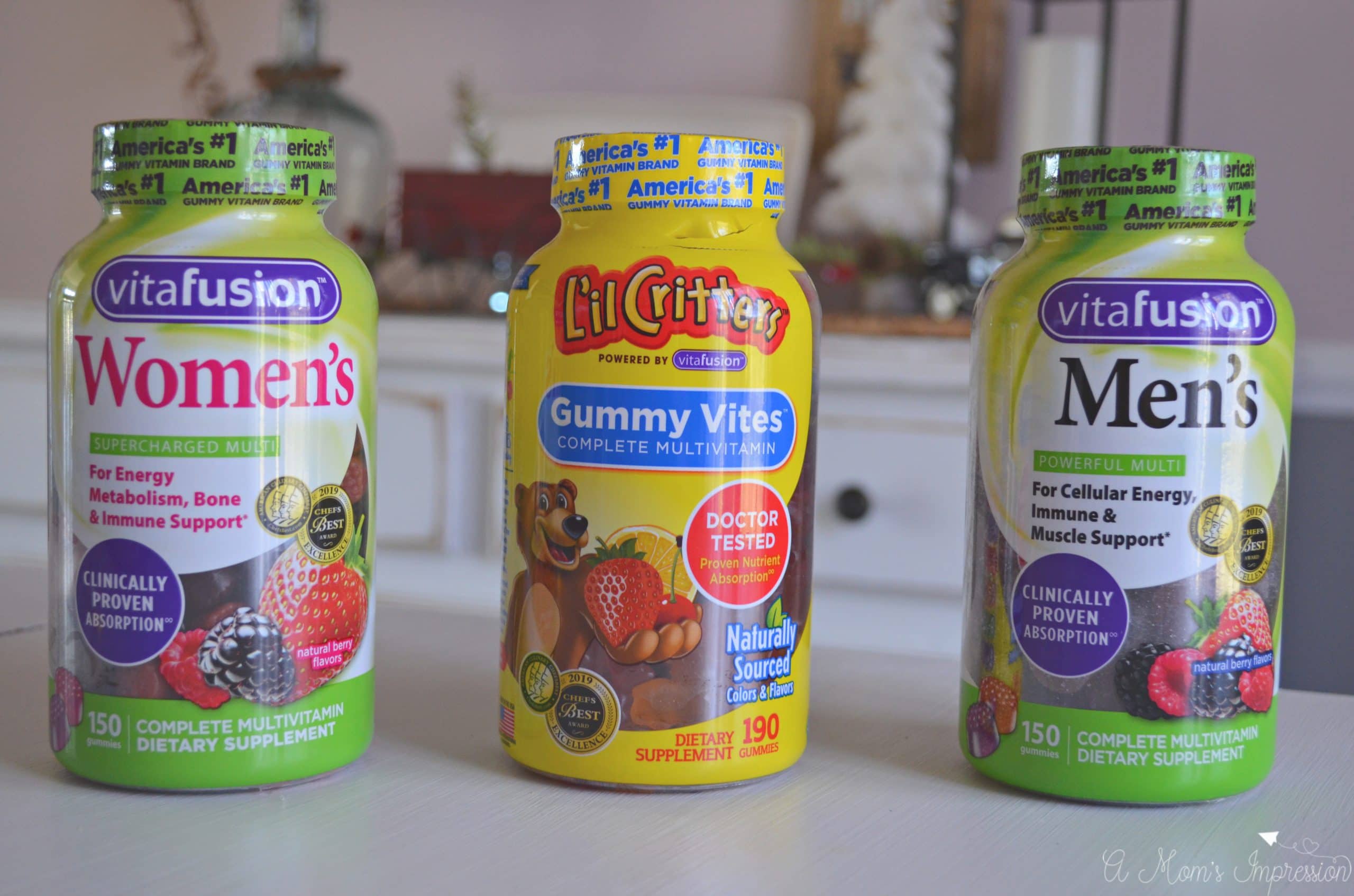 Although eating more vegetables is super important for my family's health, there are also very easy other ways to give our bodies the vitamins and nutrients that they deserve. Taking a multivitamin is a super convenient way to do this. In our family, we love to hand out multivitamins for everyone to eat just before dinner every night.
My husband and I love to take vitafusion Gummy Vitamins. We love them because they have two different varieties that target the health of both adult women and men. And their Men and Women's Gummy Vitamins have clinically proven absorption* and award winning taste**!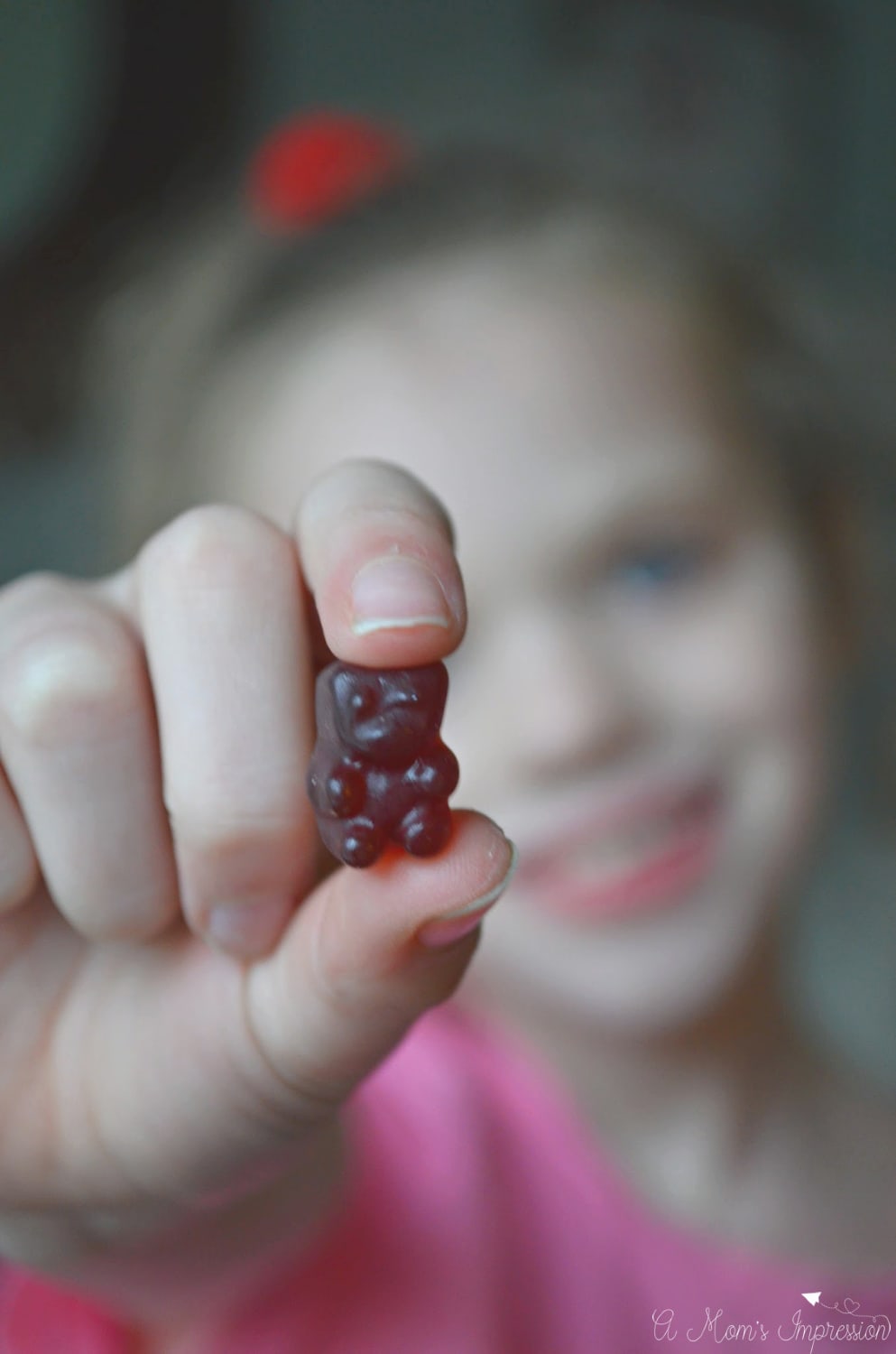 For our kids, we choose L'il Critters Children's Gummy Vitamins. These vitamins are perfect for our children because they love the way that they taste and the are in a fun gummy bear shape. They are able to maintain their kid-friendly tates without anything extra: no artificial flavors or sweeteners, high-fructose corn syrup, synthetic dyes, gluten or dairy! Not only do they taste and look great, they also have "doctor tested proven nutrient absorption"*.
Make sure you look for both vitafusion and L'il Critters products during your next trip to Walmart!
*For Vitamins C & D3 in products that contain those nutrients
** The ChefsBest Excellence Award is awarded to brands that surpass a quality standard established by independent professional chefs.
Getting More Out Of The Gym with Optimum Nutrition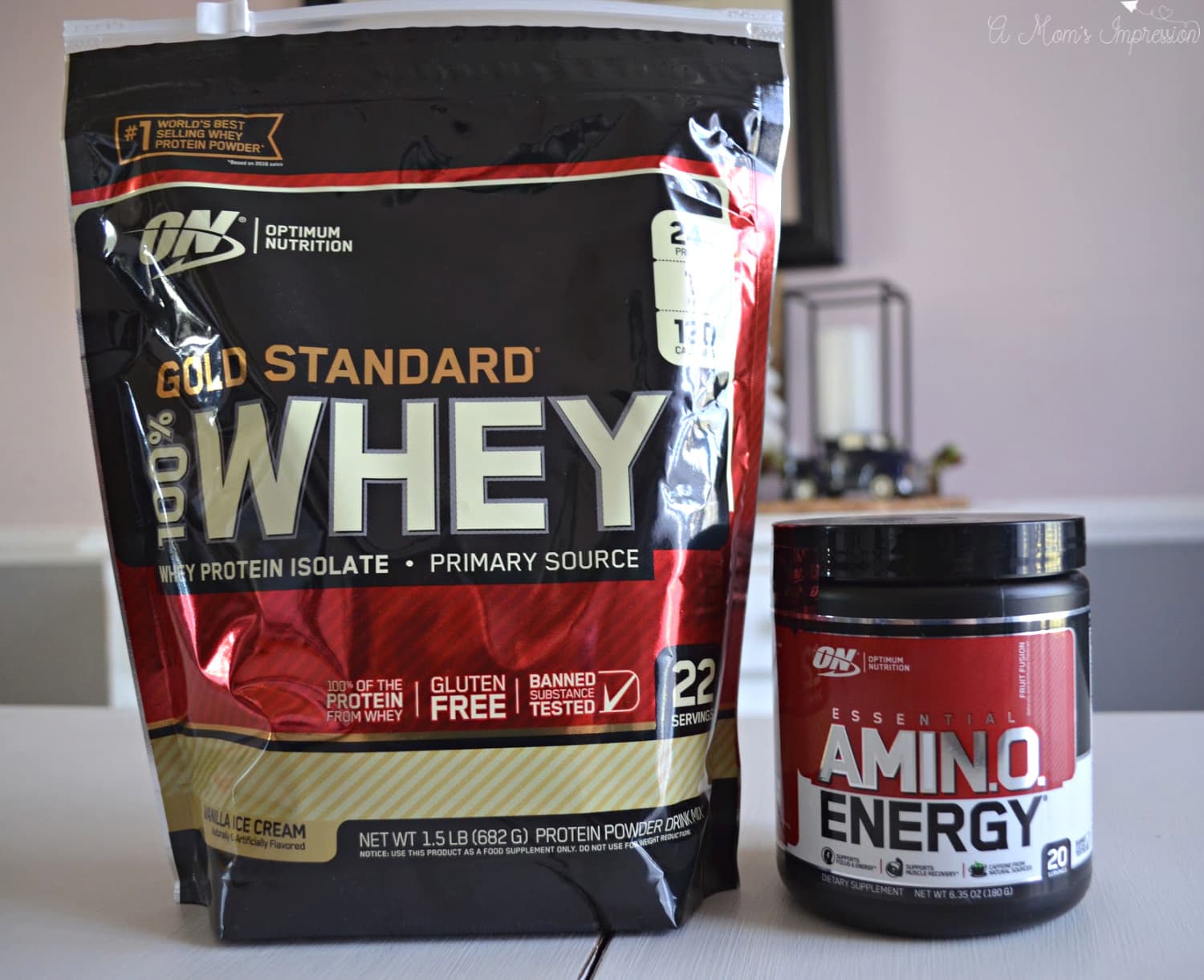 Let's face it, I'm not getting any younger. Ok, that's not the whole truth…. The truth is I'm actually getting older, much older. My body likes to remind me of this fact on a daily basis. It just seems like I need to work out more to get the results that I want. And the more that I work out, the longer it takes my body to recover…. Getting older really stinks!
So, I need all the help I can get. I've found two new products from Optimum Nutrition that can really help me in the new year.
Optimum Nutrition Gold Standard Whey
Packing a massive 24 grams of Whey Protein per serving, you'll be sure to get all the help you need achieving your fitness goals. What is "Whey" protein isolate? This means that much of the sugar and the carbs have been isolated out of this product, so there is only 1 gram of fat and 120 calories per serving. This #1 selling Whey Protein Powder is great for anytime: before, during or after working out, in between meal or even with a meal! All you need to do is mix or shake with water or your favorite beverage.
In addition, I LOVE to use Gold Standard Whey to make smoothies. We have the Vanilla Ice Cream flavor and it is delicious. They also have Double Rich Chocolate and Strawberries and Cream. These smoothies make a great breakfast, lunch or in-between meal snack. I have an awesome recipe for a strawberry banana protein smoothie using the Vanilla Ice Cream flavor. It's a super simple recipe: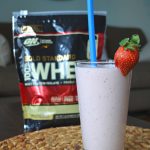 Strawberry Banana Protein Smoothie
Super easy and delicious, this strawberry banana protein smoothie recipe will keep you going all day long!
Course:
Breakfast, Dessert, Drink, Lunch, Snack
Keyword:
protein shake, smoothie
Ingredients
1

Scoop of Gold Standard Whey Protein-Vanilla Ice Cream Flavor

8

ounces

of Almond Milk

1/2

cup

of Greek Yogurt

1

banana

1/4

cup

Fresh Strawberries

1/2

cup

of ice
Instructions
Blend all ingredients into a blender or smoothie maker.

Garnish with strawberry or banana or both.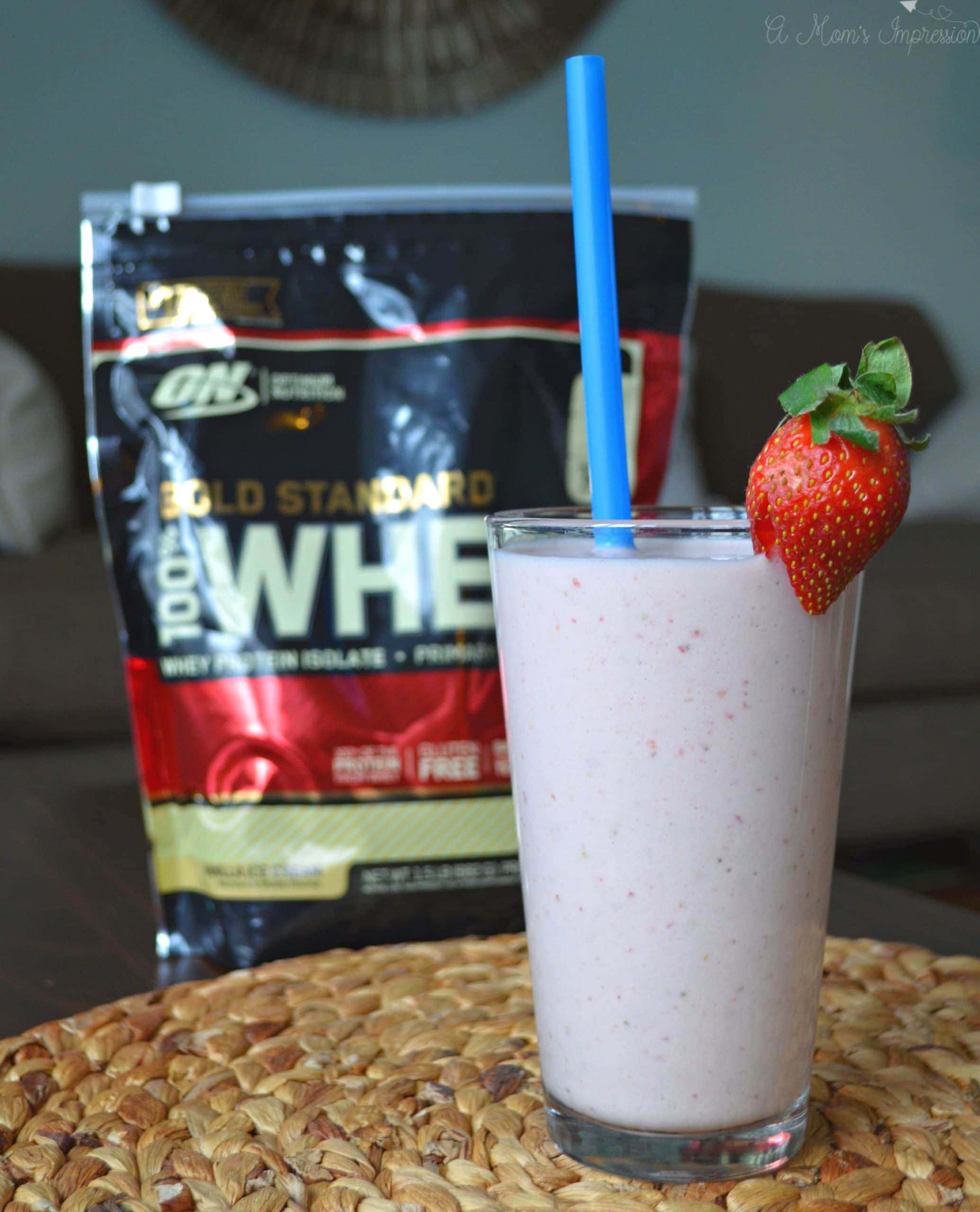 Optimum Nutrition Essential Amin.o Energy
It usually fits my schedule to go to the gym to work out in the early afternoon. In the mornings, I'm too busy with work and in the evenings I'm too busy with the kids. The problem is that I usually have an energy CRASH between 2-4pm when I have the opportunity to work out. I often need a little bit of a pick-me-up to refocus and energize me before I go to they gym.
Does this sound familiar? If so, Optimum Nutrition Essential Amin.o Energy Powder can give you the boost you need. Each serving has about 100 mg of caffeine, which is equal to about one cup of coffee. Drink it about 30 minutes before heading to the gym to improve the focus of your workout. Essential Amin.o Energy also has 5 grams of Amino Acids, which support muscle recovery. So, you can be feeling better when you get home from the gym too!
It comes in both grape and Fruit Fusion flavors. I've tried the Fruit Fusion and it tastes fantastic. It's tough to believe that there is ZERO grams of sugar in it! If you are looking for a little extra something to help you out before, during or after a workout, check out the Essential Amin.o Energy from Optimum Nutrition. Oh yeah, as a mom, I don't really need to worry about this, but it IS Banned Substance Tested.
You can find both of these products from Optimum Nutrition at your local Walmart!
Win A Free Gym Membership For A Year!

Were you thinking about joining a gym as part of a new year's resolution? Well, hold on just a second! Because Walmart is offering you a chance to win a free one-year membership to a gym! From now until February 24, 2020, all you have to do is head to the Walmart Sweepstakes webpage an create your entry.
It is SUPER easy to enter and will take you about 15 seconds! Don't wait, head there now!
There is a limit of one prize per person or household. Only one valid entry per person. Head to WalmartResolutions.com for all the details and conditions!