I am so excited to share TJ's fun new tractor from Step 2.  I don't know where his love for tractors came from, but whenever we see one he literally screams out loud, "Tractor, Mommy!"  When I saw the Pedal Farm Tractor I knew that TJ would love it.
Step2 is a wonderful company who is the largest American manufacturer of preschool and toddler toys. The Step2 family also includes Thinkativity and Infantino (you can read some of my Infantino reviews here and here). We have loved our Step 2 products that we have reviewed in the past.  The Sand and Water Fun Farm was a perfect toy for this summer and of course the Play Up Toddler Swing and Slide is still a big hit for outdoor play.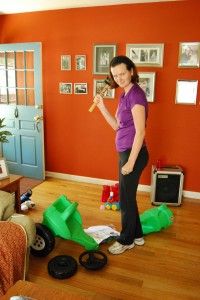 The Pedal Farm Tractor was pretty easy to put together.  The parts were clearly labeled and the directions were detailed. We needed a rubber maillot, and a screwdriver and we were all set.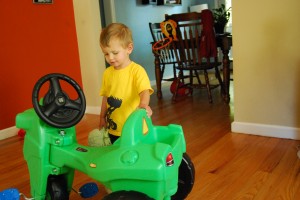 TJ is 2 1/2 years old and is pretty small for his age.  The recommended age for the tractor is 3-5 years.  The tractor was too big for him to pedal on his own, but that didn't stop him!  He loved being pushed around in the tractor and would use his feet to move himself around.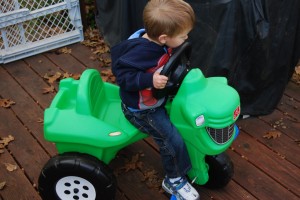 The steering wheel is easy for my son to maneuver and use.  The tractor's tires are large and durable and will travel over most terrain.  I can see TJ going through a bunch of mud puddles here soon.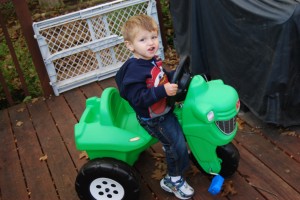 To add even more enjoyment to your Step2 Pedal Farm Tractor, you can purchase the Pedal Farm Tractor Trailer to attach to the back of the tractor to carry toys or dirt or whatever suits your little one's fancy.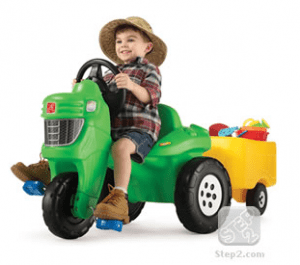 The trailer retails for $49.99 with $2.99 shipping.  Both the trailer and tractor  are durable with poly construction that is water resistant and wipes clean easily.
Check out Step2.com for amazing deals just in time for your holiday gift list.  The Pedal Farm Tractor  is on sale for $79.99 and you can also enjoy $2.99 shipping.
This product feature was made possible by Step 2.  I was not compensated for this post other than a product sample. All opinions are 100% mine.