My husband and I have decided to focus more on taking family vacations with just the four of us.  We love visiting our extended families and traveling with our extended families but it seems like we rarely get to make time for create great memories with just our children and us.
We have found that "mini-vacations" are a great way for the four of us to spend time traveling and exploring together.    They are easier to plan, get  time off of work for and are more affordable.  They are usually within driving distance and we can just jump in the car and be there on a Friday after work.
We were so excited to have the opportunity to go to French Lick, Indiana and stay at the French Lick Springs Resort Hotel.  It is about 2 and half hours from our door to their valet parking and it was well worth the drive.
First lets talk about that valet parking.  My husband and I got off work on Friday afternoon an had to fight rush hour traffic to drive down to French Lick from Indianapolis.  The weather was terrible, it was foggy and rainy and it was a very stressful drive after a very stressful day.  We rolled up to the front of the French Lick Springs Resort Hotel and were greeted by a gentleman working the valet parking.  He told me valet was complimentary to all hotel guests and that we would be glad to take care of our car and make sure that a porter got our bags up to our room.  My husband and I were both exhausted and the children were cranky.  I can't tell you how wonderful it was that in our first 10 seconds of being on the hotel property we genuinely felt that we were being taken care of.  We gladly gave him the keys to our car but declined the porter services (we travel pretty light).  After an uneventful check in, we found ourselves in our room.  They room was very spacious, with high ceilings and a very "historical" feel.  The bathroom was huge!  Everything was very clean and we settled right in.  My husband packed some of my favorite beer and after we got the kids settled in we popped a couple of them open to relax a little bit.  The kids zonked right out and I wasn't far behind them.  We were very tired!
My husband had no plans to go to sleep!  Once the kids and I were headed off to dreamland, he decided to go explore the huge, historic hotel.  We wandered around for a little bit until, believe it or not, he found himself in the casino.  My husband isn't a huge gambler but he did spend some times at the $0.25 slots.  He quickly lost his allowance but had a great time anyways.  He walked around to see the sights of the casino.  There was a cool bar in there with a cover band playing classic rock songs.  Then we went to the Power Plant Bar in the basement.  This was named after the fact that the room used to be the main electrical switchboard for the hotel.  They have made the old switchboard the centerpiece of the room.  My husband had a couple drinks at the bar, watch Notre Dame beat Duke in the ACC Tournament and listed to another cover band that they had playing in the bar.  He said he had blast.  He said he loved just walking around the hotel.  He said there seemed to be a lot of really cool history there and he liked looking at the old photographs that lined the walls of French Lick  from the early 1900's.
We woke up early the next morning because we wanted to have time go the the Grande Colonade for their breakfast buffet (something my husband couldn't  stop talking about) before my appointment for a massage at the spa at the West Baden Resort.
We had a wonderful breakfast, they made Jonah and Caroline waffles and pancakes and I had a wonderful omelette.  My husband had a little bit of everything.
Saturday morning was all about mommy as I traveled the short shuttle ride to West Baden Hotel where I was treated to a luxurious massage.  West Baden is the sister property to French Lick Springs.  The atrium is absolutely stunning and I was in awe of the beautiful architecture!  The West Baden Spa is world renowned and after having my hour massage I understand why.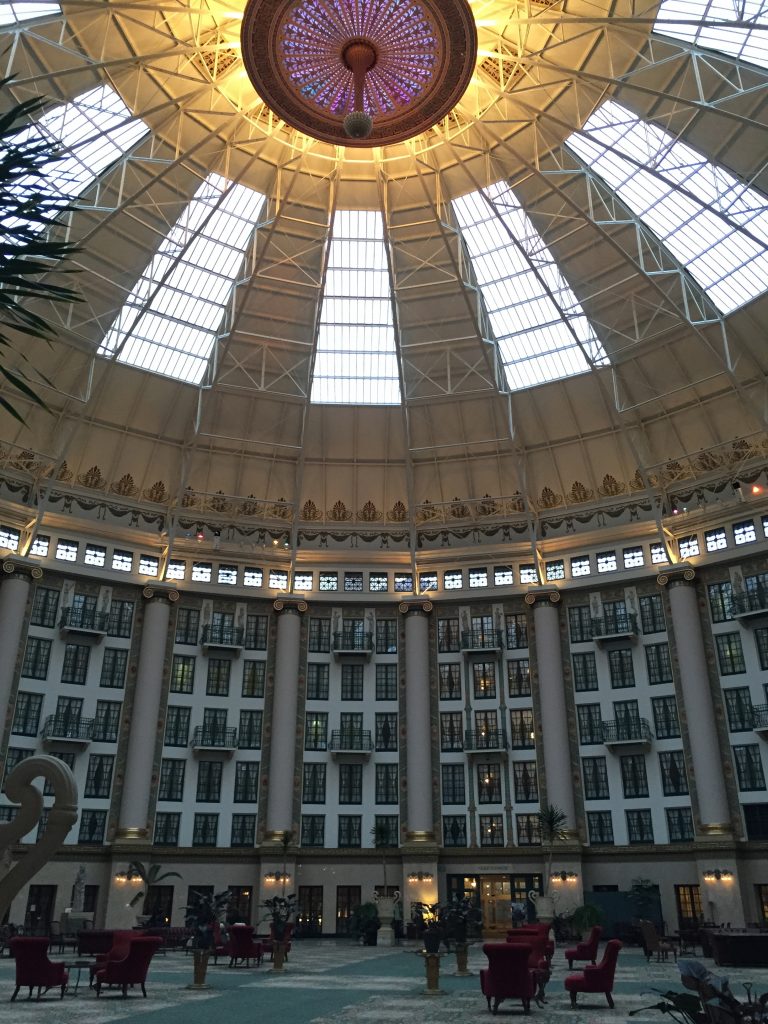 Once I got back from my massage, we went down to the indoor pool and had a great time swimming.  My husband went outside to the hot tub and said that was very relaxing.  He tried to get Jonah to go in there as well but had no luck.  The pool was clean and the staff was very helpful and courteous.
After swimming, we went to Pluto's Pizzeria to have some lunch.  The kids loved it! There was an arcade and a bowling alley in the pizzeria.  We had a quick lunch and played some video games.  It was time for Caroline (and me!) to take a nap so we went back up to the room while Jonah and Daddy went to go play laser tag.  Shotz was just about 1/4 mile down the road.  Easy walking distance even for a 5 year old.  You can play indoor or outdoor putt putt at Shotz, as well as laser tag and a "laser maze".  They had  a lot of fun playing laser tag and then headed back to the room.
Once Caroline woke up, we went down to the bowling alley to bowl a few frames.  It was very kid friendly, they put up the gutter guards for us and gave us a ramp that the kids can roll the bowling ball down the lane.  The kids loved it.  It was their first bowling experience.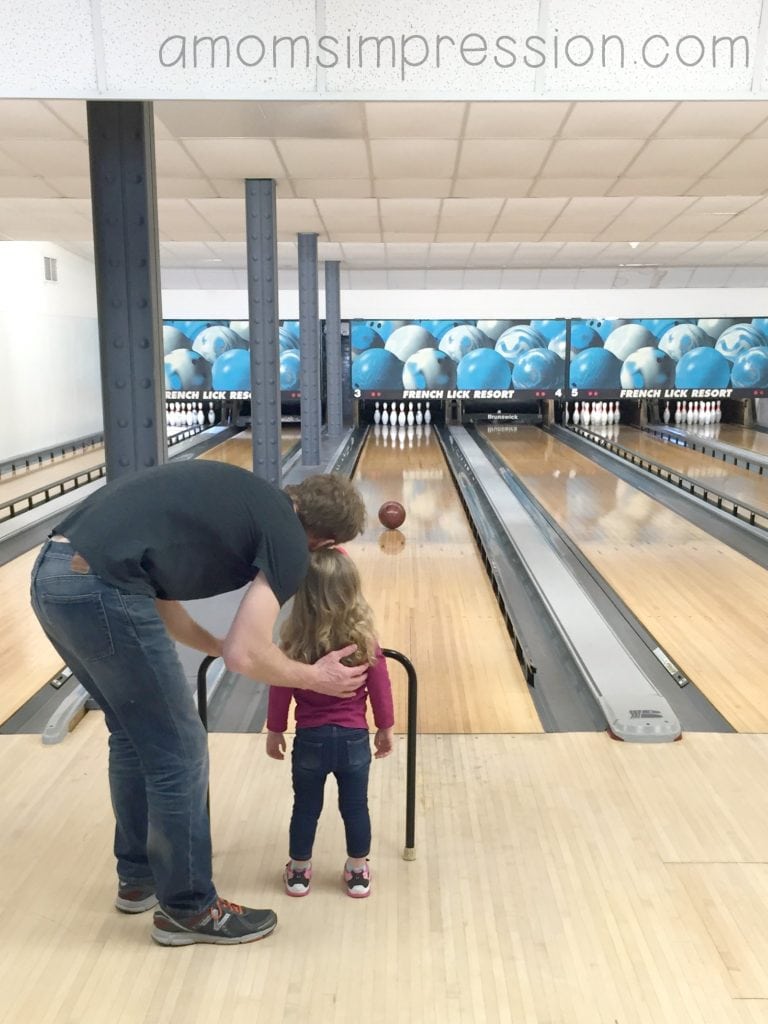 After bowling, it was time for dinner and we went back to the Power Plant Bar and Grill.  We weren't terribly hungry after our huge breakfast and all of the pizza.  We just got some appetizers and my husband and I had a beer.  The service was wonderful and they were great with the kids.  After dinner, we all went walking around the hotel grounds.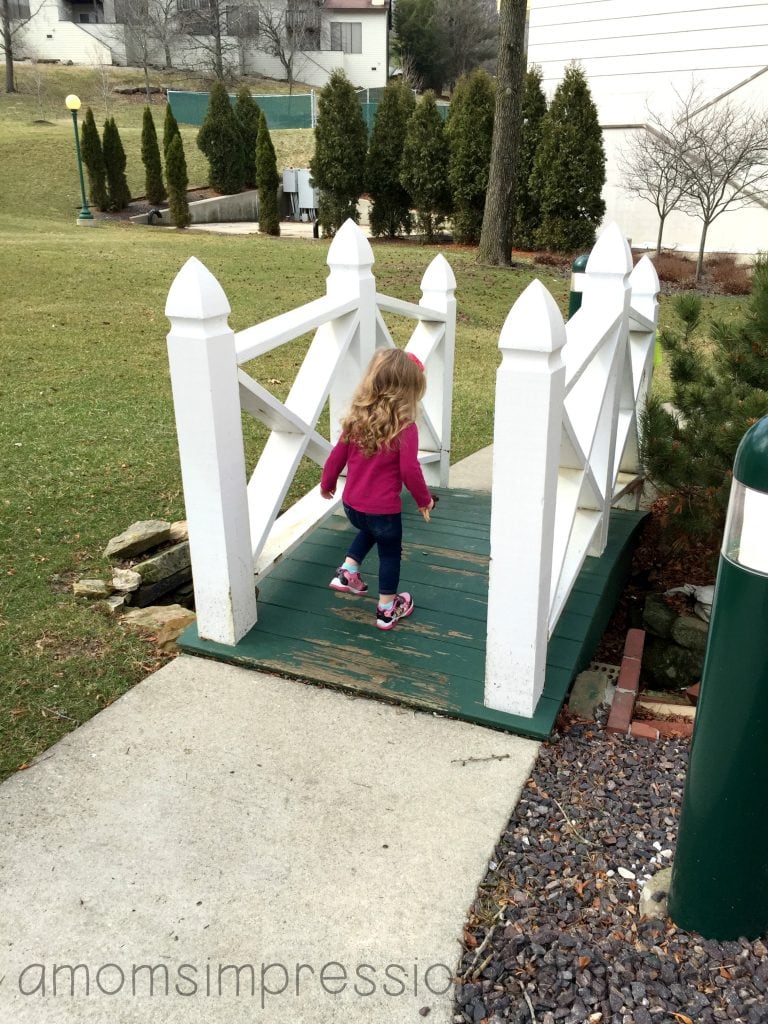 Once dinner was over with, we went back up the room.  Once again, we were all pretty bushed after such an eventful day.  But there was still time for Jonah and daddy to have some s'mores down in the fire pit by the pool.  French Lick Springs has a great program for spring break families and this was just one of the many activities that are available for families during spring.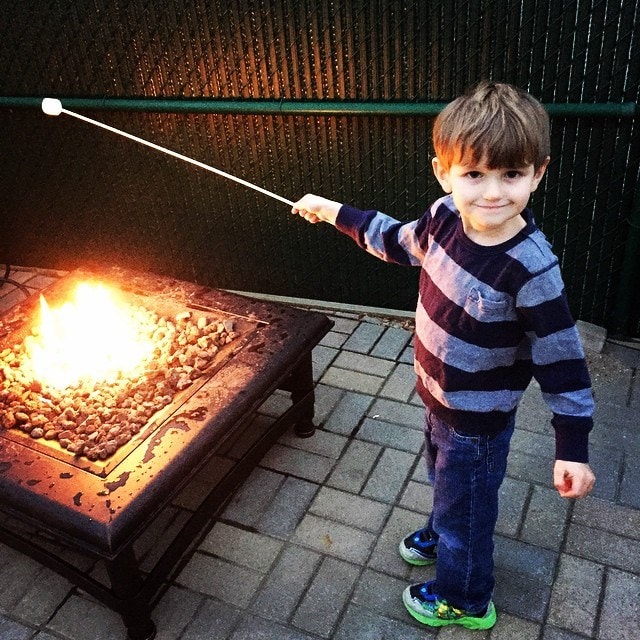 In addition to s'mores you and your family can attend many special events during spring break that include:
Hayride & S'mores
80's Dance Party
Magic show
Family Karaoke
Renegade Bowling
Obstacle Course
Duathlon
Family Game Night
There is a little of everything that everyone in the family can enjoy.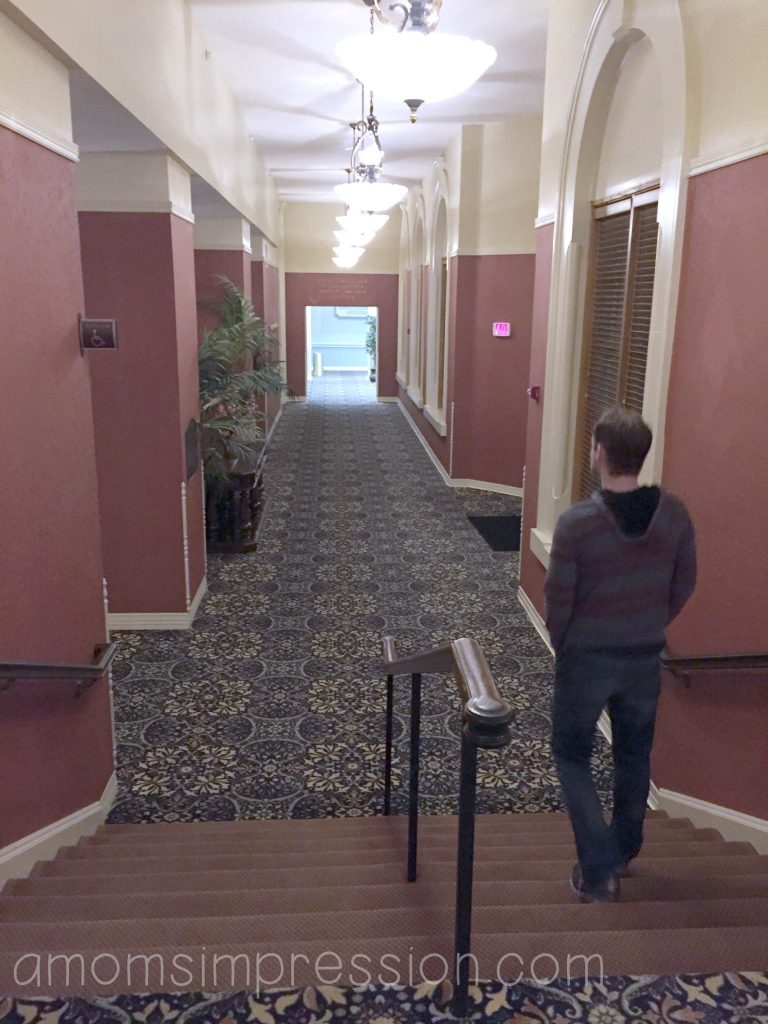 Lo and behold my husband found himself in the casino again after the kids were asleep.  This time, he won just about the exact amount he had lost the night before.  Knowing when to walk away, he left after breaking even.  He went back to the Power Plant bar to watch Notre Dame win again and listen to the band some more.
We woke up early the next morning to get back to Indy because we had to pick our dog up from where he was boarded by 10am.  They staff, once again, was very helpful in getting our car back to us and getting us out on our way.
My husband and I didn't waste much time in planning a trip back there just the two of us.  It was a great place to take the kids but, of course, would be just as great with just the two of us.
French Lick is a quick drive for most of the midwest.  You can jump in the car and be there in a matter of hours.  It is beautiful scenery, a beautiful hotel and you are well taken care of.  We can't wait to go back.
For more information about French Lick Resorts be sure to visit www.frenchlick.com.  If you missed it, be sure to check out our Instagram feed with even more pictures from our trip for you to enjoy!
 A huge thank you to French Lick Springs Hotel for hosting our stay for the weekend.  All opinions are 100% mine!