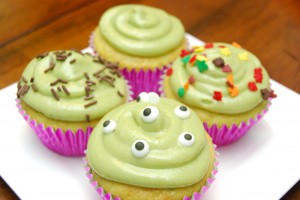 Halloween is just around the corner.  While we try to figure out a costume for TJ to wear (right now it is either Buzz, or a pirate) my mind always drifts off to what we are going to eat on the big day!  I love hosting parties and coming up with creative recipes so when I heard about the Spookamole contest from Avocados from Mexico, I knew I had to submit something.  Our family loves avocados.  My son loves it spread on his toast in the mornings.  My husband and I love making our own guacamole and adding chunks of avocados to our tacos.  I wanted to make something that was kid friendly, so of course I thought about making some cupcakes!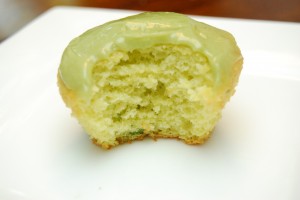 Avocado cupcakes?  Yes, I know it sounds weird, but they are delicious!  I used Haas Avocados from Mexico because they are available year round and are the best avocados that you can find at the grocery store.  So how did I do it?  Well I got to thinking that avocados can replace oils and butter in most recipes so that was my game plan for the cupcakes.  Instead of adding oil to my cake mix, I used avocado.  With my buttercream recipe, I omitted the Crisco and added 2 avocados instead.  It turned out a fun spooky green color and it tasted fantastic!
Avocado Cupcakes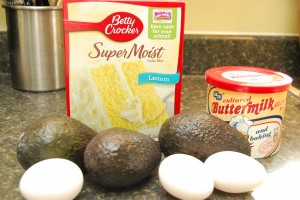 Ingredients
Package of Lemon Cake Mix
3 eggs
2/3 cup buttermilk (I used powdered,  you could also use a cup of water instead, but I always use buttermilk in my cake instead of water)
1 large avocado
Preheat oven to 350 degrees.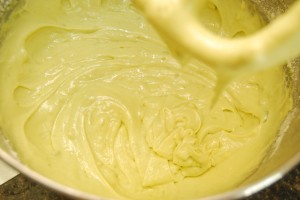 Mix all ingredients together in a large mixing bowl.  Mix until well combined. (if you don't like bits of avocado in your cupcakes you will want to smash the avocados together before mixing them into the other ingredients.)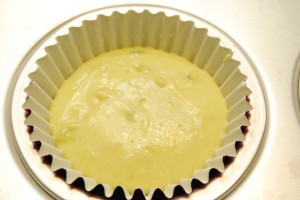 Fill cupcake liners 2/3 full of cake batter.  Bake for 15-20 minutes until done.  Let cool.
Avocado Buttercream
1 pound powdered sugar
1 teaspoon vanilla (or lemon extract)
2 avocados
Mix avocados together until well smashed, add vanilla and a cup of powdered sugar.  Mix well for about 4 minutes.  Add additional powdered sugar until well combined.  If you want thicker frosting add more sugar. (Adapted from a recipe from Alton Brown)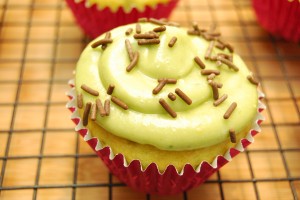 I wanted to try out a couple of different options for decorating the cupcakes.  While they look just fine with the frosting, I also added some chocolate sprinkles to one, some autumn leaves to another, and some spooky eyeballs to a third one.  Be creative, you could even make them into witches!
While I created these for Halloween, these would be great for a St. Patrick's day party, or a football party if your team wears green, or even a Christmas party.  Remember that Avocados from Mexico are available year round so you can make these delicious cupcakes whenever you feel the need for some green!
I wrote this review while participating in a Spookamole blog tour by Mom Central Consulting on behalf of Avocados from Mexico and received avocado items to facilitate my review and a promotional item to thank me for taking the time to participate.