When your past catches up with your present! Take a trip back to the Hundred Acre Woods with my Christopher Robin Movie Spoiler-Free Review.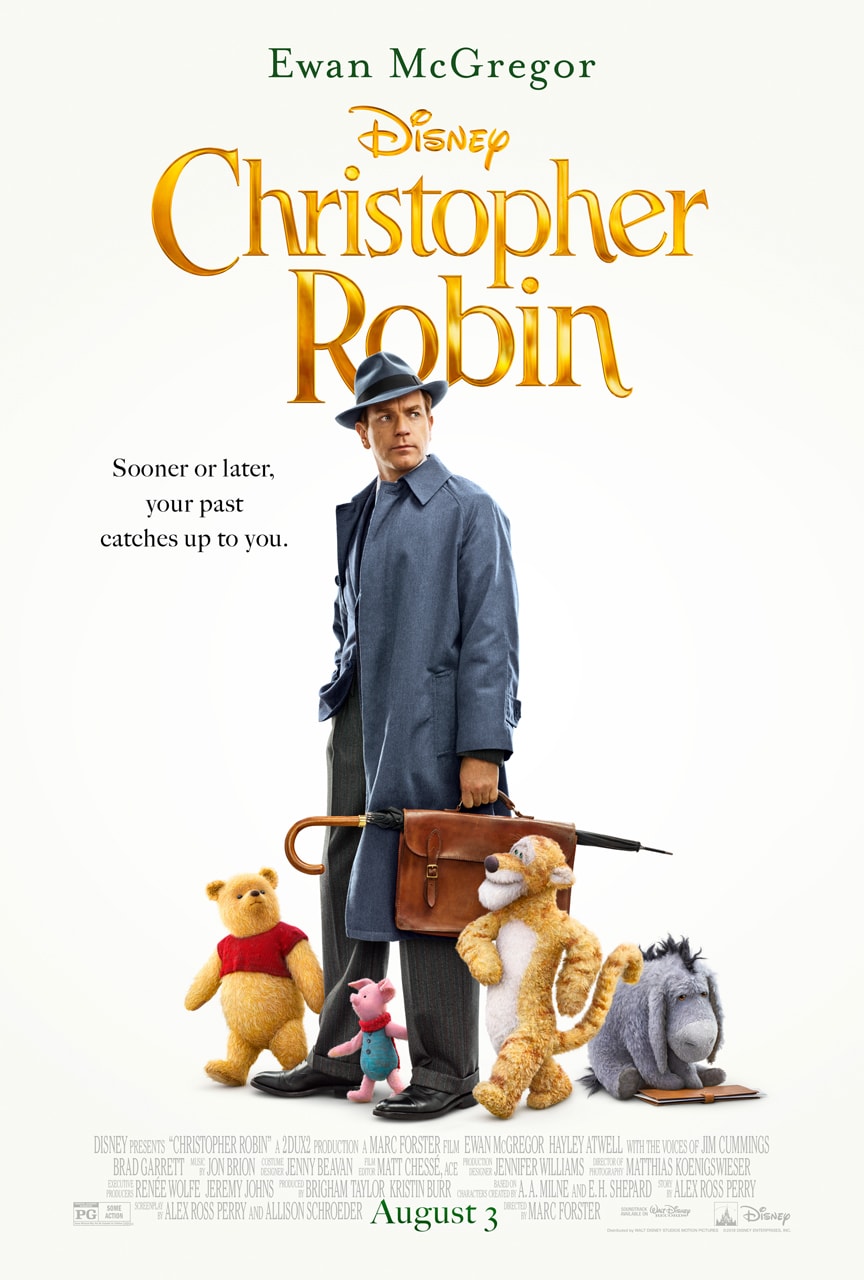 A big thank you to Disney Studios for flying me out to LA to attend the Christopher Robin Premiere.
I've been looking forward to this movie coming out ever since I learned it was being made.  Making a live-action Winnie the Pooh film is very gutsy, taking such a beloved familiar character and bringing him into the "real" world.  I knew it was either going to be amazing or a complete flop.
The time is finally here, after much anticipation Christopher Robin is out in theatres. After seeing the movie a couple of times now, I am excited to bring you this spoiler-free review of the Christopher Robin movie.

Christopher Robin Movie
The movie centers around Christopher Robin, all grown up and navigating the world as an adult with responsibilities. He works as a manager for a luggage company and takes his role very seriously. Due to the stresses of his work, his family life has suffered.  He has lost track of what is really important.
Meanwhile, Winnie the Pooh loses his friends and travels through the "door from which Christopher Robin comes" into London.  He finds Christopher Robin and asks him to help find his friends. Christopher takes Pooh back to the Hundred Acre Woods where he relives some of his childhood, only to rush back to a very important meeting at his work.
Christopher Robin's daughter, Madeline, is struggling with the fact that she will soon be leaving for boarding school.  She misses the time she spent with her father and tries to connect with him. When Pooh, Piglet, Tigger, and Eeyore leave the Hundred Acre Woods to find Christopher, Madeline teams up with them to try to help her father keep his job.
My Thoughts
This film was everything I wanted in a live-action Winnie the Pooh movie and more.  If I were to be honest, I feel like Christopher Robin was written for people exactly like me, working parents who sometimes lose track of the important things in life and who need good friends to show them that. It was a little gut punch to the stomach because I could relate to Christopher and everything he was experiencing in the story
I have loved Pooh Bear since I was young. Reading A. A. Milne's stories as a child are something that I will always remember. Watching Pooh on Saturday mornings with my siblings is a memory I will always cherish. This movie didn't let me down. I was rushed back to my childhood and was able to see my once animated friends brought to life.  I love how Disney took these loveable characters and kept their toy qualities when they made them "real". They still felt like the stuffies that my daughter has on her bed, but not in a creepy way. All of the characters keep the personalities that we love about them. Eeyore is still glum, Piglet still worries about everything, Tigger still has a ton of energy, and Pooh is still the loveable bear with a giant heart.

Christopher Robin kept the magic of the Hundred Acre Woods and everything we love about a Pooh film  There is still the wonderful Pooh Quotes and wisdom that we come to expect from Winnie the Pooh.  Such as, "Doing nothing often leads to the very best of something." This quote is the essence of what the movie is trying to say to someone like me that gets caught up the hustle and bustle of life.
I think adults and kids alike are going to love the film.  If you have grown up with Pooh like I have, you will enjoy this new tale. Your kids are going to love the characters and laugh right along with you as they come to life on the big screen.
Is Christopher Robin OK for Kids?
The short answer is YES!
But there are some things you need to know before taking young children to Christopher Robin.
This movie is rated PG, and I feel like that is a good rating.  While it is about our childhood friends from the Hundred Acre Woods, it is also about grown up, real-life situations. The movie opens up with a brief summary of what has happened to Christopher after he left the Hundred Acre Woods for the last time and that summary includes the death of an important real person in his life.  The movie doesn't go into specifics, but parents need to be aware of it if they have young children who are sensitive to this subject.
There is also a scene that takes place in the Hundred Acre Woods when Christopher first comes back that might be a little scary for kids.  My son doesn't like the Heffalumps in any of the Winnie the Pooh stories or shows and the idea is back in this movie. There is a scene where Christopher falls into the Heffalump trap that could be a little scary for really sensitive kids like my son,  but it only lasts a few minutes. Again, this isn't something that would stop me from taking my kids to the theatre, just something to be aware of.
Overall, I think kids are really going to like this film. The running time is 104 minutes so it is on the shorter side.  All the familiar characters will delight kids and make them laugh.  They are going to fall in love with Pooh Bear all over again!
For more fun coverage of Christopher Robin please read my experience at the red carpet premiere as well as my interview with Ewan McGregor.
Get your tickets, Christopher Robin is in theatres NOW!
For all the latest news be sure to follow Disney and Christopher Robin on your social channels
I invite you to check out our Facebook, Twitter, and Instagram channels where I posted more pictures and experiences from my time in LA at the Christopher Robin Press Event.