We all know that the holidays are fast approaching. These coming months are going to be full of opportunities to shop and save with great deals for those of us that are willing to get up early and stand in lines. But what if I told you that you didn't have to sacrifice any Thanksgiving family time to get some great shopping done? It's true!
Best Buy is holding their Special Holiday Shopping Event this Saturday, November 7th from 1pm-5pm and you DO NOT want to miss it.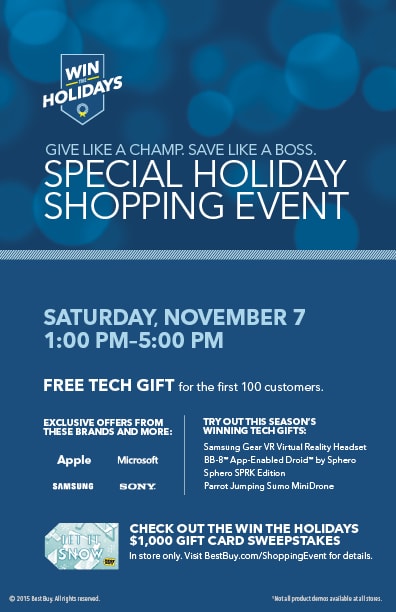 We all know that Best Buy is THE place to find all sorts of toys. Whether it is a special toy for yourself that you know that you have earned or whether you are looking for someone else during the holiday season, you can't go wrong with a trip to Best Buy. I was on a birding trip with my sister a couple weeks ago in Virginia and she needed a new battery charger for her camera. We stopped into the local Best Buy. Not only did they have a number of chargers for her to choose from, I had a blast wandering around to store looking at all the cool gadgets that I'd love to buy while she did her shopping. I ALWAYS have a blast at Best Buy.
So what is so special about the Special Holiday Shopping Event on November 7th from 1pm-5pm? Well, to start with, the first 100 people to show up at each location receive a FREE tech gift. You can also enter for a chance to win a $1000 Best Buy gift card when you show up at the store.
While you are there, you can chat with the many experts that will be on hand to answer all your questions about anything under the Best Buy roof. I took a look at some of the new, award-winning tech toys that will be on display and a couple that looked super cool to me were Ollie by Sphero. This little droid can reach speeds up to 14 miles an hour and has an LED light for night driving. You can program it to do all sorts of tricks by using the app for it. I also thought that the Parrot Jumping Sumo Minidrone looked awesome.   This is a rolling, earthbound drone that that can race, jump and roll and has a camera mounted in it to record all the action. Also, the next generation seems to be here with the Samsung Gear VR Innovator Edition. This mobile, Virtual Reality headset lets you jump into the action with 360 degree videos, games and Netflix powered by your Samsung Galaxy S6 or S6 edge smartphone.
If you need to find a Best Buy store near you, you can find one in the link up above. Make sure not to miss the huge Special Holiday Shopping Event at Best Buy this coming Saturday, November 7, from 1pm-5pm.
The reviewer has been compensated in the form of a Best Buy Gift Card and/or received the product/service at a reduced price or for free.