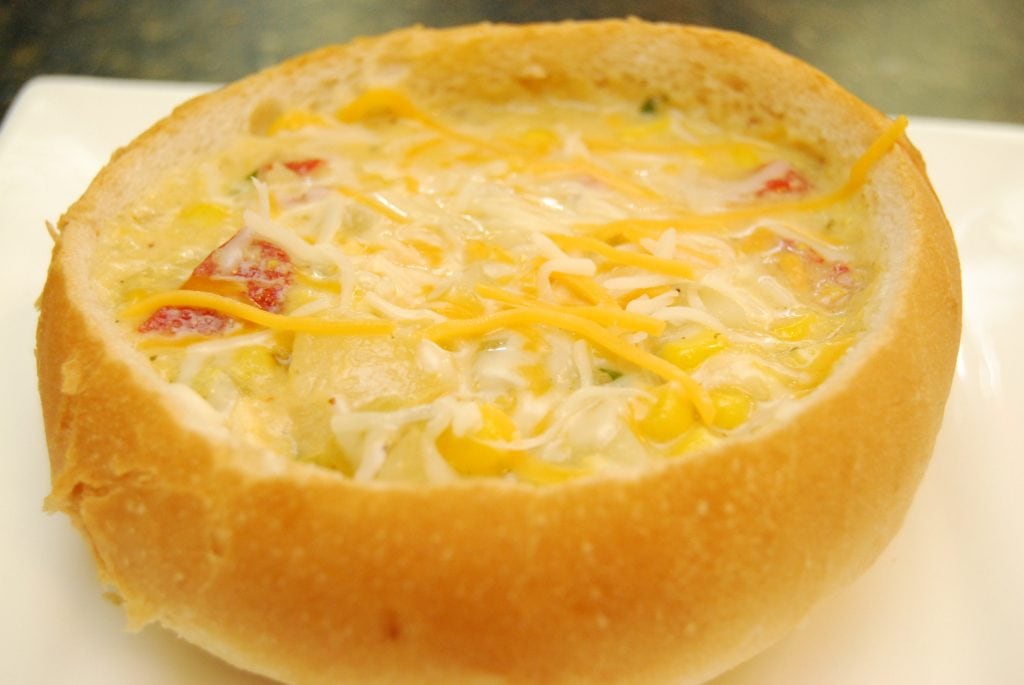 As the days are getting colder, my husband and I like to warm our weekends up with homemade soups.  Last weekend I decided to make a corn chowder.  It turned out wonderful and rich and my husband loved the bread bowl!
Ingredients:
1 Tbsp butter
1/2 large onion, chopped
2 14 oz cans chicken broth
2 red or white potatoes, peeled and cut into 1-inch pieces
1/2 tsp oregano
1/2 tsp poultry seasoning
1/2 tsp chili powder
Salt and freshly ground pepper to taste
3 cups fresh or frozen corn kernels
1 (4 ounces) can chopped mild green chiles
1 large raw chicken breast cut into 1-inch bites
1 cup half-and-half
2 cups shredded cheese (I used a cheddar/jack blend)
1 roasted red pepper, cut into 1-inch strips (jarred is fine)
1 Tbsp chopped fresh cilantro
Hot sauce (I used a bit in the chowder and then served it on the side for those who wanted a bit more of a kick)
Shredded cheese for garnish
Bread bowls for serving
Directions
In a large Dutch oven, melt butter and add onions until translucent.  Add the chicken broth, potatoes, oregano, poultry seasoning, chili powder, salt, and freshly ground pepper to taste. Bring to a low boil and simmer about ten minutes, until potatoes are just barely tender. Add the corn and simmer until corn is heated through.
Remove about 1-1/2 cups of the chowder and puree in a blender or food processor. Return puree to the chowder and add green chiles and chicken. Simmer about 5 minutes to cook chicken. Add half and half and shredded cheese. Stir until incorporated and cheese has melted. Gently stir in red pepper, cilantro, and hot sauce.
Serve in bread bowls with additional shredded cheese and cilantro for garnish.
Based off a recipe I found on About.com