When time is short this holiday season, this Crock Pot Candy recipe is the perfect thing to spread the Christmas Spirit.  Made in your Slow Cooker, this easy candy recipe is quick, easy and delicious!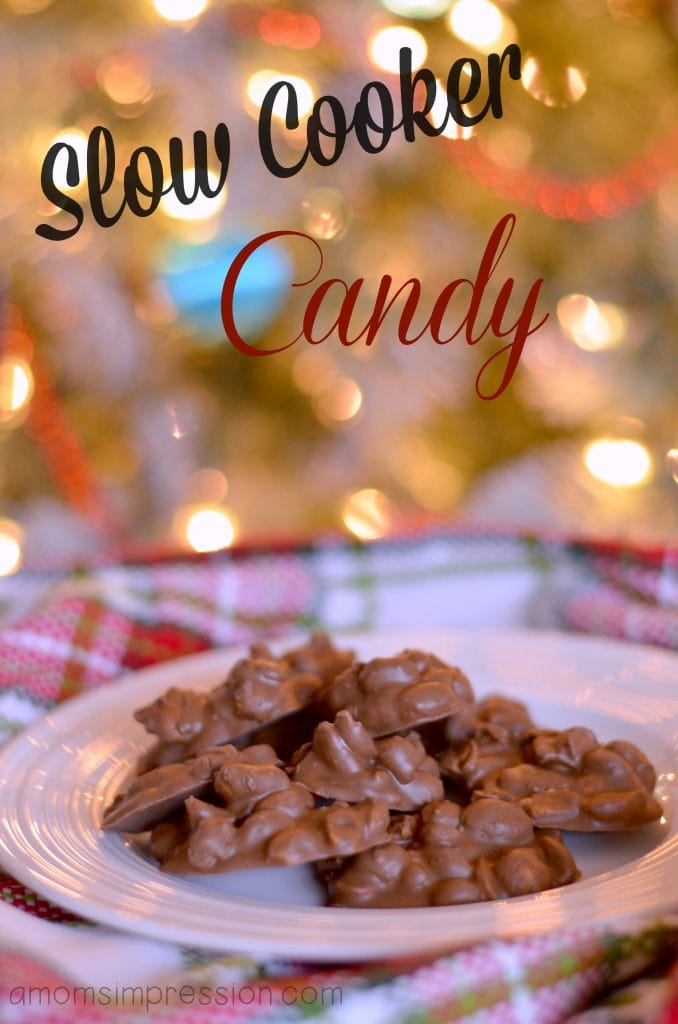 Easy Candy Recipe For A Busy Time Of The Year
I love to make candy during the Christmas season to give out as gifts to friends, family and neighbors.  I'll wrap them up in a pretty bag and put a cute little card on them.  I've made all sorts of treats and desserts before, but I do like to make candy.  Sometimes, the Holiday season can get away from us.  Am I the only one that is rushing to get our Christmas Cards in the mail so they at lease reach their destinations by New Years?!?!  When I'm short on time but still want to spread some sugary Christmas cheer, this easy Crockpot Candy recipe is just the thing.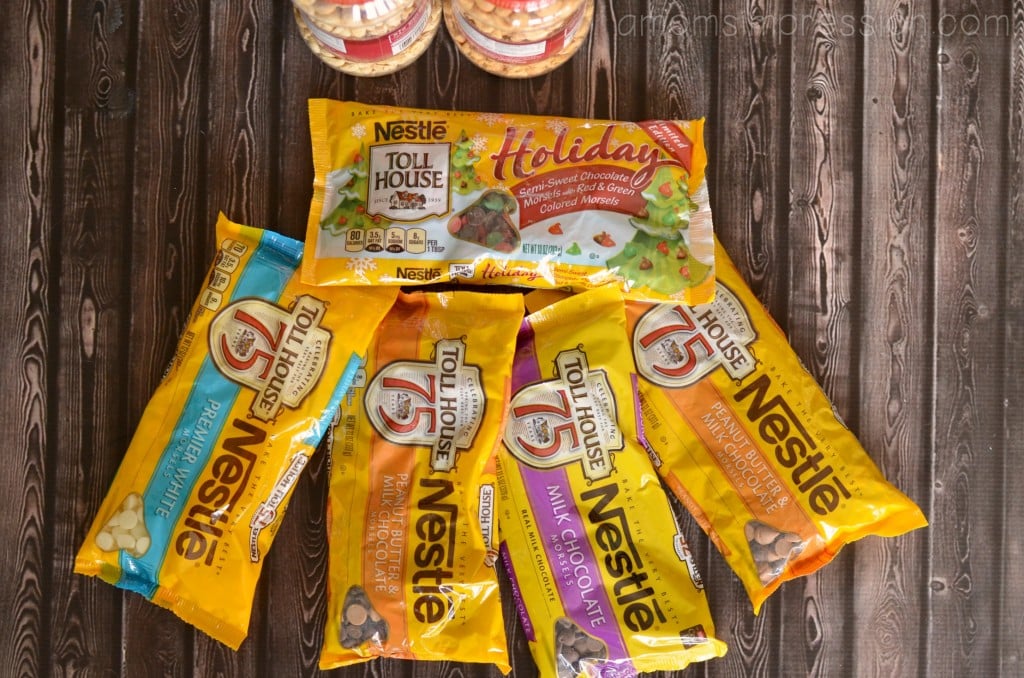 What Is The Best Chocolate to Use For Crockpot Candy?
This time of year, it is fun to walk down the bakery aisle of your grocery store.  You can find all sorts of limited edition versions of your favorite brands.  For instance, I found these NESTLÉ® TOLL HOUSE® Limited Edition Holiday Morsels.   These red, green and the classic Semi-Sweet morsels are all wrapped up in a festive seasonal package!  While I was there I also picked up a few more packages of NESTLÉ® TOLL HOUSE® morsels in different varieties.  My husband LOVES to make chocolate chip cookies with our daughter.  So I'm sure these will come in handy later.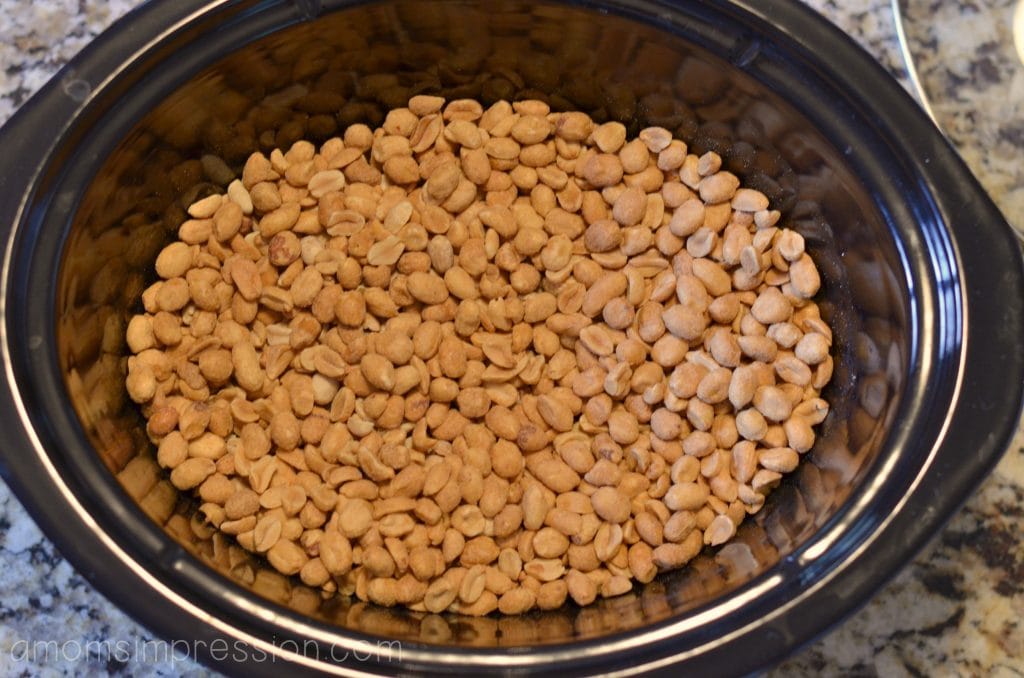 One of the best parts of this recipe is how simple it is.  You may already have a number of these items in your pantry!  Simply get an assortment of chocolate candy, salted and unsalted peanuts and some vegetable oil.  Then, just get your crockpot out to start slow cooking this great candy recipe.

Easy Crockpot Candy Recipe
I hope  you enjoy this recipe but don't eat it all yourself!  This is the perfect thing to bring into work or give out as gifts.  Merry Christmas and Happy Holidays to everyone.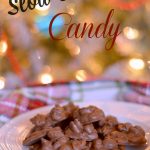 Easy Crockpot Candy Recipe
An easy crockpot candy recipe for the holidays.
Ingredients
1

bag

10 oz Nestle Holiday Semi-Sweet Chocolate Morsels

1

bag

11.5 oz Nestle Milk Chocolate Morsels

2

bags

11 oz Peanut Butter and Milk Chocolate Morsels

1

bag

12 oz Nestle Premier White Morsels

1

jar

16 oz Unsalted Peanuts

1

jar

16 oz Salted Peanuts

1

tablespoon

vegetable oil

optional
Instructions
Layer all ingredients into a slow cooker. I started with the peanuts and then added the morsels on top. Cook on low for 2 hours, covered. Remove lid and stir to combine all ingredients well. Replace the slow cooker lid and continue to cook on low for 30 more minutes. At this point if you need a thinner consistency add the vegetable oil. Drop mixture onto wax paper using a spoon and let harden (about an hour).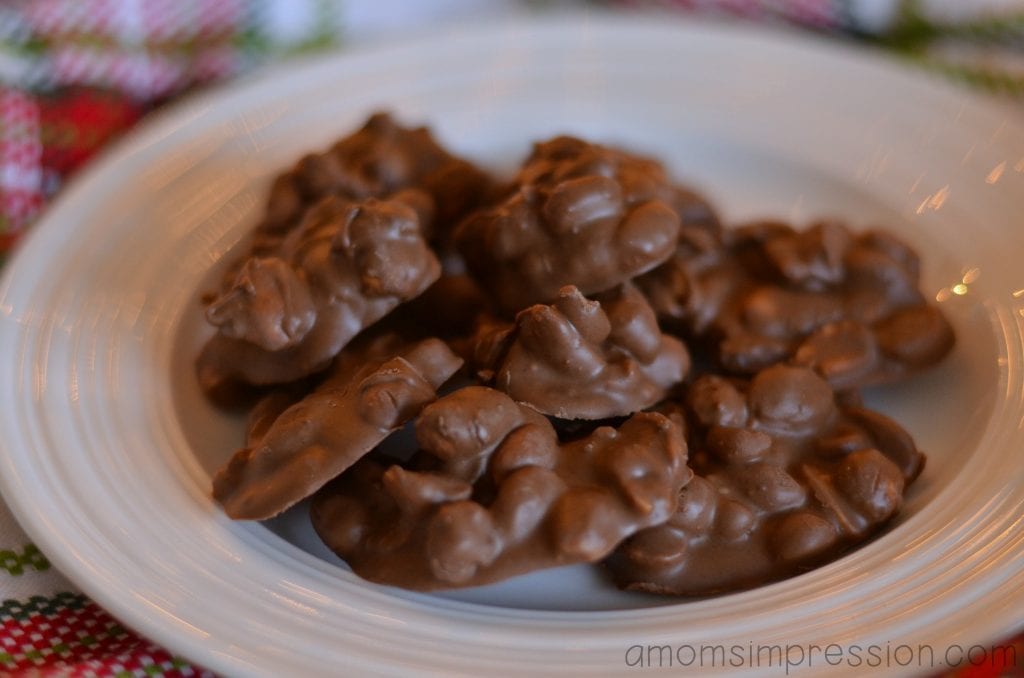 I am so excited to have one of my holiday candies made, all while I enjoyed my Colts barely sneak one by the Browns.  If you are busy these days you can still make delicious treats for your family and friends, take a little help from your slow cooker!
What are some of your time-saving tips for the holidays?