I'm usually not the type of girl who swoons over guys.  I mean, there are those rare beautiful people that my husband and I turn to each other and raise our eyebrows about, but rarely would I ever make a public statement about it.  I'm going to have to say something about the cast of Baby Daddy. I think my heart did a little flutter when interviewing the gentlemen of Baby Daddy.  Not only are they easy on the eyes but they are seriously very sweet guys with big hearts.  I may now have a few new crushes (don't worry, I already told my husband).  The women of Baby Daddy were adorable and totally relatable.  I could totally see us hanging out after the live taping on Fridays!
Here is a little bit from each one of our interviews:
Jean-Luc Bilodeau ("Ben Wheeler") decided at age 15 that he wanted to be an actor.  Someday he would love to direct.  A little tidbit that I learned about Jean-Luc is that he went to 12 countries in 51 days while he was not filming.  He enjoyed working on cars and the first time he held a baby was on the set of Baby Daddy!  When asked about his favorite thing about being apart of Baby Daddy he had this to say:
"It's my first sitcom experience. I predominately have just a single camera background, so it's a lot of drama stuff, longer set hours and everything. Here, everyone's super cool, you get to hear laughter – that's something you don't get on any other set that's not a sitcom. And the audience every Friday is really fun. That makes it really enjoyable.  And the cast is awesome too.  Oh yeah, and the food is great!"
Chelsea Kane ("Riley Perrin") told us that there would be some kind of closure with the love triangle between the two brothers and Riley this season.
When asked about which one she wants to end up with, she had this to say, "Oh, it's so hard! And I go back and forth because I love them on the show and off the show. I love those boys so much. I think the writers have done such an amazing job giving them each qualities that are so lovable and so different. I mean, on paper it's like 'professional hockey player, 6'5", super hot' or, you know, 'single dad, bartender'. No, I think the fact that 'Ben' has really taken the reigns with being a single dad. I love that about him, and I really do understand why Reilly's kinda torn.
I think I finally have an idea this season where it's going so the viewers that have stuck with us – thank you for 70 episodes, they will get a little closure, at the end of the season.
Fun fact about Chelsea. Chelsea loves to make candles in her time off, especially cookie scented ones!  She actually made them for her cast as holiday presents this year.
Derek Theler ("Danny Wheeler") talked about what it was like working with babies.
"It's amazing, it's great.  They are a set of twins playing one character. As the seasons go on, every finale to one season and premier of the next is supposed to be one week, so we have to change twins. Our original babies are 4 1/2 years old, so we change them. The one's we're using now, they're beautiful and they're amazing. They hit all their cues and know all their lines better than we do. It's funny, this episode especially, they have tricks that they have to do.  They have to burp on command and put her arms up in the air like "bring me a basket of french fries" so it's been a little bit longer than normal waiting for the babies to hit all of their cues, so we're a little bit behind schedule. It's fun to work the babies, the audience knows they're babies. They don't know what they're doing yet. They don't know exactly what's happening… when the live audience is here and when the babies are down there, they seem to feed off of it just as much as we do. Everyone has a good time.
Melissa Peterman ("Bonnie Wheeler")  Told us about a couple of her favorite episodes.
I have a couple favorites. I loved Ranger Roos episode where Tahj and I were auditioning for the mascot for the Rangers. It was physical and that was very fun. I also had a really great episode with Danny where I had lied about a birthday. It was basically how I just wanted time with my son and it was really sweet moment.  I really do cry at those moments like it's hard for me because you do think of those.
Melissa also let us know that she and Tahj live very close to one another and have car pooled to the set before.  It really is a family atmosphere with the cast of Baby Daddy!
Tahj Mowry ("Tucker Dobbs") Tells us about the closeness of the cast and crew.
Chelsea was just at my house this weekend, Derek and I like going to movies – we like action movies, superhero type movies. Chelsea and I are like, brother and sister… Melissa lives like, two minutes from me. She'd beep the horn and I'd be like 'Melissa's here'. Yeah, so we're all like, super close.  … I have the best co-stars ever. I hang out with the crew members also off the set… it's just a good environment, a good energy, everybody's fun and loving.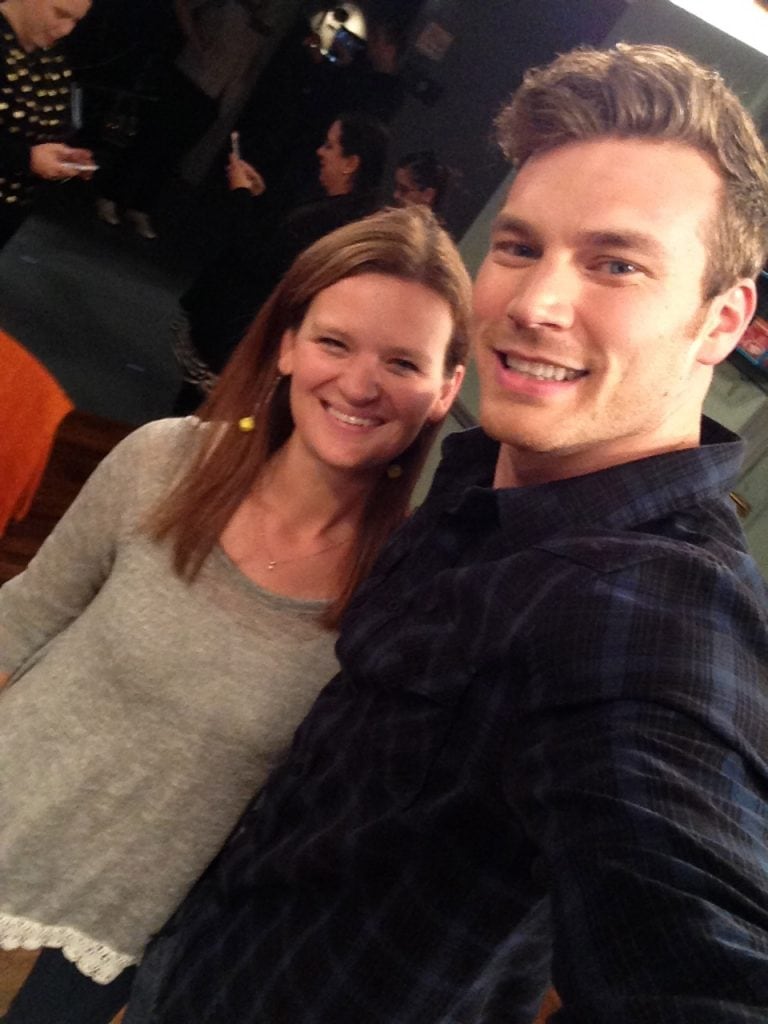 Interviewing the cast during the shooting was a very memorable moment for me.  I appreciate them taking the time to take pictures with us and showing us around the set.  They really are a special crew!
I was able to preview the premiere episode and while I won't release certain spoilers, I will tell you that there is a shower scene that is worth recording this episode for!  Set those DVRs ladies!!!!
Baby Daddy  is airing its winter premiere tomorrow  Wednesday, January 14th at  8:30/7:30c.  Here is a little sneak peak into tomorrows episode:
In "She Loves Me, She Loves Me Note," even though Ben and Riley are officially back together, Ben can't shake the feeling that there's something going on between Riley and Danny. Tucker is shocked when Riley confesses that she knows how Danny feels about her. In a somewhat flawed plan, Ben decides to test Riley's feelings for his brother, so he writes Danny a love note and signs her name. When she realizes what he's done, a furious Riley tracks Ben down in the Rangers' locker room. Will she be able to convince Ben that he's really the one she wants, or is he right to wonder if there's something more between his girlfriend and her best friend? Meanwhile, as Danny gets ready to join Georgie in Paris, Bonnie realizes her cash cow is leaving and starts selling his Rangers memorabilia.
Be sure to visit my post about my Baby Daddy set visit for more behind the scenes action!
A huge thank you to Disney  for flying me out to LA for the #ABCFamilyEvent.  All opinions are 100% mine.