This shop has been compensated by Collective Bias, Inc. and its advertiser. All opinions are mine alone. #ScrubbingPower #CollectiveBias
This summer is starting to get away from me.  Its hard to believe that Jonah will be going back to school in a week and a half.  We have been having such fun playing at the pool, riding our bikes, and just enjoying our family time.  The days have been packed with activities and I have often found myself scrambling for dinner at about 5:30 every night.  I have a few go-to recipes that I depend on for these days and today I am sharing one of them with you, my simple enchilada recipe.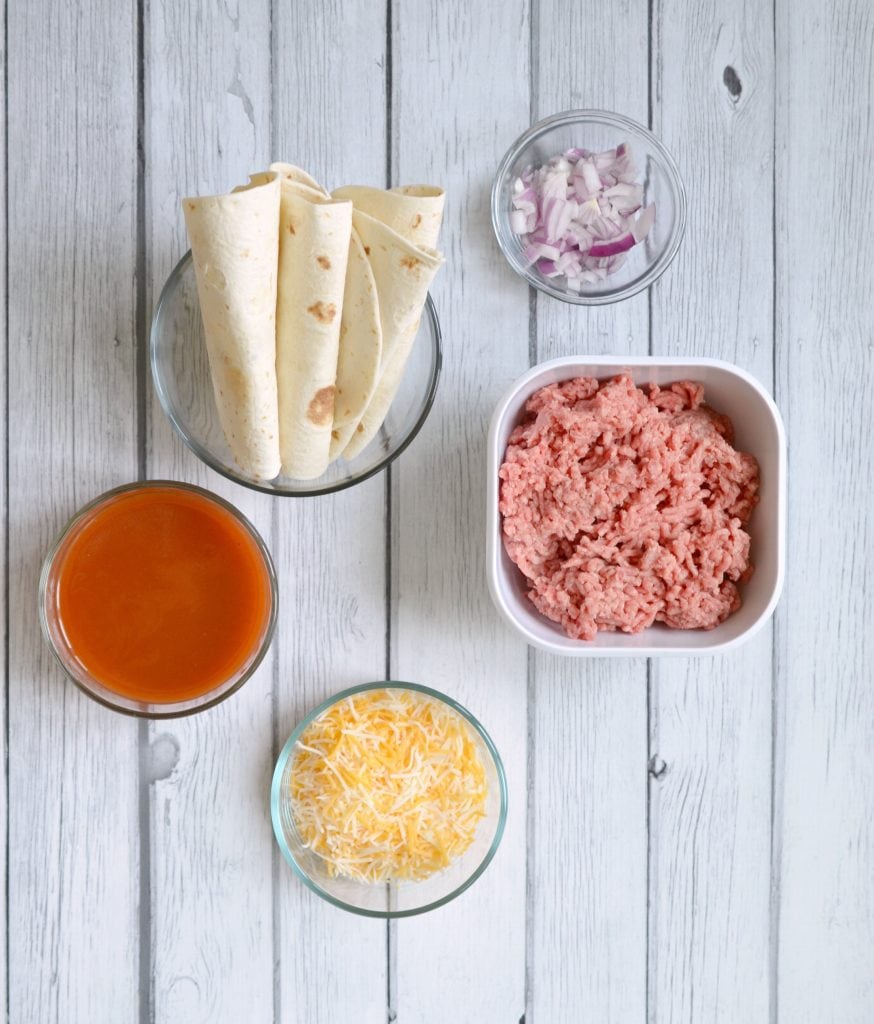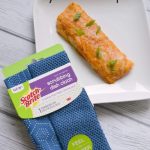 Simple Enchiladas
An easy enchiladas recipe.
Ingredients
1

lb

ground beef

2

cups

of your favorite enchiladas sauce

1/2

red onion

diced

1

tsp

garlic powder

1/2

tsp

pepper

1

tablespoon

olive oil

2

cups

shredded cheese

8-10 6

inch

flour tortillas

Scallions for garnish

optional
Instructions
Preheat oven to 375 degrees.

Heat oil in a large skillet over medium heat. Add onion and cook until translucent, about 2 minutes.

Add hamburger, garlic powder and pepper and cook until hamburger is done. Drain.

Add 2/3 cup of your enchilada sauce and 3/4 cup of your cheese to the hamburger and stir until cheese has melted. Remove pan from heat.

In a large baking dish, pour 1/4 cup of enchilada sauce to coat the bottom of the pan.

Take 2 spoonfuls of hamburger mixture and place it in a tortilla. Roll tortilla up and place seam side down in the pan. Repeat until all the mixture is used up.

Pour remaining enchilada sauce over the tortillas and then sprinkle the remaining cheese on top.

Bake for 15-20 minutes.

Top with scallions(optional) and enjoy!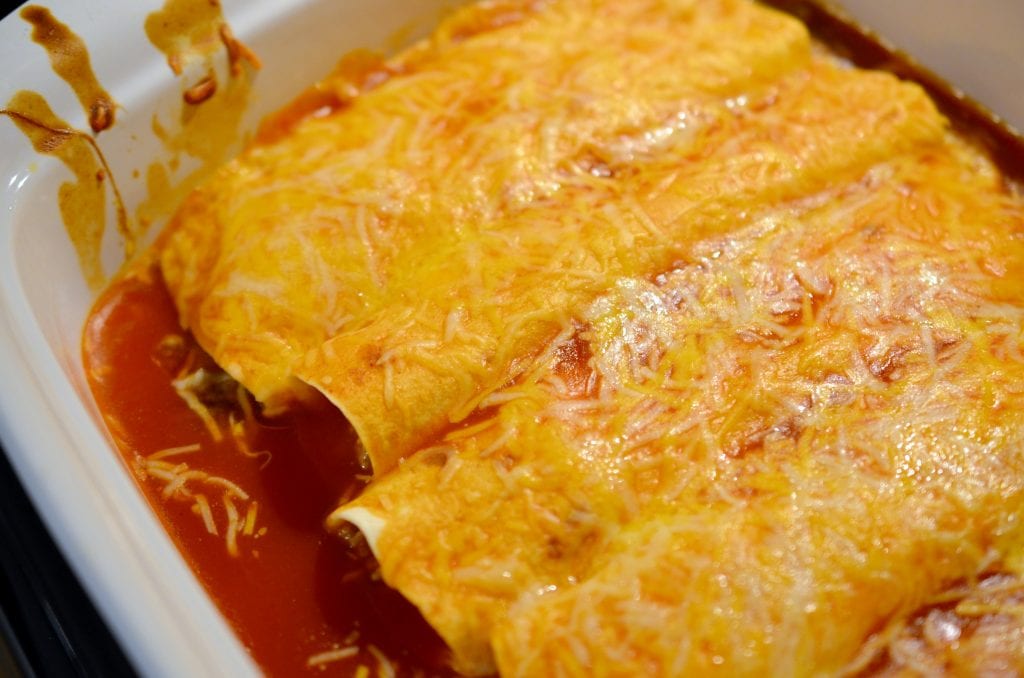 While these enchiladas are tasty, the clean-up can be a little tough without the right tools.  This week I headed to Kroger to purchase some clean-up tools. I found the new Scotch-Brite® Scrubbing Dish Cloths in the cleaning section and decided to give them a try.
I found that these little guys pack a powerful punch. The Scotch-Brite Scrubbing Dish Cloth is fully washable, reusable and sturdy that feature scrubbing dots on one of the sides that gets the job done.  When cleaning my enchilada dish, I didn't have to scrape anything off with a knife like I would normally have to, I also didn't need to let it soak.  I was very impressed with the durability and cleaning functions of the cloths.  I also love that they are reusable and I can use them the next time we have messy, caked-on dishes.

I love these scrubbing dish cloths so much that I knew that I needed a special place to store them.  After searching for the perfect storage container, I finally realized I was going to have to make my own.  I gathered some supplies and got to work.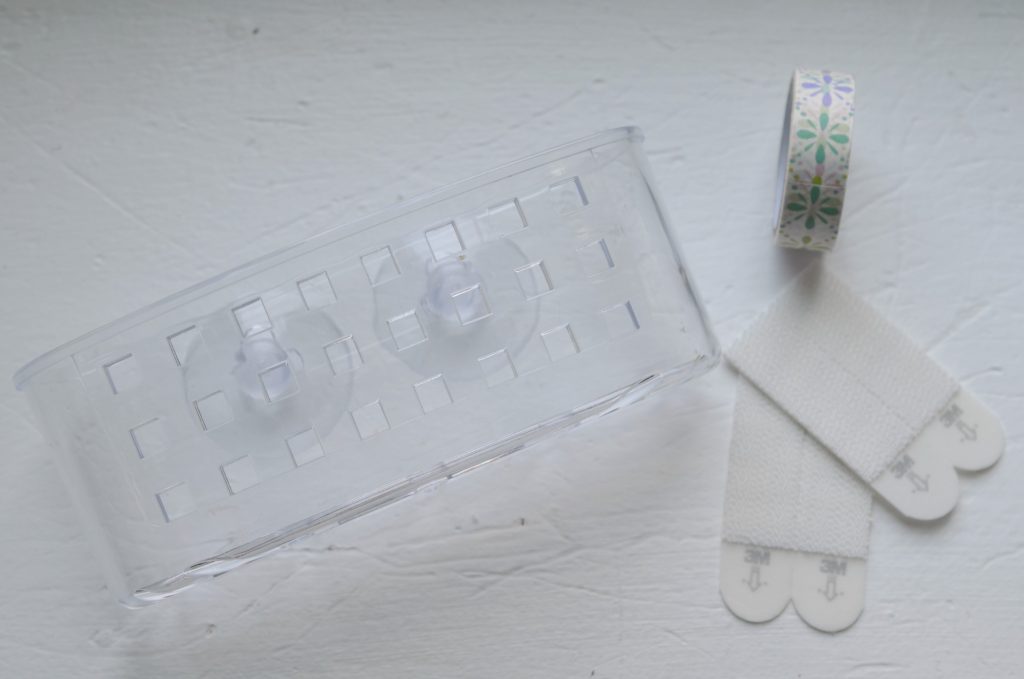 I found this suction cup holder and decided that I could modify it to make it work.  I didn't want anything showing in my sink (I like the plain, clean look) so I wanted to be able to mount this under the sink in the cabinet below.  Here is what you will need to do this:
Some kind of plastic holder like the one I got.  I wanted it to be plastic so that it was lightweight.
Adhesive strips to mount the holder to your cabinets.  You could screw it in but I didn't want holes in the doors so I used these picture frame strips that are very sturdy.
A way to decorate your holder.  I used some lightweight craft tape to make it cute.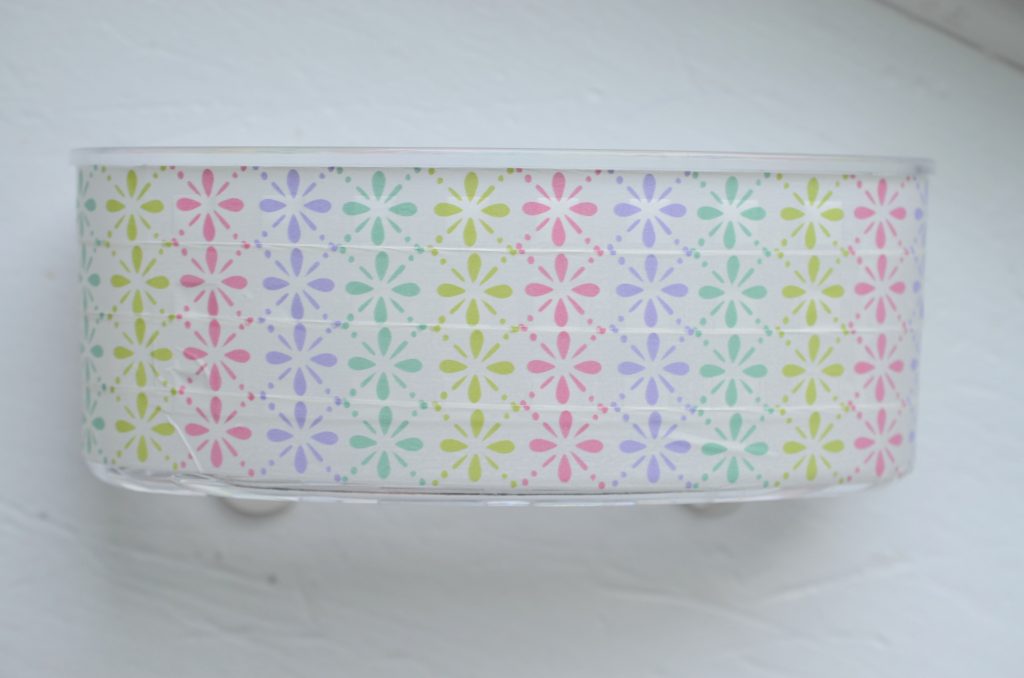 I like things to be cute even if they are under my sink where only a few people will ever see it.  Bright colors make me happy so this colorful tape was perfect for me.  This is an easy hack that only took 4 steps for it to be ready for use.
Take the suction cups off the back of the holder.
Using decorative tape, start at the top and wrap the tape completely around the holder and tear off in the back. Repeat underneath until the entire holder is covered with your tape.
Affix the hangers onto the back of the holder.
Affix the holder to the back of your cabinet doors and you are finished!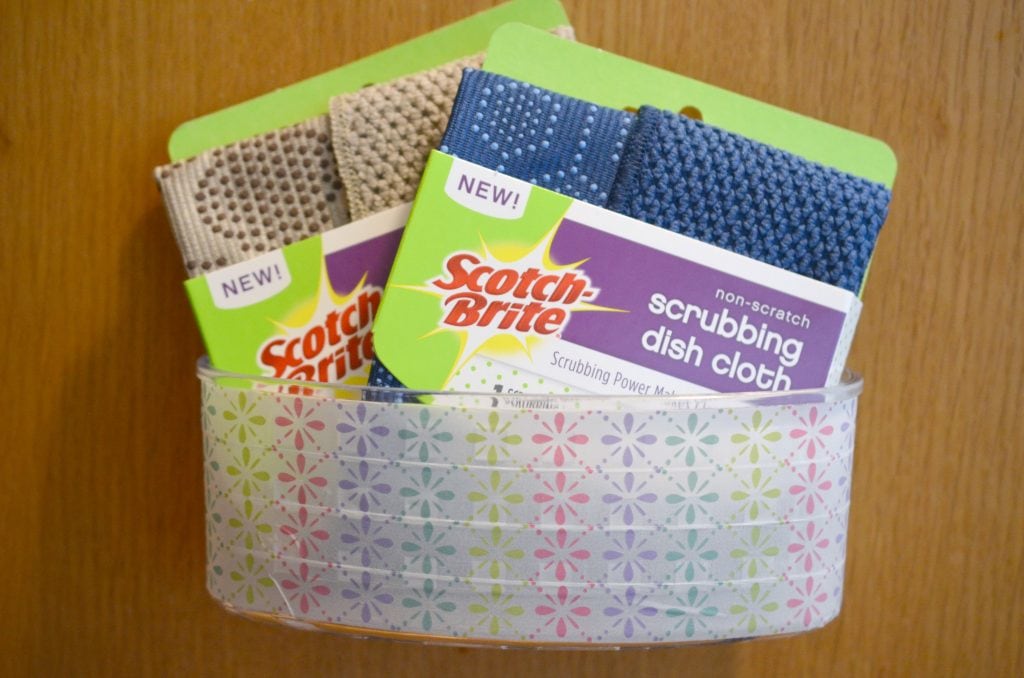 I love the way that it turned out.  It is perfect to store my Scotch-Brite Scrubbing Dish Cloths for easy access when I need them.  The bright colors make me happy!
I hope your summer has been just as full and fun as our has been.  Happy cleaning!