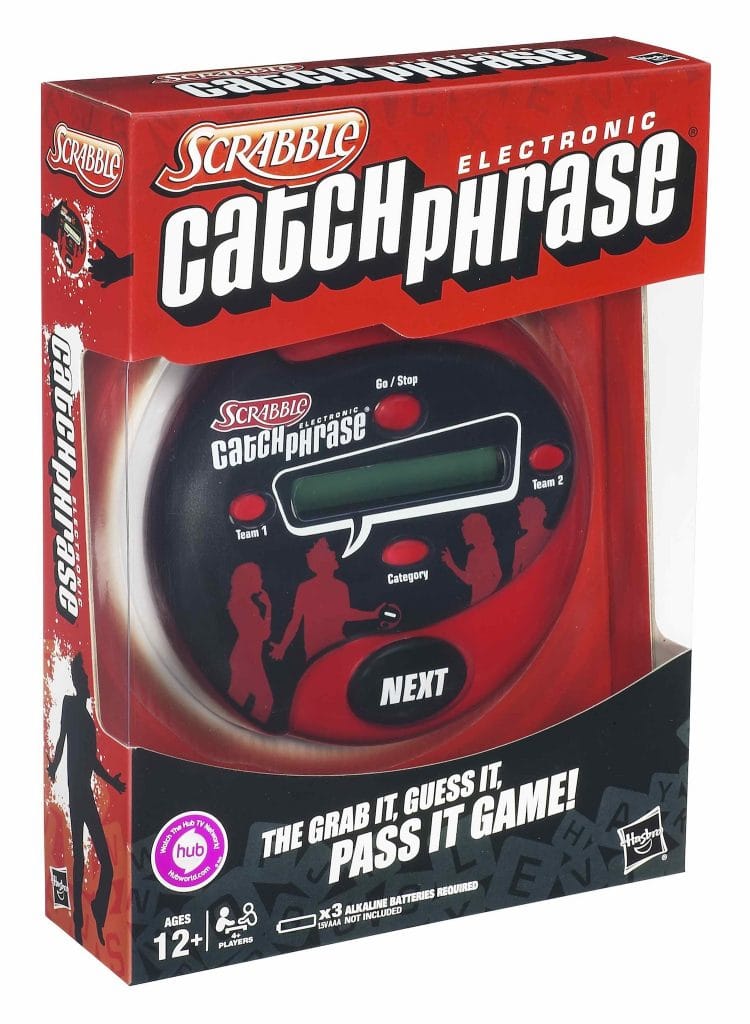 One of my favorite family traditions is playing board games and card games up at our family cabin every time I fly out to Idaho.  I love spending time with my family.  Finding great games to play has been a little bit of a struggle. There are the classic games like Trivia Pursuit,Cranium, and Catch Phrase.  And there are our personal favorites, Balderdash and Scrabble, but we haven't had a good new game come into play in a while. I was very excited when I found out that there was an upgrade to one of the classic games we love to play.
The game that keeps everyone on their toes and saying the most hilarious things is back with SCRABBLE CATCH PHRASE! You won't want to put down the SCRABBLE CATCH PHRASE game as players frantically try to get their teammates to guess each phrase. It's a frenzied game of grabbing, guessing and passing – just don't be caught holding the game unit when the buzzer sounds!
You may have seen the game on TV lately thanks to funnyman Neil Patrick Harris, who is featured in the new ad campaign. Harris, star of the CBS hit sitcom "How I Met Your Mother" told us, "It's no secret I love games, and CATCH PHRASE has always been one of my favorites."
Neil Patrick Harris and I have so much in common!  I love Catch Phrase too!  My family is very competitive with each other so battling in groups yelling words out at the top of our lungs is a blast!  In case you are not familiar with the game, you pick a category and the game gives you a word that you try to get your team to say the word on the game console.  When they say the word you pass the console to the other team who has to guess the mystery word. What ever team doesn't have the console when the buzzer goes off wins a point.  First team to 7 points wins!
Be sure to check out the new Scrabble Catch Phrase and make sure it is on someone's holiday list!
This product review was made possible by Hasbro.  I was not compensated for this review other than a product sample provided by the company or PR firm. All opinions are 100% mine.