We used our Safety 1st Complete Air Convertible Car Seat for many years until my son grew out of it. I did my research and found that this convertible car seat would fit my family very well. See why we recommend the Safety 1st Complete Air Convertible Car Seat.


This post contains affiliate links.
I have spent the last few months looking at convertible car seats for BJ.  He is rapidly outgrowing his infant seat and we are going to have to move him into a "big boy" car seat.  The most important factor for us when selecting a car seat is safety.  I want the safest car seat on the market for my little man.  I am already paranoid being a first-time mom, so I want to know that if anything happens my little guy is as safe as he possibly can be sitting in his seat.
In my research, I learned a lot about car seat safety and a lot of alarming car crash statistics. In the past 20 years side impact crash fatalities have increased by 20%.

Safety 1st Complete Air Convertible Car Seat
So, how can parents protect their child from side impact collisions? Safety 1st has designed a unique car seat that provides better side impact protection than the average car seat.  The Complete Air Convertible Car Seat is a unique car seat that protects your child's head.  Here is a short description from their website:
Air Protect™ Technology has been designed to defend against the biggest threat to children on the road today; side impact collisions.  Side impact are by far the deadliest type of collision for children, accounting for one in three child fatalities; nearly all of which are caused by head trauma.  The placement of Air Protect™ Technology on the car seat diverts crash forces away from a child's head, the most vulnerable place in a side impact crash.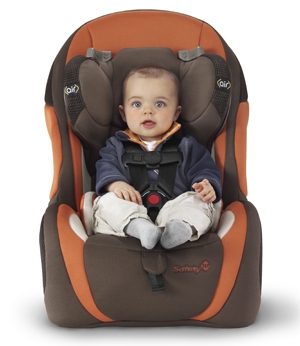 We recently received a Complete Air Convertible Car Seat from Safety 1st for our review.  I was so excited to see the box arrive from the FedEx man.  The box became a big hit with BJ.  He has been playing with it ever since it came.
Installing the Safety 1st Complete Air Convertible Car Seat
We read through the instruction manual and began the installation process.  We appreciate that the seat is a convertible because we still need it to be rear-facing for a few more months until BJ is older (it fits rear facing from 5-40 lbs and forward facing 22-50 lbs).
Installing the car seat in the rear-facing position was difficult at first.  We actually had to go to the installation videos on Safety 1st's website in order to install it correctly.  The video was wonderful and I highly recommend viewing the videos before attempting to install the car seat.
A word to the wise on installing rear facing, you might need a rolled up towel to stick under the front of the seat in order to get it to level out correctly.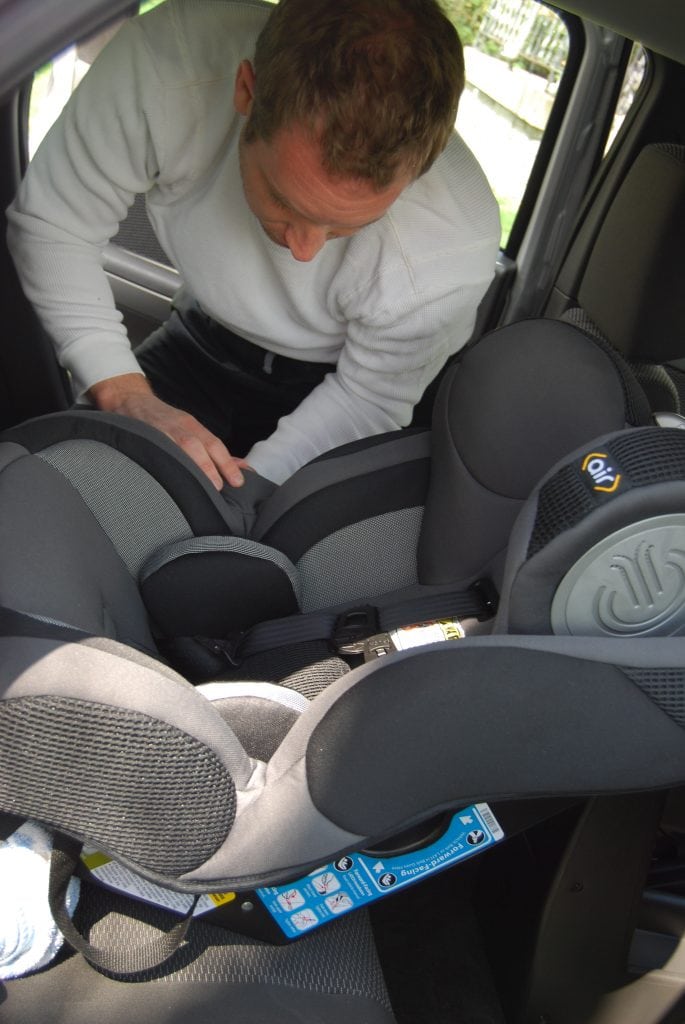 BJ loves his new seat.  He looks very comfortable riding rear facing and he has plenty of leg room.
I was a little worried about the head flaps (that cushion his head with air) restricting his view, but he doesn't seem to mind.  We can easily strap him into the seat and adjust the harness is extremely easy thanks to the QuickFit Harness System that adjusts the harness height from the front in one easy step without uninstalling from the car.
The seat also comes with a detachable cup holder for BJ when he is a little older.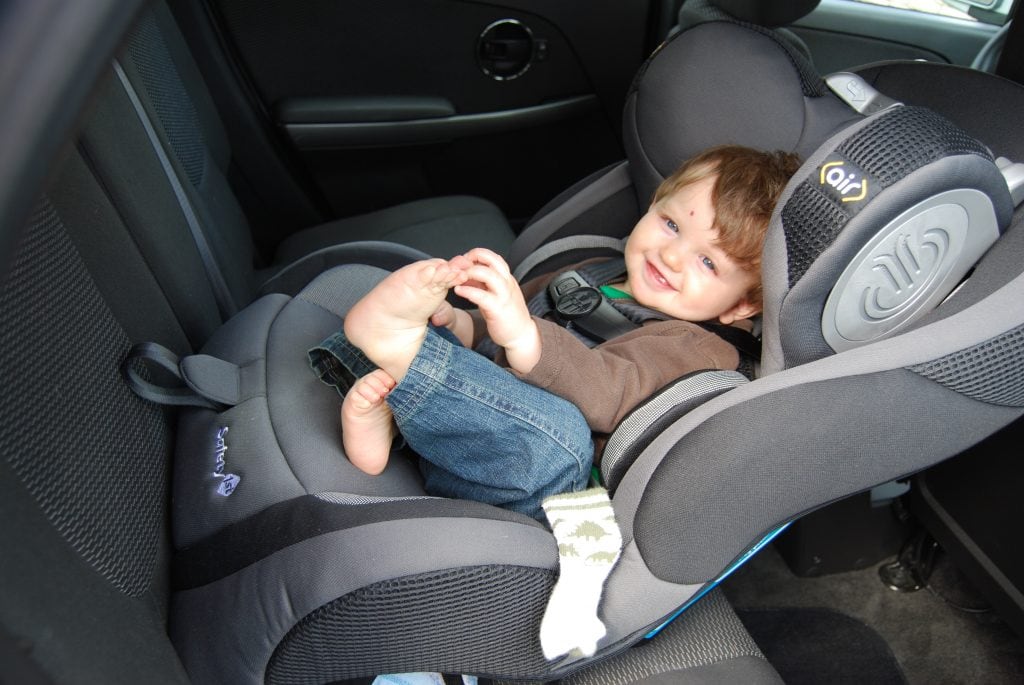 Overall we thought that the car seat was a little difficult to install rear facing but easier after watching the installation videos.  In spite of the one negative, we love this car seat. It looks great, BJ looks comfortable, and best of all I feel like I have my son in the safest car seat on the market.
A Mom's peace of mind is priceless.
For more Car Seat Reviews check out our thoughts on the Safety First Advance 70, The Britax Marathon 70, and the First Years True Fit Rebound Convertible Car Seat.
Buy It:
You can purchase your own Safety 1st Complete Air Convertible Car Seat from Amazon, Target, Walmart, Sears, and other retailers for MSRP $219.99.
This product review was made possible by Safety 1st  I was not compensated for this review other than a product sample provided by Safety 1st. All opinions are 100% mine.