Get ready, the Roseanne Revival hits the small screen tonight! If you are a fan of the show, you need to check out my interview with Sara Gilbert, Lecy Goranson, and Michael Fishman.  Also, go behind the scenes with me on my Roseanne set visit!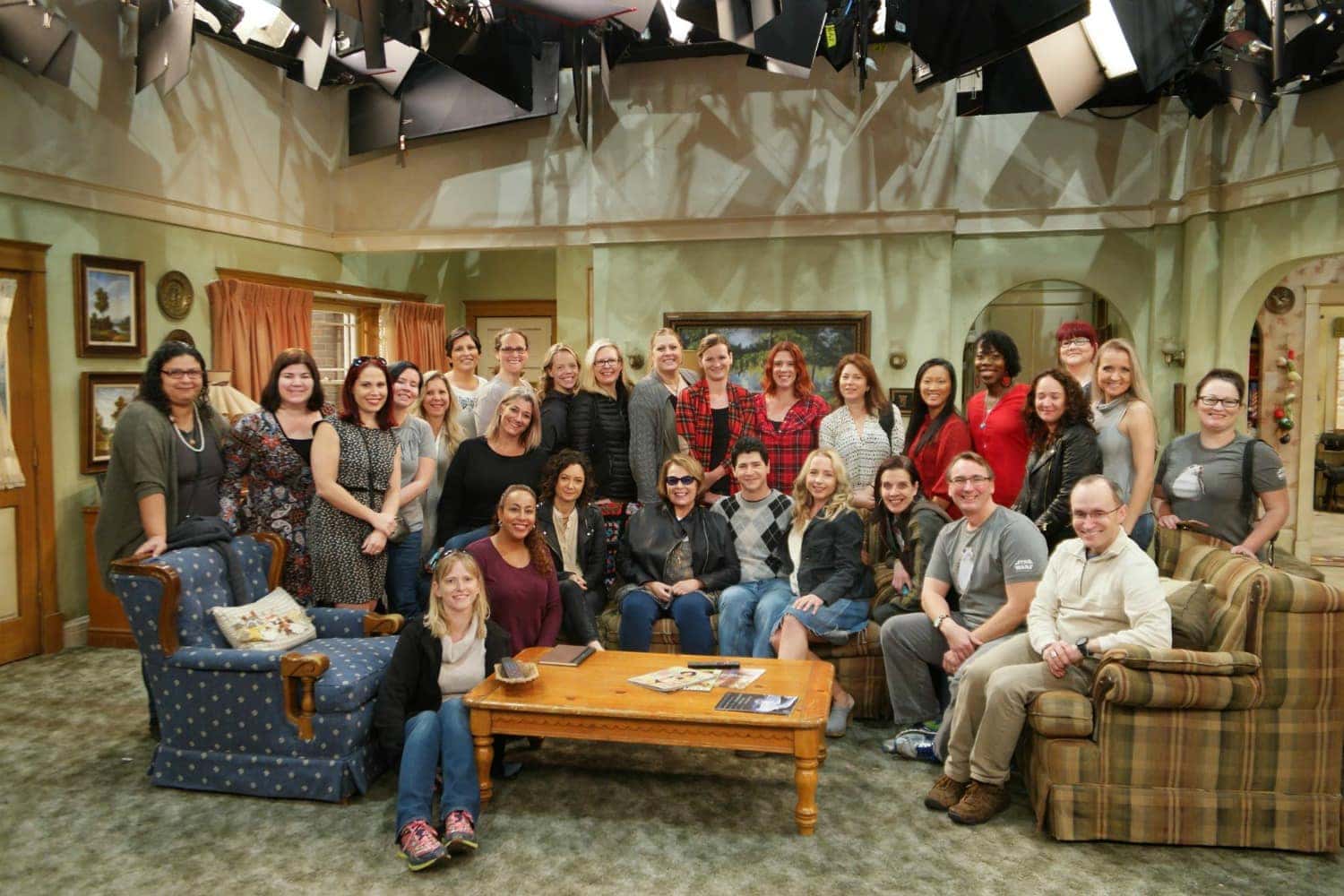 A huge thank you to ABC for flying me out to LA in December to visit the set and to interview cast members.
Roseanne Revival
I am a child of the Roseanne era. I remember watching the series and being able to relate to children in the show. We were about the same age and struggled with some of the same issues. While my family wasn't exactly like the Conner family, there were enough similarities where I felt connected.
I was pretty excited to hear that there was going to be a Roseanne revival!
The series stars Roseanne Barr as Roseanne Conner, John Goodman as Dan Conner, Laurie Metcalf as Jackie Harris, Lecy Goranson as Becky Conner-Healy, Sara Gilbert as Darlene Conner, Michael Fishman as D.J. Conner, Emma Kenney as Harris Conner-Healy, Ames McNamara as Mark Conner-Healy and Jayden Rey as Mary Conner.

I had the amazing opportunity to interview Sara Gilbert, Lecy Goranson, and Michael Fishman on the set of the Roseanne Revival.  We had the chance to talk with them about their characters and what we can expect this season. After chatting with the actors, I felt even more excited to watch the new show.
7 Reasons You Need to Watch the Roseanne Revival
1. Find Out What Happened to Dan
Everyone is curious how they are going to explain how Dan is still alive and everything that happened in the last season of Roseanne.  Michael tells us they did a good job of explaining it all.
Michael Fishman: I think we've done a good job of kind of acknowledging kind of where we went towards the end of the show but within context. It'll all make sense for fans. I think it's a really quick kind of recap in the first episode. I think the writers did a really good job of kind of explaining where we are now and how it kind of fits in the transition.
2. Because of the Great Divide in our Country
No one can deny that our country is divided.  Sara says that it is the perfect time to reintroduce the Conner family back into our lives.
Sara Gilbert: I think in one respect it was an incredible time to do it, because I felt like our country is so divided. And I feel like this is a working class family that can have varying political views even within the family but still love each other. And I thought what a great way to try to help unite people, have people listen to each other. You know, I strongly believe that we can disagree without being so divided. So, I'm hoping that we can help in that way. 
3. To see how the Conner Kids have Grown Up
When kids grow up, family dynamics change. Lecy explained how her relationships in the show have changed over time.
Lecy Goranson: I feel like our characters have gotten older obviously, and because I was as child when we did it before my relationship with John and Roseanne's characters, with Dan and Roseanne, were different. I was a young child. They were the parents. And now it's a little more like peers, our relationship. So that's changed. But my relationship with my siblings is the same. So, I love that feeling that there's the same kind of like snarky, contentious answer, but then we also love each other and bail each other out of hard situations.
4. To Find Out What Has Happened to Our Favorite Characters
The rival shows us what our favorite characters have been up to over the past 20 years.
Lecy Goranson:  Becky is a widow. And she is a waitress. And she really likes to drink.

Sara Gilbert:  Darlene is basically a single parent. David has been in and out slightly, you know, over the years, but — and I don't think she's fully moved on when our season starts. But she's just been getting by with these two kids, and she's moved back home. She always dreamt of being a writer, and that dream, as happens in life, you sort of can get knocked down the totem pole. And you're like, okay, well, my dream was to be up here and now I'm here and now I'm here and now I'm here.

So, I think part of her arc over the season is, you know, seeing if she'll go back and chase that dream or take a safe path to take care of her kids.

Michael Fishman: My character came outta the military and is kind of struggling to re-establish himself, kind of which I think a lot of people in this country are in that role, both male and female. His wife is actually still active in the military. So, there's that juxtaposition of feeling strongly connected and proud of what you did but a little frustrated 'cause you weren't quite ready to move on and not sure what you wanna do next.
5. Because We All Need a Laugh
Roseanne was there for me in my youth when I needed to laugh.  I think that Sara summed up how I feel about the show when she talked about how the show deals with life!
Sara Gilbert: I think something that I love about it is it's almost like a hybrid between a comedy and a drama. You know, it doesn't really just feel like a sitcom. Sometimes we're doing it it's like, wow, this is heavy, but we handle everything with humor. But it's exiting, because deal with all these heavy topics and you wanna be able to make an impact and help people see their stories represented on television.
6. The Guest Stars
Over the years, Roseanne has had many different guest star appearances. This season there will be a few of past actors making an appearance, including James Pickens and Adilah Barnes.
Sarah Chalke is also involved, but she's not playing Becky.  She's playing another role that's linked to Becky.  She's in a few episodes.
7. The Famous Chicken Shirt is Back
Sara tells us that you can look for the chicken shirt in the first episode.  She ensures us that we can't miss it!
Set Visit Pictures
Speaking of Roseanne iconic props, I had the opportunity to hang out a little bit on the set of Roseanne!  Here are some fun pics from my visit: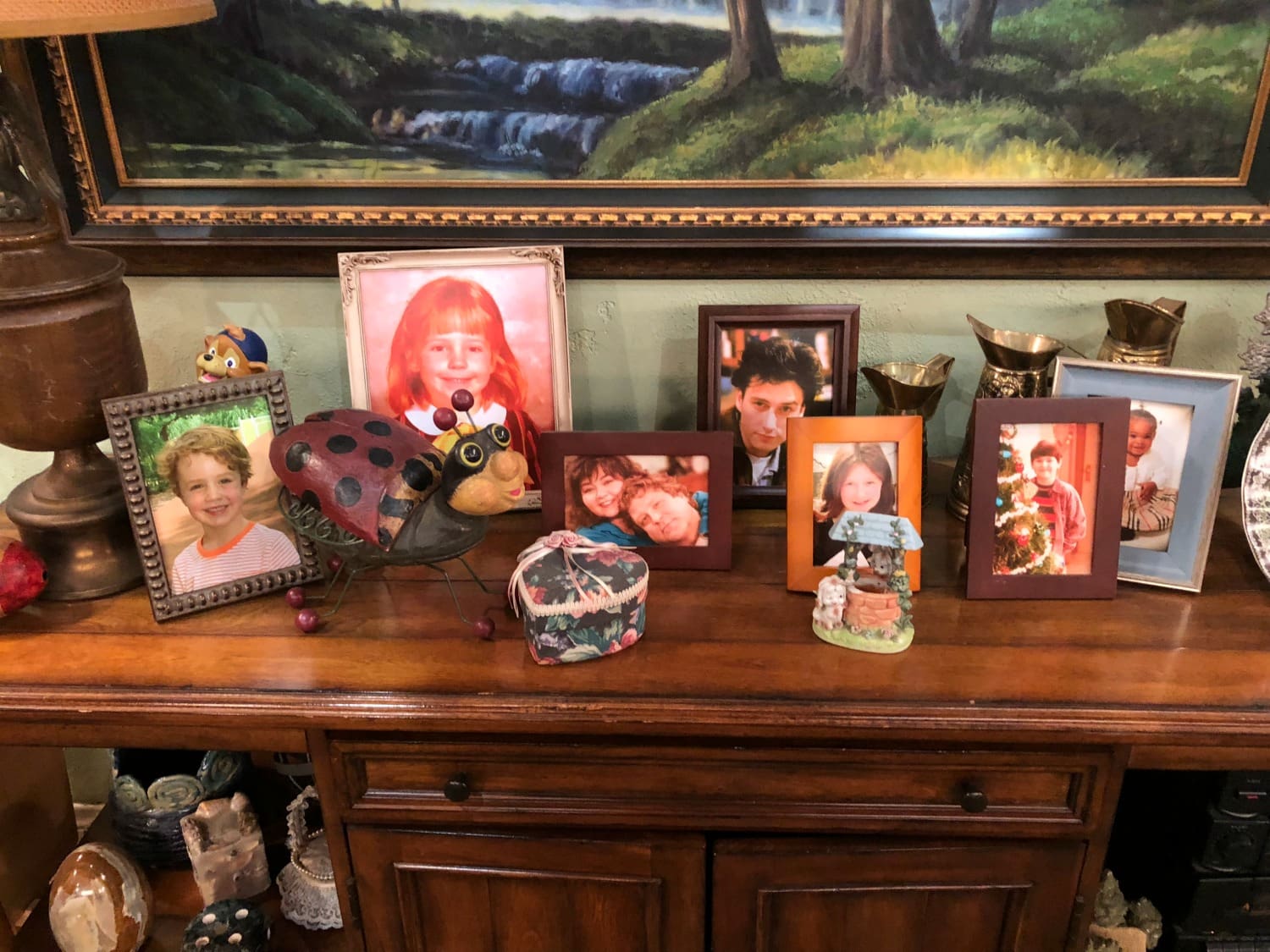 Tune In
The season premiere of the revival of "Roseanne" debuts with brand-new, back-to-back episodes on TUESDAY, MARCH 27 (8:00–9:00 p.m. EDT), on The ABC Television Network, streaming and on demand.
To learn more about the new Roseanne Revival be sure to follow on their social channels and website!