This feature has been compensated by Scholastic. However, all opinions are mine alone. 
It is hard to overstate the importance of reading at a young age.  It stimulates intellect, imagination and vocabulary.  It gives children gifts that they will be able to use productively throughout their lives.  This is why it is so important to get kids to buy into reading early on.
One of the hardest thing to do as a teacher is to find great fictional literature for young boys.  Boys love non-fiction text but lose interest in many fictional stories. The boys in my classroom love the Captain Underpants series as well as the Diary of the Wimpy Kids series. (They have a lot of fun with the Wimp Yourself website so if you have a fan in your house be sure to check it out!)
It became apparent to me as soon as I opened up Ricky Ricotta's Mighty Robot series that these are perfect books for young boys.  It bridges the gap between being a "picture" book and a chapter book for those beginning to read on their own.  The adventures of Ricky Ricotta kept my son engaged for an extended period of time!   I think he loved it from the beginning because he could relate to the main character.
Ricky Ricotta is a little mouse with BIG problems! Every day he is picked on by the neighborhood bullies. He lives in Squeakyville with his mother and father, and being an only mouse, he is often lonely. That is until SOMETHING BIG HAPPENS! A giant flying robot enters Ricky's life and an unlikely friendship is born! Together, Ricky and his Robot must save the planet from a galaxy bursting with bad guys!  
What little boy isn't excited by robots and bad guys?  Jonah is very small for his age and lately he has been complaining that kids at his school are teasing him because of his size.  At the beginning of the series there were some mice that teased Ricky too.  It captured him right from the beginning.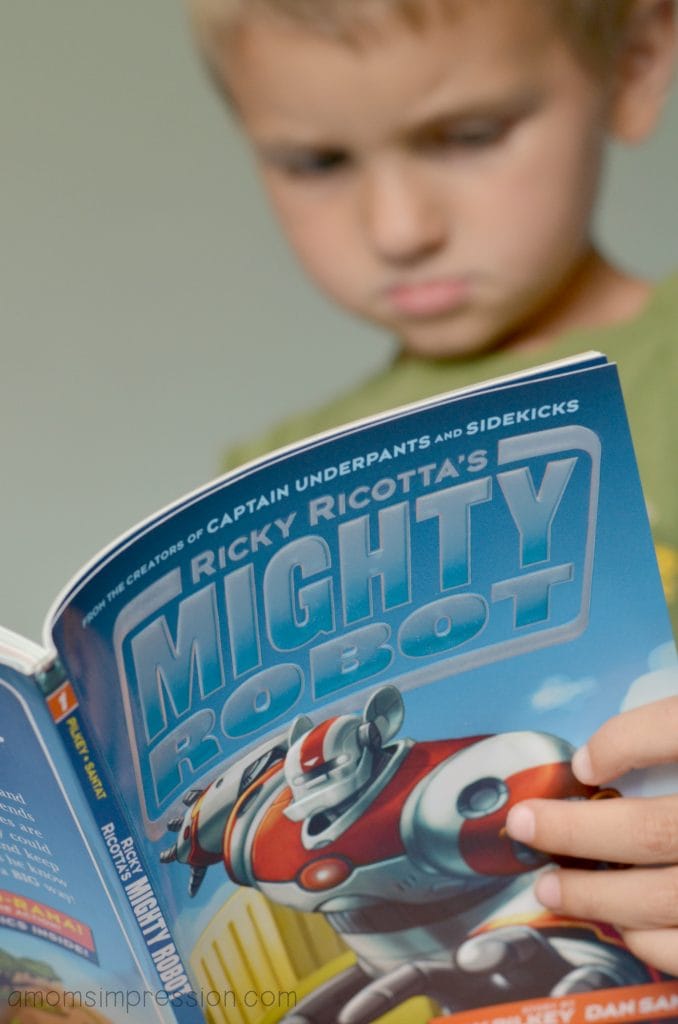 Some of my favorite authors are those who started when they were in grade school.
When Dav Pilkey was a kid, he suffered from ADHD, reading challenges, and behavioral problems. Dav was so disruptive in class that his teachers made him sit out in the hallway every day. Dav loved to draw and make up stories, so he spent this time creating his own original comic books. In second grade, Dav created a comic book about a superhero named Captain Underpants. His teacher ripped it up and told him he couldn't spend the rest of his life making silly books. Fortunately, Dav was not a very good listener. Dav has written and illustrated many bestselling books for children, including the Captain Underpants series with over 70 million books in print, the Ricky Ricotta series, and The Paperboy, a Caldecott Honor Book.  Dav grew up in Ohio and now lives with his wife in the Pacific Northwest. You can learn more about him at www.pilkey.com.
 These stories warm my first grade teacher's heart and I love sharing them with my students.
I made a video with Jonah while we read the first Ricky Ricotta's Mighty Robot book.  You can see his interest already peaking as he talked about the book after we read the first half of the first book.
First published in 2000, the new editions of the Ricky Ricotta books feature brand-new full-color illustrations and mini-comics throughout!  The illustrations are absolutely remarkable and will capture the interested of even your most reluctant young reader.  I know that if I brought these to school they would instantly become the kids' most requested books to read during Reader's Workshop time.  For that reason, I am going to purchase an extra set just for my class.  My son would be heartbroken if I brought these to my classroom.  Just take a look at how engaging the illustrations are: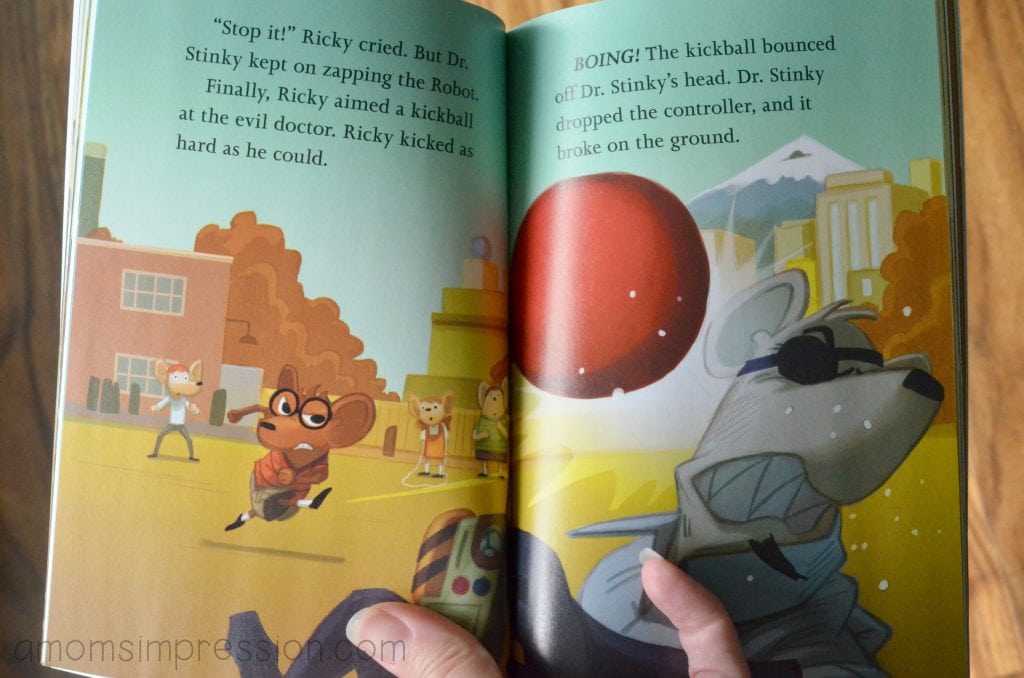 A few of the pages also have comic like illustrations in them.  Comic books are huge in first grade.  Many times they are the only way I can get some of my reluctant writer's to write.  Having this book as a resource when I am teaching writing is going to be a real asset. The illustrator, Dan Santat has had a long career illustrating children's books.
Dan Santat attended the University of California, San Diego, where he received a degree in biology. Thankfully, he had a change of heart and went on to pursue an illustration degree from the Art Center College of Design, where he graduated with honors.  After a few years of designing art for video games, Dan switched his attention to children's books. Since then, Dan has written and illustrated several bestselling books for children, including The Adventures of Beekle: The Unimaginary Friend and Sidekicks. Dan also created the Disney animated hit The Replacements. Dan was born in Brooklyn, New York, and now lives in Southern California with his family. You can find out more by visiting his website at www.dantat.com.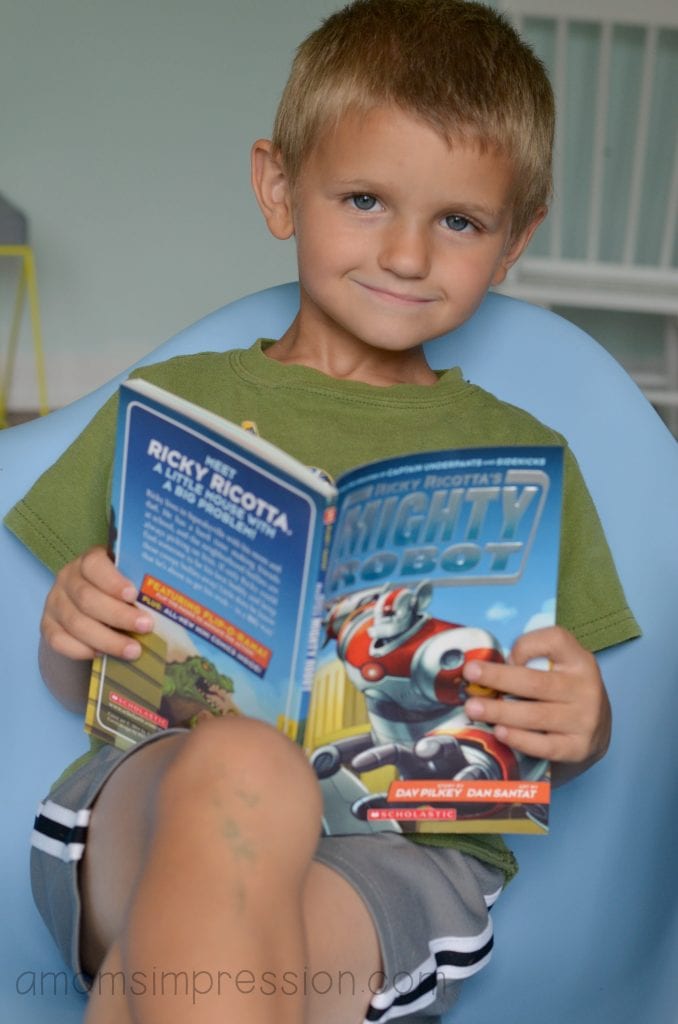 As I mentioned before, the series has been around since 2000, but are being re-released with the amazing illustrations and comics inside of them.  There are nine books in the series.  5 of them will re-release this year and the next 4 will come out in 2015.  I received the first 4 in the series.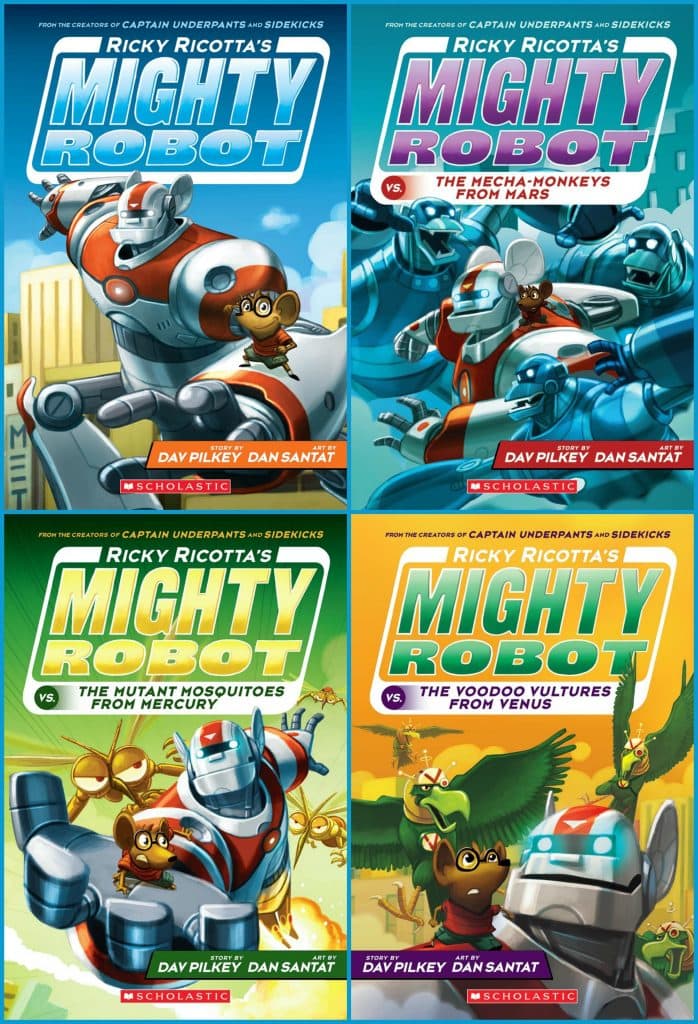 RICKY RICOTTA'S MIGHTY ROBOT
Little Ricky Ricotta has a problem: the bullies at school pick on him all the time. Until one day, he saves the life of a mightyrobot. Together, Ricky and his Robot face the bullies, and save Squeakyville from a giant evil lizard monster. That's what friends are for!
RICKY RICOTTA'S MIGHTY ROBOT VS MUTANT MOSQUITOS FROM MERCURY
Mr. Mosquito hates Mercury. The days are so hot, they melt his flip-flops, and the nights are so cold, his toothpaste freezes solid! He's decided to take over Earth instead. Ricky and his Robot must stop his army of massive Mutant Mosquitoes!
RICKY RICOTTA'S MIGHTY ROBOT VS VOODOO VULTURES FROM VENUS
Victor Von Vulture hates Venus. His toasted cheese sandwiches are always way too gooey, and ice cream melts in a second! So he and his army of Voodoo Vultures try to cast a spell on the Earth. It's up to Ricky and his Robot to stop them!
RICKY RICOTTA'S MIGHTY ROBOT VS THE MECHA-MONKEYS FROM MARS
Little Ricky Ricotta has a problem: the bullies at school pick on him all the time. Until one day, he saves the life of a mightyrobot. Together, Ricky and his Robot face the bullies, and save Squeakyville from a giant evil lizard monster. That's what friends are for!
I am going to be very excited to buy the rest of the books in the series when they come out next year.  If you have reluctant boy readers, I encourage you to get your hands on this series.  Your child will love them!
To learn more about the Ricky Ricotta books be sure to visit the Ricky Ricotta Official Site as well as follow  Scholastic and ScholasticTeach on Twitter.  You can also like Scholastic Parents and Scholastic Teachers on Facebook for more information about wonderful children's books.
What are some of your favorite children's book series?