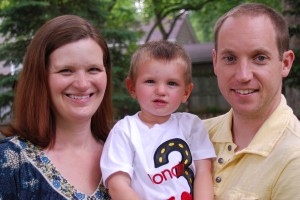 In all the chaos of the past few weeks, I haven't had time to post about TJ's third birthday party.  As my little guy is all boy and loves race cars, I thought it would be fun to throw him a race car themed party.  I love picking a theme and going crazy with it.  Even at nine months pregnant, I wanted to be sure that TJ loved his party.  Here are some of the things that I found and made for it!
Food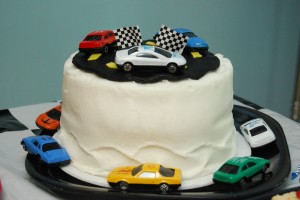 Here is the cake that I made.  It was a simple vanilla cake with vanilla frosting.  I made a race track out of black fondant and yellow Starburst candy.  I placed some race cars around the track and base of the cake.  Two racing flag toothpicks finished the job.  It was seriously simple, but TJ loved it.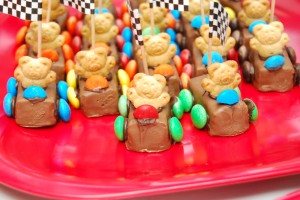 I found these Teddy Graham race cars on Pinterest and decided to make them.  They turned out really cute.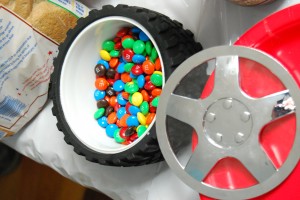 Here are the left over M&M's from all the projects that I made.  I love the tire bowl that I found.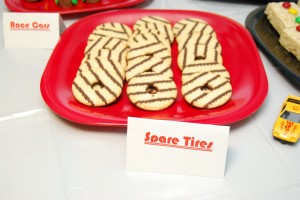 Striped Shortbread Cookies made our Spare Tires plate.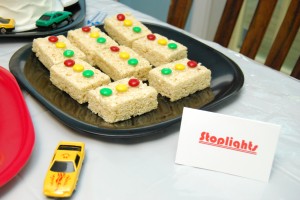 I made these simple Rice Krispy Stoplights with M&Ms.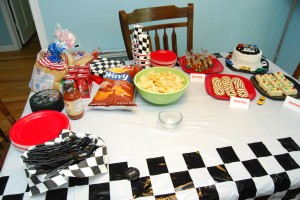 Here is our spread!
Decorations/Activities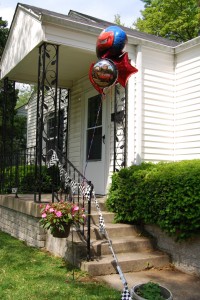 I couldn't have a party without balloons.  TJ absolutely loves them so I got him a Lighting McQueen Balloon Bouquet.  I also finally found (I looked everywhere in Indianapolis for racing supplies but apparently they only stock them after May 1st) some racing flags and hung them outside to greet our guests.
I ordered TJ's birthday shirt on Etsy.  It has his name on it along with the number 3 made into a race track.  It is completed with a red race car.  He has worn it several times since the party.  We both love it!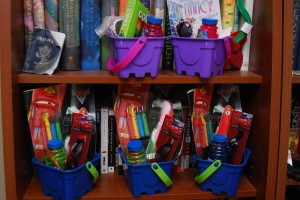 I made the gift bags for the kids out of sand pails because we have a beach trip planned for the first part of June and most of the guest are family.  I included some age appropriate gifts for each child including race car coloring books and sunglasses.
I found some little wooden race cars that are unfinished and was going to have all the guests paint their own race car, but that activity never got started.  The kiddos were too busy playing in the yard and having fun!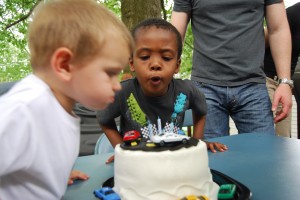 I still can't believe that TJ is three years old.  Time flies by so fast.  I know down the road in the future that the kids will probably share a birthday party since they are born two weeks apart, but I will always remember planing for my son's first birthdays.  I know I enjoyed planing them more than he enjoyed them.