* This post has been sponsored by V2 Cigs.
While I have never been a smoker, I have several loved ones who have quit the habit.  Watching them go through it was very difficult. As I was watching the withdrawal, I was thinking that there has to be a better way.  I have seen people use the Nicotine patch, the gum, and trying to quit cold turkey, but I was not familiar with ecigarettes.
Ecigarettes cut out a lot of the harmful chemicals that a smoker would get from a traditional cigarette.  There is nicotine-infused liquid that is heated, not burned to significantly reduce the secondhand smoke.  Many ecigarettes are designed to look like real cigarettes, and they could help with quitting smoking altogether. One of the more favorite ecigarettes among EcigaretteReviewed.com editors is V2 Cigs. In fact, V2 Cigs is the most visited e-cig site on the web.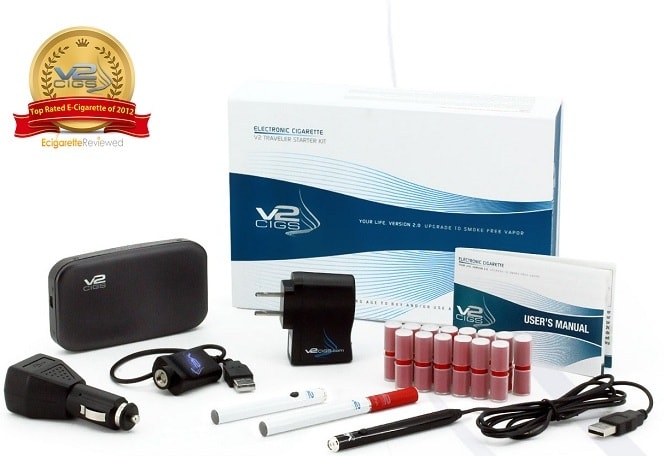 V2 Cigs have starter kits starting at just $49.95 that include the V2 Cigs long lasting battery and thick vapor. The V2 Standard Kit comes with an automatic and a manual battery, USB Smart Charger, wall adapter and ten flavor cartridges. If you feel you need more cartridges, The Ultimate Starter Kit has 25 cartridges, and also throws in a car charger, a USB-powered battery, another battery, a metal carry case, a portable charging case and a lanyard. They even have their most popular V2 Ultimate kit that includes 3 batteries, 25 flavor cartridges, wall adapter, smart charger, car adapters, power-ecig, and a metal carrying case.
For my readers who love a deal, ecigarettereviewed.com is offering a 15% off promotion and free shipping on V2 Cigs orders. You can click the image below for a V2 cigs coupon code!