Our dog, Eli, is a great dog.  He was my first "baby" and I can't imagine life without him.  A few months ago, at his yearly checkup, his vet told me that Eli was significantly overweight.  He rocked the scale at about 115 pounds.  He is a Rhodesian Ridgeback and they do weigh a lot due to their size, but he was about 25 -30 pounds overweight.  I thought he looked great, but on closer inspection I saw the fat rolls that she was referring to.  She said that we needed to get Eli at a healthy weight.  Eli is 7 years old and the life expectancy of a Ridgeback is about 9 years.  We obviously want him to be with us as long as possible so operation Doggie Diet commenced…
… and Eli hates it.
You see, Eli is driven by food.  I swear that he only thinks of eating or how he is going to steal food and that is about it.  We have all had to change our habits with feeding the dog.  My kids are no longer throwing him scraps of their lunch, I am no longer asking him to clean up the floor after Caroline eats, and my husband is only giving him frozen vegetables for treats.  The biggest change is how we treat our mealtimes.  He eats twice a day.  He actually has eaten twice a day his entire adult life, but we were overfeeding him.  Our vet said he should only get a cup per feeding, she even gave us a measuring cup.  It doesn't look like a lot of food, but she said its the right portion.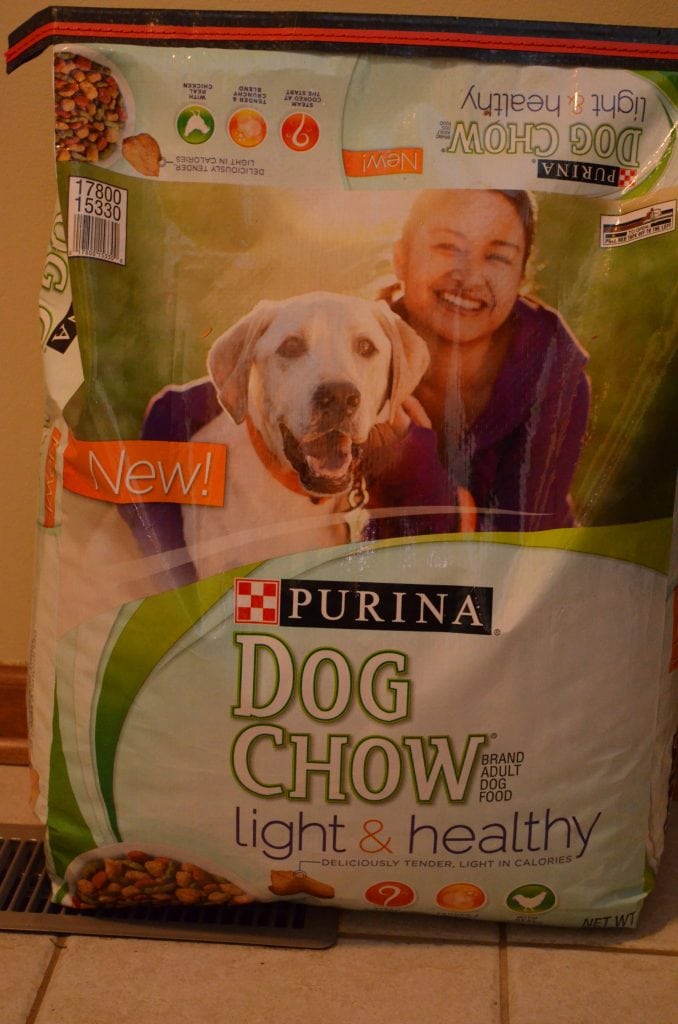 Feeding your dog healthy food is essential to keep your dog on the right track with weight gain. Purina Dog Chow Light & Healthy is a no-sacrifice solution for dogs that are looking to maintain a healthy weight. It will not only taste great, but make your pup feel great too! The new kibble is lower in calories than their original for those dog who need something a little lighter.   Eli seems to really like it (granted he is a dog and can't state his opinion and I have never seen him baulk at any kind of food).
*Be sure to gradually introduce any new food to your pup.  Mix in a small amount of new food with his old food and gradually increase.
We have switched Eli's food to the New Purina Dog Chow Light & Healthy and started exercising him more often.  I restarted the C25K program and Eli has been running with me.  We have also switched out doggie treats with frozen broccoli and I am happy to report that I already see a huge difference in his weight.  He has to be at lease 20 pounds lighter.  I can't wait to return to the vets office and weigh him again!
I am excited to offer one lucky reader a prize package from Purina Dog Chow! The giveaway prize will include:
One 4-pound bag of Purina Dog Chow Light & Healthy
10 Samples of Purina Dog Chow Light & Healthy
Leash
Dog bowl
Doggie water bottle
Pet pedometer
Bandana
Good Luck!